MOVIE REVIEW: Monster Trucks

Monday, 16 January 2017
by 👨‍💻 Graham Pierrepoint


MONSTER TRUCKS

Dir: Chris Wedge

Starring Lucas Till, Jane Levy, Thomas Lennon, Barry Pepper, Rob Lowe, Danny Glover, Amy Ryan, Frank Whaley





2 STARS (out of 5)
For anyone out there that has, at one time or another, bemoaned a lack of originality in cinema, now might be the time to reassess the situation – or might it? Monster Trucks appears to be an odd beast before you even hit the cinema – it not only boasts a bizarre premise, but it is also reaching theaters at an odd time of year. Generally, those in the know about film releases will point to December and January being the time for both movies expecting to pull little back in terms of box office money (as the majority of bigger rivals are pushed out to the summer), and for movies that are being hurried out. Anyone having seen the trailers and indeed the concept for this movie may be quick to assume this Chris 'Ice Age' Wedge vehicle is being let loose on the quiet – but is that really a justifiable assumption? Perhaps not.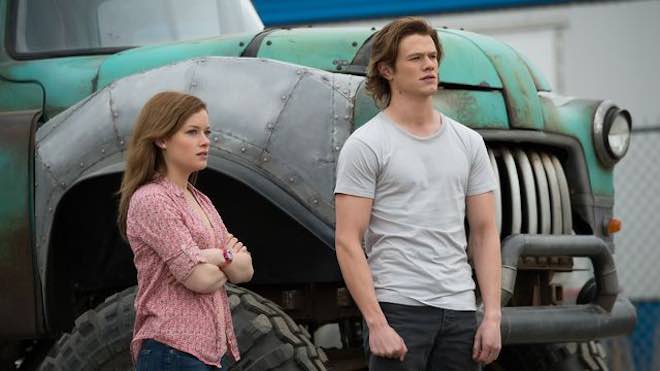 Tripp is a small town boy who finds himself fixing up a home-made monster truck to occupy his time outside school – it's safe to say that he's not particularly pleased with his lot, and the fact that a malevolent oil drilling company has the town in the palm of its hand provides him and the townspeople with little manoeuvre against their continuing operations. Lucky for Tripp, the company drills down into a well one day and unearths an unspeakable beast – a slimy, tentacled monster who finds his way into Tripp's truck – and, it transpires, he quite likes his new home. Tripp, too, finds he quite likes the beast – whom he names 'Creech' – and not only for the fact that Creech is somehow able to power his monster truck all on his own. Enter a tale about a boy, his literal monster truck, and their battle to save Creech's kind from the evil corporation that is endangering them.
If you've already made up your opinion on this movie from the above synopsis, I can hardly blame you. Monster Trucks is unashamedly odd – and it really feels as if it has arrived on the big screen twenty years too late. From its strange concept right down to its big, dumb action sequences and throwaway plot, this is a movie that really wouldn't have looked out of place from the period between 1985 and 1998. In fact, it could well become a cult classic in the decades to come – a safe bet – but, in 2017, it's just all rather misplaced.
What's commendable about Monster Trucks, however, is its production. It really does suffer from a lackluster plot – and there is so little originality in the way it gets from start to finish that many people will likely be able to write it themselves – but, for the most part, it boasts a requisite amount of charm. While Creech is certainly not the prettiest beast on the block, there is a decent amount of effort on display. We, too, benefit from a cast who is genuinely trying their hardest – Rob Lowe gives his all as a stereotypical villain, while he may likely be able to do so in his sleep.
Monster Trucks - Official Trailer (Paramount Pictures)
This is a movie that really trades on its premise – as, in bare bones alone, it is an environmentally-focused kids movie that aims to give audiences an hour or so of silly antics and visual thrills. The movie's lack of originality, and perhaps its lack of a purpose in 2017, let it down hugely – it has been released during one of the year's big 'graveyard' slots, and has been in production for approximately four years. We might be forgiven for thinking that it had actually been on the slate for closer to fourteen – as it really is a huge throwback from an age where big, daft family-friendly movies could plod onto the screen, sell a message and a little charm, and make genuine bank. However, tastes have changed slightly – would the likes of Free Willy, Space Jam, or even Jumanji have fared so well today untouched – without a touch more self-awareness?
The films I've listed all make for great escapism, particularly for kids, and Monster Trucks certainly serves its key audience well. If you have kids that are likely to be entertained by the idea of a gelatinous octopus powering a monster truck, it's very likely that they'll enjoy this movie. It's very well paced, it's focused, and it seems to know what it's doing – it has all the hallmarks of a big-budget family movie from 1994 – yet, it's 2017, and young audiences have, sadly, changed in terms of tastes and expectations. Were the 1990s a simpler time? Perhaps – and while Monster Trucks is big, daft fun when it's at its best, it's dreadfully by-the-numbers when it's at its worst. Despite its pacing, too, it is so straightforward and laid back in its approach to storytelling that anyone over the age of 7 may struggle to keep still. Sadly, it is the plot, on this occasion, that fails to live up to the premise and direction (which, too, while acceptable, is very by-the-numbers).
Hardly the abject failure that some critics advise it to be, Monster Trucks is a great family film – but mainly for younger kids. It attempts heart, it shows effort, and it does know its audience – but it is so thoroughly unoriginal beyond its main premise, and so oddly placed in today's cinematic climate that I feel odd just writing about it.