MOVIE REVIEW: Christine

Sunday, 12 February 2017
by 👨‍💻 Graham Pierrepoint


CHRISTINE

Dir: Antonio Campos

Starring Rebecca Hall, Michael C Hall, Tracy Letts, Maria Dizzia, J Smith-Cameron, Timothy C Simons





4 STARS (out of 5)
The first of two films reviewed this week that focus on real life stories – two which are very different in tone and relevance – is Campos' third motion picture, which focuses on a small Florida news network during the height of the Nixon scandal. Instead of focusing on the bigger picture, however, it is a story focused on the life of one of its newscasters, Christine Chubbock – who sat down to lead the news one night and shot herself live on air. It is a story we already know the end to – but this certainly doesn't diminish her story needing to be told.
Chubbock was a young woman struggling not only with depression, social anxiety and burgeoning health issues, but she was a woman who was striving to make a name for herself in TV journalism from the ground up. A consummate professional, Chubbock found herself at odds with changes in the business alongside various struggles she experienced in her home life and with illness ahead of her untimely death in front of the camera. Campos' film, therefore, aims to tell Christine's story – what it was she was going through to have led to such a shocking act, and how she may have been feeling leading up to the tragedy. The footage of the incident is believed to have been vaulted away, never to be released.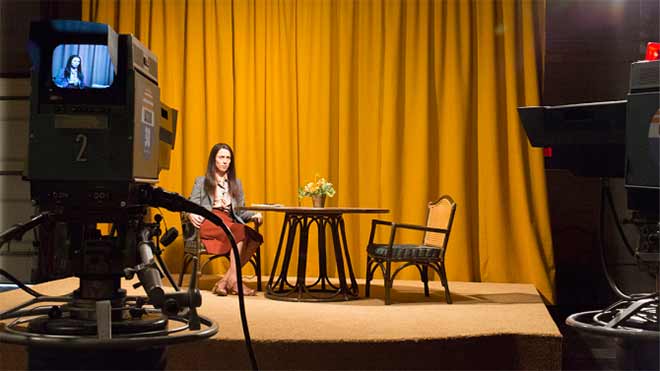 Campos' movie is as straightforward as biopics and real life stories get. It is refreshingly without the trappings of stories with Hollywood gloss – and its direct march into Christine's world, the workplace she operates in and more besides can take you off-guard a little. There is absolutely no waiting around in this movie, and it is largely more to its credit that this is the case. Its pacing is absolutely air-tight, never dwelling too long nor milking drama for all it is worth. While it could be argued that the movie could have stood to focus a little more on its dramatic potential, it delivers moments of genuine character and intrigue at a steady and addictive rate.
Rebecca Hall needs to be commended for her unflappable delivery of Christine Chubbock, at times offering dry awkwardness, at others providing pfiery desperation and genuine struggles with her own emotions, the blocks in the way of her career, and those starting to get in the way of her own life. This movie is, of course, all about her, and while the cast around her works well to embellish her story, the movie is well-framed and focuses neatly upon her life leading up to the tragedy at home, at work and everywhere else. Hall has the brooding intensity and ability to convey genuine sadness and desperation in a way that is rather unparalleled.
Christine is a movie that will not launch you into its key points straight away, rather, it's a very slow burn. This works to its advantage, firstly, in that it allows us into her world all the more smoothly, and without the tropes and clichés that lesser movies will have swung for. At the same time, however, it is a very hard movie to get into straight away, and may largely alienate viewers expecting to be immediately gripped. This isn't helped at times early on with issues relating to character dialogue and its delivery that can take us out of the immersion slightly. That being said, this is all, eventually, to its credit. It's a slow burn that really takes us into a second and third act that deliver the goods.
Despite the fact that we know how Christine's story ends, we are genuinely interested to know where it all began, and what must have been going through her mind in the weeks and months leading up to the tragedy. It's already a fascinating story before the movie starts up – meaning that the director has really hit upon a harrowing tale that needs to be told. Instead of focusing too much on the industry she works in or the life she leads outside of work alone, we are treated to timely hops between both, offering clarity and some suitably intense and unsettling moments – as well as others which can be darkly – very darkly – humorous.
Christine - Official Trailer (Rebecca Hall Movie)
Christine is a movie that treats its subject matter with absolute respect and offers the low-key direction and execution it needs to give us a satisfying journey into the newscaster's world. As a result, it's a movie that will not leave you feeling particularly happy inside – but instead, it may help many of us to understand just how much other people go through to get to where they want to be in life. While this is a movie that has received perfect scores from critics and almost unanimously glowing reviews elsewhere, it is still a film with flaws – its slow burning execution may turn many away, and it does have stumbling points in its script – that being said, however, it is an extraordinarily impactful movie that deserves more than a single viewing.