MOVIE REVIEW: Guardians of the Galaxy Vol. 2

Monday, 1 May 2017
by 👨‍💻 Graham Pierrepoint


GUARDIANS OF THE GALAXY VOL. 2

Dir: James Gunn

Starring Chris Pratt, Zoe Saldana, Dave Bautista, Vin Diesel, Bradley Cooper, Michael Rooker, Karen Gillan, Pom Klementieff, Sylvester Stallone, Kurt Russell, Elizabeth Debicki





4 STARS (out of 5)
No one – not even those responsible for it – was prepared for quite how massive Guardians of The Galaxy was going to be. Adapting from one of the weirder Marvel comics in the library – where three humanoids, a trigger-happy raccoon and an anthropomorphic tree find themselves in the midst of galactic battles – it was a blueprint for a movie that demanded a great cast to be able to bring such wild characters to the screen. To Guardians' credit, it did this with aplomb – and on top of a soundtrack which weaved its way into the plot and a wry humour that helped to sell the sheer ridiculousness of everything on display, it was perhaps little surprise that so many people were waiting for a sequel with baited breath. Further to this, it even brought back Howard The Duck – one of cinema's most reviled comic adaptions – into public consciousness.
This time around, Peter Quill / Star-Lord (Pratt) is looking for his true parentage – while the team try to stick together despite coming across old foes and new – making unlikely alliances and facing up to new challenges. It is rather hard to describe the plot to this movie – as it is so much a character study that it rather feels like an epic episode of a TV series. Pulling in characters from the first movie we never thought we'd see again – and Kurt Russell as Ego – this is a story that is more about the tests that our beloved characters face this time around as opposed to anything more grandiose.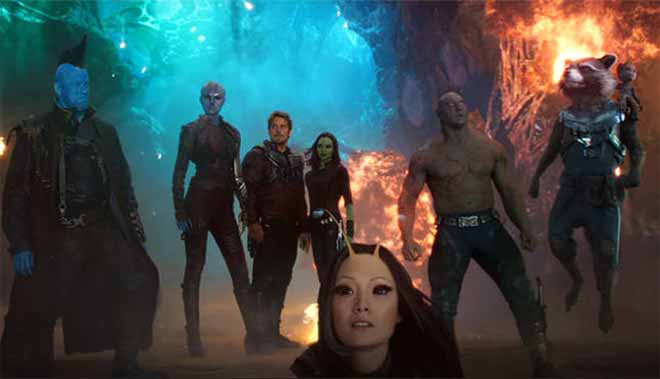 Fans of the original will be all the more for it. Vol 2 is receiving somewhat lukewarm praise across the web and mass media, particularly as it is being labelled as 'not as good as the original'. How do you follow something quite so game-changing as Guardians of The Galaxy? James Gunn does what probably any other director would do – he opts for the safe route, giving us more of an opportunity to really enjoy the characters and to marvel (pun intended) in the sheer visual display on offer. Thankfully, the cast don't miss a beat again – while many of the scenes will be stolen by Baby Groot (Vin Diesel) and the ever-quotable Drax (Dave Bautista), this really is a band of rogues with something for everyone.
Despite its middling certification, Guardians 2 is great fun for all ages. It's clearly rated on behalf of a number of more mature jokes, however, it's an absolute delight to behold – it's safe to say that anyone who enjoyed the first movie will find the sequel just as appealing, even if it doesn't dare to venture into any heady plot territories. There's a good chance that most people captivated by the original will have fallen in love with the characters – and what Guardians 2 does best is put these characters front and centre, meaning that any chance for a deeper plot or intrigue are left by the wayside.
This, in my opinion, is why Guardians 2 is receiving the rather sticky label of 'not as good as the original'. Guardians had something new to tell – it has a story to set up, tons of conflict and a whole new cast to unleash upon the world. Guardians 2 seeks to embellish the cast we've already met – sure, it creates conflicts and there's plenty of interesting moments – with tons of jokes that hit and only a couple that get old – but it has the hard task of propelling the huge momentum generated by its predecessor. This is not Star Wars – there's no grand saga set up here, although the characters are confirmed as being part of the wider Marvel Universe – and, as they say in the music business, it is 'that difficult second album'. How do you capture the same level of interest and intrigue a second time? You either reinvent the wheel, or you play it safe. Thankfully, in my opinion, Gunn chose the latter route – and I am all the more pleased by this.
Guardians of the Galaxy Vol. 2 - Official Trailer (Marvel Entertainment)
Despite the lack of a deeper plot or anything more intriguing than character studies abound, Guardians 2 is, thankfully, still a ton of fun. It's visually stunning, boasts the same great cast and goes places you may not expect it to – hang on for those post-credits scenes and you'll be very pleasantly surprised – it's over two hours of solid entertainment that really does fly by. Guardians 2 may have faltered in the press as it was so intensely hyped up – but for anyone looking forward to seeing Star-Lord, Gamora, Rocket, Drax and – obviously – Groot again, I sincerely expect you to go buy your ticket and to have a whale of a time. You will not be disappointed!