Greta Thunberg
Swedish climate activist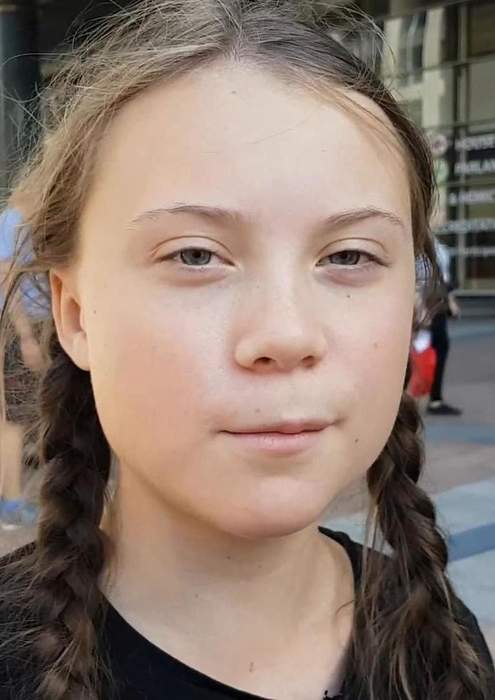 Greta Tintin Eleonora Ernman Thunberg is a Swedish environmental activist who is internationally known for challenging world leaders to take immediate action for climate change mitigation. Thunberg initially gained notice for her youth and her straightforward speaking manner, both in public and to political leaders and assemblies, in which she criticises world leaders for their failure to take what she considers sufficient action to address the climate crisis.


World leaders, activists & pope make Earth Day appeals

The United States and other countries hiked their targets for slashing greenhouse gas emissions at a summit on Thursday, as climate activists and Pope Francis urged political leaders to act with..
Credit: Reuters - Politics Duration: 02:03
Published
Greta Thunberg calls for end to fossil fuel subsidies at US Congress hearing

International climate activist Greta Thunberg has urged the US Congress to end fossil fuel subsidies during a hearing on the issue.The House Oversight Committee hearing took place on the same day the..
Credit: PA - Press Association STUDIO Duration: 01:18
Published
Greta Thunberg: Vaccine nationalism is "completely unethical"

Greta Thunberg has criticised rich nations, like the UK and US, for vaccinating young and healthy people in their own countries, at expense of vulnerable in poor nations. Speaking at a World Health..
Credit: PA - Press Association STUDIO Duration: 02:05
Published
You Might Like



Generation Climate: 'How is the future going to be beautiful if the present is looking catastrophic?'

When Greta Thunberg decided to sit outside the Swedish Parliament for three weeks in 2018 demanding climate action, she could not have known the extraordinary impact her activism would have around the..




Sky News - Published




'Heartbreaking': Greta Thunberg on India's Covid-19 crisis

Swedish climate activist Greta Thunberg on Saturday called the Covid-19 situation in India "heartbreaking" and asked the global community to step up and "immediately offer assistance."




IndiaTimes - Published





Thunberg changes Twitter bio to 'bunny hugger' after Johnson's climate summit remarks

Greta Thunberg has changed her Twitter description to "bunny hugger" in an apparent dig at Boris Johnson who used the phrase at a virtual global summit on climate change.




Sky News - Published




Bronze Greta Thunberg statue unveiled at Winchester University despite criticism from union bosses

A £24,000 bronze statue of Greta Thunberg, which has been described as a "vanity project", has been unveiled at the University of Winchester.




Sky News - Published





Now Indo-Canadian youtuber raise voice in support ofprotesting farmers

After US Vice President Kamala Harris' niece Meena Harris, pop star Rihanna, Swedish Climate Activist Greta Thunberg, a score of social activists, politicians from across the countries, now..




IndiaTimes - Published





Greta Thunberg's comments on farmers' protests not bilateral issue between India, Sweden: MEA

Young Swedish climate activist Greta Thunberg's recent comments on the farmers' protests in India do not form a bilateral issue between India and Sweden, and the matter did not come up during an online..




IndiaTimes - Published





Campaigners Marcus Rashford and Greta Thunberg awarded coveted gold Blue Peter badge

Young influencers Marcus Rashford and Greta Thunberg have been awarded gold Blue Peter badges for their vital campaigning work.




Sky News - Published





Indian activist linked to Greta Thunberg granted bail after being held over farmer protests

An Indian climate activist has been granted bail, 10 days after she was detained on sedition charges for allegedly creating and sharing a document on social media supporting farmer demonstrations.




Sky News - Published




'Disha Ravi deleted WhatsApp chats, this shows there was sinister design behind toolkit,' Delhi Police tells court

The court is hearing Disha Ravi's bail plea who was sent to three-day judicial custody in connection with the Greta Thunberg "toolkit" case.




DNA - Published





Toolkit case: Greta Thunberg extends support to Disha Ravi, says 'freedom of speech is a human right'

Meanwhile, Disha was sent to three days in judicial custody by a Delhi court on Friday in connection with the 'toolkit' case on the farmers' protest.




DNA - Published





Greta Thunberg tweets in support of Disha Ravi, bats for freedom of speech




IndiaTimes - Published





Who is Shantanu Muluk? The 31-year-old climate activist booked in Greta Thunberg 'toolkit case'

Beed resident Shantanu Muluk quit his aerospace engineering job six months back to pay attention to the adjoining areas of Vidarbha and Marathwada.




DNA - Published




'No answers from Google', special cell is still waiting for info around Greta Thunberg's 'Toolkit'

Police claim that Greta Thunberg allegedly deleted the tweet following Disha Ravi's request and later, shared an edited version of the document.




DNA - Published





Greta Thunberg toolkit case: Shantanu Muluk granted 10 days transit bail

Nikita Jacob's similar plea was heard by Justice P D Naik at the high court's principal bench in Mumbai, which said it would pass order on Wednesday.




DNA - Published





LEAKED: WhatsApp chats between Disha Ravi, Greta Thunberg over 'toolkit'

Disha Ravi was arrested for allegedly editing and disseminating the "toolkit" on social media and sent to five days police custody.




DNA - Published





While India was making PPE kits for world, some were busy making 'toolkit' against Indians: Union minister

Union Minister Gajendra Singh Shekhawat on Monday said while India was making PPE kits for the world, some people were busy "making tool kit against Indians". His remarks came after Delhi Police..




IndiaTimes - Published





Disha Ravi panicked when Greta Thunberg leaked toolkit, say police

Delhi Police on Monday claimed that arrested climate activist Disha Ravi had panicked when Greta Thunberg accidentally leaked the toolkit on the farm protests and asked her to refrain from saying..




IndiaTimes - Published





Toolkit case: Greta Thunberg was coaxed by Disha Ravi to act on toolkit, says Delhi Police

The main aim of the toolkit was to create misinformation, disaffection against the lawfully enacted government, Delhi police said.




DNA - Published





Disha asked Thunberg to delete tweet on 'toolkit' fearing action under UAPA: Delhi Police




IndiaTimes - Published





Greta Thunberg 'toolkit' case: After Disha Ravi's arrest, non-bailable warrant issued against Nikita Jacob, Shantanu

"Non-bailable warrants issued against Nikita Jacob and Shantanu. The two are involved in the toolkit matter," the Delhi Police said on Monday.




DNA - Published





Toolkit case: War of words between BJP, Opposition over climate activist's arrest

The action taken by the Delhi Police on an FIR related to a toolkit shared by climate campaigner Greta Thunberg in support of the ongoing farmer protests has triggered a war of words between the..




IndiaTimes - Published





Climate activist Disha Ravi edited 'toolkit', shared it with Greta Thunberg: Delhi police

Delhi Police said that it took cognisance of a Toolkit document found on social media, which indicated a conspiracy behind violence on January 26.




DNA - Published





Greta Thunberg toolkit case: Climate activist Disha Ravi sent to 5-day police custody

Ravi is a climate activist residing in Bengaluru and was allegedly involved in editing and disseminating the toolkit on social media.




DNA - Published





Farmers protest: Delhi Police arrest climate activist from Bengaluru in toolkit probe

Ten days after filing an FIR in connection with a controversial document tweeted by Swedish environmental activist Greta Thunberg, the Delhi Police's cyber cell made the first arrest in the case from..




IndiaTimes - Published





Greta Thunberg toolkit case: 21-year-old climate activist arrested by Delhi Police from Bengaluru

It may be recalled that earlier Delhi Police had sought help from Google to trace the IP address of the authors who uploaded the toolkit.




DNA - Published





Climate activist Greta Thunberg's 'admirer' gives her a lesson on India's agri sector - Details inside

Greta Thunberg has come under attack for using her "bully pulpit" to wade into political issues, such as the farmers' protest in India.




DNA - Published





Maha to probe celeb tweets, says minister; BJP calls it 'disgusting'

Maharashtra home minister Anil Deshmukh on Monday said the state intelligence department will conduct a probe into the tweets put out by celebrities such as Sachin Tendulkar, Lata Mangeshkar, Saina..




IndiaTimes - Published





Conspiracy theories absurd, no hand in stars' tweets: Mo Dhaliwal

Canada-based Poetic Justice Foundation has issued a statement claiming that it neither coordinated any protest activities within India nor coordinated with Rihanna, Greta Thunberg or any other..




IndiaTimes - Published





Police knock on Google's doors over Thunberg document

An official probing the case said Delhi Police had asked for "registration details" and "activity log" of the account through which the toolkit was uploaded. Police have also sought the document..




IndiaTimes - Published





Delhi Police to seek info from Google on authors of 'Toolkit' shared by Greta Thunberg

The Delhi Police has already registered a case against creators of 'Toolkit' and no one had been named in the FIR.




DNA - Published





BKU leader Rakesh Tikait says this on Rihanna, Greta Thunberg's remarks on farmers' protest

The BKU leader also said that 15 Members of Parliament that visited Ghazipur yesterday should have sat down on the other side of the barricades.




DNA - Published





Revealed: Foreign powers plotting to defame India in name of farmers' protest

Greta Thunberg, who calls herself an environmental activist, accidentally revealed an international conspiracy that has been going on to break India.




DNA - Published





Cops smell conspiracy in doc tweeted by Thunberg, file FIR




IndiaTimes - Published





Farmers protest: Canada-based pro-Khalistani outfit blamed for organising Twitter toolkit

Probe into the source of the PowerPoint toolkit that celebrity environment activist Greta Thunberg accidentally tweeted suggests that it was put together by a Canada-based pro-Khalistan organisation...




IndiaTimes - Published





Know what is a 'Toolkit' Greta Thunberg wanted to share with all of you

Do you know what is a 'toolkit' that exposed the real intensions of the teen climate activist, Greta Thunberg?




DNA - Published





'Toolkit' of controversy shared by Greta Thunberg




IndiaTimes - Published





Activists burn photos of Greta Thunberg as anger mounts over her support for Indian farmers

Police in India are probing a controversial "toolkit" for supporting the country's ongoing farmer protests in the country, tweeted by Greta Thunberg, as angry pro-government activists took to the..




Sky News - Published




I still stand with farmers, says teen activist Greta Thunberg as Delhi Police files case




IndiaTimes - Published





Meenakshi Lekhi mocks Greta Thunberg, says India should give her child bravery award




IndiaTimes - Published





'I still stand with farmers', tweets Greta Thunberg

Greta Thunberg's tweets in support of protesting farmers in Delhi against the farm laws are among many posts that have drawn international attention.




DNA - Published





Delhi Police registers FIR against Greta Thunberg, teen activist continues to support farm agitation




IndiaTimes - Published





FIR against Greta Thunberg over tweets on farmers' protest

The Swedish teen climate activist shared an updated toolkit to help people show support for the ongoing farmers' protest on the outskirts of Delhi.




DNA - Published





Greta Thunberg tweets again on farmers' protest, releases updated toolkit - Details here

It is to be noted that the Centre on Wednesday warned against the "temptation of sensationalist social media hashtags and comments".




DNA - Published

Also reported by •IndiaTimes


Farmers' protest: Greta Thunberg deletes tweet after uproar? Find out here

Greta Thunberg, the 18-year-old Swedish climate activist, has deleted the tweet containing the document that contained the toolkit for accelerating the farmers' protest on January 26, 2021 on the..




DNA - Published





Exposed: 'RSS-BJP are fascistic ruling party', says Greta Thunberg

Greta Thunberg, the Swedish climate activist and Nobel Peace Prize nominee, extended her support to the ongoing farmers' agitation.




DNA - Published




After Thunberg and Rihana, Kamala Harris' niece tweets in support of farmers protest in India

The niece of US vice president Kamala Harris on Wednesday tweeted her support for the ongoing farmers protests, saying that "the most populous democracy is under assault". Recently, a couple of other..




IndiaTimes - Published





Greta Thunberg extends support to farmers protest

"We stand in solidarity with the #FarmersProtest in India," Teenage climate activist Greta Thunberg wrote on Twitter on Tuesday. Apart from Thunberg, UK Member of Parliament Claudia Webbe also..




IndiaTimes - Published





Greta Thunberg backs students demand to defer JEE, NEET 2020; says 'exams amid COVID-19 deeply unfair'

Climate activist Greta Thunberg has asked for the postponement of JEE, NEET exams 2020 and said it is deeply unfair for Indian students to sit for national exams amidst the ongoing COVID-19 pandemic.




DNA - Published