Ganga Dussehra
Hindu festival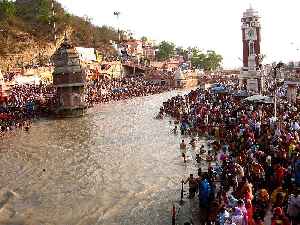 Ganga Dussehra, also known as Gangavataran, is a Hindu festival celebrating the avatarana (descent) of the Ganges. It is believed by Hindus that the holy river Ganges descended from heaven to earth on this day. Ganga Dussehra takes place on Dashami of the waxing moon of the Hindu calendar month Jyeshtha. The festival celebration lasts ten days, including the nine days preceding this holy day.


You Might Like
PM Modi wishes people on Ganga Dussehra
"May mother Ganga, the eternal source of Indian spirituality, culture, prosperity and harmony, provide healthy life and continued success to all countrymen. Best wishes on Ganga Dussehra," Modi tweeted..
IndiaTimes - Published
Search this site and the web: