Pashupati Kumar Paras
Member of parliament of India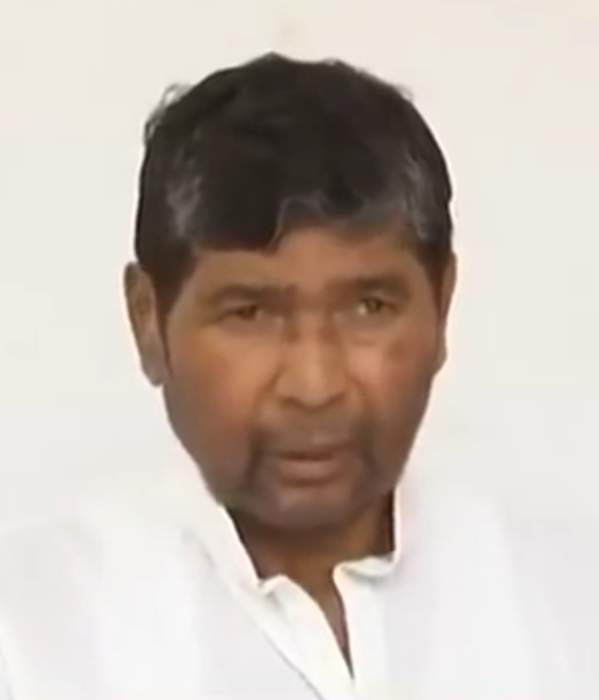 Pashupati Kumar Paras is an Indian politician from the state of Bihar and the Minister of Food Processing Industries in the Union Cabinet. He is currently serving as a member of Lok Sabha from Hajipur. He also held the post of the Minister of Animal and Fish Resources in the Government of Bihar. He is the younger brother of late Ram Vilas Paswan and he was also the State President of the Bihar unit of Lok Janshakti Party. He was elected as the National President of Lok Janshakti Party replacing Chirag Kumar Paswan in June 2021.


Cabinet reshuffle: 43 leaders set to take oath | Modi's new cabinet | Oneindia News

43 leaders to take oath today in the Union Cabinet expansion. Jyotiraditya Scindia, Pashupati Kumar Paras, Bhupender Yadav, Anupriya Patel, Shobha Karandlaje, Meenakshi Lekhi, Ajay Bhatt, Anurag Thakur..
Credit: Oneindia Duration: 09:37
Published
PM Modi's cabinet reshuffle at 6 PM today| Jyotiraditya Scindia| Sarbananda Sonowal| Oneindia News

Prime Minister Narendra Modi's cabinet reshuffle at 6 pm today, the first in his second term, will bring in big changes with an eye on political and administrative challenges, besides elections ahead...
Credit: Oneindia Duration: 02:00
Published
Delhi opens vaccine centre for students, workers, athletes going abroad | Oneindia News

PM Modi congratulated new Israeli PM Naftali Bennett and conveyed gratitude to osted former PM Benjamin Netanyahu after Israel is set to see a regime change after 12 years; LJP's Chirag Paswan on..
Credit: Oneindia Duration: 03:44
Published
You Might Like
Pashupati Paras will pave way for progress of farmers, entrepreneurs through innovations: Om Birla
IndiaTimes - Published
I am political successor of Ram Vilas Paswan, Chirag can be heir of his properties: Pashupati Paras
Newly-appointed Union minister of food processing industry Pashupati Kumar Paras has said he is the political successor of his late brother Ram Vilas Paswan. "I am the political successor of Ram Vilas..
IndiaTimes - Published
Pashupati Kumar Paras : The man who successfully led a coup d'état against his nephew
IndiaTimes - Published
Meeting underway at PM Modi's residence ahead of Union Cabinet expansion at 6 pm
Most senior National Democratic Alliance (NDA) leaders and Union Cabinet Ministers are present in the meeting. These leaders include Union Home Minister Amit Shah, BJP president JP Nadda, BJP leaders..
IndiaTimes - Published
Will move court if Pashupati Paras included in Union Cabinet on LJP quota, warns Chirag Paswan
IndiaTimes - Published
Would've happily made uncle leader of party in Parliament: Chirag Paswan
Lok Jan Shakti (LJP) leader Chirag Paswan on Wednesday attacked his uncle Pashupati Paras and other MPs for trying to break the party. He further said he would have "happily" made his uncle Pashupati..
IndiaTimes - Published
Chirag Paswan writes to LS Speaker against notification in favour of Paras as LJP leader
Lok Janshakti Party leader Chirag Paswan has contested Lok Sabha Speaker Om Birla's decision to name Pashupati Kumar Paras as the leader of the party in the House, saying it is "contrary" to provisions..
IndiaTimes - Published
Chirag Paswan expels 5 MPs, Paras & Co oust him as LJP chief
Now the Lok Janshakti Party (LJP) has officially split into two, with the rival factions claiming to be the "real" edition and enacting the by now familiar routine of expelling each other. Soon after..
IndiaTimes - Published
LJP vs LJP: Chirag removed as party chief; Paras-led rebel MPs expelled
The infighting in Lok Janshakti Party took an ugly turn on Tuesday as the warring factions, one led by Chirag Paswan and the other by his uncle Pashupati Kumar Paras, acted against each other in a bid..
IndiaTimes - Published
Ousted as LJP chief, Chirag Paswan expels 5 rebel MPs
Chirag's supporters burned posters of Nitish Kumar and Pashupati Paras outside the LJP office.
DNA - Published
Pashupati Kumar Paras recognised as LJP's floor leader in Lok Sabha
IndiaTimes - Published
I have not broken party but saved it: LJP leader Pashupati Kumar Paras
The Lok Janshakti Party is set for a split as five of its six Lok Sabha MPs are learnt to have joined hands to oust Chirag Paswan as their leader in the House by electing his uncle Pashupati Kumar..
IndiaTimes - Published