India national cricket team
National cricket team of India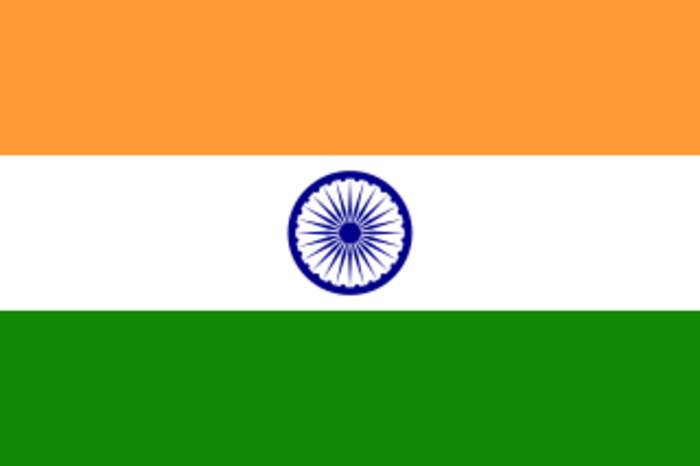 The India men's national cricket team, also known as Team India and Men in Blue, is governed by the Board of Control for Cricket in India (BCCI), and is a Full Member of the International Cricket Council (ICC) with Test, One-Day International (ODI) and Twenty20 International (T20I) status.


Sachin Tendulkar admitted to hospital days after testing Covid positive

Five days after testing positive for COVID-19, legendary India batsman Sachin Tendulkar has been hospitalised for "abundant precaution under medical advice". Last Saturday, Tendulkar had informed that..
Credit: HT Digital Content Duration: 00:56
Published
World Cup 2011: A decade after Dhoni led India's dream victory | Oneindia News

On this day in 2011, India won the One Day International World Cup after nearly 28 years. By the magnificent victory, India had become the first hosting team to win the World Cup on home..
Credit: Oneindia Duration: 01:20
Published
India: Scores injured after stand collapses during kabaddi contest

More than 100 people were injured when the temporary gallery came down, with 20 of those taken to hospital, Indian media reported.
Credit: euronews (in English) Duration: 00:50
Published
Virat Kohli-Josh Butler fight: What did Eoin Morgan say | Oneindia News

While speaking in the post-match virtual press conference, England White-captain Eoin Morgan has said that he is unaware of the reason for the Virat Kohli and Josh Butler fight. Commenting on the..
Credit: Oneindia Duration: 01:17
Published
Virat Kohli, Josh Butler involve in heated argument, Twitter reacts | OneIndia News

The final and series-decider fifth t20 international between India and England in the England tour of India witnessed a heated moment when Virat Kohli and Josh Butler were involved in an heated..
Credit: Oneindia Duration: 01:07
Published
WB polls: BJP will perform like Sourav Ganguly's batting, says Rajnath Singh

Ahead of the West Bengal Assembly elections, Defence Minister Rajnath Singh on Tuesday said that whenever former Indian skipper and BCCI President Sourav Ganguly stepped out of the crease, it was sure..
Credit: ANI Duration: 01:32
Published
Ind vs Eng: Last 3 T20Is to be played behind closed doors; GCA on ticket refund

The BCCI said on Monday that the remaining three T20 Internationals between India and England will be played without spectators at the Narendra Modi stadium in the wake of rising Covid-19 cases. The..
Credit: HT Digital Content Duration: 01:36
Published
Looking back on a historic win at the Eden

Twenty years ago, the Indian cricket team scripted a history-making win. Battling an Australia at the top of their game, they won at Eden Gardens, Kolkata, after following on. It was March 2001. The..
Credit: HT Digital Content Duration: 03:03
Published
You Might Like



Sachin Tendulkar: India cricket legend in hospital with Covid-19

Tendulkar, 47, said he was in hospital "as a matter of abundant precaution under medical advice".




BBC Sport - Published





India v England: Sam Curran heroics not enough in Pune

England are beaten in a thrilling one-day series decider against India, despite Sam Curran's heroic 95 not out.




BBC Sport - Published





India v England: Jonny Bairstow targets ODI hundreds record

Jonny Bairstow says he is targeting the record for most hundreds by an England batsman in one-day internationals after his latest ton in the defeat of India.




BBC Sport - Published





India v England: Jonny Bairstow and Ben Stokes led chase of 338

Jonny Bairstow strikes a magnificent century and Ben Stokes a brutal 99 in an emphatic England chase of 337 to beat India in the second ODI in Pune.




BBC Sport - Published





India v England: Jonny Bairstow says any side in the world would miss not having Joe Root

Jonny Bairstow says "any side in the world would miss Joe Root," after England's 66-run loss to India in the first one-day-international in Pune.




BBC Sport - Published





Ex-England cricketer David Lloyd slams Virat Kohli, makes shocking claim against India captain

Former England cricketer David Lloyd slammed India skipper Virat Kohli for taking a stand against the 'umpire's call' rule, asserting that Kohli has been 'pressuring, disrespecting' the on-field..




DNA - Published





India v England: Krunal Pandya propels hosts to win in Pune

England squander the chance to win a fluctuating first one-day international against India, losing by 66 runs in Pune.




BBC Sport - Published





India v England: Eoin Morgan says players can earn T20 World Cup spot in ODIs

Captain Eoin Morgan says players from outside England's Twenty20 side can use the one-day series against India to push their case to be at the World Cup.




BBC Sport - Published





India v England: Virat Kohli and Bhuvneshwar Kumar seal series in Ahmedabad

England lose the Twenty20 series decider to an India side that followed a batting masterclass with some wonderful bowling in Ahmedabad.




BBC Sport - Published





India v England: Dawid Malan backed by Paul Collingwood

Paul Collingwood backs England's Dawid Malan to find the form that led him to be rated as the number one Twenty20 batsman in the world.




BBC Sport - Published





India v England: Hosts win fourth T20 by eight runs to set up series decider

India set up a series decider with an eight-run win over England in an absorbing fourth Twenty20 in Ahmedabad.




BBC Sport - Published





India v England: Mark Wood says winning toss does not give unfair advantage

Winning the toss in the Twenty20 international series against India does not give either team an unfair advantage, says England bowler Mark Wood.




BBC Sport - Published





India v England: Eoin Morgan 'close to tears' over 100th cap

England captain Eoin Morgan says he was close to tears when Jos Buttler presented him with a special cap to mark his 100th Twenty20 international.




BBC Sport - Published





India v England: Jos Buttler ensures Virat Kohli knock is in vain

Jos Buttler's brutal hitting trumps the genius of Virat Kohli in England's eight-wicket defeat of India in the third Twenty20 in Ahmedabad.




BBC Sport - Published





India v England: Remaining three T20s to be played behind closed doors

England's remaining three Twenty20 internationals against India in Ahmedabad will be played behind closed doors because of rising coronavirus cases in the state of Gujarat.




BBC Sport - Published





India v England: Ahmedabad pitch given 'average' rating

The Ahmedabad pitch on which England were beaten in two days in the third Test against India will not be punished by the International Cricket Council.




BBC Sport - Published





India v England: Virat Kohli & Ishan Kishan shine in second T20

England suffer a chastening seven-wicket defeat by a resurgent India in the second Twenty20 in Ahmedabad.




BBC Sport - Published





India v England: Jofra Archer targets T20 World Cup & Ashes

England bowler Jofra Archer says he must "take care" of his elbow injury if he wants to play a full part in the Twenty20 World Cup and the Ashes this year.




BBC Sport - Published





India v England: Jofra Archer and Jason Roy star in tourists' win

A magnificent bowling performance sets England on the way to an eight-wicket victory over India in the first Twenty20 in Ahmedabad.




BBC Sport - Published





India v England: Exciting T20 series will be enough to pause rotation debate

There are parts of England's rotation policy that are understandable and the action in the T20 series against India will be enough to pause the debate.




BBC Sport - Published





India v England: Eoin Morgan says tourists are not prioritising T20

Captain Eoin Morgan says it is a "rarity" for England to be at full strength in their Twenty20 series against India.




BBC Sport - Published





England to play 'one-off Test' against India this year - BCCI

England will play India in a one-off Test later this year, says the Board of Control for Cricket in India.




BBC Sport - Published





India v England: Axar Patel and Ravichandran Ashwin seal series for hosts

England's series defeat in India is sealed with one final, abject batting collapse on the third day of the fourth Test in Ahmedabad.




BBC Sport - Published





India v England: Rishabh Pant ton defies Ben Stokes-led fightback

Rishabh Pant's dazzling century ensures India repel a Ben Stokes-led England fightback on a compelling second day of the final Test in Ahmedabad.




BBC Sport - Published





India v England: Ben Stokes facing 'hardest' batting conditions of his career as tourists struggle again

All-rounder Ben Stokes says these are the "hardest" batting conditions he has ever faced after England struggled again on day one of the final Test against India.




BBC Sport - Published





India v England: Hosts on top in final Test in Ahmedabad

England's batsmen once again fail to deliver on the first day of the final Test against India in Ahmedabad.




BBC Sport - Published





India v England: Joe Root says players 'shouldn't be scared'

Captain Joe Root says England should have "no scars" from two successive defeats when the final Test against India starts on Thursday.




BBC Sport - Published





India v England: Zak Crawley says winning final Test would cap 'unbelievable' winter

Opener Zak Crawley says there is "definitely a way back" for England as they chase victory in the final Test and a series draw.




BBC Sport - Published





India v England: Jack Leach says media discuss pitches more than players

England's Jack Leach agrees with India spinner Ravichandran Ashwin's comments that "we need to get over" the debate over pitches.




BBC Sport - Published





England in India: Jasprit Bumrah to miss fourth Test for personal reasons

India fast bowler Jasprit Bumrah will miss the fourth Test against England next week because of personal reasons.




BBC Sport - Published





India v England: Joe Root says tourists 'misread' conditions in Ahmedabad

England captain Joe Root expected seam to be a "threatening option" before spinners dominated the two-day defeat by India.




BBC Sport - Published





India v England: How day two of the third Test played out on social media

The second - and final - day of the third Test between India and England was simply chaotic. Here's how it played out on social media.




BBC Sport - Published





India v England: Axar Patel takes 6-38 as tourists fold for 112

England are bowled out for 112 before India reach 99-3 on the first day of the third Test in Ahmedabad.




BBC Sport - Published





India v England: James Anderson and Stuart Broad could play together, says Joe Root

England captain Joe Root says he has a "great selection headache" in whether to pick both James Anderson and Stuart Broad for the day-night third Test against India, which starts on Wednesday.




BBC Sport - Published





India v England: Hosts name uncapped trio for T20 series

Uncapped trio Suryakumar Yadav, Ishan Kishan and Rahul Tewatia are named in India's 19-man squad for March's T20 series with England.




BBC Sport - Published





India v England: How England can bounce back to win Test series

Pink balls, rotation and spinners - how England can win India Test series in Ahmedabad after being pegged back to 1-1 in Chennai.




BBC Sport - Published





India v England: Joe Root reassures Moeen Ali over planned departure

England captain Joe Root speaks to Moeen Ali to reassure the all-rounder there are no issues with him missing the final two Tests against India.




BBC Sport - Published





India v England: Moeen Ali chooses to miss final two Tests

All-rounder Moeen Ali will return home despite taking eight wickets in the second-Test defeat by India, his first Test since 2019.




BBC Sport - Published





India v England: Rohit Sharma's 161 puts hosts on top in Chennai

England are given a stark reminder of the challenge of touring India by Rohit Sharma's classy 161 on day one of the second Test.




BBC Sport - Published





India v England: Virat Kohli refuses to walk after being bowled by Moeen Ali

India captain Virat Kohli needs a replay on the big screen to convince him to leave the crease after being bowled by England's Moeen Ali.




BBC Sport - Published





India v England: Ishant Sharma says hosts can chase 420 to win first Test

India will target victory and not just survival on the final day of the first Test against England, says seamer Ishant Sharma.




BBC Sport - Published





Sachin Tendulkar, Bishan Bedi & Jasprit Bumrah on shortlist for all-time India Test XI

Pick your all-time India Test XI from a stellar list of names, including Bishan Bedi, Jasprit Bumrah and Sachin Tendulkar.




BBC Sport - Published





India v England: Channel 4 to broadcast tour for first live free-to-air Test coverage since 2005

Channel 4 will broadcast England's upcoming tour of India - marking the first live coverage of Test cricket on terrestrial television since the 2005 Ashes.




BBC Sport - Published





India v England: Bumrah, Shami, Umesh & Ishant - a pace attack to fear

A wannabe policeman, a serial sleeper and "one of the nicest people" in cricket - the fast bowlers who will be gunning for England.




BBC Sport - Published





India v England: Squad to leave quarantine after negative Covid-19 tests

England's cricketers are cleared to leave quarantine in India after the squad returns negative Covid-19 test results.




BBC Sport - Published





India v England: Moeen Ali 'wouldn't wish Covid-19 on anyone'

England all-rounder Moeen Ali says he had "never experienced that sort of tiredness" after testing positive for coronavirus in Sri Lanka.




BBC Sport - Published





India highlights 'irony' after Pakistan co-sponsors UN resolution on safeguarding religious sites

India has taken up several times the abduction of Hindu, Sikh, Christian girls in the country by summoning Pakistani diplomats.




DNA - Published





India v England: Ben Stokes and Jofra Archer return to Joe Root's squad for first two Tests in Ahmedabad

All-rounder Ben Stokes and fast bowler Jofra Archer return to the England squad for the first two Tests of the tour of India.




BBC Sport - Published





Sourav Ganguly: Former India captain discharged from hospital after heart attack

Former India captain Sourav Ganguly is discharged from hospital after having a heart attack on Saturday.




BBC Sport - Published





Ex-cricketer, celebs among 34 booked after 3am Mumbai club raid

Former India cricketer Suresh Raina, singer Guru Randhawa, model-actor Zulfikar Syed and Sussane Khan, interior designer and former wife of actor Hrithik Roshan, were among the 34, including 13 women,..




IndiaTimes - Published