Asansol
Metropolitan city in West Bengal, India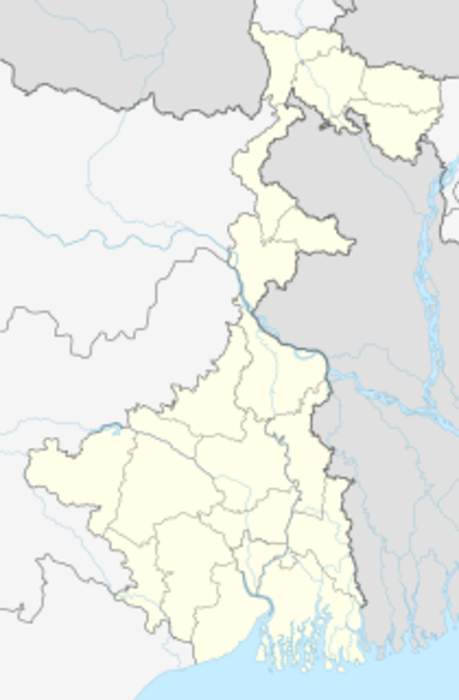 Asansol is a metropolitan city in the Indian state of West Bengal. It is the second largest and most populated city of West Bengal and the 39th largest urban agglomeration in India. Asansol is the district headquarters of Paschim Bardhaman district. According to a 2010 report released by the International Institute for Environment and Development, a UK-based policy research non-governmental body, Asansol was ranked 11th among Indian cities and 42nd in the world in its list of 100 fastest-growing cities. Asansol is classed as a Y-category city for calculation of HRA for public servants, making it a Tier-II city.


You Might Like
Union minister Babul Supriyo tests Covid positive for second time
Union minister Babul Supriyo on Sunday informed that he and his wife have tested positive for Covid and hence he wont be able to vote in Asansol on April 26. Supriyo has tested positive for the virus..
IndiaTimes - Published
Modi mentioned 2018 Asansol riots in speech to provoke voters, says Mamata
IndiaTimes - Published
PM Narendra Modi says Mamata Banerjee 'doing politics with the dead', she alleges phone tap
At Katwa in East Burdwan, Mamata said the CID had been asked to track down the person/s responsible for intercepting her phone conversations, adding that even PM was within the ambit of the inquiry...
IndiaTimes - Published
West Bengal Assembly Election 2021: 62.40% voter turnout recorded till 3:15 pm, PM Modi attacks Mamata at Asansol rally
West Bengal Assembly Election 2021: According to the Election Commission's latest data, the state has recorded a voter turnout of 62.40% till 3:15 pm
DNA - Published
SKM denies having new panel for fresh round of talks, Kisan Mahapanchayat to be held in Kolkata, Nandigram, Singur and Asansol
IndiaTimes - Published
TMC MLA Jitendra Tiwari takes U-turn on resignation, seeks forgiveness from 'Mamata Didi' for his 'mistake'
Earlier, Babul Supriyo, BJP Lok Sabha MP from Asansol, had opposed rebel TMC leader Jitendra Tiwari's entry into the saffron party.
DNA - Published
TMC's Jitendra Tiwari quits as Asansol civic body chief, hails Suvendu
Trinamool Congress MLA Jitendra Tiwari resigned as the chief of the Asansol Municipal Corporation on Thursday, days after he accused the West Bengal government of depriving the industrial city of..
IndiaTimes - Published
Coal mine scam accused dies of cardiac arrest after raid by CBI in Asansol
When the CBI reached Dhananjay's residence to carry out raids, he complained of chest pain after which he was rushed to the hospital.
DNA - Published
Income Tax Department conducts searches in West Bengal, unearths more than Rs 150-crore bogus investments
The Income Tax Department conducted searches on prominent coal traders in West Bengal. Searches were conducted on 5th Nov in Raniganj, Asansol, Purulia, and Kolkata and seized cash and bullion of ? 7.3..
DNA - Published
Thieves targeting BJP members in West Bengal; bar owned by female party leader robbed
In Asansol, where thieves committed a robbery in the bar owned by a female BJP leader.
DNA - Published
BJP party office set ablaze in West Bengal's Asansol
A BJP party office was set on fire in Salanpur village on Sunday night. BJP has alleged that the TMC set the office ablaze. Police rushed to the spot and launched a probe into the incident.
IndiaTimes - Published
Al-Qaida terrorist arrested in Jamshedpur
A team of the ATS nabbed Mohammad Kallimuddin Muzahiri near Tatanagar railway station on Saturday, police aid. A resident of Azad Nagar in Mango area of the steel city, Muzahiri was absconding for..
IndiaTimes - Published
Chants of 'Jai Shri Ram' mark oath-taking by Babul Supriyo in Lok Sabha
Chants of Jai Shri Ram' marked the oath-taking in the Lok Sabha by minister Babual Supriyo, elected from Asansol in West Bengal, where the chating of the slogan became a political issue during the..
IndiaTimes - Published