Ambala
City in Haryana, India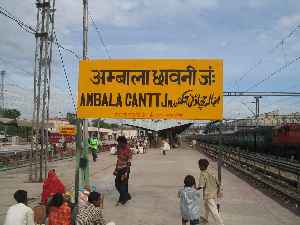 Ambala, is a city and a municipal corporation in Ambala district in the state of Haryana, India, located on the border with the Indian state of Punjab and in proximity to both states capital Chandigarh. Politically; Ambala has two sub-areas: Ambala Cantonment also known as and Ambala City, eight kilometers apart, therefore it is also known as "Twin City". It has a large Indian Army and Indian Air Force presence within its cantonment area. Ambala separates the Ganges river network from the Indus river network and is surrounded by two rivers – Ghaggar and Tangri – to the north and to the south. Due to its geographical location, the Ambala district plays an important role in local tourism, being located 47 km south of Chandigarh, the state capital, 148 km southwest of Shimla, 198 km north of New Delhi and 260 km southeast of Amritsar


Indian Air Force resurrects 'Golden Arrows' to house Rafale
The 'Golden Arrows' was raised on October 1, 1951, at Ambala with the Harvard IIB trainer aircraft and later got its first jet fighter de Havilland Vampire.
DNA - Published
First-ever recruitment rally for women soldier GD to be held from tomorrow in Ambala
For the first time ever in the history of the Indian Army, the recruitment rally for enrolling the women soldiers for general duty (GD) in Military Police will be conducted by the recruiting office of..
IndiaTimes - Published
Haryana mourns Swaraj's demise, locals in Ambala recall her childhood days
Sushma Swaraj spent her childhood days at Ambala Cantonment. She was a member of the Haryana legislative assembly from 1977-82 and 1987-90 during the days of the then state governments headed by..
IndiaTimes - Published
Huge loss estimated in massive fire at Anaj Mandi in Ambala
"Around 100 fire brigades are trying to douse the fire since morning but the fire has not yet been fully controlled. A huge government loss has been estimated in this fire incident. There is a..
DNA - Published
Pigeons pose threat to fighter jets at IAF's future Rafale base
The IAF is worried about the safety and security of its combat aircraft from the pigeons that are being bred around its frontline airbase in Ambala, which will be the home base for the Rafale combat..
IndiaTimes - Published
Air Force lauds pilot of Jaguar aircraft for 'prompt action', averting tragedy in Ambala
The aircraft, with two additional fuel drop tanks and Carrier Bomb Light Stores (CBLS) pods, took off from the Air Force Station, Ambala for a training mission on Thursday.
DNA - Published
Jaguar fighter jet drops jettisoned fuel tank, practice bombs after being hit by a bird in Ambala
The jettisoned fuel tank dropped from the Jaguar exploded on the boundary wall of IAF Station causing a panic in the residential area along the station boundary wall. Moreover, the fighter jet also..
IndiaTimes - Published
IAF aircraft suffers engine failure mid-air, lands safely in Ambala
Prompt action by an Indian Air Force (IAF) pilot saved his Jaguar fighter aircraft after it suffered a bird hit soon after taking off from the Ambala air base and landed back safely on Thursday..
DNA - Published
Ambala Lok Sabha Constituency: List of candidates for 2019 LS Poll, past results, all updates
Ambala is one of the 10 constituencies in Haryana going to vote on May 12. It consists of the following assembly segments - Kalka, Panchkula, Naraingarh, Ambala Cantonment, Ambala City, Mulana,..
DNA - Published
BJP releases 1st list for Haryana, retains 5 sitting MPs, fields state minister from Kurukshetra
The party has not yet announced candidates from Hisar and Rohtak seats, currently held by opposition INLD and Congress respectively. Haryana has 10 Lok Sabha constituencies. The BJP has retained its..
DNA - Published
You Might Like