New Delhi
Capital of India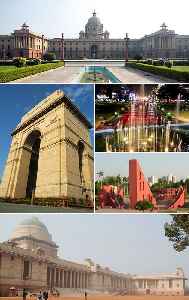 New Delhi is a district located in NCT Delhi. New Delhi serves as the capital of India and the seat of all three branches of the Government of India.


PM Modi launches 'Transparent Taxation' platform to honour honest taxpayer

Prime Minister Narendra Modi launched a platform for "Transparent Taxation - Honoring the Honest" via video conferencing in New Delhi on August 12. "This platform has big reforms such as faceless..
Credit: ANI Duration: 01:39
Published
Congress leader Priyanka Gandhi vacates Delhi bungalow after Centre's order

Congress general secretary Priyanka Gandhi Vadra vacated her official Lodhi Estate bungalow on Thursday. Priyanka handed over the possession to CPWD on Thursday. An official statement issued by the..
Credit: HT Digital Content Duration: 01:11
Published
'Respecting partners imperative': PM Modi at Mauritius SC building inauguration

Prime Minister Narendra Modi and his Mauritian counterpart Pravind Jugnauth jointly inaugurated the new Supreme Court building in Port Louis through video conferencing. The new Supreme Court building..
Credit: HT Digital Content Duration: 05:49
Published
Source of 80% new COVID cases can be traced within 72 hrs: Health Ministry

The Health Ministry on community transmission has stated that in 80% of new cases, source of infection and close contacts can be traced within 72 hours. "India has cluster of cases and pockets of..
Credit: ANI Duration: 02:02
Published
HM Amit Shah launches Plantation Drive from his residence

Union Home Minister Amit Shah launched Plantation Drive 2020 from his residence in New Delhi. Minister of Parliamentary Affairs, Pralhad Joshi was also present at the event.
Credit: ANI Duration: 01:26
Published
Study: Nearly A Quarter Of Residents Of This World Capital Have Already Had COVID-19

Alarming new data from New Delhi, India reveals nearly one in four residents there may have been infected with the novel coronavirus COVID-19. According to CNN, antibody tests on a random sample of..
Credit: Wochit News Duration: 00:33
Published
Dead body found near submerged bus under Minto Bridge

A body was found near waterlogged road under Minto Bridge on July 19. It was retrieved by a trackman working at New Delhi yard. Trackman Ramniwas Meena said, "I spotted the body while I was on duty at..
Credit: ANI Duration: 02:04
Published
South China Sea is part of global commons: MEA

The Ministry of External Affairs on July 16 said that the South China Sea is a part of global commons, and New Delhi has an "abiding interest" in peace and stability in the region. "South China sea is..
Credit: ANI Duration: 01:00
Published
Over 2 lakh stranded Indians repatriated under Vande Bharat Mission: Air India CMD

Over 2 lakh stranded Indians have been repatriated under government's Vande Bharat Mission by Air India, informed the Chairman and Managing Director of Air India, Rajiv Bansal. "As on July 13, Air..
Credit: ANI Duration: 01:44
Published
Traders' body CAIT distributes 'Boycott China' facemasks in Delhi markets

'Boycott China' facemasks were worn by people in India in protest against China's expansionist policies. In capital New Delhi, a large number of facemasks were distributed in busy market areas to make..
Credit: ANI Duration: 01:25
Published
Kerala CM Office involved in gold smuggling case: JP Nadda

BJP president JP Nadda on July 12 accused the Office of Kerala Chief Minister Pinarayi Vijayan of having involvement in the state's gold smuggling case. "We can see the heat in CM's office also. He..
Credit: ANI Duration: 01:50
Published
India expects China to restore peace on border: MEA

held a press conference in the national capital. While briefing the mediapersons on India-China border issue in Ladakh, Ministry of External Affairs Spokesperson Anurag Srivastava on July 2 said that..
Credit: ANI Duration: 01:52
Published
Hike in fuel prices halts

After 21 consecutive days of surge, fuel prices didn't go uphill on June 28. Price of petrol stands at Rs 80.38/litre and diesel costs Rs 80.40/litre in New Delhi. For the 1st time, diesel had crossed..
Credit: ANI Duration: 01:13
Published
Coronavirus: Indian hospitals overwhelmed with thousands of cases

In India's worst-hit cities New Delhi and Mumbai, reports of people being turned away from hospitals continue.
Credit: Al Jazeera STUDIO Duration: 02:50
Published
Officials of Indian Embassy in Pakistan return to India

Five officials of the Indian Embassy in Pakistan, including the two who were abducted and tortured by Pakistan security agencies, return to India via the Attari-Wagah border in Amritsar on June 22...
Credit: ANI Duration: 01:20
Published
Rajnath Singh departs for Russia

Defence Minister Rajnath Singh left for Russia on June 22 from New Delhi. Rajnath Singh will attend 75th Victory Day Parade in Moscow. The Defence Minister will also hold talks to further deepen the..
Credit: ANI Duration: 01:25
Published
China 'returns captured Indian soldiers'

China has returned 10 Indian soldiers captured during a deadly border clash earlier this week, an Indian government source said on Friday, as two Asian nuclear powers sought to de-escalate tensions on..
Credit: Reuters Studio Duration: 01:40
Published
You Might Like



India announces $500 million for Maldives project to counter China influence

India announced a $500 million package to fund a project in the Maldives on Thursday to help it connect the capital Male to three nearby islands, stepping up New Delhi's diplomatic efforts in a region..




IndiaTimes - Published





EXCLUSIVE: Ball is now in the Taliban court for peace talks, says Afghan President's spokesperson Sediq Sediqqi

Speaking exclusively to our Principal Diplomatic Correspondent Sidhant Sibal from Kabul, Sediqqi welcomed India's role and said New Delhi "has played an important role in the country's democracy" and..




DNA - Published





US, India begin purging Chinese infiltration into not just territory, but economy too

China's intransigence in refusing to fully withdraw from its border incursions into India is bringing New Delhi ever closer to Washington, with US and India appearing to coordinate strategy to..




IndiaTimes - Published





Bobby Kataria setting an example by his acts of humanity

Spearheading the organization, with Yuvaekta Foundation's director and Bobby's companion in arms, Manju Singh; he was able to best every case that came his way. Several statistical reports have claimed..




DNA - Published





Pakistan claims it asked India to appoint counsel for Kulbhushan Jadhav

Pakistan on Thursday claimed that it has asked India through diplomatic channels to appoint a counsel for death row prisoner Kulbhushan Jadhav, but New Delhi said that Islamabad has not yet..




IndiaTimes - Published





Jammu and Kashmir: Kupwara girl, a Jamia graduate, clears civil services exam with 350 rank

Nadia Beigh, whose parents are government teachers, is an Economics (Honours) graduate from Jamia Millia Islamia, New Delhi. Beigh cracked the prestigious civil services of India in her second attempt...




DNA - Published




India-China military talks: New Delhi seeks PLA disengagement from Fingers area, friction points in Eastern Ladakh

A meeting of Corps commanders of India and China including Lt Gen Harinder Singh and Maj Gen Liu Lin respectively currently underway at Moldo on the Chinese side of the Line of Actual Control (LAC) to..




DNA - Published





Jharkhand Congress MLAs demand one leader, one post in party

Three Jharkhand Congress MLAs including party's working president Irfan Sheikh, met senior leader Ahmed Patel in New Delhi on Tuesday over the issue of state leadership, indicating that after..




IndiaTimes - Published





American people overwhelmingly backs India over China: Survey

American people overwhelmingly back India over China and prefer the US government to support New Delhi in possible Indo-China military and economic conflict, according to a survey by Australia-based..




IndiaTimes - Published





'Disproportionate arms build-up': India's Rafale acquisition irks Pakistan

Five of the 36 medium multi-role Rafale fighter jets arrived at the IAF airbase in Ambala near New Delhi on Wednesday.




DNA - Published





Herd immunity in India may generate only in pockets, can be short-lived: Scientists

Herd immunity against Covid-19 in India is likely to be achieved only in pockets given the many socio-economic groups in the country and may be short-lived rather than long-lasting, say scientists as..




IndiaTimes - Published





LAC row: India denies China's claim of complete disengagement at most locations

The frontline troops of China and India have "completed" disengagement at most locations of their border, a senior Chinese official said on Tuesday, adding the situation on the ground is..




IndiaTimes - Published





Nitrogen dioxide levels fell by more than 70% during Covid-19 lockdown in New Delhi: UN

Levels of nitrogen dioxide fell by more than 70% during the lockdown in New Delhi, a UN policy brief said on Tuesday, warning that the environmental gains could be temporary if the cities re-open..




IndiaTimes - Published





India stands prepared to cooperate with Bangladesh amid Covid-19: Jaishankar

Underlining that India and Bangladesh partnership is a role model in the region for good neighbourly relations, External Affairs Minister S Jaishankar on Monday said New Delhi stands prepared to..




IndiaTimes - Published





MEA thanks Afghanisthan for safe return of of 11 Afghan Sikhs, Hindus

Eleven members of the Sikh community from Afghanistan, who were granted short-term visas by the Indian Embassy in Kabul, including Nidan Singh Sachdeva, who was abducted from a gurudwara in Paktia..




DNA - Published




Phase-I human clinical trial of potential Covid-19 vaccine: Man given first dose at AIIMS

The phase-I human clinical trial of India's first indigenously-developed vaccine against novel coronavirus, Covaxin, began at the AIIMS in New Delhi on Friday with the first dose of the injection given..




IndiaTimes - Published





ED raids Rajasthan CM Ashok Gehlot's brother in fertilizer scam

Agrasen Gehlot is the owner of a company named Anupam Krishi, on which the Customs department has levied a penalty of Rs 7 crore for alleged violations of rules in exports. The ED also conducted..




IndiaTimes - Published





Era of great caution in foreign policy is behind us: Jaishankar

If India has to grow, it has to shed its traditional caution, step out more, be more confident and articulate its interests, said external affairs minister S Jaishankar amid indications that China's..




IndiaTimes - Published





No 'Operation Lotus' in Maharashtra, says Fadnavis after meeting Shah

Former Maharashtra CM Devendra Fadnavis on Friday said no "Operation Lotus" was happening in Maharashtra as the Maha Vikas Aghadi govt will collapse on its own due to its "internal contradictions"...




IndiaTimes - Published





Iran dismisses report of 'dropping' India from Chabahar railway project

Iran has refuted an Indian newspaper report claiming that New Delhi had been "dropped" from the Chabahar-Zahedan railway project. An official said the story was "totally false because Iran has not..




IndiaTimes - Published





India: Committed to funding, building Chabahar railway project

India refuted Iran's contention that it is out of the Chabahar-Zahedan rail project, with senior Indian officials saying that New Delhi remained "committed" to financing and building the railway..




IndiaTimes - Published





EU briefed by India, China on border clashes

The European Union has been briefed by both New Delhi and Beijing on the recent India-China border clashes, with Brussels welcoming the recent de-escalatory steps between the two countries.




DNA - Published





4th round of India-China military talks today

India and China will discuss troop disengagement in the Depsang-Daulat Beg Oldie sector, with New Delhi also pressing for a further pullback of Chinese soldiers in the Pangong Tso and Hot Springs..




IndiaTimes - Published





PTI gets Rs 84 crore govt bill for 'flouting land lease'

Less than a month after Prasar Bharati threatened to snap ties with Press Trust of India (PTI), the government has now served a Rs 84.48 crore bill on the trust-run news agency for allegedly flouting..




IndiaTimes - Published





China raises apps ban issue during meeting, India says action taken due to security reasons

Days after India banned 59 Chinese mobile apps, China raised the issue during a bilateral meeting with New Delhi held recently. "During a meeting at the diplomatic level, the Chinese side raised the..




IndiaTimes - Published





China took incredibly aggressive actions, India did best to respond: US on LAC face-off

The United States on Wednesday said that China took "incredibly aggressive actions" in its recent clash with India in eastern Ladakh and New Delhi did its best to respond. Speaking about the ongoing..




IndiaTimes - Published





Union minister Pratap Sarangi goes into home quarantine

Union minister and Balasore MP Pratap Sarangi has quarantined himself at his New Delhi residence after a BJP MLA from Odisha he shared the dais with at two events last week tested positive for..




IndiaTimes - Published





India-China tensions: Russia maintaining close touch with New Delhi, Beijing

Russia has, however, clearly said it will not mediate between China and India.




DNA - Published





China weaponises data for spying, India has to stop Beijing's mobile apps, 5G invasion: Experts

The webinar was hosted on Friday evening by New Delhi-headquartered think-tank Law and Society Alliance and the Defence and Strategic Affairs news magazine Defence Capital.




DNA - Published





Japan backs India on LAC situation, opposes any change in status quo by China

Japan on Friday expressed hope for a peaceful resolution of the ongoing standoff between Indian and Chinese troops and asserted that it opposed any attempts to change the status quo on the Line of..




IndiaTimes - Published





Abide by agreements, New Delhi tells Beijing




IndiaTimes - Published





China's border row with India part of its global aggression, says Trump

China's aggressive stance along the India-China border fits with the larger pattern of Chinese aggression in other parts of the world, US President Donald Trump has said, wading into the boundary row..




IndiaTimes - Published





Germany, US block China's anti-India move at UNSC

China is livid after the US stepped in on Wednesday evening to delay a draft press statement condemning the Karachi Stock Exchange terrorist attack at the UN Security Council. ​​The US was the..




IndiaTimes - Published





Mike Pompeo welcomes India's ban on apps

US secretary of state Mike Pompeo on Wednesday welcomed India's ban on certain Chinese apps that he said "can serve as appendages of Chinese Communist Party's surveillance state". ​​He..




IndiaTimes - Published





Special flight with 224 Indians takes off from Washington DC

A special Air India flight carrying 224 Indian nationals including infants departed from Washington DC to New Delhi on Wednesday under the Vande Bharat Mission, the initiative launched to repatriate..




DNA - Published





LAC stand-off: China-India border clash stokes contrasting domestic responses

China is already locked in diplomatic combat over a host of disputes, from the United States and Australia to Taiwan and Hong Kong, and its handling of the coronavirus outbreak. It is loath to engage..




IndiaTimes - Published





Rajnath Singh to not meet Chinese counterpart Wei Fenghe in Moscow

The Chinese media has reported that Singh will meet his Chinese counterpart amid the border tensions between New Delhi and Beijing.




DNA - Published





Pakistan rejects allegations of violation of Vienna Convention by its diplomats in India as 'baseless'

Pakistan on Tuesday rejected what it called "baseless allegations" by India of any violation of the Vienna Convention on diplomatic relations by its High Commission officials in New Delhi and..




IndiaTimes - Published





India asks Pakistan high commission to cut staff strength by 50%

India on Tuesday said it will reduce the staff strength in the Pakistan high commission in New Delhi by 50% and would also recall half of its officials from the Indian high commission in Islamabad amid..




IndiaTimes - Published





India moves jets, copters to China-facing forward bases

India has moved its fighter jets to forward airbases facing China, even as additional warships have now been deployed in the extended Bay of Bengal region, in a clear signal to Beijing that New Delhi..




IndiaTimes - Published





India's election to UNSC shows goodwill country enjoys in world community: Venkaiah Naidu

Vice-President M Venkaiah Naidu on Thursday expressed delight over India's unopposed election to the UN Security Council as a non-permanent member, saying it reflected the goodwill enjoyed by New..




IndiaTimes - Published





Circumspect US calls for 'peaceful resolution' of India-China spat amid tacit, understated support for New Delhi




IndiaTimes - Published





India summons Pakistan envoy, registers protest on abduction of officials in Islamabad

India on Tuesday summoned the charge d' affaires of the high commission of Pakistan in Delhi Haider Shah and lodged a strong protest on the issue of the abduction and torture of two officials of the..




IndiaTimes - Published





ICMR gives nod to antigen-based testing kit for faster diagnosis

The antigen test — developed by private biotechnology firm SD Biosensor — has also been validated by AIIMS, New Delhi, apart from ICMR and can detect presence of SARS CoV 2 in swab collected from..




IndiaTimes - Published





Criticism mounts as New Delhi hospital beds run out amid COVID-19 surge

India's capital is fast running out of hospital beds amid a surge in coronavirus cases and is struggling to contain the pandemic, after critics said it did too little to prepare and reopened shopping..




Reuters India - Published

Also reported by •Reuters


New Delhi: AIIMS sets up 24x7 COVID-19 helpline number

This has been done so that minor hospitals and clinics in Delhi can take information related to COVID-19 management from senior medical experts at AIIMS through telephonic guidance.




DNA - Published





Jaishankar to meet China FM in virtual RIC meet on June 22

Even as India wrestles with Chinese intrusions along the Line of Actual Control in Ladakh, foreign minister S Jaishankar is scheduled to meet his Chinese counterpart Wang Yi at a virtual..




IndiaTimes - Published





Delhi to use 500 railway coaches as hospital facilities to fight coronavirus

India's federal government said on Sunday it will provide New Delhi's city authorities with 500 railway coaches that will be equipped to care for coronavirus patients, after a surge in the number of..




Reuters India - Published

Also reported by •Reuters


'Nepal has politicised boundary issues': New Delhi dismisses Kathmandu's claims on Indian territory

Sources explained that current claims of the Nepali govt are contrary to its own boundary treaty & protocols signed with China.




DNA - Published





Amid border dispute with India, Nepal to vote on new map with parts of Uttarakhand today

In a special session on Saturday, the Nepal parliament is expected to vote on a new map featuring areas of Lipulekh, Kalapani and Limpiyadhura along with border with India amidst strong protests by New..




DNA - Published