New Delhi
Capital of India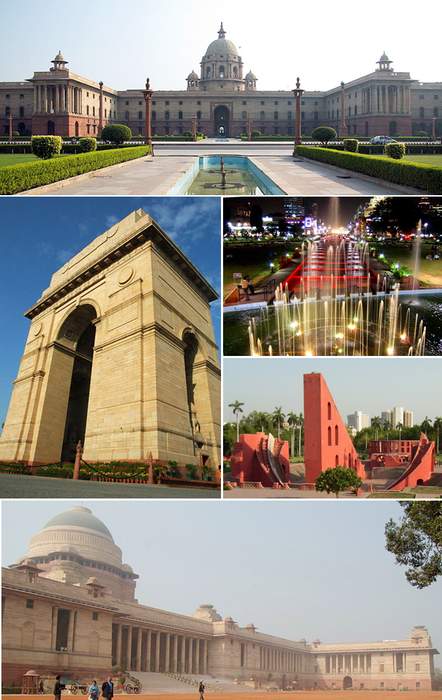 New Delhi is the capital of India and an administrative district of the National Capital Territory of Delhi. New Delhi is the seat of all three branches of the government of India, hosting the Rashtrapati Bhavan, Parliament House, and the Supreme Court of India.


Congress protests in Lakhimpur, MoS Mishra summoned to New Delhi | Oneindia News

Despite no permission, Rahul Gandhi was making his way to Lakhimpur Kheri via Lucknow to stand in solidarity with farmers killed in Sunday's violence; Union Minister Ajay Mishra Teni was asked to reach..
Credit: Oneindia Duration: 03:09
Published
Kanhaiya Kumar joins Congress party, Jignesh Mavani extends support | Oneindia News

Former JNU leader Kanhaiya Kumar joined the Congress party. He was inducted in the presence of Rahul Gandhi in New Delhi. #KanhaiyaKumar #AmarinderSinghonSidhu #YogiAdityanath
Credit: Oneindia Duration: 03:59
Published
PM Modi inspects Central Vista site, makes surprise visit after US tour | Oneindia News

Within 24 hours of his return from the US, PM Modi was photographed visiting the Central Vista project site in New Delhi. He interacted with engineers, architects and construction workers at the site..
Credit: Oneindia Duration: 01:37
Published
New defence offices inaugurated: Swanky, energy efficient buildings| OneIndia news

PM Modi on Thursday inaugurated new defence office complexes in New Delhi's Kasturba Gandhi Marg and Africa avenue. The new revamped offices will accommodate around 7,000 officials from the ministry..
Credit: Oneindia Duration: 01:55
Published
IT 'surveys' at Newsclick, Newslaundry offices in New Delhi | Oneindia News

The Income Tax department on Friday conducted separate "survey operations" at the premises of online news portals Newsclick and Newslaundry. #Tax #ITRaids #Media
Credit: Oneindia Duration: 01:16
Published
Afghan parliament member Rangina Kargar says India deported her | Oneindia News

A woman member of the Afghan parliament Rangina Kargar has said she was deported from New Delhi's Indira Gandhi International Airport on August 20, five days after the fall of Kabul to the Taliban...
Credit: Oneindia Duration: 04:53
Published
Afghan refugees in India's New Delhi demand rights outside UNHCR

Around 300 Afghan refugees in New Delhi shout slogans demanding human rights and resettlement by UN Agencies.
Credit: euronews (in English) Duration: 01:00
Published
You Might Like



Former PM Manmohan Singh stable, recovering: AIIMS Delhi

Former Prime Minister Dr Manmohan Singh, who is admitted at All India Institute of Medical Sciences (AIIMS) New Delhi is stable and recovering, informed hospital official on Friday. Dr Singh, who was..




IndiaTimes - Published





PM Modi's double engine experiment has failed in Uttarakhand: LoP Pritam Singh after Yashpal Arya joins Congress

In a major jolt to the BJP, Uttarakhand transport minister Yashpal Arya quit the party and rejoined the Congress along with his MLA son from Nainital Sanjiv Arya at All India Congress Committee (AICC)..




IndiaTimes - Published





External Affairs Minister S Jaishankar meets Danish PM in New Delhi




IndiaTimes - Published





Rajnath Singh presents gallantry, meritorious service medals to Coast Guard personnel

Defence minister Rajnath Singh on Saturday presented gallantry and meritorious service medals to Indian Coast Guard personnel at the Investiture Ceremony being held at National Stadium Complex in New..




IndiaTimes - Published





Heat exposure: 4 India cities in worst 10 list

India contributed to more than half of the global increase in urban heat exposure since the 1980s, according to a study published this week. The trend, concentrated in south Asia, the Middle East, and..




IndiaTimes - Published





Russia ready to train Indian specialists for Amethi's Kalashnikov project

New Delhi: Russia's Rosoboronexport, the state agency for exports/imports of defence products, is ready to train Indian specialists for the AK-203 Kalashnikov project in Amethi, in the Indian state of..




DNA - Published





Tej Pratap Yadav makes shocking claim about RJD chief Lalu Yadav, says THIS

Veteran leader Lalu Prasad Yadav has been held 'hostage' in New Delhi, alleged his son, RJD leader Tej Pratap Yadav




DNA - Published





Paddy procurement in Haryana, Punjab from tomorrow, says Centre after farmers stage protests

Paddy procurement in Punjab and Haryana will start from tomorrow, Haryana chief minister Manohar Lal Khattar said after meeting the Union ministers in New Delhi. This comes after farmers in Punjab and..




IndiaTimes - Published





Paddy procurement in Punjab and Haryana to start from October 3

Paddy procurement in Punjab and Haryana will start from tomorrow, Haryana chief minister Manohar Lal Khattar said after meeting the Union ministers in New Delhi. This comes after farmers in Punjab and..




IndiaTimes - Published





PM Modi launches Swachh Bharat Mission-Urban 2.0, AMRUT 2.0: All you need to know

Prime Minister Narendra Modi on Friday launched Swachh Bharat Mission-Urban (SBM-U) 2.0 and Atal Mission for Rejuvenation and Urban Transformation (AMRUT) 2.0 at Dr Ambedkar International Centre in New..




IndiaTimes - Published





'You have strangulated Delhi by holding sit-in protests': SC to Kisan Mahapanchayat

The Kisan Mahapanchayat has moved the apex court seeking directions to the authorities to allow it to stage peaceful and non-violent 'Satyagraha' at Jantar Mantar, New Delhi. To this, the apex court..




IndiaTimes - Published





Colombian Vice President arrives in New Delhi, to hold bilateral discussions




IndiaTimes - Published





Six turncoat MLAs put Congress in a spot in Rajasthan

Amid the pangs of its Punjab headache, Rajasthan has raised its hand to present Congress with a new problem to solve. Four of the six BSP-turned-Congress legislators from the desert state on Thursday..




IndiaTimes - Published





Kerala Congress leaders defer Delhi visit, Rahul in state today

The discussion between the All-India Congress Committee (AICC) and the Kerala Congress leadership on the appointment of new KPCC office-bearers, scheduled to be held in New Delhi, was postponed on..




IndiaTimes - Published





Day after UP govt hikes sugarcane purchase price to Rs 350 per quintal, Varun says make it Rs 400

NEW DELHI: A day after the Uttar Pradesh government announced a hike of Rs 25 per quintal in the sugarcane procurement prices, taking it to Rs 350 per quintal, BJP MP Varun Gandhi on Monday wrote a..




IndiaTimes - Published





PM Modi returns to New Delhi after concluding three-day visit to US




IndiaTimes - Published





PM Modi leaves for US, to address UNGA and attend Quad Leaders' Summit

PM Narendra Modi departed from New Delhi on Wednesday for a three-day visit to the US




DNA - Published





First case of mysterious Havana syndrome reported in India: Here's what we know about mystery illness so far

The first-ever case of Havana syndrome has been reported in India by a CIA officer during his New Delhi visit.




DNA - Published





AUKUS won't impact Quad, US tells India

The US on Monday briefed India on its new trilateral AUKUS military pact with the UK and Australia, stressing it will not detract from either the bilateral cooperation with New Delhi or multilateral..




IndiaTimes - Published





No need for Covid booster doses in India at this stage, say experts

Immunologist Satyajit Rath said that less than 15 per cent of Indian adults have been vaccinated with two doses, and this clearly means that all Indians "who are more vulnerable to infection" have..




IndiaTimes - Published





Incidents of unparliamentary behaviour by public representatives have tarnished image of democratic institutions: Lok Sabha Speaker

Incidents of unparliamentary behaviour by public representatives have increased in recent years and tarnished the image of the democratic institutions, Lok Sabha Speaker Om Birla said. Inaugurating the..




IndiaTimes - Published





BJP springs a surprise in Gujarat, picks first-time MLA, a Patel, as new CM

PM Narendra Modi sprang one of his biggest surprises when the soft-spoken, first-time MLA Bhupendra Patel was anointed as the successor of outgoing Gujarat chief minister Vijay Rupani on Sunday...




IndiaTimes - Published





Afghanistan crisis: NSA Ajit Doval holds talks with Russia's Nikolai Patrushev

India and Russia on Tuesday discussed prospects for launching a peaceful settlement process based on an intra-Afghan dialogue. Both the nations agreed to coordinate the approaches of Russia and India..




IndiaTimes - Published





India played key role in UNSC resolution that says Afghan territory not be used against any other country

The United Nations Security Council's (UNSC) resolution on Afghanistan addresses India's key concerns pertaining to the war-ravaged country, sources said on Tuesday, adding that New Delhi played an..




IndiaTimes - Published





At UNSC, India's Foreign Secretary Harsh Shringla calls on Israel, Palestine to exercise restraint

New Delhi: India's Foreign Secretary Harsh Shringla on Monday called on Israel and Palestine to exercise restraint during his address at the United Nations Security Council's monthly meeting on the..




DNA - Published





Delhi & Mumbai make it to EIU's 60 safe cities list

Two Indian cities — New Delhi and Mumbai — figure on the Safe City Index issued by the Economist Intelligence Unit, the research and analysis division of The Economist Group. The report ranks..




IndiaTimes - Published





Five-member delegation of Punjab ministers to meet Congress High Command in New Delhi




IndiaTimes - Published





India 'very carefully' following developments in Afghanistan: EAM Jaishankar

With the Taliban now in control in Kabul, External Affairs Minister S Jaishankar on Wednesday said New Delhi is "very carefully" following the developments in Afghanistan and India's focus is on..




IndiaTimes - Published





Russia, Africa show robust support for India's maritime meet at UNSC

Russia was represented by President Vladimir Putin showcasing Moscow's support for New Delhi at the high table.




DNA - Published





India urges its nationals in Afghanistan's Mazar-i-Sharif to leave today on 'special fight' as Taliban advances

India on Tuesday urged its nationals in Afghanistan to leave the nation on a 'special flight' from Mazar-i-Sharif to New Delhi.




DNA - Published





Jaishankar meets Qatar's special envoy, shares concerns over Afghanistan's security situation

External affairs minister S Jaishankar on Saturday shared concerns over Afghanistan's security situation during a meet with Qatar's Special Envoy Mutlaq bin Majed Al-Qahtani in New Delhi.




IndiaTimes - Published





India will always be proponent of international law, says Jaishankar as New Delhi assumes UNSC presidency




IndiaTimes - Published





PM Modi to be first Indian PM to preside over UNSC meeting: Syed Akbaruddin

Prime Minister Narendra Modi will be the first Indian PM to preside over a meeting during New Delhi's presidency of the United Nations Security Council (UNSC), said Syed Akbaruddin, India's former..




IndiaTimes - Published





India's UNSC Presidency: Maritime security, peacekeeping, counter-terrorism key issues, says Tirumurti

Ahead of India taking the Presidency of the United Nations Security Council, India's Ambassador (Permanent Representative) of India to United Nations TS Tirumurti listed 3 key priorities of New Delhi..




DNA - Published





Faceoff: Netizens spar over AAP's resolution against Rakesh Asthana

The ruling Aam Aadmi Party in New Delhi has passed a resolution against the appointment of Rakesh Asthana as the Commissioner of Police.




IndiaTimes - Published





Blinken's India visit puts human rights, China on table

US Secretary of State Antony Blinken arrived in India on Tuesday to discuss strengthening Indo-Pacific engagement, seen as a counter to China, as well as New Delhi's recent human rights record and..




IndiaTimes - Published





US Secretary of State Antony Blinken's India visit: Resumption of International travel, situation in Afghanistan to figure in talks

India will press for gradual resumption of international travel, while maintaining health protocols on US Secretary of State Antony Blinken's visit to India, sources said.​US Secretary of State..




IndiaTimes - Published





US to raise human rights, Pegasus issues in talks with India

New Delhi, stand by for a brief lecture on human rights and civil liberties. US Secretary of State Antony Blinken will raise these issues in talks with his Indian counterpart next week, including..




IndiaTimes - Published





Antony Blinken to raise human rights with Indian officials during visit to New Delhi

US secretary of state Antony Blinken will raise issues of human rights and democracy with Indian officials during his first visit to New Delhi as the two nations have more values in common on those..




IndiaTimes - Published




US secretary of state Antony Blinken expected to visit India next week

US Secretary of State Antony Blinken is expected to make his maiden trip to India next week. According to sources quoted by ANI, it is learnt that preparations for the high-level visit are currently..




IndiaTimes - Published





At UNSC, Foreign Secretary Shringla extends support to Libya's National Unity govt

India's Foreign Secretary Harsh Vardhan Shringla extended support to Libya's National Unity government with New Delhi willing to provide "capacity building and training assistance in mutually..




DNA - Published





Jaishankar dials FM Pandor as violence in South Africa escalates

Even as large-scale violence impacts South Africa, New Delhi has raised the matter with the government, especially when it comes to the Indian diaspora--Indians, and Indian origin people. External..




DNA - Published





When can Indians expect resumption of direct flights to Canada, know here

India has officially asked the Canadian government to lift its ban on direct flights from New Delhi. The prohibition has been in place since April 22.




DNA - Published





India's first Covid patient tests positive again for coronavirus

A woman medico, who was India's first Covid-19 case, has tested positive again for the virus, health authorities said on Tuesday."She is reinfected with Covid-19. Her RT-PCR is positive, antigen is..




IndiaTimes - Published





New Delhi evacuates India-based staff from Kandahar consulate as Taliban advance into city

India evacuated all its India-based personnel from Kandahar on Saturday evening by special flight, as Taliban advanced into the city, amidst fighting and violence. The Indian mission is now manned only..




IndiaTimes - Published





Meenakshi Lekhi: From BJP face in media to Union minister

Fifty-four-year-old Lekhi, who took oath as a Union minister of state on Wednesday on her second term as the MP from the prestigious New Delhi constituency, has been at the forefront of struggles on a..




IndiaTimes - Published





Faceoff: Netizens outraged as Delhi Police detains 'Free Tibet' protesters

Tibetan Youth Congress members were detained by Delhi Police on Thursday, while they were staging a protest in front of the Chinese Embassy in New Delhi against the centenary celebrations of the..




IndiaTimes - Published





Delhi Transport Department authorise vehicle dealers to issue temporary RCs

Delhi transport department is running pilot project in New Delhi, Sarai Kale Khan, Mall Road RTOs to decentralise issuing registration certificates.




DNA - Published





Have written thrice to PM Modi to withdraw Dhankhar as governor, says Mamata Banerjee

West Bengal CM Mamata Banerjee on Thursday took a dig at governor Jagdeep Dhankhar's New Delhi visit as she said a "child can be cajoled into silence" but not an elderly man, noting that she has thrice..




IndiaTimes - Published




India played important role in Afghanistan's economic, social development in last two decades: Khalilzad

US Special Representative for Afghanistan Reconciliation, Zalmay Khalilzad on Wednesday laid emphasis on India's role in Afghanistan's economic and social development in the last two decades and said..




IndiaTimes - Published