Saudi Arabia
Country in West Asia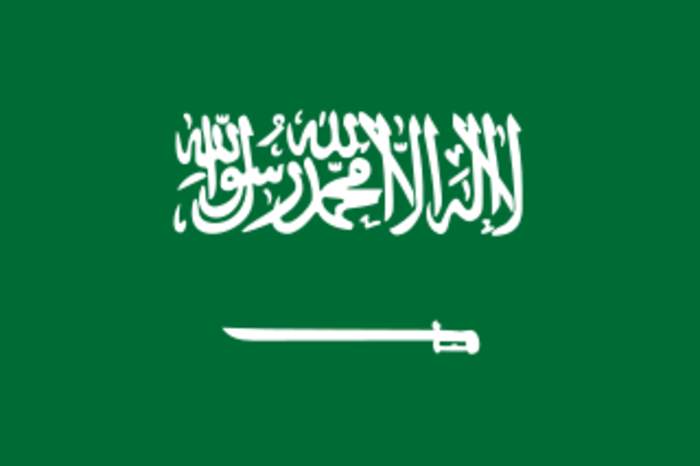 Saudi Arabia
, officially the
Kingdom of Saudi Arabia
(
KSA
), is a country in West Asia. It covers the bulk of the Arabian Peninsula and has a land area of about
2

150

000
 km
2
, making it the fifth-largest country in Asia and the largest in the Middle East. It is bordered by the Red Sea to the west; Jordan, Iraq, and Kuwait to the north; the Persian Gulf, Qatar and the United Arab Emirates to the east; Oman to the southeast; and Yemen to the south. Bahrain is an island country off its east coast. The Gulf of Aqaba in the northwest separates Saudi Arabia from Egypt and Israel. Saudi Arabia is the only country with a coastline along both the Red Sea and the Persian Gulf, and most of its terrain consists of arid desert, lowland, steppe, and mountains. Saudi Arabia's capital and largest city is Riyadh; the kingdom is also the location of Islam's two holiest cities of Mecca and Medina.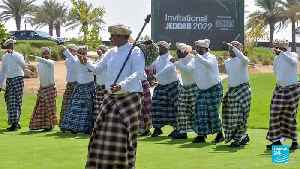 Saudi snares 2030 World Expo in latest 'soft power' success


Credit: FRANCE 24 English Duration: 01:54
Published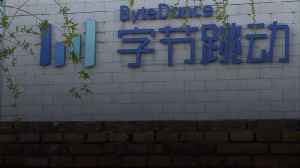 ByteDance Begins Mass Gaming Layoffs

ByteDance Begins , Mass Gaming Layoffs. In 2021, the TikTok parent company announced its new gaming unit, Nuverse. It was expected to rival competitors like Tencent and NetEase. It was expected to..
Credit: Wibbitz Top Stories Duration: 01:30
Published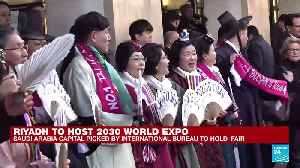 Saudi capital Riyadh chosen to host World Expo 2030


Credit: FRANCE 24 English Duration: 01:27
Published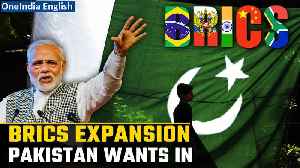 The BRICS Standoff: Analysing India's Big Problem with Pakistan's Entry | Oneindia News

In 2023, the BRICS Alliance expanded to nearly 11 nations, adding significant members like Saudi Arabia, Iran, and Egypt. Pakistan, backed by China, aimed to join. Pakistan applied for BRICS membership..
Credit: Oneindia Duration: 03:04
Published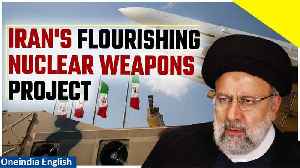 Iran's Nuclear Production Touches Weapon Grade Mark, Amid UN Obstruction| OneIndia News

Iran's 2023 saw restored ties with Saudi Arabia and Syria, escalating tensions with Israel. Now, a UN report revealed Iran's advanced nuclear enrichment surpassing 60%, challenging global efforts to..
Credit: Oneindia Duration: 02:21
Published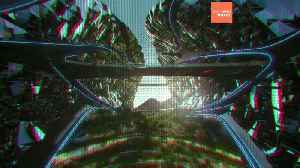 Saudi Arabia is building a futuristic ski resort in the middle of the desert

The ski resort, Trojena, will be available for skiers for three months every year, while the rest of the time tourists will be able to do watersports and mountain biking.
Credit: euronews (in English) Duration: 01:50
Published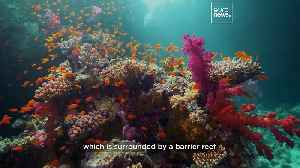 Untouched waters: The Saudi Arabian destination promising scuba fans unparalleled diving

Saudi Arabia's 28,000 square kilometre development on the Red Sea coast is focused on two destinations: Red Sea Global and Amaala. The project will bring a plethora of luxury hotels, dining and..
Credit: euronews (in English) Duration: 01:49
Published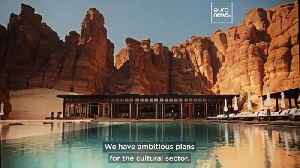 Ancient monuments, world class chefs and an arts scene to rival Paris: Welcome to AlUla

With airport expansion plans and new attractions, the ancient city of AlUla could soon be the arts and culture hub of Saudi Arabia.
Credit: euronews (in English) Duration: 01:45
Published
U.S concrened over Escalating Death Toll in Gaza| Global Concerns and Diplomatic Initiatives

The Israel-Gaza conflict has intensified, surpassing 11,000 casualties in a five-week Israeli bombardment. U.S. Secretary of State Antony Blinken urged Israel to protect civilians, while French..
Credit: Oneindia Duration: 02:15
Published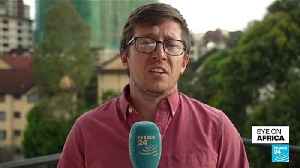 Sudan conflict: Saudi-hosted peace talks fall short of ceasefire


Credit: FRANCE 24 English Duration: 01:42
Published
Israel-Palestine War| Calls for Ceasefire in Hamas Conflict amid Gaza Humanitarian Crisis| Oneindia

International pressure mounts for a pause or ceasefire in the Israel-Hamas conflict, allowing humanitarian aid to reach Gaza. U.S. President Biden and Saudi Crown Prince Salman prioritise diplomacy...
Credit: Oneindia Duration: 02:01
Published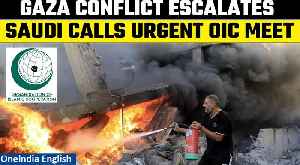 Israel-Hamas War: Islamic Nations' Group calls "urgent, extraordinary" meet on Israel-Gaza| Oneindia

A top grouping of Islamic nations has called an "urgent extraordinary meeting" in Saudi Arabia to discuss the Israel-Gaza war. The Organisation of Islamic Cooperation (OIC) seeks to address the..
Credit: Oneindia Duration: 02:30
Published
You Might Like



Saudis 'in fifth gear' but is it 'right' for women's tennis?

After taking its first steps into staging professional tennis, Saudi Arabia is now eyeing a deal for the WTA finals.




BBC Sport - Published





Heathrow's largest shareholder agrees £2.4bn deal to take flight

The largest shareholder in London's Heathrow Airport has agreed a £2.4bn deal to sell its entire stake to two vehicles, including Saudi Arabia's sovereign wealth fund.




Sky News - Published





From bidding for Bale to selling the team bus - the fall of the CSL

Once it was China, not Saudi Arabia, on a multi-million pound recruitment drive to buy in the world's best football talent. In just a few years though, the Chinese Super League's big-money plans have..




BBC Sport - Published





Newcastle eye Phillips loan - Saturday's gossip

Newcastle eye Kalvin Phillips and Hugo Ekitike, Man Utd make Jarrad Branthwaite a priority, Christian Eriksen linked with Saudi move, plus more




BBC Sport - Published





Murder accused facing Interpol Red Notice brought back from Saudi Arabia




IndiaTimes - Published





Henderson's Saudi move a 'slap in the face' - Daniels

Jake Daniels, the UK's only openly gay active male professional footballer, speaks about his mental health, Jordan Henderson and the 18 months since coming out.




BBC Sport - Published





De Gea turns down huge Saudi offer - Sunday's gossip

De Gea turns down huge Al-Nassr deal, Inter Miami also want Spanish goalkeeper, West Ham join Phillips race, plus more.




BBC Sport - Published





Working with Warren a turning point for boxing - Hearn

In his BBC Sport column, Eddie Hearn discusses December's Saudi super-card, Anthony Joshua's plans and how working with rival promoter Frank Warren is "a turning point for British boxing"




BBC Sport - Published





'I will break him' - Fury confident he will beat Usyk

Britain's Tyson Fury pledges to "break" Ukraine's Oleksandr Usyk when the pair face off in Saudi Arabia on 17 February in a fight to become the first undisputed heavyweight champion in the four-belt..




BBC Sport - Published





February date for historic Fury-Usyk fight in Saudi

Tyson Fury and Oleksandr Usyk will contest the undisputed heavyweight title on 17 February in Saudi Arabia.




BBC Sport - Published





'On a bad day I'll smoke him' - Joshua on fighting Wallin

Anthony Joshua says he'll "smoke" Otto Wallin after it was announced the two would fight each other on the same card as Deontay Wilder on 23 December in Riyadh, Saudi Arabia.




BBC Sport - Published





Joshua & Wilder to fight on same card in Saudi Arabia

Anthony Joshua and Deontay Wilder will fight separate opponents on the same night as part of a stacked card on 23 December in Riyadh, Saudi Arabia.




BBC Sport - Published





Napoli's Osimhen 'chose career' over Saudi move

Napoli striker Victor Osimhen says he made the decision which was "good for his career" after being linked with a move to Saudi Arabia in the summer.




BBC Sport - Published





Top football boss breaks ranks - and says FIFA is awarding World Cups without transparency

A world football boss has broken rank to claim FIFA is awarding World Cups - including to Saudi Arabia - without a transparent process.




Sky News - Published




Usyk hopes Fury fight will happen in February

Oleksandr Usyk hopes his undisputed heavyweight world title fight with Tyson Fury will take place in February in Saudi Arabia.




BBC Sport - Published





Man Utd & Newcastle eye Lyon's Cherki - Tuesday's gossip

Manchester United and Newcastle monitor Rayan Cherki, Saudi Pro League clubs are interested in Bruno Fernandes, plus more.




BBC Sport - Published





Terror funding: SIA files chargesheet against Pak-based terrorist handler, 2 others

The State Investigation Agency (SIA) in Kashmir has filed a chargesheet against three individuals in a terror funding case. The accused include a Pakistan-based terrorist handler and two residents of..




IndiaTimes - Published





Logan Paul Becomes WWE's U.S. Champion After Winning Crown Jewel Event

Logan Paul is now a wrestling champion, 'cause the dude just won a major WWE event in Saudi Arabia... which saw him raise a gold belt in glory. The YouTuber-turned-athlete competed Saturday in WWE's..




TMZ.com - Published





Neville set for management return - Saturday's gossip

Phil Neville is close to a managerial job, Saudi clubs want Raphael Varane, Newcastle watch two Serie A players, plus more.




BBC Sport - Published





New research gives picture of Saudi Arabian sports investment

New research claims for the first time to give a picture of the extent and scale of Saudi Arabian state investment and involvement in sport.




BBC Sport - Published





Why Saudi 2034 World Cup should not surprise anyone

Hosting a men's World Cup has long been an ambition for Saudi Arabia writes BBC sports editor Dan Roan, but questions and intense scrutiny will remain.




BBC Sport - Published





Saudi Arabia set to host 2034 World Cup after Australia says it will not bid

Saudi Arabia is on course to host the 2034 World Cup after Australia announced it would not be bidding to stage the tournament.




Sky News - Published




Saudi Arabia in line to host 2034 World Cup

Saudi Arabia is set to host the 2034 World Cup after Australia decides against bidding.




BBC Sport - Published




Heavyweight champion Tyson Fury defeats MMA star Francis Ngannou by split decision

Heavyweight champion Tyson Fury has defeated MMA star Francis Ngannou by split decision in a 10-round boxing bout in Riyadh, Saudi Arabia.




Sky News - Published




Man City want £50m for Phillips - Sunday's gossip

Man City set £50m asking price for Kalvin Phillips, Saudi Arabia clubs prepare Kevin de Bruyne offers, Ruben Neves 'dreams' of Newcastle move, plus more.




BBC Sport - Published





Wardley stops Adeleye to retain British heavyweight title

Fabio Wardley defends his British heavyweight title with a TKO victory against David Adeleye in Saudi Arabia.




BBC Sport - Published





Lee sets 36-hole record at Aramco Team Series

Alison Lee sets a 36-hole scoring record on the Ladies European Tour with a second successive 61 at the Aramco Team Series in Saudi Arabia.




BBC Sport - Published




Fury-Ngannou confirmed as professional fight

Tyson Fury's heavyweight fight against Francis Ngannou in Riyadh, Saudi Arabia, on Saturday will officially be a professional bout.




BBC Sport - Published





EAM discusses Gaza with Oman counterpart

External Affairs Minister S Jaishankar discussed the Israel-Hamas war situation with his Omani counterpart, Badr Albusaidi ahead of General Assembly vote. They talked about the need for an immediate..




IndiaTimes - Published





Watch: Fury and Ngannou face off at weigh-in

Watch as Tyson Fury and Francis Ngannou face off before their heavyweight clash in Saudi Arabia on Saturday.




BBC Sport - Published





Brash Fury prods Ngannou during Saudi weigh-in

A brash Tyson Fury leans on and prods Francis Ngannou as the pair weigh in for their heavyweight fight in Saudi Arabia on Saturday.




BBC Sport - Published





Tyson Fury v Francis Ngannou - live text

Follow live text commentary as undefeated heavyweight champion Tyson Fury takes on MMA star Francis Ngannou in Riyadh, Saudi Arabia.




BBC Sport - Published





Saudi Pro League wants De Bruyne - Friday's gossip

Saudi Pro League officials approach Kevin de Bruyne, Newcastle target Ruben Neves, Chelsea are interested in Gavi, plus more.




BBC Sport - Published





Unclear if Fury-Ngannou will be pro bout

It remains unclear whether Tyson Fury's heavyweight fight against Francis Ngannou in Riyadh, Saudi Arabia on Saturday will be sanctioned as a professional bout.




BBC Sport - Published





Everton star tipped for Saudi move - Sunday's gossip

Calvert-Lewin tipped for Saudi Arabia move, Phillips set to leave City, clubs learn Guehi price tag - plus more.




BBC Sport - Published





Britain's Waugh wins women's Super League title

Great Britain's Kate Waugh finishes second in Saudi Arabia to clinch the women's overall title in the 2023 Super League Triathlon series.




BBC Sport - Published





US, Israel and Saudi diplomats fantasised of peace - but Hamas and Iran had other plans | Dominic Waghorn

Joe Biden flies to the Middle East with his policy for the region in tatters. 




Sky News - Published




Saudi football revolution spreads to women's game

BBC Sport takes a look at the progress being made in women's football in Saudi Arabia in the build-up to the new season of the Saudi Women's Premier League.




BBC Sport - Published





Saudi Arabia launches official bid for 2034 World Cup, after FIFA restricts competitors

Saudi Arabia has submitted to FIFA its official intention to host the 2034 World Cup after an unprecedented fast-track process was adopted by football's governing body.




Sky News - Published





Players in Saudi putting legacies at risk - Ibrahimovic

Zlatan Ibrahimovic says footballers who move to Saudi Arabia risk being remembered for what they earned rather than their talent.




BBC Sport - Published





Saudi side refuse to play in Iran due to statue

Al-Ittihad's Asian Champions League match with Iran's Sepahan is called off after the Saudi team refused to leave their dressing room.




BBC Sport - Published





Lewandowski on Saudi wishlist - Sunday's gossip

Robert Lewandowski is wanted by the Saudi Pro League, Arsenal will monitor Pedro Neto, Chelsea fail to meet the valuation for Dusan Vlahovic, plus more.




BBC Sport - Published





Fury to face Usyk in undisputed title fight in Saudi

An historic undisputed heavyweight fight between champions Tyson Fury and Oleksandr Usyk has been "signed", according to Queensbury Promotions.




BBC Sport - Published





AlUla's Festive Extravaganza: Your 2023-24 event guide

Hidden in the Medina province of northwestern Saudi Arabia, AlUla is a mesmerizing Arabic city with thrilling terrains and rich cultural heritage




DNA - Published





Real Madrid eye De Zerbi - Thursday's gossip

Real Madrid eye De Zerbi, Saudi clubs lead Osimhen chase, Sevilla tracking Mejbri, Man Utd plan Ten Hag talks, plus more.




BBC Sport - Published





Lingard training with Saudi side Al-Ettifaq

Former England midfielder Jesse Lingard is training with Al-Ettifaq, the Saudi Pro-League side announces.




BBC Sport - Published





Netanyahu says Israel is on the cusp of Saudi peace deal that would create a 'new Middle East'

Israel's Prime Minister Benjamin Netanyahu has told the United Nations General Assembly that his country is on the cusp of a historic peace deal with Saudi Arabia and an agreement would create a "new..




Sky News - Published




Saudi prince says he will continue 'sportswashing' to boost economy

Crown Prince Mohammed bin Salman has said he "doesn't care" if Saudi Arabia is accused of "sportswashing" - as long as it adds to the country's GDP.




Sky News - Published