Nicola Sturgeon
First Minister of Scotland from 2014 to 2023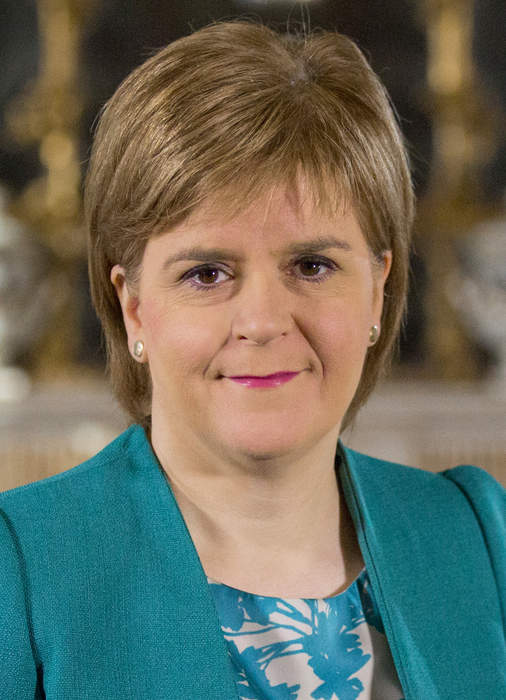 Nicola Ferguson Sturgeon is a Scottish politician who served as First Minister of Scotland and Leader of the Scottish National Party (SNP) from 2014 to 2023. She has served as a member of the Scottish Parliament (MSP) since 1999, first as an additional member for the Glasgow electoral region, and as the member for Glasgow Southside from 2007.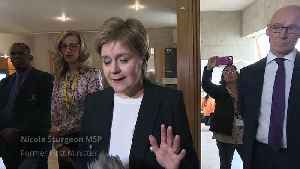 Former First Minister: SNP crisis is my 'worst nightmare'

Former First Minister Nicola Sturgeon comments on the SNP crisis, saying she "couldn't anticipate" in her "worst nightmares" what was to unfold, and quashes any speculation she could foresee the..
Credit: ODN Duration: 00:16
Published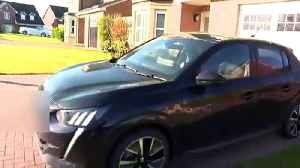 Sturgeon's husband Murrell seen for first time since arrest

Former SNP chief executive Peter Murrell has been seen for the first time since his arrest. Nicola Sturgeon's husband was detained earlier this month and questioned by detectives for 11 hours before..
Credit: ODN Duration: 00:13
Published
You Might Like



Top prosecutor refuses to say if search of Nicola Sturgeon's home was 'deliberately delayed'

The head of Scotland's prosecution service has refused to say whether a search warrant for Nicola's Sturgeon's home was "deliberately delayed" until after the SNP leadership contest ended.




Sky News - Published





Nicola Sturgeon says SNP crisis beyond her 'worst nightmares'

Nicola Sturgeon has admitted she could not have imagined "in her worst nightmares" the controversy currently engulfing the SNP.




Sky News - Published





'I didn't know' about £100,000 motorhome purchase says ex-SNP treasurer

Former SNP treasurer Colin Beattie has said he had no knowledge of the party's purchase of a luxury motorhome seized by police from the home of Nicola Sturgeon's mother-in-law.




Sky News - Published





Sturgeon will 'fully cooperate' with police after arrest of her husband

Nicola Sturgeon has said she will "fully cooperate" with police after the arrest this week of her husband Peter Murrell, the former chief executive of the Scottish National Party (SNP).




Sky News - Published





SNP auditors resign as Nicola Sturgeon's husband faces finance probe

The accounting firm used by the SNP has resigned just days after police arrested the party's former chief executive as part of an investigation into the party's finances.




Sky News - Published





Nicola Sturgeon pulls out of climate change event amid SNP finance probe

Nicola Sturgeon has pulled out of a climate change event due to take place on Thursday as police continue to investigate the SNP's funding and finances.




Sky News - Published





Nicola Sturgeon insists she had 'no prior knowledge' of husband's arrest

Nicola Sturgeon has said she had "no prior knowledge" of police plans to arrest her husband Peter Murrell.




Sky News - Published





Fresh questions about what Nicola Sturgeon did or did not know

The blue evidence tent erected outside the home of the detained former SNP chief executive is usually reserved for the most serious police investigations.




Sky News - Published





SNP police probe: What we know so far as Nicola Sturgeon's husband is arrested

Ex-SNP chief executive Peter Murrell - the husband of former first minister Nicola Sturgeon - has been arrested following an investigation into the party's finances.




Sky News - Published





Nicola Sturgeon dismisses 'secret lesbian' claim - as she addresses reasons for her resignation

Nicola Sturgeon has said online rumours and the need to seek more privacy was "part of the reason" she resigned.




Sky News - Published





Humza Yousaf announced as new SNP leader replacing Nicola Sturgeon

Humza Yousaf has won the SNP leadership contest and is set to be named as Scotland's new first minister, replacing Nicola Sturgeon.




Sky News - Published





New SNP leader and Scottish first minister to be revealed after bitter contest

The gruelling contest to replace Nicola Sturgeon as the leader of Scotland's biggest political party reaches its crescendo later when the winner is announced.




Sky News - Published





Sturgeon 'confident' her successor will lead Scotland to become an independent country

Nicola Sturgeon says she has "confidence" in whoever takes her place at the top of the SNP, saying the candidate will "lead this country into becoming an independent country".




Sky News - Published





Nicola Sturgeon fights back tears as she issues 'heartfelt' apology over forced adoptions

Nicola Sturgeon has issued a "sincere, heartfelt and unreserved apology" to all those impacted by the historical practice of forced adoption.




Sky News - Published





Nicola Sturgeon 'has not heard from police' over probe into SNP finances

Scotland's outgoing first minister Nicola Sturgeon has told Sky News she has not heard whether police want to interview her or her husband as part of a long-running probe into SNP finances.




Sky News - Published





Sturgeon says leadership contest has been 'less than edifying' and urges candidates to 'protect ingredients of success'

Nicola Sturgeon has urged the SNP candidates vying to succeed her as first minister to "protect the ingredients of success" - telling Sky News the leadership contest so far as been "a less than..




Sky News - Published





The downfall of the SNP's power couple in less than 150 days

The upcoming departure of Nicola Sturgeon as first minister and the resignation of her husband Peter Murrell as SNP chief executive marks the end of an era.




Sky News - Published





'Scandalous taxpayer-funded bonuses for shipyard bosses must be given back'

Nicola Sturgeon has come under fire over £87,000 paid in bonuses to managers at a shipyard despite a lack of certainty over when two over-budget and late ferries will be delivered.




Sky News - Published





SNP leadership voting begins ahead of live Sky News showdown

The race to replace Nicola Sturgeon has been "embarrassing" for SNP members who today begin to cast their votes, it has been claimed.




Sky News - Published





'Conflict of interest' over involvement of Sturgeon's husband in SNP leadership contest

A challenger in the race to become SNP leader has argued there is a "conflict of interest" over the involvement of Nicola Sturgeon's husband in the contest to choose her successor.




Sky News - Published





'Scotland lost its way': SNP candidates clash on independence in fiery first TV debate

Candidates vying to replace Nicola Sturgeon clashed over independence in their fiery first TV debate, with Ash Regan claiming Scotland had "lost its way" on the issue "despite the worst UK governments..




Sky News - Published





Pensioner who posted about the 'assassination' of Nicola Sturgeon jailed

A pensioner who posted online about the assassination of Nicola Sturgeon and helped abduct a sheriff has been jailed for more than five years.




Sky News - Published




Absence from key vote on gay marriage being 'dragged up' for political reasons, SNP candidate says

One of three candidates vying to take over from Nicola Sturgeon as leader of the SNP says his absence from a key vote on gay marriage is being "dragged up" for political reasons.




Sky News - Published





Westminster SNP deputy leader Mhairi Black endorses Humza Yousaf for Scottish First Minister

SNP deputy Westminster leader Mhairi Black has backed Humza Yousaf in the race to replace Nicola Sturgeon as Scottish First Minister.




Sky News - Published





Final three confirmed in race to replace Sturgeon as SNP leader

Nominations have closed in the race to replace Nicola Sturgeon as leader of the SNP and first minister, leaving three candidates vying for the top job in Scottish politics.




Sky News - Published





SNP hopeful accused of 'clapping like a seal' at launch of delayed ferry with 'painted on windows'

The Scottish Tory leader has hit out at SNP leadership hopeful Humza Yousaf, accusing him of having "clapped like a seal" when Nicola Sturgeon launched a behind schedule ferry project with "painted on..




Sky News - Published





Kate Forbes says campaign to be first minister 'not over' after equal marriage backlash

SNP leadership candidate Kate Forbes has said her campaign to replace Nicola Sturgeon is "absolutely not over" despite a backlash on her equal marriage views.




Sky News - Published





Kate Forbes announces bid to succeed Nicola Sturgeon as SNP leader and first minister

Kate Forbes has announced her bid to take over from Nicola Sturgeon as SNP leader and Scotland's first minister.




Sky News - Published





First candidates enter race to replace Nicola Sturgeon as SNP leader

The Scottish health secretary Humza Yousaf and former minister Ash Regan have announced their bids to stand to succeed Nicola Sturgeon as leader of the SNP.




Sky News - Published




Sturgeon 'at peace and comfortable' with decision to step down, says Swinney

Nicola Sturgeon is "at peace" after her shock resignation as first minister, her friend and political ally John Swinney has told Sky News. 




Sky News - Published





Timeline for SNP leadership race announced - with nominations to close next week

The SNP's national executive committee has agreed a timetable for members to elect a new leader following Nicola Sturgeon's shock resignation.




Sky News - Published





Rebel MSP has 'thrown hat into the ring' for SNP leadership

A rebel SNP MSP has reportedly "thrown her hat into the ring" to replace Nicola Sturgeon as first minister.




Sky News - Published





After Sturgeon's shock resignation the race to become next SNP leader gets under way

The race to replace Nicola Sturgeon as Scotland's first minister is now under way - but nobody has officially thrown their hat into the ring yet.




Sky News - Published





Trump bids 'good riddance' to 'failed woke extremist' Sturgeon after resignation

Former US president Donald Trump has bid "good riddance" to Scotland's First Minister Nicola Sturgeon following her shock resignation announcement.




Sky News - Published





Nicola Sturgeon's time as Scotland's first minister in 10 charts

Nicola Sturgeon's time as first minister of Scotland has certainly been eventful.




Sky News - Published





Sturgeon's exit is the end of an era - and it has big implications for Holyrood and Westminster

A mainstay of Scotland's political leadership for two decades, and one of the most formidable politicians of her generation, the abrupt resignation of Nicola Sturgeon left Holyrood and Westminster..




Sky News - Published





How will Nicola Sturgeon's successor be chosen?

Nicola Sturgeon has announced her intention to resign once a successor as leader of the Scottish National Party (SNP) has been elected.




Sky News - Published





'I feel for Nicola': Surprised Salmond says Sturgeon has 'no obvious successor'

There is "no obvious successor" to Nicola Sturgeon, former first minister Alex Salmond has said.




Sky News - Published





Who are the runners and riders to replace Nicola Sturgeon?

The race for a new leader of the Scottish National Party (SNP) has begun after Nicola Sturgeon's surprise resignation.




Sky News - Published





The controversies which piled pressure on Sturgeon - from gender bill to husband's loan

Nicola Sturgeon's decision to step down as first minister comes after a number of controversial issues piled the pressure on the SNP leader.




Sky News - Published





Sturgeon survived SNP's 'cesspit of vipers' for years but failed to achieve her dream

Nicola Sturgeon has announced she is to resign as Scotland's first minister after more than eight years in the role.




Sky News - Published





Scotland's first minister Nicola Sturgeon is to resign

Scotland's first minister Nicola Sturgeon is set to resign, a senior Scottish government source has told Sky News.




Sky News - Published





Sturgeon says double rapist 'almost certainly' claiming to be transgender as 'easy way out'

Nicola Sturgeon has said she believes a double rapist is "almost certainly" claiming to be transgender as an "easy way out".




Sky News - Published





Sturgeon accuses gender reform opponents of using women's rights as 'cloak of acceptability' for transphobia

Nicola Sturgeon has accused some opponents of Scotland's gender recognition reform of using women's rights as a "cloak of acceptability".




Sky News - Published





Transgender woman convicted of rape will not be held in all-female prison, Sturgeon says

A transgender woman who was convicted of rape before transitioning will not be imprisoned in the all-female Cornton Vale prison in Scotland, Nicola Sturgeon has said.




Sky News - Published





'Shame on you!': Nicola Sturgeon heckled over Scottish government gender reforms

Nicola Sturgeon has been heckled over her government's plans to reform the Gender Recognition Act.




Sky News - Published





Scotland will find another way to independence, Sturgeon vows

Nicola Sturgeon has vowed to find another way "for Scottish people to express their will" after judges ruled that another independence referendum cannot be held without the backing of Westminster.




Sky News - Published





Sturgeon dismisses 'two tier' NHS Scotland making wealthy pay for care

Nicola Sturgeon has dismissed a leaked document discussing turning NHS Scotland into a two-tier system where the wealthy pay for care.




Sky News - Published





Sunak must give devolved administrations 'proper respect'

Scotland needs to see "proper respect" from Rishi Sunak if he wants to reset the relationship that frayed under his predecessors, says Nicola Sturgeon.




Sky News - Published





Sturgeon minister quits over opposition to controversial transgender law hours before vote

One of Nicola Sturgeon's ministers has resigned over her opposition to a controversial transgender law just hours before it was due to go to a vote.




Sky News - Published