Nicola Sturgeon
First Minister of Scotland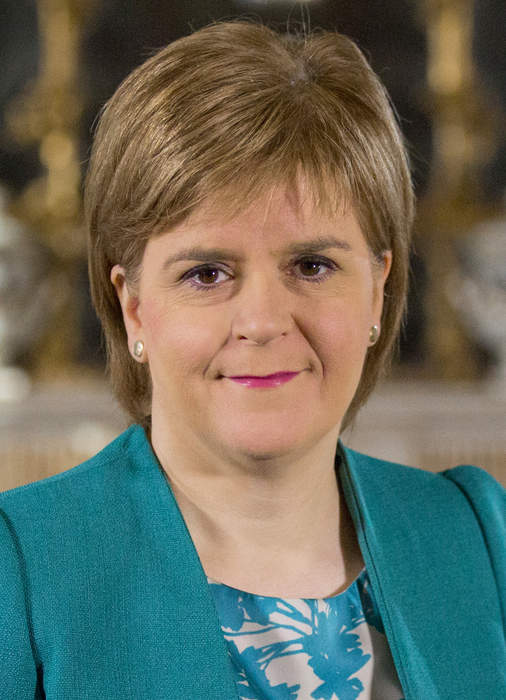 Nicola Ferguson Sturgeon is a Scottish lawyer and politician serving as First Minister of Scotland and Leader of the Scottish National Party (SNP) since 2014. She is the first woman to hold either position. She has been a member of the Scottish Parliament (MSP) since 1999, first as an additional member for the Glasgow electoral region, and as the member for Glasgow Southside from 2007.


Sturgeon and O'Neill discuss stability in Northern Ireland

Nicola Sturgeon describes potential unilateral action over the Northern Ireland Protocol as being of "intense interest" to the people of Scotland and says that any resulting trade wars between the UK..
Credit: ODN Duration: 02:35
Published
Sturgeon hails 'stupendous' 8th consecutive win for SNP

SNP Leader Nicola Sturgeon calls the local elections a "stupendous result" for her party, pointing out it is their 8th consecutive win after 15 years in government. When asked about the resurgent..
Credit: ODN Duration: 01:23
Published
Nicola Sturgeon jokes with husband at polling station

Scottish First Minister Nicola Sturgeon was all smiles as she met with voters and candidates at a Glasgow polling station ahead of today's local elections. The SNP leader was joined by her husband..
Credit: ODN Duration: 01:18
Published
Sturgeon: Nothing wrong with Ferguson ferry contract process

Scottish First Minister Nicola Sturgeon says she doesn't "accept" the alleged "deficiencies" in the procurement of contracts to construct ferries to serve routes in the Hebrides and on the Clyde. She..
Credit: ODN Duration: 01:49
Published
You Might Like



Nicola Sturgeon tests positive for COVID

Nicola Sturgeon has tested positive for coronavirus.




Sky News - Published





Sturgeon likely 'to make way' if Scotland votes against independence again

Nicola Sturgeon has said she would likely stand down from her position if Scotland was to vote against independence again.




Sky News - Published





Nicola Sturgeon apologises for 'few seconds' without face covering after being spoken to by police

Nicola Sturgeon has been spoken to by police to "remind her of the importance of wearing a face covering when there is a legal requirement to do so", Police Scotland has said.




Sky News - Published





Nicola Sturgeon reported to police after video appears to show SNP leader 'breaching face mask law'

Nicola Sturgeon has been reported to police after footage apparently captured her breaching Scotland's COVID face mask measures during the council election campaign trial.




Sky News - Published





Scotland to drop legal requirement to wear face masks on 'phased basis'

Scotland will drop the legal requirement to wear face coverings in certain settings on a "phased basis" from next Monday, Nicola Sturgeon has said.




Sky News - Published





Scotland scraps plan to ditch laws requiring face masks on public transport due to COVID 'spike'

Laws requiring face masks to be worn on public transport and in some other settings in Scotland will not be scrapped next week as planned due to the "current spike" in COVID cases, Nicola Sturgeon has..




Sky News - Published





Scotland to end COVID passport scheme next Monday as more restrictions eased

Scotland will end its COVID passport scheme next Monday and the legal requirement to wear face coverings in some indoor settings will be dropped from 21 March, Nicola Sturgeon has said.




Sky News - Published





Children aged 5-11 in Scotland to be offered COVID vaccine, Sturgeon confirms

All children aged five to 11 in Scotland will be offered a COVID vaccine, Nicola Sturgeon has confirmed.




Sky News - Published





Scotland's new COVID restrictions expected to last for three weeks, Sturgeon says

Nicola Sturgeon has said it is her "expectation" that new COVID restrictions in Scotland will be in place until 17 January, as she urged people to "stay at home right now more than normal".




Sky News - Published





Sturgeon imposes new restrictions on large events and indoor hospitality from Boxing Day

Football fans won't be allowed in stadiums and Hogmanay events will be cancelled as Nicola Sturgeon imposes new restrictions in Scotland from Boxing Day.




Sky News - Published





People in Scotland urged to limit socialising to three households amid surge in Omicron cases

People in Scotland should limit socialising to just three households amid rising cases of the Omicron variant, Nicola Sturgeon has said.




Sky News - Published





Scotland may face 'tsunami of infections' in face of Omicron variant, Sturgeon warns

Scotland's First Minister Nicola Sturgeon has warned of a "potential tsunami of infections" in the face of the fast-spreading Omicron variant.




Sky News - Published





Steps concert in Glasgow among sources of new Omicron cases, Nicola Sturgeon says

A Steps concert in Glasgow is among the sources of new cases of the Omicron COVID variant in Scotland, First Minister Nicola Sturgeon has said.




Sky News - Published





Nine Omicron cases discovered in Scotland are all linked to single private event

The nine cases of the Omicron COVID variant which have been identified in Scotland are all linked to a single private event which was held on 20 November, Nicola Sturgeon has said.




Sky News - Published





Nicola Sturgeon considers formal apology for gypsy travellers affected by 'tinker experiment'

Nicola Sturgeon has said she will consider a formal apology for victims of Scotland's so-called "tinker experiment".




Sky News - Published





Scotland decides not to expand vaccine passports as NI strengthens work from home advice

Scotland will not be expanding vaccine passports to pubs, cinemas and theatres, Nicola Sturgeon has announced.




Sky News - Published





Army could be called in to help Scottish ambulance service, amid reports man died after a 40-hour wait

The military could be called in to help Scotland's ambulance service which is facing "acute pressure", Nicola Sturgeon has announced.




Sky News - Published





Sturgeon to ask UK government to agree to second Scottish independence vote

Nicola Sturgeon will ask the UK government to agree to another Scottish independence referendum "in the spirit of co-operation".




Sky News - Published





Scottish government to restart work on 'detailed prospectus' for independence, Nicola Sturgeon says

Nicola Sturgeon has said the Scottish government will restart work on a "detailed prospectus" for independence ahead of a second referendum on the matter.




Sky News - Published





Scots will need vaccine passports for nightclubs and large events

Vaccine passports will be needed for entry to nightclubs and large-scale events in Scotland, Nicola Sturgeon has said.




Sky News - Published





Sturgeon says SNP's deal with Greens makes case for independence referendum 'undeniable'

The new power-sharing agreement between the SNP and the Scottish Greens is "ground-breaking" and makes the case for a second independence referendum "undeniable", Nicola Sturgeon has said.




Sky News - Published





Nicola Sturgeon freed from self-isolation after negative PCR test

Scotland's first minister is no longer self-isolating after producing a negative PCR test result.




Sky News - Published





Nicola Sturgeon self-isolating after contact with positive COVID case

Scotland's First Minister is self-isolating after being identified as a close contact of someone who has COVID-19.




Sky News - Published





SNP and Scottish Greens' power-sharing agreement is 'groundbreaking', Sturgeon says

Nicola Sturgeon has described a new power-sharing agreement between the SNP and the Scottish Greens as "groundbreaking".




Sky News - Published





'I don't feel snubbed': Sturgeon on PM declining invitation to meet

Nicola Sturgeon has said it is "a bit strange" for Boris Johnson to have declined her invitation to meet for talks during the PM's trip to Scotland this week.




Sky News - Published





New vaccines advice for 16 and 17-year-olds in the UK set to be issued in coming days - Sturgeon

Updated advice on coronavirus vaccines for 16 and 17-year-olds across the UK is set to be issued in the coming days, Nicola Sturgeon has said.




Sky News - Published





PM declines Sturgeon's invitation to meet for talks during Scotland trip

Boris Johnson has declined Nicola Sturgeon's invitation to meet for talks while he is in Scotland this week.




Sky News - Published





Scotland to lift most legal COVID restrictions next week, Sturgeon confirms

Nicola Sturgeon has confirmed that Scotland will lift most of its remaining coronavirus restrictions next Monday.




Sky News - Published





Scotland to confirm plans to ease coronavirus restrictions later

Nicola Sturgeon will announce this afternoon whether Scotland will lift its coronavirus restrictions next week.




Sky News - Published





Sturgeon offers Johnson olive branch to discuss COVID recovery plans in Scotland

Nicola Sturgeon has invited Boris Johnson to meet her to discuss their COVID recovery plans.




Sky News - Published





Lockdown restrictions in Scotland to ease from Monday, Sturgeon says

Lockdown restrictions in Scotland will be eased from Monday, Nicola Sturgeon has said - but with certain conditions.




Sky News - Published





Current COVID-19 restrictions in Scotland to remain in place until 19 July, Sturgeon says

The current COVID-19 restrictions in Scotland will remain in place until 19 July after a 40% increase in new cases in the last week, First Minister Nicola Sturgeon has said.




Sky News - Published





Lockdown easing delayed in Scotland with restrictions to remain in place until 19 July - Sturgeon

The current COVID-19 restrictions in Scotland will remain in place until 19 July after a 40% increase in new cases in the last week, First Minister Nicola Sturgeon has said.




Sky News - Published





'I'm not interested': Sturgeon accuses Burnham of 'generating spat' over North West travel ban

Nicola Sturgeon has accused Andy Burnham of "generating a spat" with her over Scotland's newly-imposed Greater Manchester travel ban, as the political fallout from the decision continues.




Sky News - Published





Sturgeon says Scotland 'likely' to keep COVID restrictions for further three weeks

Scotland is "likely" to maintain COVID restrictions for a further three weeks from 28 June, Scotland's First Minister Nicola Sturgeon has said.




Sky News - Published





Boris Johnson's lockdown options for 21 June

Boris Johnson is coming under pressure to delay lifting COVID restrictions on 21 June after several scientists urged him to - and Nicola Sturgeon paused lockdown easing in Scotland.




Sky News - Published





What are the new COVID rules in Scotland?

First Minister Nicola Sturgeon has announced a "slight slowing down" in the lifting of lockdown rules for much of Scotland amid the spread of the Indian variant of coronavirus.




Sky News - Published





'Bullied' by scientists and pre-empted by Sturgeon - will PM hold firm on 21 June 'freedom day'?

Nicola Sturgeon insists that applying the brakes to relaxing lockdown rules in Scotland is a pause, not a step backwards.




Sky News - Published





Easing of COVID restrictions for most of Scotland to be delayed, Sturgeon says

Most of Scotland will stay under Level 2 COVID restrictions in a "slight slowing down of easing" due to a high number of cases, Nicola Sturgeon said.




Sky News - Published





Glasgow to stay under level three restrictions as COVID cases 'uncomfortably high'

Glasgow has an "uncomfortably high" amount of COVID cases and will remain in level three of Scotland's restrictions, Nicola Sturgeon says.




Sky News - Published





Indoor pints and friends at home - easing of restrictions as most of Scotland moved to level 2

Nicola Sturgeon has announced a relaxation of COVID-19 restrictions from 17 May in most of Scotland.




Sky News - Published





Second Scottish independence referendum is 'when, not if', Sturgeon tells PM

SNP leader Nicola Sturgeon has told the prime minister it is a "matter of when, not if" there will be another vote on Scottish independence.




Sky News - Published





PM has a profound dilemma as Union threatens to drift away

Scotland's Choice: that was the slogan emblazoned across the podium Nicola Sturgeon stood at as she gave her victory speech.




Sky News - Published





Sturgeon warns PM not to block indyref2 - as SNP hopes for majority fade

Nicola Sturgeon has issued a warning to Boris Johnson over a second independence referendum, declaring the prime minister will be "picking a fight with the democratic wishes of the Scottish people" if..




Sky News - Published





Sturgeon's hopes of Holyrood majority remain on knife edge

The SNP's hopes of securing a majority in the Scottish elections are on a knife edge this morning, but Nicola Sturgeon's party remains on course for an historic fourth term in office.




Sky News - Published





Scotland independence referendum would be legal unless court blocks it, Sturgeon says

Nicola Sturgeon has thrown down the gauntlet to Boris Johnson over a second independence referendum, telling Sky News that if the UK government doesn't challenge the Scottish government in court, then..




Sky News - Published





Record level of Scottish drug deaths 'not acceptable', says Sturgeon

Record high drug deaths in Scotland are "not acceptable", Nicola Sturgeon has acknowledged as she told Sky News "we didn't get it right" in tackling the problem.




Sky News - Published





Scotland to relax restrictions on travel and outdoor gatherings early

Coronavirus travel restrictions will be eased in Scotland from Friday and more people will be able to meet up outdoors, Nicola Sturgeon has said.




Sky News - Published





Sturgeon set for majority but Salmond unlikely to get single seat - Sky News poll

Nicola Sturgeon is on course to command an overall majority in the Scottish Parliament after the latest Sky News poll showed her party's ratings up sharply in the last month.




Sky News - Published





All Scotland pupils back in classroom full-time after Easter break - except those shielding

All pupils across Scotland will be back in the classroom full-time following the Easter holidays, Nicola Sturgeon has said.




Sky News - Published