United Nations Human Rights Council
United Nations body whose supposed mission is to promote and protect human rights around the world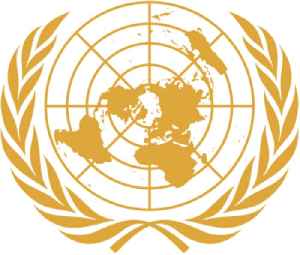 The United Nations Human Rights Council (UNHRC) is a United Nations body whose mission is to promote and protect human rights around the world. The UNHRC has 47 members elected for staggered three-year terms on a regional group basis. The headquarters of UNHRC is in Geneva, Switzerland.


Extrajudicial killings in PoK, Gilgit-Baltistan not acceptable: Activist at UNHRC

National Equality Party JKGBL, Chairman Sajjad Raja while speaking at UNHRC's 44th session on July 09 said that the extrajudicial killings taking place in Pakistan occupied so called 'Azad' Kashmir and..
Credit: ANI Duration: 01:41
Published
Cycle rally held to spread awareness about Chinese occupation of Tibet

Five Tibetan cyclists concluded a 4-day cycle rally for Tibet in Geneva, which coincides with the 44th session of the UN Human Rights Council session. The rally was organized to raise awareness about..
Credit: ANI Duration: 01:50
Published
Carrie Lam defends new China security law

Hong Kong leader Carrie Lam has defended China's approval of a contentious national security law that will allow authorities to crack down on subversive and secessionist activity in Hong Kong, during a..
Credit: PA - Press Association STUDIO Duration: 01:30
Published
Attacks on Hindu funeral procession, church portray plight of minorities in Pakistan: India at UNHRC

Vimarsh Aryan, First Secretary, India's permanent mission to United Nation's Office at Geneva (UNOG) exercised India's Right of Reply to Pakistan at 43rd Session of UNHRC in Geneva. Aryan said, "It's..
Credit: ANI Duration: 01:47
Published
India exercises its right of reply in response to statement by Pakistan at UNHRC

India exercised its right of reply in response to statement made by Pakistan, at 43rd session of UN Human Rights Council. Senthil Kumar, First Secretary at Permanent Mission of India, Geneva said that..
Credit: ANI Duration: 02:49
Published
You Might Like



In a first, India speaks up on Hong Kong

After its ban on 59 Chinese apps, the government Wednesday seemed to launch a fresh diplomatic offensive against China by breaking its silence on China's new security law for Hong Kong...




IndiaTimes - Published





Pakistan should stop systematic persecution of its religious minorities: India at UNHRC

"A country that categorizes its minority communities into second or third tiers of citizenship is evoked with sudden sympathy for minorities in other countries," Aryan said as he rejected all the..




IndiaTimes - Published





Pakistan should practice tolerance towards its neighbours for peace in South Asia: India at UNHRC




IndiaTimes - Published





India says UNHRC's UPR mechanism a visible instrument for rights protection, should not be 'tinkered'




IndiaTimes - Published





India slams Pakistan for raising Kashmir at UNHRC, asks it to 'introspect' its grave human rights situation




IndiaTimes - Published





U.N. rights body suspending session a week early due to virus: statement

The United Nations Human Rights Council has decided to suspend its main annual four-week session from Friday, ending a week early, due to coronavirus, a statement said on Thursday.




Reuters - Published





UN human rights body has been wrong before, silent on issue of cross-border terrorism: EAM on UNHRC's stance on CAA

Slamming the Office of the High Commissioner for Human Rights or OHCHR at an event in Delhi, EAM highlighted how the organisation never talked about the issue of cross border terrorism emanating from..




DNA - Published




Top News of the Day | March 3, 2020: UNHRC's plea in SC over CAA, more cases of coronavirus in India and more

In top news of the day, NHRC has filed an intervention plea in the Supreme Court over CAA. Meanwhile, two fresh cases of coronavirus have been reported in India.




DNA - Published





UNHRC files intervention application in Supreme Court over CAA; MEA says 'no locus standi'

India has strongly objected to the move, saying that the CAA is an internal matter of India and concerns the sovereign right of the Indian Parliament to make laws.




DNA - Published

Also reported by •IndiaTimes


Pakistan 'pernicious cradle of terrorism': India at UNHRC

Describing Pakistan as the "pernicious cradle of terrorism", India on Thursday slammed the neighbouring country for raising concerns over human rights in Jammu and Kashmir and said that before..




IndiaTimes - Published





Ironic that 'global terror epicentre' Pak lectures on rights: India at UN

Describing Pakistan as world's leading exporter of terror, the govt on Wednesday said J&K "was, is and shall forever" remain an integral part of India. Speaking at the 43rd session of the UN Human..




IndiaTimes - Published





J&K 'was, is and shall forever' remain its integral part: India tells Pakistan at UNHRC meeting

Speaking at the 43rd session of the UN Human Rights Council which is being held here in Switzerland from February 24 to March 20, Vikas Swarup, Secretary (West), the ministry of external affairs,..




IndiaTimes - Published





Libyan premier denounces Haftar as 'war criminal' at U.N.

Libyan Prime Minister Fayez al-Serraj on Monday denounced the shelling of civilian areas and airports in his country, labeling renegade military commander Khalifa Haftar a "war criminal" in a speech to..




Reuters - Published





U.S. rejects U.N. database of companies in Israeli-controlled territories: Pompeo

U.S. Secretary of State Mike Pompeo on Thursday said the U.S. government would not furnish any information for a database of companies operating in Israeli-controlled territories that the United..




Reuters - Published





India slams Pak at UNHRC over its 'malicious propaganda' on Ayodhya verdict

ndia on Thursday lambasted Pakistan over its statement at the United Nations Human Rights Council (UNHRC) on Supreme Court's verdict on Ayodhya land dispute case and asked the country to rather work..




IndiaTimes - Published





Venezuela wins seat on U.N. rights council despite U.S. opposition

Venezuela was elected to the United Nations Human Rights Council on Thursday with 105 votes and a round of applause, despite fierce lobbying against it by the United States and rights groups, and the..




Reuters - Published





Fudged numbers, says India on Pakistan claiming support of 58 countries

Pakistani Foreign Minister lost cool in an interview to a Pakistani channel when asked about the names of the 58 countries which Islamabad had claimed backed them at UNHRC




DNA - Published





U.N. launches investigations into killings, torture in Venezuela

The United Nations Human Rights Council agreed on Friday to set up an international fact-finding mission into reported violations in Venezuela, including torture and thousands of summary executions.




Reuters - Published





Meet 9 envoys behind India's United Nations Human Rights Council victory

Behind India's victory was the work of nine Indian diplomats who were able to make sure Pakistan's attempts to raise Kashmir fall flat at the UN institution.




DNA - Published





Pakistan fails to muster support to table resolution on Kashmir at UNHRC

This despite Islamabad claiming support of over 50 countries in a joint statement delivered on their behalf last week. The names of countries were never released by Pakistan.




DNA - Published





J&K elections after delimitation of constituencies: JP Nadda

BJP working president JP Nadda on Sunday said that the elections in Jammu and Kashmir would be held only after the delimitation of the constituencies. Scheduled Tribes seats will also be reserved for..




IndiaTimes - Published





Pak attempt to bring up Kashmir at UNHRC fails

We are quite confident that the members of UNHRC, they are aware of our position on Article 370 and the steps we have taken in J&K to ensure normalcy, says Raveesh Kumar




DNA - Published





World has rejected Pakistan's bid to politicise J&K issue: MEA

After Pakistan claimed to be speaking on behalf of many countries at UNHRC on the situation in J&K, India on Thursday reiterated that Islamabad's campaign was based on lies and that its attempts to..




IndiaTimes - Published





China, Pak only countries to raise Kashmir at UNHRC; Indian delegation meets its chief

As Pakistan and China remain the only two countries to make references on Kashmir at the UNHRC meet, a high-level Indian delegation led by MEA Secretary (East) Vijay Thakur Singh met with UN High..




IndiaTimes - Published





Maths issues? Imran Khan claims 58 countries supported Pak, UNHRC only has 47 members

MEA spokesperson Raveesh Kumar said that India responded to "Pakistan's lies and distorted statements" using the right to reply.




DNA - Published





Pakistan's attempt to polarise, politicise Kashmir at UNHRC rejected: India

Two days after India and Pakistan engaged in a war of words at the UNHRC, Raveesh Kumar, addressing a media briefing in New Delhi said Pakistan's attempt to polarise and politicise the Kashmir issue at..




IndiaTimes - Published





India hoping to retain support at UNHRC till Sept 19

India is in touch with its partners in the council and hopes that their support to its arguments would remain intact.




IndiaTimes - Published





Pakistan's outcry over Kashmir is hypocrisy, says Baloch activist

Razzak's remarks came in response to Pakistan Foreign Minister Shah Mehmood Qureshi's false narrative on Kashmir at the United Nations Human Rights Council (UNHRC) session, being maintained by his..




IndiaTimes - Published





J&K internal matter, will not accept any interference: India at UNHRC




IndiaTimes - Published





India rejects Pakistan's demand for international probe by UNHRC on Kashmir

Exercising its right to respond to Pakistan foreign minister Shah Mehmood Qureshi's statement at UNHRC, first secretary in MEA, Vimarsh Aryan, said the revocation of J&K's special status was within the..




IndiaTimes - Published





'Cross-border terrorism, gory record of persecution of minorities': India tears into Pak at UNHRC

After Vijay Thakur Singh's statement, First Secretary Vimarsh Aryan used India's right of reply to highlight the plight of minorities in Pakistan.




DNA - Published





India calls Pakistan epicentre of terrorism, rejects its false narrative on J&K

India on Tuesday rejected Pakistan's allegations at the UN Human Rights Council and hit back saying a "fabricated narrative" on Jammu and Kashmir has come from "the epicentre of global terrorism" and..




IndiaTimes - Published





India slams Pak at UNHRC: Top quotes




IndiaTimes - Published





Revocation of J&K's special status sovereign decision: India at UNHRC

India strongly rejecting Pakistan's "malicious" campaign at the UNHRC on Tuesday asserted revocation of J&K's special status as a sovereign decision taken by Indian Parliament and the country cannot..




IndiaTimes - Published





Pak Foreign Minister refers to Jammu and Kashmir as 'Indian state'

Qureshi's remarks came after his address at the UNHRC session, where he presented a false narrative on Kashmir.




DNA - Published




Rahul Gandhi, Omar Abdullah quoted in Pakistan document at UNHRC

The opening pages of a leaked Pakistan's dossier on Jammu and Kashmir contain the statements made by Congress leader Rahul Gandhi and National Conference (NC) leader Omar Abdullah in the wake of the..




IndiaTimes - Published





Pakistan warns of 'genocide' in Kashmir, sees no talks with India

Pakistan's Foreign Minister Shah Mehmood Qureshi told the U.N. Human Rights Council on Tuesday that India's "illegal military occupation" of the Muslim-majority territory of Kashmir raises the specter..




Reuters - Published





It's time for India-Pakistan clash at UNHRC




IndiaTimes - Published





India-Pak clash over Kashmir at UNHRC on Tuesday

The 42nd session of the Human Rights Council began on Monday and will go on till September 27.




DNA - Published





With what face will Pakistan raise Kashmir at UNHRC: Congress




IndiaTimes - Published





India talking to members to avoid abstentions at UNHRC

India wants to avoid a situation where member-countries abstain en masse during the vote on Kashmir.




IndiaTimes - Published





Kashmir battle heads to the Alps

The government has sent a team led by senior diplomat Ajay Bisaria to Geneva to boost the Indian presence at the UN Human Rights Council to fend off yet another Pakistani attempt against the Indian..




IndiaTimes - Published





India goes on diplomatic overdrive to fend off Pak offensive on Kashmir at UNHRC




IndiaTimes - Published





China says almost 40 states openly back its Xinjiang policy

Almost 40 states have written to the United Nations supporting China's policies in the western region of Xinjiang, a Chinese diplomat told the U.N. Human Rights Council on Friday.




Reuters - Published





U.N. to probe Philippines drug war deaths

The U.N. Human Rights Council voted on Thursday to set up an investigation into mass killings during Philippine President Rodrigo Duterte's so-called 'war on drugs', a step that activists said was long..




Reuters - Published





U.N. launches investigation into Philippines drug war deaths

The United Nations Human Rights Council agreed on Thursday to set up a preliminary U.N. investigation into thousands of killings in the Philippines so-called 'war on drugs'.




Reuters - Published





Exclusive: West, Japan rebuke China at U.N. for detention of Uighurs

Nearly two dozen countries have called on China to halt its mass detention of ethnic Uighurs in the Xinjiang region, the first such joint move on the issue at the U.N. Human Rights Council, according..




Reuters - Published




Hong Kong singer-activist urges U.N. rights body to defend territory

China is tightening its grip on Hong Kong and the territory's autonomy and democratic freedoms are slipping away, a prominent Hong Kong activist told the U.N. Human Rights Council on Monday in a plea..




Reuters - Published