Balochistan, Pakistan
Province of Pakistan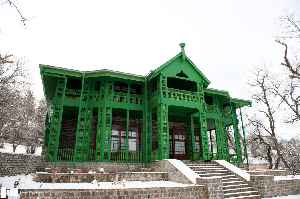 Balochistan is one of the four provinces of Pakistan. It is the largest province in terms of land area, forming the southwestern region of the country, but is the least populated. Its provincial capital and largest city is Quetta.


You Might Like
200-year-old Balochistan gurdwara handed back to Sikhs after 70 years
IndiaTimes - Published
Seven soldiers killed in militant attacks in southwest Pakistan
Militants killed seven Pakistani soldiers in two attacks in the country's mineral-rich southwestern province of Balochistan, the military said on Tuesday.
Reuters - Published
Freedom for Balochistan will not be denied: Victims of Baloch genocide
The protestors demand that the UN must launch an immediate and thorough investigation into the Pakistani government's actions in Balochistan.
DNA - Published
Three killed, including opposition politician, in blast in Pakistan's Balochistan province
A blast in Pakistan's southwestern province of Balochistan killed three, including an opposition political leader, on Saturday afternoon, police and officials said.
Reuters - Published
Pakistan exposed within as well as outside of it
Baloch and Sindhi activists on Friday gathered at the iconic Broken Chair in front of the United Nations office in Geneva to condemn the atrocities committed by the Pakistan army in Balochistan.
DNA - Published
Residents in Pak-occupied Kashmir protest against Islamabad's atrocity, one agitator injured in firing
Human rights violations are taking place on a large-scale in Pakistan occupied Kashmir (PoK), Sindh and Balochistan, said Defence Expert PK Sehgal today.
DNA - Published
India says it was 'aware' of Pak's Ghaznavi missile tests
India on Thursday said it was aware of Pakistan's recent ballistic missile tests that were possibly carried out from Sonmiani flight test range located in Balochistan.
DNA - Published
Also reported by •IndiaTimes
Killing of chief's brother in Balochistan bomb attack will not derail peace talks with US, says Afghan Taliban
The Afghan Taliban has said the killing of its chief Mullah Haibatullah Akhundzada's brother in a blast at a mosque in Pakistan's troubled Balochistan province will not derail the peace talks with the..
Firstpost - Published
Five killed in Pakistan's Quetta as bomb blast targets Friday prayers; mosque head, brother of top Taliban leader among deceased
Nobody took responsibility of the attack in the Balochistan mosque and Pakistan officials only said that an improvised explosive device (IED) was planted inside the building.
Firstpost - Published
As Pakistan marks 73rd Independence Day, #BalochistanSolidarityDay and #14AugustBlackDay trend on Twitter
Pakistan was left red-faced after Balochistan, a province located on its southwestern borders, called for its freedom as the country observed 73rd Independence Day.
Firstpost - Published
Pakistan PM Imran Khan: Forced conversions are not part of Islam
He accepts that Pakistan has always neglected the region of Balochistan, admitting that 70% of the region is impoverished
DNA - Published
Imran Khan in Washington: Slogan for independent Balochistan raised during Pakistani prime minister's address
Khan was addressing a massive gathering of Pakistani-Americans when the Baloch youths suddenly stood up from their seats and started raising the slogan.
Firstpost - Published
Ahead of Imran Khan's Washington visit, US declares separatist group Balochistan Liberation Army a 'terrrorist outfit'
The US has declared separatist group Balochistan Liberation Army (BLA), which is fighting Pakistani rule in the restive Balochistan province, as a terrorist organisation, weeks after it attacked a..
Firstpost - Published