David Attenborough
British broadcaster and naturalist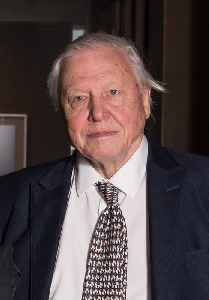 Sir David Frederick Attenborough is an English broadcaster and natural historian. He is best known for writing and presenting, in conjunction with the BBC Natural History Unit, the nine natural history documentary series forming the Life collection that together constitute a comprehensive survey of animal and plant life on Earth. He is a former senior manager at the BBC, having served as controller of BBC Two and director of programming for BBC Television in the 1960s and 1970s. He is the only person to have won BAFTAs for programmes in each of black and white, colour, HD, 3D and 4K. In 2018 and 2019, he received Primetime Emmy Awards for Outstanding Narrator.


Naturalist and broadcaster David Attenborough to get Indira Gandhi Peace Prize for 2019
His name was selected for the prize by an international jury chaired by former president Pranab Mukherjee, the Indira Gandhi Memorial Trust announced on Tuesday. "Few individuals have come to be as..
IndiaTimes - Published
UK royals give Boaty McBoatface polar ship its official name
Prince William and his wife Kate formally named a new British polar research ship "Sir David Attenborough" on Thursday, a more dignified title than the public's choice of "Boaty McBoatface".
Reuters - Published
Attenborough encouraged by plans to tackle climate change
Sir David Attenborough says that the government's plan of action to tackle climate change is a "huge encouragement". The naturalist and broadcaster made the comments at a launch event for the..
Credit: ODN Duration: 00:26Published
David Attenborough warns politicians on climate change
Sir David Attenborough has warned politicians may not be making enough long-term plans to tackle climate change. Report by Khanomh. Like us on Facebook at http://www.facebook.com/itn and follow us on..
Credit: ODN Duration: 02:04Published
Sir David Attenborough warns short governments could hinder climate action
Sir David Attenborough has addressed the first ever UK-wide citizens assembly on climate change. He warns that politicians may not prioritise climate action due to the short lifespan of governments.
Credit: PA - Press Association STUDIO Duration: 01:06Published
'The moment of crisis has come' - naturalist Attenborough on climate change
"The longer we leave it, the more difficult is it going to be to solve the problems," British naturalist David Attenborough said in an interview with the BBC on January 3.
Credit: Reuters Studio Duration: 02:01Published
Sir David Attenborough warns that humans 'have overrun the world' in new trailer
Sir David Attenborough has warned that "human beings have overrun the world" in a trailer for his new film. The feature-length documentary, titled David Attenborough: A Life On Our Planet, looks..
Credit: PA - Press Association STUDIO Duration: 01:45Published
Sir David Attenborough attends opening of JMW Turner exhibition
Sir David Attenborough attended the opening of the Turner and the Thames exhibition at Turner's House in Twickenham, south-west London. The exhibition, taking place at the recently restored home of JMW..
Credit: PA - Press Association STUDIO Duration: 00:41Published
Earth 'at tipping point' says William as he launches world environmental prize
The Duke of Cambridge is hoping to summon the spirit of the lunar landings to help "repair the Earth", after launching a global environmental challenge to address climate change and other..
Credit: PA - Press Association STUDIO Duration: 01:01Published
David Attenborough Praises Greta Thunberg Over Skype
Greta Thunberg and David Attenborough, a well respected naturalist and conservationist, met over Skype. According to the HuffPost, Thunberg told Attenbourough it was "an honor" to meet him...
Credit: Wochit News Duration: 00:32Published
Guinness Fights Back Against Plastic
by Stephanie Boyd - Beer Owner Removes Multipack Packaging The continued fight against the rise of plastic in our landfills and in our oceans is something which continues to be well-publicized, and..
One News Page Staff - Published
Search this site and the web:
You Might Like