Kumbh Mela
Hindu pilgrimage and festival celebrated in India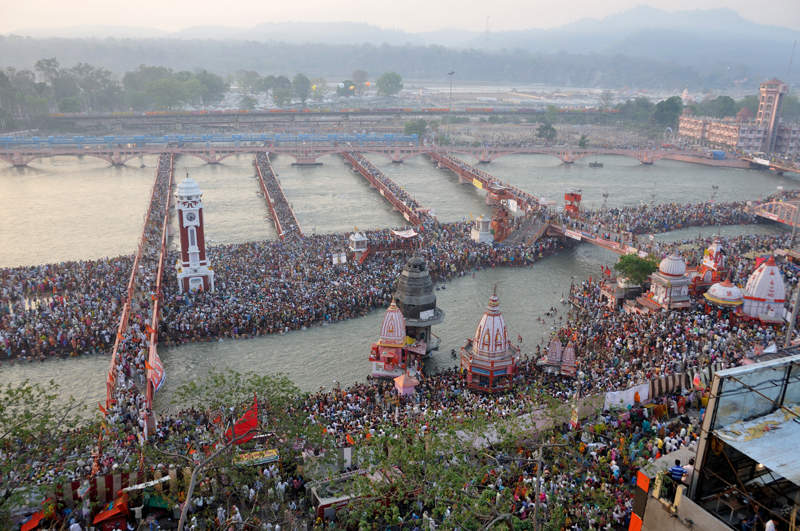 Kumbh Mela or Kumbha Mela is a major pilgrimage and festival in Hinduism. It is celebrated in a cycle of approximately 12 years, to celebrate every revolution Brihaspati completes, at four river-bank pilgrimage sites: the Allahabad (Prayagraj), Haridwar (Ganges), Nashik (Godavari), and Ujjain (Shipra). The festival is marked by a ritual dip in the waters, but it is also a celebration of community commerce with numerous fairs, education, religious discourses by saints, mass feedings of monks or the poor, and entertainment spectacle. The seekers believe that bathing in these rivers is a means to prāyaścitta for past mistakes, and that it cleanses them of their sins.


Kumbh Mela: 60 out of 61 returnees test Covid positive in Madhya Pradesh | Oneindia News

Kumbh Mela is one of the largest religious congregations in India, and the fact that it would be a "super spreader" of the virus was firmly predicted by many officials and common people at large.Times..
Credit: Oneindia Duration: 01:13
Published
Uttarakhand suspends Char Dham Yatra after Kumbh Mela criticism | Oneindia News

India's daily Covid figures hit a new high today with 3,79,257 fresh infections and 3,645 deaths reported in 24 hours; The U.S. government told its citizens to leave India as soon as possible because..
Credit: Oneindia Duration: 03:45
Published
'Kumbh Mela major source of infections alongside political rallies': Top Doctor

In the latest episode of On The Record, Hindustan Times' National Political Editor, Sunetra Choudhury speaks with Dr Ashish Jha, Dean at Brown University, about the second wave of Covid-19 in India...
Credit: HT Digital Content Duration: 08:00
Published
Kumbh: Devotees gather for last 'Shahi Snan' in Haridwar amid Covid surge

The last 'shahi snan' at the Kumbh Mela in Haridwar on Tuesday was a subdued affair with seers keeping the ritual symbolic in view of a nationwide surge in COVID-19 cases. Prime Minister Narendra Modi..
Credit: HT Digital Content Duration: 01:04
Published
Kumbh Mela 2021: Devotees participate in last 'shahi snan'

Despite surge in COVID-19 cases in India, scores of devotees gathered at 'Har Ki Pauri' in Haridwar on April 27. They participated in the last 'shahi snan' of 'Kumbh Mela' and took holy dip at the..
Credit: ANI Duration: 01:06
Published
Watch: Harsh Vardhan explains why PM Modi didn't stop Kumbh Mela amid Covid

Health Minister spoke on the Kumbh Mela amid Covid crisis during an exclusive interview with Hindustan Times' Kumkum Chadha. The Health Minister said that it is not fair to say that the Prime..
Credit: HT Digital Content Duration: 04:24
Published
'More variants to emerge…': CCMB Director's warning on Covid crisis

Dr Rakesh Mishra, Director of CSIR- CCMB (Centre for Cellular and Molecular Biology), has said that the next 3 weeks are very critical for India in terms of the spread of the infection and urged people..
Credit: HT Digital Content Duration: 03:56
Published
'We will pay the price for Kumbh Mela, poll rallies': Top Doctors on Covid 2nd wave

Top doctors Jalil Parkar, and Amit Thadani share their experiences of fighting the second wave of infections. Talking about Kumbh Mela and political rallies, Thadani said, "People who have attended..
Credit: HT Digital Content Duration: 05:02
Published
Covid 2nd wave | Who's to blame, & the way forward: Harsh Vardhan responds

After a comparative lull for a few months, the Covid virus seems to have returned with much more virulence. India is detecting more than double the number of daily cases than seen during the peak last..
Credit: HT Digital Content Duration: 44:09
Published
Covid: Doctors' emotional appeal as 2nd wave stresses exhausted ranks

With India's daily infections tally crossing the 2 lakh-mark, the second wave of the Covid-19 pandemic is much worse than the first in 2020. The problem seems to have been compounded by mass gatherings..
Credit: HT Digital Content Duration: 45:03
Published
Kumbh 2021: 'Sadhus believe in participating symbolically', says Swami Avdheshanand

On April 17, Prime Minister Narendra Modi talked to Acharya Mahamandleshwar of Juna Akhada Swami Avdheshanand Giri and appealed Kumbh Mela now should be symbolic amid rising cases of COVID. "PM called..
Credit: ANI Duration: 01:52
Published
PM Modi urges to keep Kumbh participation 'symbolic' amid rising cases of Covid

PM Modi said Kumbh Mela must now be kept 'symbolic' to help India in battling Covid-19. Taking to twitter, PM Modi said he has spoken to Swami Avdheshanand Giri over phone. While several seers have..
Credit: HT Digital Content Duration: 03:26
Published
Haridwar, site of Kumbh, saw over 3700 COVID cases in 2 weeks

Haridwar, the site of Kumbh Mela, saw more than 3700 cases of coronavirus between April 01 and April 14, informed city's Chief Medical Officer (CMO) Shambhu Kumar Jha who added that more than 30 Sadhus..
Credit: ANI Duration: 02:05
Published
Kumbh mela: PM finally appeals for a 'symbolic' Kumbh | Oneindia News

Days since the Kumbh Mela started and images of massive crowds bathing at the ghats sparked alarm and outrage among people across India, the Prime Minister finally broke his silence on the religious..
Credit: Oneindia Duration: 01:11
Published
Niranjani Akhara exits Kumbh Mela amid rising COVID cases

Seeing the rise of COVID cases, the Niranjani Akhada announced its intentions to limit their participation in Kumbh Mela till April 17. The development comes after several of the saints testing..
Credit: ANI Duration: 03:04
Published
Covid surge: Why Kumbh, farmers' protest, poll rallies must end immediately

As Covid cases continue to surge in the country, mass gatherings including the Kumbh Mela, farmers' protest and poll rallies are now threatening to be super spreaders. Over 1,700 people have tested..
Credit: HT Digital Content Duration: 06:53
Published
NEET Post-grad exam postponed amid a massive spike in Covid-19 cases| Oneindia News

The NEET-PG medical entrance exams scheduled for April 18th have been postponed. Delhi government has announced a weekend curfew in light of the recent surge in Covid-19 cases. Activist and former..
Credit: Oneindia Duration: 02:26
Published
Half police force withdrawn from Kumbh Mela: Uttarakhand DGP

Uttarakhand Director General of Police Ashok Kumar informed that after the 3rd Shahi Snan, half of the force has been withdrawn. "Big challenges of Maha Kumbh are over, now only a fewer routine work..
Credit: ANI Duration: 01:58
Published
Watch: Thousands of devotees perform 'Ganga aarti' in Kumbh Mela

Scores of devotees gathered at 'Har ki Pauri' for 'Ganga aarti' in Haridwar on April 14. A large number of devotees offered prayers during the on-going 'Kumbh Mela'. However, social distancing norms..
Credit: ANI Duration: 01:33
Published
No information on curtailing Kumbh Mela: Officer

On being asked if duration of Kumbh Mela will be shortened in view of COVID-19, mela officer and Haridwar DM Deepak Rawat said that he has no information in this regard. "Kumbh Mela used to begin in..
Credit: ANI Duration: 01:10
Published
You Might Like



25,000 turn out for last Kumbh shahi snan




IndiaTimes - Published





Covid-19: Unable to get ICU beds in two govt hospitals, Kumbh seer dies in Haridwar

A 70-year-old seer attending the Maha Kumbh died of Covid-19 at a Covid care centre in Haridwar after he was allegedly turned away by both AIIMS Rishikesh and Government Doon Medical College (GDMC) for..




IndiaTimes - Published





No Covid-appropriate behaviour in Kumbh, Ramzan, says Amit Shah

"Whether it is Kumbh or Ramzan, there has been no Covid-appropriate behaviour. It cannot happen. That is why we had to appeal and the Kumbh has now turned symbolic," Amit Shah said in an interview with..




IndiaTimes - Published





COVID-19: Gujarat, Madhya Pradesh issue guidelines for Kumbh returnees - Check details here

The ongoing Kumbh Mela has reported large number of devotees and saints testing positive with COVID-19 virus.




DNA - Published





Covid-19: Plea in SC against invitation advertisement to 'Kumbh Mela'




IndiaTimes - Published





Covid:'Kumbh Mela should now only be symbolic,' PM appeals Swami Avdheshanand

Prime Minister Narendra Modi on Saturday appealed top seer at the Kumbh Mela to keep the ongoing pilgrimage "symbolic" in nature after a large number of people at the mela, including seers, tested..




IndiaTimes - Published





Kumbh: 30 sadhus in Haridwar test positive for Covid-19

Amidst the ongoing Kumbh in Haridwar, 30 sadhus in the city have tested positive for Covid-19, said the Chief Medical Officer on Friday. Speaking to ANI, Haridwar Chief Medical Officer Dr SK Jha said,..




IndiaTimes - Published





Covid-19 at Maha Kumbh Mela: Top seer dies, Niranjani Akhada announces exit—Highlights




IndiaTimes - Published





At Kumbh, Muslim saint who holds forth on Gita




IndiaTimes - Published





K'taka govt asks Kumbh Mela returnees to isolate themselves and undergo Covid test

The Karnataka government has asked those returning from Kumbh Mela at Haridwar to getthemselves quarantined and get tested for coronavirus infection.




IndiaTimes - Published





Nearly 1,300 test Covid positive at Kumbh in 3 days, 14 lakh take part in 3rd shahi snan

Wednesday's shahi snan saw the lowest footfall among all three shahi snans (the figure was upwards of 30 lakh on each day). Inspector-general of police Sanjay Gunjayal, in charge of the Kumbh, said..




IndiaTimes - Published





Over 100 pilgrims, 20 seers test +ve in Maha Kumbh

At least 102 pilgrims and 20 seers have tested positive for Covid-19 as religious heads have refused to get tested, wear masks and not follow social distancing norms at the Maha Kumbh Mela in Haridwar...




IndiaTimes - Published





FACT CHECK: Centre didn't call Kumbh Mela a super spreader, Health Ministry thrashes media houses

leading media house of the country had quoted the Centre as saying that the ongoing Kumbh Mela in Haridwar is a COVID super-spreader.




DNA - Published





Haridwar Kumbh 2021: Know about COVID-19 protocols, other details

Uttarakhand Chief Minister Tirath Singh Rawat on Wednesday assured that the state government is ready to organise a grand and safe Kumbh Mela.




DNA - Published





Kumbh duration curtailed to 1 month for first time; Covid negative report must for pilgrims

The duration of Kumbh Mela in Haridwar has been curtailed to just one month for the first time in its history in view of a recent surge in Covid-19 cases and it has been made mandatory for pilgrims to..




IndiaTimes - Published





Covid -ve report not needed for Kumbh, says new Uttarakhand CM

CM Tirath Singh Rawat in one of his first interviews after taking over as Uttarakhand's new CM, told TOI on Saturday that pilgrims would not need to bring RTPCR Covid-19 test report while coming for..




IndiaTimes - Published





Uttarakhand gets all-women anti-terrorism commando squad

Twenty-two women now form Uttarakhand's first all-women elite commando force for anti-terrorist and counter-insurgency operations. On Tuesday, Uttarakhand Police formally inducted the all-women..




IndiaTimes - Published





Kumbh Mela 2021: First Shahi Snan on Mahashivratri, all you need to know about world's largest religious festival

Kumbh Mela is going to start from January 14 and will continue till April 2021 in Haridwar.




DNA - Published





Kumbh Mela tent supplier firm blacklisted for fraud of Rs 109.85 crore

Tent and decorators' items supplier booked for massive fraud, blacklisted for five years.




DNA - Published





Cong's Udit Raj restores tweet questioning Kumbh Mela spend after removing it briefly; BJP seeks answers from Priyanka

Congress leader Udit Raj on Thursday first deleted and then restored a tweet questioning Uttar Pradesh government's spending on the Kumbh fair amid attacks by the BJP, which sought a reply from..




IndiaTimes - Published





Upper Ganga Canal closed for repairs ahead of 2021 Haridwar Kumbh Mela, water supply in NCR, western UP to be hit

The Upper Ganga Canal will remain closed from October 15 to midnight of November 15 for repair and maintenance work ahead of Haridwar Kumbh 2021.




DNA - Published





'Govt should not spend Rs 4,200 crore in organising Kumbh Mela,' says Congress leader Udit Raj

This comes days after Assam Education Minister Himanta Biswa Sarma said that government money could not be used to teach Muslim religious book Quran in Madrassas.




DNA - Published





Covid-19: Ahead of Ram Navami, Yogi calls for 'isolation'

Amid concerns over the possibility of a large gathering on the occasion like previous years, a government spokesperson said the Ram Navami snaan was not organised by the state administration like the..




IndiaTimes - Published





Gangasagar Mela gets no central funds but Kumbh Mela does: Mamata




IndiaTimes - Published





Akhara Parishad to seek security for saints, Muslim clergy

"Seers have openly protested against the delay in the judgement, have constantly mobilised devotees for the issue and we are the most vulnerable target," Mahant Narendra Giri, told ET, adding the..




IndiaTimes - Published





Rishikesh: Russian Deputy PM visits Parmarth Niketan ashram

He was also informed about the Ganga Action Parivar, International Yoga Day and Kumbh Mela amongst other things at the ashram




DNA - Published