Rajpath
Boulevard in New Delhi leading up to the Rashtrapati Bhavan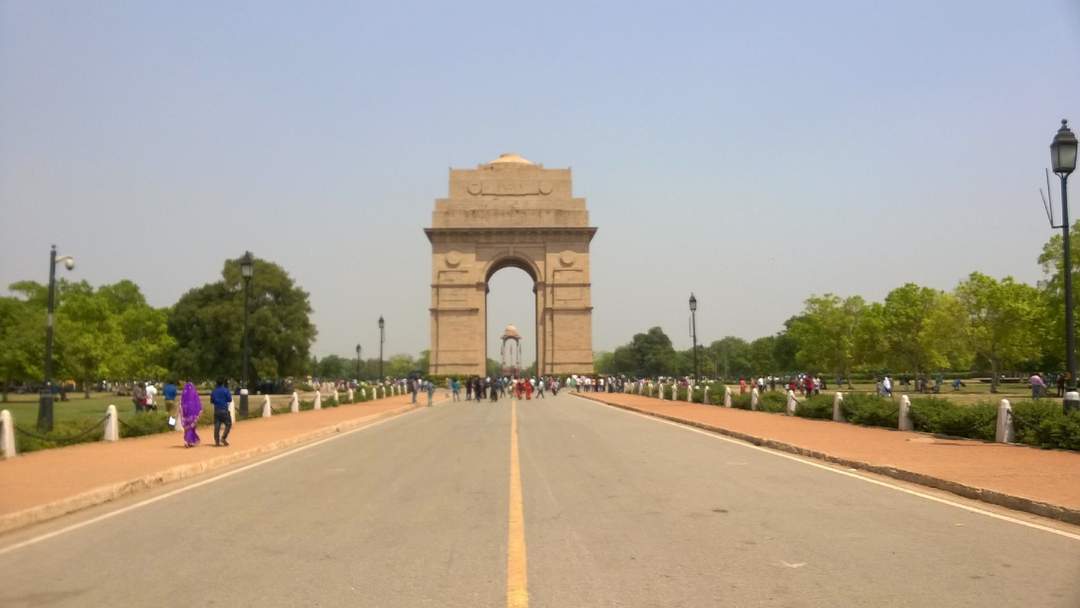 Rajpath is a ceremonial boulevard in New Delhi, India, that runs from Rashtrapati Bhavan on Raisina Hill through Vijay Chowk and India Gate, National War Memorial (India) to National Stadium, Delhi. The avenue is lined on both sides by huge lawns, canals and rows of trees. Considered to be one of the most important roads in India, it is where the annual Republic Day parade takes place on 26 January. Janpath crosses the road. Rajpath runs in east-west direction. Roads from Connaught Place, the financial centre of Delhi, run into Rajpath from north.


9-yr-old climate activist demonstrates over air pollution in Delhi

A 9-yr-old climate and environment activist, Licypriya Kangujam staged a protest in Delhi's Vijay Chowk over air pollution in the national capital. She held a hand-written poster demanding 'permanent..
Credit: ANI Duration: 01:30
Published
Air quality turns 'very poor' in parts of Delhi

Delhi's air quality is taking a hit, as it reached 'very poor' levels on October 15. Thick blanket of smog enveloped Delhi-NCR. Rampant stubble burning in Haryana, Punjab and local pollutants are main..
Credit: ANI Duration: 01:26
Published
You Might Like



IAF conducts fly-past over Delhi saluting 'corona warriors'

The military jets, including Sukhoi-30 MKI, MiG-29 and Jaguar, flew over Rajpath, Delhi's centrepiece boulevard, and then orbited over the city for around 30 minutes from 11 am. IAF is carrying out..




IndiaTimes - Published





Vice-President Naidu visits Hunar Haat, interacts with artisans

Vice President Venkaiah Naidu visited the Hunar Haat at the Rajpath here on Thursday and interacted with the participating artisans and craftsmen from various parts of the country.




IndiaTimes - Published





PM Modi makes surprise visit to 'Hunar Haat' at Rajpath; relishes 'litti-chokha'




IndiaTimes - Published





Beating Retreat: Foot-tapping music, soulful renditions mark end of R-Day celebrations

Foot-tapping music and soulful classical renditions reverberated at Vijay Chowk on Wednesday as the Republic Day celebrations culminated with the Beating Retreat ceremony here with 26 performances by..




IndiaTimes - Published





Away from Rajpath, Shaheen Bagh 'celebrates the Republic'




IndiaTimes - Published





From 'Nari Shakti' to 'Mission Shakti', several firsts this Republic Day parade

As Republic Day celebrations are in full swing across the country, the parade at Delhi's Rajpath saw several firsts this year.




DNA - Published





Brazilian President Jair Messias Bolsonaro witnesses R-Day Parade at Rajpath

This is the third time that a Brazilian President was the chief guest at the Republic Day. The last time a Brazilian President was the chief guest was in 2004 when Luiz Inacio Lula da Silva attended..




IndiaTimes - Published





Republic Day 2020: Multi-layered security cover deployed at Rajpath

The security arrangement has been done in layers, with the first three layers of the security being handled by the Delhi Police, under the direct supervision of the two additional Deputy Commissioners..




DNA - Published





Capital under multi-layered, ground-to-air security cover for Republic Day celebrations

Aided by dozens of drones in the air and hundreds of CCTV cameras and facial recognition devices, besides several anti-aircraft guns on the ground, the security personnel are keeping a hawk-eye over..




IndiaTimes - Published





India, Brazil sign 15 pacts to bolster defence, trade ties

Reaffirming a strategic partnership, India and Brazil on Saturday signed 15 agreements as Prime Minister Narendra Modi held talks with Brazilian President Jair Bolsonaro who will also be the chief..




IndiaTimes - Published





India's military might, cultural heritage to be on display at Rajpath on Sunday




IndiaTimes - Published





Delhi Traffic Police issues advisory for full dress Republic Day parade rehearsal: Follow these instructions

The rehearsal will have the same route as that of the Parade on Republic Day. The Parade rehearsal will start at 09.50 AM on Thursday from Vijay Chowk and will proceed to Red Fort.




DNA - Published





It's a proud moment to lead IAF contingent at Republic Day celebrations, says Flt Lt Shrikant

Waking up at 3 AM, reaching Vijay Chowk by 4 AM, marching 12-14 kilometres per day is part of the 2-month drill for Flt Lt Shrikant Sharma and his 144 men contingent as they prepare for Republic day..




DNA - Published





Beating Retreat likely to end with 'Vande Mataram' this year: Sources

The iconic Beating Retreat ceremony at Vijay Chowk on January 29 is likely to end with 'Vande Mataram', sources said on Monday. Traditionally the ceremony concludes with the hymn 'Abide With Me', said..




IndiaTimes - Published





Ahmedabad firm picked to redesign Central Vista

Ahmedabad-based architecture and urban design firm HCP Design has been picked to prepare the massive revamp of the Central Vista (Rajpath), construction of a new Parliament and central secretariat —..




IndiaTimes - Published





Rain mucks up garba at Rajpath, Karnavati clubs of Ahmedabad

First two nights cancelled due to waterlogging in grounds




DNA - Published





Government to revamp Rajpath after 2021 Republic Day parade

Re-development works are likely to commence from the first week of February 2021.




DNA - Published





Government to 'redevelop' Rajpath, Parliament and secretariat

The Narendra Modi government has set the ball rolling for a massive re-plan and redevelopment of New Delhi's iconic central vista — the stretch from the gates of Rashtrapati Bhavan to India Gate..




IndiaTimes - Published