Akhil Gogoi
Indian activist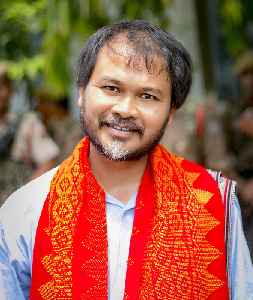 Akhil Gogoi is an Indian peasant leader and RTI activist from Assam. Over the years he has been leading many anti-graft movements in the state. Gogoi came to national attention after he was awarded the Shanmugam Manjunath Integrity Award in 2008 for his relentless fight against corruption In 2010, he was awarded the national Right to Information Award by Public Cause Research Foundation ( for his role in exposing a 12.5 million scam in Sampoorna Gram Rozgar Yojna in the Golaghat district of Assam. Gogoi is the founder Secretary of Krishak Mukti Sangram Samiti - a left wing peasant organisation based in Assam.


You Might Like
Protests across Assam demanding release of peasant leader Akhil Gogoi, repeal of CAA
IndiaTimes - Published
More than 100 writers demand proper medical treatment for jailed Akhil Gogoi
"Considering the fact that Covid test was done for Gogoi and his companions only after the agitation of people and subsequent intervention of court, the citizens are worried if fundamental..
IndiaTimes - Published
Akhil Gogoi gets bail as NIA fails to file chargesheet within 90 days, but will remain in jail
An NIA court on Tuesday granted bail to activist Akhil Gogoi, arrested in December last year for his alleged role in violence during anti-CAA protests, after the agency failed to file a charge sheet..
IndiaTimes - Published
Who is Akhil Gogoi?
IndiaTimes - Published
Akhil Gogoi remanded to judicial custody for 14 days
A special NIA court here Thursday remanded peasant leader Akhil Gogoi, who had been arrested by the agency, to judicial custody for 14 days. The special court also turned down NIA's plea to extend his..
IndiaTimes - Published
NIA raids Akhil Gogoi's house in Guwahati
The National Investigation Agency on Thursday carried out searches at the residence of RTI activist and peasant leader Akhil Gogoi, who was arrested by the agency earlier this month, officials said...
IndiaTimes - Published
Akhil Gogoi, arrested amid protests over citizenship law, sent to 10-day NIA custody
Gogoi was arrested on December 12 in Jorhat under the Unlawful Activities (Prevention) Act or UAPA amid widespread violent protests in the state and was later handed over to the National Investigation..
IndiaTimes - Published