United States Department of State
Executive department of the U.S. federal government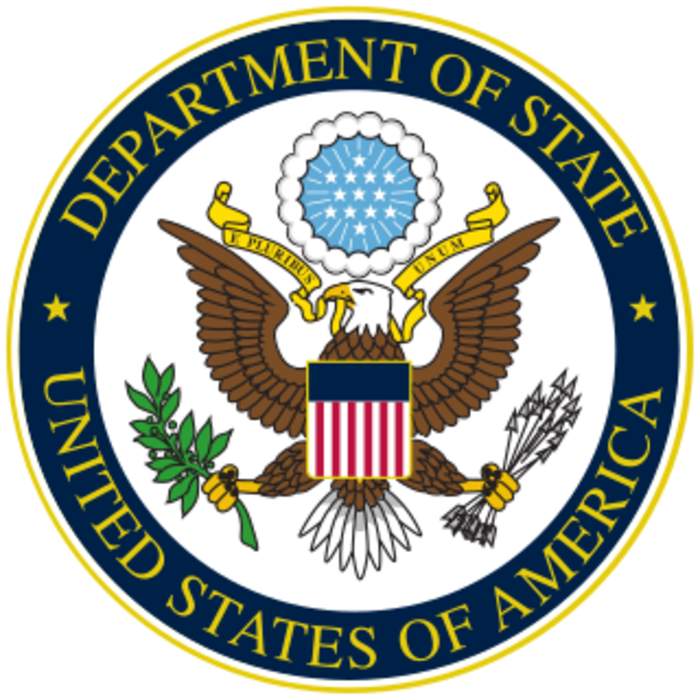 The United States Department of State (DOS), or State Department, is an executive department of the U.S. federal government responsible for the nation's foreign policy and international relations. Equivalent to the ministry of foreign affairs of other nations, its primary duties are advising the U.S. president, administering diplomatic missions, negotiating international treaties and agreements, and representing the U.S. at the United Nations. The department is headquartered in the Harry S Truman Building, a few blocks from the White House, in the Foggy Bottom neighborhood of Washington, D.C.; "Foggy Bottom" is thus sometimes used as a metonym.


Are "Havana Syndrome" victims getting help?

Is the State Department providing enough help for victims of "Havana syndrome," the mysterious illness that hit at least 200 Americans? And what causes it?
Credit: Bleacher Report AOL Duration: 02:50
Published
Fmr. Bush administration official: Jihadi movements have won

Eliot Cohen, former counselor to the U.S. State Department, discusses the scrutiny President Biden is under over the U.S. exit from Afghanistan.
Credit: Bleacher Report AOL Duration: 12:50
Published
Taliban seeking 'battlefield victory': U.S. State Dept.

The U.S. State Department on Wednesday said it is working to forge an international consensus behind the need for an Afghanistan peace accord even as it acknowledged that "all indications" point to the..
Credit: Reuters - Politics Duration: 01:54
Published
Pompeo jokes about missing whiskey bottle on Fox News

The State Department is looking into the whereabouts of a $5,800 bottle of Japanese whiskey that was gifted to former Secretary of State Mike Pompeo, according to State Department filings in the..
Credit: Bleacher Report AOL Duration: 00:52
Published
U.S. offers refuge to more Afghans who aided U.S.

Thousands more Afghans who may be targets of Taliban violence due to their U.S. affiliations will have the opportunity to resettle as refugees in the United States under a new program announced by the..
Credit: Reuters - Politics Duration: 01:39
Published
You Might Like



The mystery of the whisky bottle, the US secretary of state and the department searching for answers

The US State Department is investigating the apparent disappearance of a bottle of whisky worth nearly $6,000 (£4,320).




Sky News - Published




India critical partner in the region, says US State Department ahead of Blinken visit

Blinken will be in Delhi on 27 and 28 July, his first to the Indian capital since the new Biden administration took charge.




DNA - Published





US eases travel recommendations on India as COVID-19 cases fall

The State Department advisory comes after the CDC issued a Level 3 'Travel Health Notice' for India due to COVID-19.




DNA - Published





Kamala Harris to speak at Covid aid to India event

Under fire from some critics for what they saw as her tepid initial response to India's Covid-19 crisis, US vice-president Kamala Harris will deliver a message of solidarity with the people of India on..




IndiaTimes - Published





US VP Kamala Harris to deliver message of solidarity with people of India on Friday

Vice President Kamala Harris on Friday will deliver a message of solidarity with the people of India, as the US partners with the country to save lives and hasten the end of the coronavirus pandemic,..




IndiaTimes - Published





India is one of the most important partners in Indo-Pacific: US State Department

The United States also welcomed India's emergence as a leading global power and its role as a net security provider in the region.




DNA - Published





US says China is committing genocide against Uighurs and other ethnic minorities

The US State Department has declared that China is committing genocide and crimes against humanity in a campaign targeting Uighurs and other ethnic minorities in Xinjiang. 




Sky News - Published




State Dept. Website Claims Trump Presidency Ends Monday Night

The State Department appears to be cutting short President Trump's time in office -- its official site briefly said he's out as POTUS starting Monday night. On Trump's official page, the U.S. DOS had..




TMZ.com - Published





Official US government website goes down after 'prank' post says Trump's presidency has ended

The official US State Department website has gone down after a post thought to be a prank said Donald Trump's term as president "ended" nine days early.




Sky News - Published




Quad officials meet virtually, discuss ways for cooperation on countering disinformation, Covid response

The senior officials from the United States, Australia, India, and Japan met virtually today as part of regular Quad consultations to advance a "free, open, and inclusive" Indo-Pacific region,..




IndiaTimes - Published





26/11: US says it stands with India and remains resolute in fight against terrorism

November 26 marks the 12th anniversary of the terrorist attacks in Mumbai. "Through the Rewards for Justice programme, we seek to ensure that all those responsible for this heinous attack face..




IndiaTimes - Published





Mike Pompeo arrives in India for 2+2 Ministerial Dialogue

US secretary of state Mike Pompeo along with his wife Susan arrived in New Delhi on Monday for the third India-US 2+2 ministerial Dialogue on Tuesday. The holding of the third US-India 2+2 Ministerial..




IndiaTimes - Published





US will probably discuss India-China border situation during 2+2 dialogue: State Dept official

The situation on the Line of Actual Control will probably be discussed at some point during 2+2 dialogue and the United States is watching the situation closely at the India-China border situation,..




IndiaTimes - Published





LAC situation to be discussed at 2+2 dialogue with India, BECA agreement in works: US State Dept

US Secretary of State Mike Pompeo and US Defence secretary Mark Esper will participate in the 2+2 meeting which will take place on October 26 and 27.




DNA - Published





Jaishankar to meet Pompeo in Tokyo

US Secretary of State Mike Pompeo will meet external affairs minister S Jaishankar in Tokyo on Tuesday, the State Department said. While Pompeo and Jaishankar talk over the phone at frequent intervals,..




IndiaTimes - Published





US condoles death of Jaswant Singh; hails his role for strengthening of Indo-US partnership

"A distinguished cabinet minister, parliamentarian and soldier, Jaswant Singh will be remembered for his service to the Indian Republic and his lasting contributions to the US-India partnership,"..




IndiaTimes - Published





'Pranab Mukherjee will be forever remembered in annals of Indian history': US condoles demise of ex-President of India

US State Department on Monday condoled the death of former President Pranab Mukherjee, saying that he will be forever remembered in the annals of Indian history.




DNA - Published

Also reported by •IndiaTimes


Children as young as 14 are recruited by armed groups against govt in J&K: US report

A US State Department report on human trafficking in India has said that non-state armed groups continue to recruit children as young as 14 years in direct hostilities against the govt in J&K. The..




IndiaTimes - Published





Pompeo meets China's top diplomat in Hawaii

U.S. Secretary of State Mike Pompeo met China's top diplomat, Yang Jiechi, in Hawaii on Wednesday, the State Department said, amid a deep deterioration of relations between strategic rivals that are..




Reuters - Published




Meeting between Pompeo, and China's top diplomat Yang under way: official

A meeting in Hawaii between the U.S. Secretary of State Mike Pompeo and China's top diplomat Yang Jiechi began shortly after 9 a.m. local time (3 p.m. EST), a senior State Department official said on..




Reuters - Published





U.S. concerned by libel verdicts against Philippine journalists

The U.S. State Department said on Tuesday it is concerned about court verdicts against two journalists in the Philippines and called for the case against them to be resolved in ways that reinforced a..




Reuters - Published





U.S. wary of Egypt truce effort in Libya, wants former Danish PM to lead U.N. peace bid

Parts of a proposal by Egypt for a truce in Libya are "helpful," but a United Nations-led bid to broker peace in the North African country is the best way forward, the State Department's top Middle..




Reuters - Published





U.S. State Department clears $1.4 billion sale of Patriot air and missile system to Kuwait

The U.S. State Department has approved a possible $1.425 billion sale of Patriot air and missile defense system components and upgrades to Kuwait, the Pentagon said on Thursday after notifying Congress..




Reuters - Published





U.S. State Department warns China over new Hong Kong security law

The United States on Thursday warned China against imposing a new national security legislation on Hong Kong, saying a high-degree of autonomy and respect for human rights were key to preserving the..




Reuters - Published





U.S. reaches consensus with Sudan on 'contours' of future claims deal

The United States and Sudan have reached a common understanding on the "contours" of a future bilateral claims agreement linked to the 1998 al Qaeda bombings of U.S. embassies in Kenya and Tanzania,..




Reuters - Published




U.S. envoy to press Taliban, Afghan officials on peace talks

A senior U.S. envoy left for Doha and Kabul on Sunday to press Taliban and Afghan government officials to open peace talks that the United States hopes will allow it to withdraw from Afghanistan, the..




Reuters India - Published

Also reported by •Reuters


Trump administration issues global maritime advisory on sanctions, with industry input

The Trump administration on Thursday issued guidelines to help ship owners and insurers avoid sanctions risk, that industry players and a senior State Department official said followed months of..




Reuters - Published





U.S. envoy misses Pompeo's arrival in Israel over illness

The U.S. ambassador to Israel did not attend Wednesday's arrival of Secretary of State Mike Pompeo in the Middle East nation as he was feeling unwell and had been advised to keep away, the U.S. State..




Reuters - Published





United States' Khalilzad to meet Taliban in Qatar, visit India, Pakistan

The U.S. special envoy on Afghanistan is on a mission to press Taliban negotiators in Doha and officials in India and Pakistan to support reduced violence, speeding up intra-Afghan peace talks and..




Reuters India - Published

Also reported by •Reuters


Pompeo delays Hong Kong report to see if China acts to 'further undermine' autonomy

The U.S. State Department is delaying a report to Congress assessing whether Hong Kong enjoys sufficient autonomy from China to continue receiving special treatment from the United States, Secretary of..




Reuters - Published





U.S.'s Pompeo, Russia's Lavrov discussed arms control issues: U.S. State Department

U.S. Secretary of State Mike Pompeo discussed the next steps on arms control issues in a call with his Russian counterpart on Wednesday, the U.S. State Department said in a statement but gave no other..




Reuters - Published





U.S. says does not accept at 'face value' what Venezuela says was armed incursion

The United States does not accept at "face value" the Venezuelan government's account of an alleged armed incursion there and is seeking further information about the incident, including on two..




Reuters - Published





U.S. should keep Congress informed about nuclear talks with Saudis: GAO

The U.S. Departments of State and Energy should commit to regular briefings to relevant committees in Congress on talks about nuclear power cooperation with Saudi Arabia, a congressional watchdog said..




Reuters - Published





U.S. 'hopeful' U.N. will extend Iran arms embargo, Russia 'negative'

The United States is "hopeful" the U.N. Security Council will extend an arms embargo on Iran before it expires in October, a top U.S. State Department envoy said on Thursday, despite a key Russian..




Reuters - Published





Key U.S. official urges Lebanon to prove commitment to reforms - Al-Arabiya

The U.S. State Department's top diplomat for the Middle East has urged crisis-hit Lebanon to prove its commitment to reform in order to secure international assistance, Saudi-owned Al Arabiya TV..




Reuters - Published





U.S. House committee launches probe of Trump WHO aid cutoff

The U.S. House of Representatives Foreign Affairs Committee launched an investigation on Monday of President Donald Trump's blocking of funds for the World Health Organization, giving the State..




Reuters - Published





U.S. renews waiver for Iraq to import Iranian electricity, shortens time

The United States has renewed a waiver for Iraq to continue importing Iranian electricity, a State Department official said on Sunday, but this time for a shorter period of 30 days, adding that..




Reuters - Published





Pompeo urges Egypt to keep American prisoners safe from coronavirus

U.S. Secretary of State Mike Pompeo stressed to his Egyptian counterpart on Thursday that Americans detained in Egypt should be kept safe during the coronavirus pandemic, the State Department said.




Reuters - Published





U.S. says 'deeply concerned' with reports on Turkey's efforts to turn on Russian missiles

The United States continues to object "strenuously" to Turkey's purchase of Russian missile defense systems and is "deeply concerned" with reports that Ankara is continuing its efforts to make the..




Reuters - Published





U.S. calls on Beijing to grant freedom of movement to Chinese rights lawyer

The United States on Monday called on China to allow freedom of movement to prominent rights lawyer Wang Quanzhang, whom it said has been released after five years of unjust detention, the U.S. State..




Reuters - Published





U.S. appeals to China to revise export rules on coronavirus medical gear

The United States has asked China to revise new export quality control rules for protective equipment needed in the coronavirus outbreak so they are not an obstacle to timely supplies, a spokesman for..




Reuters - Published





Pompeo tells Russia's Lavrov any new arms control talks must include China

U.S. Secretary of State Mike Pompeo told his Russian counterpart on Friday that any future arms control talks must focus on an American proposal for a new arms control accord that includes Russia and..




Reuters - Published