West Tripura district
District in India India, Tripura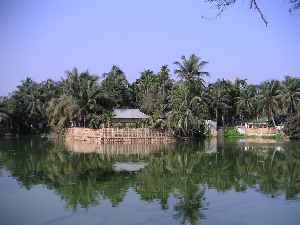 West Tripura is an administrative district in the state of Tripura in India. The district headquarters are located at Agartala. As of 2012 it is the most populous district of Tripura . While Tripura as a whole lies approximately between the north latitude 22 degrees 56' and 24 degrees 32' and between longitude 91 degrees 0' and 92 degrees 20' east, the West Tripura district lies approximately between latitude 23 degrees 16' to 24 degrees 14' north and longitude 91 degrees 09' east to 91 degrees 47' east. The West Tripura District is bounded by Bangladesh in the north and west by Khowai district in the east and by Sepahijala district in the south. Total area of the district before 2012 was 3544 km2 but with effect from 21 January 2012 four more new districts was divided making a total of 8 districts in the state and hence West Tripura contracted to 983.63 km2. The district headquarters is located at Agartala, which is also the capital of the State.


IPFT MLA booked for raping, deceiving woman in West Tripura
The legislator, however, maintained that he was "wrongfully framed" in the case and opposition parties were trying to "malign his image"
DNA - Published
Voting undeway in 168 polling stations of West Tripura seat
Polling was held in West Tripura seat on April 11 in the first phase but the opposition CPI(M) and the Congress had demanded repoll in the entire constituency, alleging large-scale rigging by the BJP.
DNA - Published
Repoll ordered in 168 polling stations of West Tripura, opp parties move SC
Polling in the constituency was held on April 11 and the CPI(M) and the Congress had demanded repoll in the entire constituency
DNA - Published
Search this site and the web:
You Might Like