Great Britain
Island in the North Atlantic Ocean off the northwest coast of continental Europe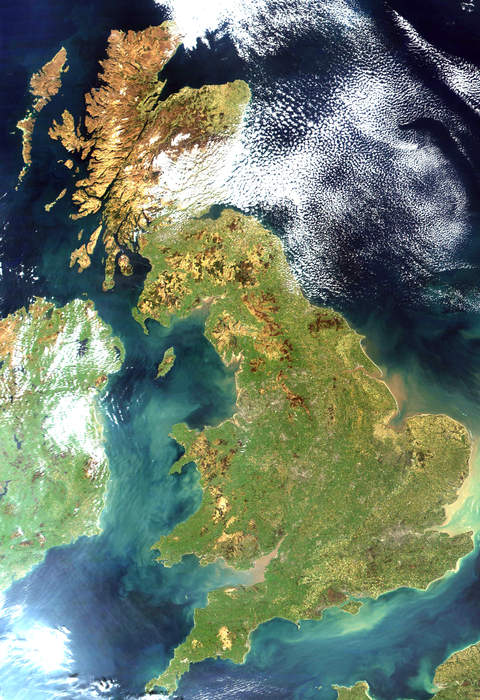 Great Britain is an island in the North Atlantic Ocean off the northwest coast of continental Europe. With an area of 209,331 km2 (80,823 sq mi), it is the largest of the British Isles, the largest European island, and the ninth-largest island in the world. The island is dominated by a maritime climate with narrow temperature differences between seasons. The 60% smaller island of Ireland is to the west – and together these islands, along with over 1,000 smaller surrounding islands and named substantial rocks, form the British Isles archipelago.


Katherine Grainger hails 'huge milestone' of 1000th medal

Dame Katherine Grainger, Chair of UK Sport, spoke about Britain's "brilliant success" after reaching 1,000 Olympic and Paralympic medals. Report by Burnsla. Like us on Facebook at..
Credit: ODN Duration: 02:33
Published
Teenage girl becomes youngest person to sail solo around UK

A 14-year-old girl from Devon has become the youngest person ever to sail solo around Great Britain. Katie McCabe encouraged other young people to challenge themselves, saying: "I didn't think it..
Credit: ODN Duration: 00:40
Published
Celebrations as Team GB athletes return from Tokyo

Athletes who represented Great Britain arrive at Heathrow Airport, London following the Tokyo 2020 Olympic Games in Japan.Includes Jason Kenny, Laura Kenny and Katie Archibald.
Credit: PA - Press Association STUDIO Duration: 00:57
Published
Ben Maher praises 'phenomenal' Explosion W following gold triumph

Great Britain's Ben Maher won individual showjumping gold at Tokyo Equestrian Park after eclipsing his rivals aboard the brilliant Explosion W.Maher's victory gave the Great Britain equestrian team..
Credit: PA - Press Association STUDIO Duration: 01:04
Published
Emily Campbell delighted with historic weightlifting silver medal

Emily Campbell strode onto the Olympic stage in Tokyo and delivered two lifts that landed Great Britain a first women's weightlifting medal and set the kind of example she hopes will inspire..
Credit: PA - Press Association STUDIO Duration: 01:15
Published
Tokyo 2020 round-up: More Team GB joy with 13 medal haul

A day after Magic Monday, there was more success for Great Britain at the Tokyo Olympics as British athletes won medals in gymnastics, taekwondo and equestrian dressage.
Credit: PA - Press Association STUDIO Duration: 00:59
Published
You Might Like



World Rugby Sevens: Jasmine Joyce scores hat-trick as GB win series opener

Double Olympian Jasmine Joyce scored three tries as Great Britain won the Fast Four final at the World Rugby Sevens Series first round in Vancouver.




BBC Sport - Published





Britain's rarest mammal could be reintroduced into the wild in England

A breeding programme could see Britain's rarest mammal released into the wild to create the first population outside Scotland in more than 200 years.




Sky News - Published





Tour of Britain: Wout van Aert wins final stage to beat Ethan Hayter to overall victory

Belgium's Wout van Aert wins the final stage of the Tour of Britain to beat Great Britain's Ethan Hayter to overall victory in the race.




BBC Sport - Published





Great North Run: Britain's Marc Scott wins men's race as Kenya's Hellen Obiri takes women's title

Britain's Marc Scott wins the Great North Run in Newcastle, with Kenya's Hellen Obiri triumphing in the women's event.




BBC Sport - Published





Emma Raducanu: The making of Great Britain's US Open finalist

As British teenager Emma Raducanu reached the US Open final, BBC Sport charts her rapid rise - with the help of a host of experts.




BBC Sport - Published





Cautious households curbed borrowing and paid off mortgage debt last month

Consumer borrowing did not increase at all last month, according to Bank of England figures, in the latest apparent sign of Britain's economic recovery stumbling.




Sky News - Published





Tokyo Paralympics: Swimmer Reece Dunn sets world record to win third gold of Games

Reece Dunn sets a new world record to win his third gold medal of the Tokyo Paralympics, as the medals continue to flow for Great Britain on day seven.




BBC Sport - Published





Evacuated Afghan troops 'could serve alongside British in Gurkha-style regiment'

Afghan special forces and other troops evacuated to the UK could be absorbed into Britain's Armed Forces, possibly with the creation of a new regiment based on the Gurkha model, according to..




Sky News - Published





Tokyo Paralympics: Lauren Steadman wins triathlon gold for Great Britain

Britain's Lauren Steadman turns Rio 2016 heartbreak into Tokyo triumph with Paralympic gold in the PTS5 category.




BBC Sport - Published




Tokyo Paralympics: GB wheelchair rugby team reach first Paralympic final

The Great Britain wheelchair rugby team reach their first Paralympic final with a six-point victory over hosts Japan.




BBC Sport - Published





Gold rush as husband and wife cyclists take top honour at Tokyo Paralympics

Married cyclists Neil and Lora Fachie have won Paralympic gold just hours apart on the final day of track cycling that saw three further medals for Great Britain.




Sky News - Published





Cox, Dunn and Russell triumph as GB win three more golds at the Paralympics

Great Britain has won three more gold medals on day three of the Tokyo Paralympics.




Sky News - Published





BMX World Championships: GB Teammates Ross Cullen and Paddy Sharrock collide

Great Britain teammates Ross Cullen and Paddy Sharrock collide in dramatic fashion during the Men's elite heats on the final day of the BMX World Championships in the Netherlands.




BBC Sport - Published





Crackdown on illegal puppy trade: Dogs under six months old will not be allowed to be imported into UK

Dogs under six months old will not be allowed to be imported into Great Britain, under new government proposals.




Sky News - Published





Tokyo Paralympics: Eight Great Britain athletes to watch at Games

From the 'Weirwolf' to a potential swimming star, who are some of the Great Britain athletes hoping to shine at the Tokyo Paralympics?




BBC Sport - Published





Ex-Olympian Stan Wild continued gym coaching after abuse claim

Stan Wild represented Great Britain at two Olympic Games and founded his own York gymnastics club.




BBC Sport - Published





Tokyo Olympics medal table - which country has won most golds?

Which country is leading the medal table? How are Great Britain getting on? Medals table for the 2020 Olympics in Tokyo.




BBC Sport - Published





Tokyo Olympics: Liam Heath wins bronze, Galal Yafai shines and Dina Asher-Smith returns

Liam Heath wins a bronze medal for Great Britain in the men's kayak single 200m as Galal Yafai reaches the Olympic final in Tokyo.




BBC Sport - Published





Tokyo Olympics: Asher-Smith returns as GB set new record to reach the 4x100m relay final

Dina Asher-Smith returns as Great Britain set a new national record to reach the women's 4x100m relay final.




BBC Sport - Published





Tokyo Olympics: Jason Kenny claims British landmark as GB secure seven medals while Simone Biles wins bronze

Track cyclist Jason Kenny wins his eighth medal to become Great Britain's most decorated Olympian as GB secure seven medals and US star Simone Biles returns with a bronze.




BBC Sport - Published





Tokyo Olympics: Silver for GB in women's team pursuit as Germany set world record again

Germany's women's pursuit team set a new world record for the third race in a row to take the Olympic title ahead of Great Britain.




BBC Sport - Published





Tokyo Olympics: Team GB beat Spain in shootout to reach women's hockey semi-finals

Watch highlights as Great Britain seal their place in the women's hockey semi-finals after beating Spain in a thrilling shootout at the Tokyo Olympics.




BBC Sport - Published





Tokyo Olympics: Great Britain men progress in team pursuit after finishing fourth fastest

Watch as Great Britain finish fourth fastest in the men's team pursuit qualifying and remain in the hunt for a medal.




BBC Sport - Published





Tokyo Olympics: Germany smash world record as GB finish second fastest in team pursuit

Watch as Great Britain narrowly miss out on beating a new team pursuit world record set by Germany in the qualifying round.




BBC Sport - Published





Tokyo Olympics: How Duncan Scott's tunnel vision helped him make history

Duncan Scott on blocking out distractions to make history for Great Britain despite falling short of his four golds target.




BBC Sport - Published





Tokyo Olympics: Brilliant BMX, unbeatable Dressel and more boxing success in day nine early best bits

Watch the best moments from the early events on day nine at the Tokyo Olympics, including dramatic BMX finals and more swimming and boxing success for Great Britain.




BBC Sport - Published





Tokyo Olympics: Charlotte Worthington wins BMX Freestyle gold for Great Britain

Great Britain's Charlotte Worthington wins a thrilling gold in the women's BMX park freestyle Olympic final.




BBC Sport - Published





Tokyo Olympics: Team GB's women's sevens beaten by Fiji in bronze medal match

Great Britain's women's sevens side fall just short of a medal for the second Olympics in a row as Fiji squeezed out a 21-12 win in their bronze-medal match.




BBC Sport - Published





Another gold for Great Britain as world record smashed in 4x100m medley relay

Team GB has won the gold medal in the 4x100m medley relay at the Tokyo Olympics.




Sky News - Published





Tokyo Olympics: Australia knock Great Britain out in quarter-finals

Watch highlights as Ellen White's hat-trick is in vain as Team GB bow out of Tokyo 2020 following a 4-3 extra-time defeat against Australia in the quarter finals.




BBC Sport - Published





Tokyo Olympics: Team GB beat the USA to reach the semi-finals of the women's rugby sevens -highlights

Watch highlights as Great Britain beat the USA 21-12 to reach the semi-finals of the women's rugby sevens and keep their Olympic medal hopes alive in Tokyo.




BBC Sport - Published





Tokyo Olympics: Bethany Shriever wins BMX gold as GB win five medals

Bethany Shriever claims BMX gold and Kye White silver as Duncan Scott and Luke Greenbank add to Great Britain's swimming medal haul.




BBC Sport - Published





Tokyo Olympics: Matthew Coward-Holley takes shooting bronze for Great Britain

Matthew Coward-Holley claims Great Britain's 17th medal of the Tokyo Olympics with bronze in the men's trap shooting final.




BBC Sport - Published





Tokyo Olympics: Tom Dean & Duncan Scott combine for GB's fifth gold

Olympic gold and silver medallists Tom Dean and Duncan Scott help Great Britain win the 4x200m freestyle relay as the team's gold run continues.




BBC Sport - Published





Further glory in the pool as Team GB win gold in the 200m freestyle relay

There has been more glory for Great Britain in the Tokyo Aquatics Centre, with gold in the men's 200m freestyle relay.




Sky News - Published





Tokyo Olympics: Bianca Walkden earns bronze for GB after semi-final defeat

Great Britain's Bianca Walkden recovers from an agonising semi-final defeat to beat Aleksandra Kowalczuk of Poland to bronze in the Olympic taekwondo +67kg.




BBC Sport - Published





Face of the Games: GB's Jessica Ennis-Hill wins heptathlon gold at London 2012

BBC Sport takes a look back at Great Britain's Jessica Ennis-Hill and her heptathlon gold success at London 2012.




BBC Sport - Published





Tokyo 2020 Great Britain v Chile: Ellen White opens the scoring

Manchester City's Ellen White scores the first goal at Tokyo 2020 for Great Britain against Chile in the opening match in Sapporo.




BBC Sport - Published





Katarina Johnson-Thompson struggles in Gateshead at British Grand Prix

Britain's heptathlon world champion Katarina Johnson-Thompson continues her injury-shortened build-up to Tokyo with an sub-par 6.10m long jump at the British Grand Prix in Gateshead.




BBC Sport - Published





Wimbledon 2021: Britain guaranteed mixed doubles success

British pair Harriet Dart and Joe Salisbury will face fellow Briton Neal Skupski and American Desirae Krawczyk in the mixed doubles final at Wimbledon.




BBC Sport - Published





Diamond League Monaco: Laura Muir runs second fastest 800m by British woman

Great Britain's Laura Muir runs the second fastest 800m by a British woman to set a new Scottish record at the Monaco Diamond League with Jemma Reekie finishing in second place.




BBC Sport - Published





'Artistic swimming not just for girls' - GB's first international male artistic swimmer

Ranjuo Tomblin is just 15, but on Thursday he made history by becoming the first man to compete in an international artistic swimming competition for Great Britain.




BBC Sport - Published





Tokyo Olympics: Great Britain's athletics medal hopes & long shots

Who are Great Britain's big hopes and long shots to get on the podium in Tokyo? London 2012 Olympian and former world silver medallist Hannah England gives her view...




BBC Sport - Published





Wimbledon 2021: Britain's Dan Evans through to third round of Wimbledon

Watch the best shots as Great Britain's Dan Evans is through to the third round of Wimbledon with a 6-3 6-3 6-4 victory over Serbia's Dusan Lajovic.




BBC Sport - Published





Tokyo 2020: Artistic swimmers Kate Shortman & Izzy Thorpe selected for Olympics

British artistic swimming duo Kate Shortman and Izzy Thorpe are selected to represent Great Britain at Tokyo 2020.




BBC Sport - Published





Lauren Steadman earns Para-triathlon victory in Leeds

Great Britain's Lauren Steadman puts down a marker for Tokyo with victory over Paralympic triathlon champion Grace Norman in Leeds.




BBC Sport - Published





European Para Athletics Championships: Great Britain's Columba Blango wins gold

Great Britain win four medals on day one of the European Para Athletics Championships in Poland.




BBC Sport - Published





Tokyo 2020: Watch five great goals from Team GB's football stars

Before Tokyo 2020, watch five great goals from Great Britain's football stars including Chelsea's Fran Kirby and Manchester City's Caroline Weir.




BBC Sport - Published





Laura Muir powers to 1500m victory at Gateshead Diamond League

Watch as Great Britain's Laura Muir powers to victory in the women's 1500m at the Gateshead Diamond League.




BBC Sport - Published





FIH Pro League: Great Britain men hit back against Spain

Great Britain's men avenge their previous day's defeat with a comfortable 2-0 win over Spain in the FIH Pro League.




BBC Sport - Published