Sabarimala
Temple dedicated to Ayyappan in the Pathanamthitta District of Kerala, India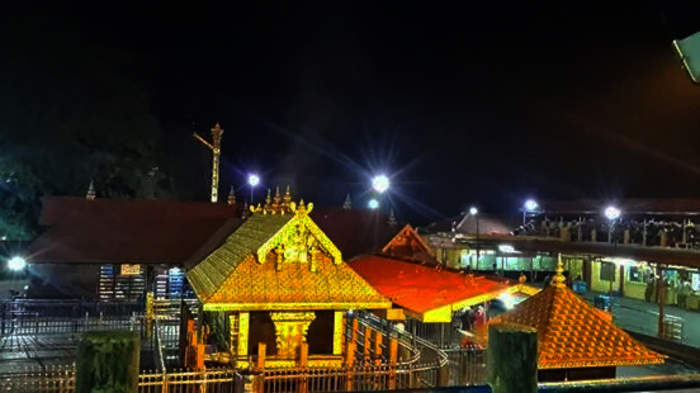 The
Sabarimala Temple
(Malayalam pronunciation: ​
[ ʃabəɾimala]
; Malayalam: ശബരിമല) is a temple complex located at Sabarimala hill inside the Periyar Tiger Reserve in the Perinad Village, Pathanamthitta district, Kerala, India. It is one of the largest annual pilgrimage sites in the world with an estimate of over 40 to 50 million devotees visiting every year. The temple is dedicated to a Hindu
Brahmachari
(Celibate) deity Ayyappan also known as
Dharma Shasta
, who according to belief is the son of Shiva and Mohini, the feminine incarnation of Vishnu. The traditions of Sabarimala are a confluence of Shaivism, Vaishnavism, and other Śramaṇa traditions.
You Might Like



Now, Sabarimala devotees can make digital payment at 'e-hundi'




IndiaTimes - Published





Parameshwaran Namboothiri appointed chief priest of Sabarimala temple




IndiaTimes - Published





Kerala rainfall update: 4 dead, 12 missing; reopening of colleges, Sabarimala pilgrimage deferred

As per reports, at least six are dead and a dozen were missing in south and central Kerala due to flash floods and landslides in many parts




DNA - Published





Sabarimala temple reopens today at 5 pm, devotees allowed from Sunday - Check SOPs

Devotees will either have to produce their double dose vaccination certificate or an RT-PCR negative certificate to enter the Sabarimala temple.




DNA - Published





BJP Kerala chief accuses CM Vijayan of lying over Sabarimala manuscript




IndiaTimes - Published





Sabarimala pilgrimage: Kerala govt prepares action plan




IndiaTimes - Published





Kerala COVID-19 update: Virtual booking of Sabarimala temple begins today - Check guidelines

Unlike other temples, Sabarimala is not opened on a daily basis, instead, it opens every month for five days besides its annual pilgrimage season.




DNA - Published





Sabarimala triggers heated debate on election day in Kerala

Leader of opposition Ramesh Chennithala in his reaction said the Left government would surely face the wrath of the Lord Ayyyppa and his devotees in this election. Lashing out at Vijayan, BJP state..




IndiaTimes - Published





BJP promises laws on Sabarimala, 'love jihad'; job to every family




IndiaTimes - Published





BJP releases manifesto promising jobs, free laptops, legislation to protect Sabarimala traditions

The BJP lined up several promises, including a legislation to protect traditions of the Ayyappa temple at Sabarimala and law against "Love Jihad", while assuring employment for at least one person from..




IndiaTimes - Published





Government will take decision after SC final judgment on Sabarimala: Kerala CM on entry of women in shrine

Kerala chief minister Pinarayi Vijayan said that after the Supreme Court delivers its final verdict on Sabarimala, the state government will discuss it with believers, including those who have a..




IndiaTimes - Published





Sabarimala temple to open today for 5-day ritual - read guidelines here

In view of the COVID-19 situation, only devotees who have booked slots through the virtual queue will be allowed darshan.




DNA - Published




Kerala government to withdraw cases registered during Sabarimala, anti-CAA protests

Ahead of the upcoming state assembly polls, the Kerala government on Wednesday decided to withdraw cases registered during Sabarimala and the anti-CAA protests in the state, a move which was welcomed..




IndiaTimes - Published





BJP slams Rahul, calls him a 'migrant leader' who has taken refuge in Kerala after being rejected in Amethi

Targeting Gandhi, who represents Kerala's Wayanad seat in Lok Sabha, on the Sabarimala women entry issue, senior BJP leader and Union minister Pralhad Joshi claimed that the national leadership and..




IndiaTimes - Published





Congress in Kerala to bring law on women's entry in Sabarimala




IndiaTimes - Published





Kerala govt moves SC against HC order increasing daily pilgrims to Sabarimala shrine

The state government sought an immediate stay on the high court order on grounds of public health risk and concerns regarding new coronavirus strain.




DNA - Published





Ayodhya, Sabarimala, Varanasi glow on eve of Kartik Purnima

Kartik Purnima is also celebrated as Dev Deepawali and marks the fifteenth lunar day of the Hindu month of Kartik.




DNA - Published





Thirty-nine Covid positive cases so far in Sabarimala

As many as 39 people including pilgrims, police personnel and temple employees, have tested positive for coronavirus in Sabarimala so far since the Lord Ayyappa temple here was openedfor the annual..




IndiaTimes - Published





Elaborate precautionary measures in Sabarimala in view of Covid-19

With only one day left for the opening of Sabarimala Lord Ayyappa temple for the annual Mandalam-Makaravilakku season, the Kerala government said elaborate arrangements have been made to ensure that no..




IndiaTimes - Published





Security arrangements completed at Sabarimala; temple to open for monthly 5-day pooja on October 16




IndiaTimes - Published





When Sabarimala broke tradition to perform a musical Puja for SP Balasubrahmanyam

Balasubrahmanyam's 2015 visit to the temple to receive the award is said to be his maiden visit and his only one.




DNA - Published





Kerala: Sabarimala temple reopens for five-day monthly prayer

The five-day puja at the Lord Ayyappa shrine in Sabarimala will begin from Monday morning.




DNA - Published





SC explains move on Sabarimala petition




IndiaTimes - Published





Covid-19 lockdown indefinitely delays hearing on three most important cases

Covid-19 lockdown has off-tracked the Supreme Court's attempt to expeditiously decide three most important cases threatening to divide the nation on religious and communal lines - faith vs fundamental..




IndiaTimes - Published





Coronavirus: 5 foreigners vacationing in Kerala tests positive, Sabarimala temple bans entry to people

As it stands, India has recorded a total of 223 positive cases.




DNA - Published





Supreme Court to take up pleas challenging CAA after hearing Sabarimala matter

The CJI told senior lawyer Kapil Sibal to bring the matter before the court again after Holi.




DNA - Published





Will hear pleas on CAA after arguments in Sabarimala related matter are over: SC




IndiaTimes - Published




Sabarimala: Law can regulate offerings at religious places if used for terrorism, casinos, says SC




IndiaTimes - Published





Sabarimala: SC commences hearing to deliberate on issues relating to scope of freedom of religion

A nine-judge bench of the Supreme Court on Monday commenced hearing to deliberate upon issues relating to scope of freedom of religion and whether a person who does not belong to a particular faith can..




IndiaTimes - Published





Sabarimala case: Supreme Court says it can refer questions of law to larger bench

A bench headed by Chief Justice S A Bobde framed seven questions to be heard by a nine-judge Constitutional bench on issues relating to freedom of religion under the Constitution and faith. The seven..




IndiaTimes - Published





SC: Prepare a list of Sabarimala jewellery




IndiaTimes - Published





SC appoints retired Kerala HC Judge to conduct inventory of Sabarimala deity's ornaments




IndiaTimes - Published





Sabarimala case: SC says will frame questions relating to discrimination of women in religious places

As the lawyers representing various parties in the case have not arrived at a consensus on framing larger issues to be deliberated upon by the Constitution bench, it will frame them by Thursday, the..




IndiaTimes - Published





Not discussing issue of women's entry into Sabarimala temple: SC

The SC on Monday resumed its exercise of framing questions relating to discrimination against women in various religions and made clear that it was not discussing the issue of entry of women of all age..




IndiaTimes - Published





Supreme Court begins hearing in Sabarimala temple matter




IndiaTimes - Published





SC fixes 10-day hearing for women's entry into religious places

CJI Bobde said that the 9-judge constitution bench will hear and complete arguments in 10 days on the controversy over women's entry into Sabarimala temple, mosques and Parsi agiyaris. The CJI asked..




IndiaTimes - Published





SC fixes 10-day period for hearing issues of discrimination against women at religious places

The Supreme Court on Tuesday said that its nine-judge Constitution bench would wrap up within 10 days proceedings in the matter relating to discrimination against women in various religions and at..




IndiaTimes - Published




Will decide larger issue of women's entry into religious places: Nine-judge SC bench

The important clarification means the bench will not pronounce on petitions seeking a review of the SC's order overturning the Sabarimala shrine's tradition of not permitting the entry of female..




IndiaTimes - Published





Sabarimala will get precedence, CAA and Article 370 can wait: Supreme Court

The CJI's observation came when senior advocates Indira Jaising and Rajeev Dhavan said deferring the hearing on faith vs fundamental rights issue could clash with the hearing on petitions challenging..




IndiaTimes - Published





SC asks lawyers to meet & decide issues for deliberations in Sabarimala, other cases

The Supreme Court Monday asked four senior advocates to convene a meeting to decide on re-framing and adding issues to be deliberated by it in the matter relating to discrimination against women in..




IndiaTimes - Published





Supreme Court grants three weeks to frame issues on Sabarimala, other religious matters

The Supreme Court on Monday clarified that it will not hear the review petitions in the Sabarimala temple case.




DNA - Published





Nine-judge SC bench to hear issue of women's entry in Sabarimala temple from January 13

A nine-judge Constitution bench of the Supreme Court is scheduled to commence on Monday hearing a batch of pleas on the issue of allowing women of all ages to enter Kerala's Sabarimala temple, along..




IndiaTimes - Published




Brand-new SC bench for Sabarimala




IndiaTimes - Published





Supreme Court's 9-judge bench to hear Sabarimala case from January 13

Chief Justice SA Bobde on Monday entrusted the task of reviewing an earlier five-judge bench judgment allowing entry of women in the 10-50 year age group into Sabarimala Ayyappa temple to a nine-judge..




IndiaTimes - Published




Larger constitution bench of Supreme Court to Sabarimala review petitions in January

The Sabarimala review petitions will be heard by a seven-judge Constitution bench of the Supreme Court in January 2020.




IndiaTimes - Published





Supreme Court refuses to pass any order on allowing women's entry in Sabarimala

The top court also observed that the issue is an emotive one and might turn into 'explosive'.




DNA - Published





Sabarimala: SC declines to pass any order for safe entry of women

The top court said the issue was "very emotive" and it did not want the situation to become "explosive". A bench, headed by Chief Justice S A Bobde, said the "balance of convenience" required that no..




IndiaTimes - Published





Verdict allowing women into Sabarimala not 'final word' as matter referred to larger bench: Supreme Court




IndiaTimes - Published





Sabarimala: SC to hear plea seeking directions to Kerala govt to provide safe passage to women next week




IndiaTimes - Published





SC to hear next week plea of woman who was stopped from entering Sabarimala temple

A five-judge Constitution bench, by a majority of 4:1 in its verdict delivered in September last year, had allowed girls and women of all age groups to visit the Lord Ayyappa temple at Sabarimala in..




IndiaTimes - Published