Conservative Party
Topics referred to by the same term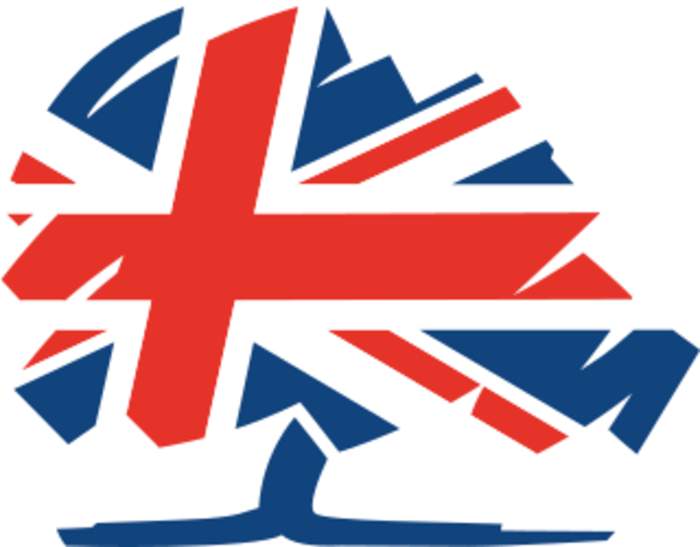 Conservative Party may refer to:


Labour: Rape arrest shows MP vetting process has big issues

Shadow Chancellor Rachel Reeves says the arrest of an MP on suspicion of rape needs to be a "wake-up call" and shows there "clearly is an issue" with the vetting process for choosing members of..
Credit: ODN Duration: 01:44
Published
Tory MP says foodbank users 'cannot cook properly'

Conservative MP Lee Anderson has been heavily criticised following comments he made in the Commons on Wednesday. Asked if food banks are necessary, the Ashfield MP said "there's no massive use for food..
Credit: ODN Duration: 00:38
Published
Beer Starmer v Boris: Have the Tables Turned?

Labour leader Sir Keir Starmer is being questioned on his indoor beer and curry consumption after a day of campaigning in April 2021. 'Beergate' happened in Durham, while England was under stage two..
Credit: ODN Duration: 02:15
Published
Local election round-up: How are the parties performing?

It has been a day of celebration for Keir Starmer and Labour, hailing the 2022 local elections as a "turning point" for the party. Meanwhile Boris Johnson has been forced to accept that it was a..
Credit: ODN Duration: 03:25
Published
Govt: Despite council wins, Labour not on path to government

Chairman of the Conservative Party Oliver Dowden argues that Labour is "not on the path to government" despite their victories in the Wandsworth and Barnet council elections. He says there has been a..
Credit: ODN Duration: 01:36
Published
PM insists he'll still be standing next election

Prime Minister Boris Johnson has insisted he will still be in power by the next general election, and the Conservative Party will succeed. He also urged voters to back his party in the upcoming..
Credit: ODN Duration: 00:58
Published
Starmer: Tories' first instinct is to hide MPs bad behaviour

Labour Leader Sir Keir Starmer says the "first instinct" of the Conservative is to try to "hide" instances of their MPs behaving poorly. He highlights the examples of Neil Parish and Owen Paterson,..
Credit: ODN Duration: 00:49
Published
Starmer denies rumours of Labour Lib Dem local election pact

Labour Leader Sir Keir Starmer refutes the existence of any pacts between Labour and the Liberal Democrats in upcoming local election, saying he wouldn't take what Conservative Co-Chairman Oliver..
Credit: ODN Duration: 00:52
Published
Govt: All-women shortlists not the answer to Commons sexism

Education Minister Michelle Donelan rebuffs suggestions that an all-women shortlist should be submitted for the race to replace Neil Parish as the Conservative candidate for the Tiverton and Honiton..
Credit: ODN Duration: 00:58
Published
Lib Dem leader slams Tories' 'poor record' on behaviour

Liberal Democrat leader Sir Ed Davey says the Conservative Party has a "very poor record of acting hard" on poor behaviour. Tory Neil Parish said on Saturday that he is resigning as an MP after..
Credit: ODN Duration: 01:07
Published
MP calls for faster action on HRT shortage

Conservative MP Caroline Nokes has called for "real energy and impetus" in tackling the shortage of Hormone Replacement Therapy (HRT) products for women experiencing the menopause. Ms Nokes, who..
Credit: ODN Duration: 01:26
Published
Johnson: Labour is a bankrupt shambles

Boris Johnson accuses the Labour Party of being a "bankrupt shambles" and urges voters to back the Conservative Party in the May local elections. This comes after Labour Leader Sir Keir Starmer..
Credit: ODN Duration: 02:42
Published
Dowden admits PM acted 'stupid' allowing social gatherings

Chairman of the Conservative Party Oliver Dowden admits it was "stupid" for Boris Johnson to allow social gatherings to take place at Downing Street during lockdown last year. Mr Dowden also says that..
Credit: ODN Duration: 00:51
Published
Tory MP urges confidence vote in PM

Conservative MP Tobias Ellwood has urged Boris Johnson to call a vote of confidence to "draw a line" under the Partygate scandal, saying it is the "duty" of MPs to decide whether they still support the..
Credit: ODN Duration: 01:01
Published
Lib Dems: Tory MPs clearly too embarrassed to back PM

Liberal Democrat Leader Sir Ed Davey says it is clear that Conservative MPs were "too embarrassed" to back Prime Minister Boris Johnson at a debate in the House of Commons over whether he should be..
Credit: ODN Duration: 01:58
Published
Starmer: Political mood changed today, MPs now against PM

Labour Leader Sir Keir Starmer believes the "political mood changed today" and that Conservative MPs are no longer willing to go on "defending the indefensible". He outlines that Prime Minister Boris..
Credit: ODN Duration: 01:25
Published
Tory backbencher says PM should know 'the gig's up'

Conservative MP for Wycombe Steve Baker tells the House of Commons that Prime Minister Boris Johnson should know "the gig's up" and that he should already be "long gone". He says the "contrition" the..
Credit: ODN Duration: 01:31
Published
Tory MP: Ukraine situation is not excuse to lower standards

Conservative MP for Hazel Grove Will Wragg believes Prime Minister Boris Johnson is no longer "fit to govern", explaining that the invasion of Ukraine should not be a reason that the country should..
Credit: ODN Duration: 02:47
Published
Tory MP says PM must go in long term but not during Ukraine

Conservative MP for Penrith and The Border Neil Hudson calls for the PM to show same "statesmanship" he has shown with Ukraine and "outline a timetable" for a leadership contest when the "international..
Credit: ODN Duration: 01:41
Published
Minister defends Prime Minister amid partygate

Business Minister Greg Hands has defended Prime Minister Boris Johnson amid new partygate allegation, saying he has the confidence of Conservative MPs. Report by Etemadil. Like us on Facebook at..
Credit: ODN Duration: 00:50
Published
John Redwood 'saddened' in Archbishop' Easter sermon

Conservative MP John Redwood says he is 'saddened' by Archbishop of Canterbury Justin Welby's Easter sermon in which he criticised the government's proposals to send some asylum seekers to..
Credit: ODN Duration: 01:14
Published
'Now is not the right or responsible moment' for Johnson to resign, says Conservative MP

Sir Roger Gale says the Conservative Party should not hold a leadership election amid the war in Ukraine.
Credit: euronews (in English) Duration: 04:00
Published
Conservative MP says PM has misled Commons; shouldn't resign

Conservative MP Sir Roger Gale says he is "not surprised" and "naturally disappointed" that Boris Johnson is to be fined over partygate Covid breaches. Sir Roger explains why he feels the prime..
Credit: ODN Duration: 01:29
Published
Bryant 'furious' at Blunt defence of Khan

Labour MP Chris Bryant has said he was "furious" when he saw Conservative MP Crispin Blunt come out in defence of Imran Ahmad Khan after the fellow MP had been found guilty of sexually assaulting a..
Credit: ODN Duration: 00:47
Published
Senior Tories insist 'it's not a party' as they arrive at do

On the day the Metropolitan Police issued 20 fines over Partygate allegations, senior Conservative Party MPs arrived for a dinner and drinks and insisted "it's not a party, it's colleagues..
Credit: ODN Duration: 01:12
Published
You Might Like



Conservative MP arrested over rape and sexual assault allegations spanning seven-year period

A Conservative MP has been arrested on suspicion of rape and sexual assault offences spanning a seven-year period.




Sky News - Published





Champagne bottle donated by Tory party chairman auctioned as 'souvenir of partygate'

A bottle of champagne that Conservative Party Chairman Oliver Dowden donated to a fundraising auction was labelled as being "hugely valuable as a souvenir of partygate".




Sky News - Published





Tory MP criticised for saying food bank users just need to learn how to cook

A Conservative MP has been heavily criticised for claiming that people who use food banks do not know how to cook or manage their finances properly.




Sky News - Published





Tory MP Jamie Wallis pleads not guilty to four traffic offences including failing to stop

Conservative MP Jamie Wallis has pleaded not guilty to four traffic offences.




Sky News - Published





Local elections 2022: A 'tough night' for the Conservatives as Labour makes 'modest' gains

It has been a "tough night" for the Conservative party, after the loss of some key local councils in London to Labour - but the opposition party has seen mixed results outside the capital.




Sky News - Published





Tories could face losing parliamentary majority - Sky News projection

The Conservatives face losing their Commons majority if local election results are replicated at a general election, according to a Sky News projection.




Sky News - Published





Boris Johnson admits it was 'tough night' for Conservatives as Labour win key London councils

Boris Johnson has admitted it was a "tough night" for the Conservatives after the party lost some key local councils in London to Labour - but the opposition party had mixed results outside the..




Sky News - Published





Labour victorious in Wandsworth as Tories lose control of flagship council

The Conservatives have lost former leader Margaret Thatcher's 'favourite council' Wandsworth to Labour in a significant boost for Sir Keir Starmer's party.




Sky News - Published





Tory police and crime commissioner who pledged to crack down on speeding caught breaking limit five times

A Conservative police and crime commissioner who pledged to crack down on speeding has been caught breaking a 30mph limit five times in just 12 weeks.




Sky News - Published





Starmer accuses Tories of 'mudslinging' over lockdown beers footage

Sir Keir Starmer has accused Conservative MPs of "mudslinging" over footage of him drinking a beer with colleagues at a time when COVID restrictions were in place.




Sky News - Published





Conservative MP Crispin Blunt to stand down at next election

Conservative MP Crispin Blunt has announced he will stand down at the next general election.




Sky News - Published





Johnson will 'absolutely' remain Tory leader after local elections, Kwarteng says

Boris Johnson will "absolutely" remain as the Conservatives' leader after the local elections - even if the results are disappointing for the party, Kwasi Kwarteng has said.




Sky News - Published





Rees-Mogg reiterates call for civil servants to return to offices - and Dowden backs crackdown

Jacob Rees-Mogg has reiterated his call for civil servants to return to their Westminster offices - as Conservative chairman Oliver Dowden backed the cabinet minister's crackdown on working from home.




Sky News - Published





PM says he intends to fight next election as Tory leader amid ongoing partygate row

Boris Johnson has said he intends to fight the next general election as Conservative Party leader as he faces persistent pressure over his leadership due to the ongoing partygate row.




Sky News - Published





Conservative MP calls on PM to create a minister for men

A Conservative MP has called on Boris Johnson to appoint a minister for men and to rollout a men's health strategy.




Sky News - Published





Tory MPs call for Ben Goldsmith to lose DEFRA role over support for Extinction Rebellion

Conservative MPs are calling for the financier Ben Goldsmith to be sacked from his role at the Environment Department after he expressed support for the activist group Extinction Rebellion.




Sky News - Published





Tory MP guilty of sexually assaulting 15-year-old boy at house in 2008

A Conservative MP has been found guilty of sexually assaulting a 15-year-old boy at a house in Staffordshire in 2008.




Sky News - Published





'One off the list': Terror suspect says he killed Sir David Amess to 'send a message' to other MPs

A homegrown terror suspect who stabbed Conservative MP Sir David Amess to death has said he did it to "send a message" to other MPs.




Sky News - Published





Tory peer and ex-broadcaster Michael Grade named as preferred govt candidate for Ofcom chair

Conservative peer and former broadcaster Michael Grade has been named as the government's preferred candidate for the next chair of Ofcom.




Sky News - Published





Change in law signed of by Chris Grayling meant P&O could sack staff without telling govt, maritime lawyer says

A change in the law signed off by former Conservative minister Chris Grayling cleared the way for P&O Ferries to legally sack 800 staff last week without telling the government, a leading maritime..




Sky News - Published





Government sees off calls from some Tories to change asylum and immigrations reforms

Attempts by some Conservative peers and MPs to change the government's controversial asylum and immigration reforms have been unsuccessful.




Sky News - Published





Tory MP in Ukraine despite UK advising against all travel there is criticised by No 10

A Conservative MP who said he was in Ukraine despite the Foreign Office advising against all travel to the country has been criticised by Downing Street.




Sky News - Published





'We need to change the PM' - former minister becomes 14th Tory MP to publicly call for Boris Johnson to resign

A former minister has become the 14th Conservative MP to publicly call for Boris Johnson to resign as prime minister.




Sky News - Published





Tory MP says PM's position 'untenable' as he submits letter of no confidence

Another Conservative MP has submitted a letter of no confidence in Boris Johnson.




Sky News - Published





Conservative candidate wins Southend West by-election following killing of Sir David Amess

Conservative candidate Anna Firth has won the Southend West by-election triggered by the killing of Sir David Amess.




Sky News - Published





Tory MP Tobias Ellwood reveals he will be submitting letter of no confidence in PM

Conservative MP Tobias Ellwood has told Sky News he will be submitting a letter of no confidence in Boris Johnson today.




Sky News - Published





Man pleads not guilty to murdering Sir David Amess MP

The man accused of murdering Conservative MP Sir David Amess has pleaded not guilty.




Sky News - Published





Tory MP involved in 'accident' and 'assisting police with their inquiries'

Conservative MP Jamie Wallis has admitted he was involved in an "accident" and is "assisting police with their inquiries".




Sky News - Published





Johnson accepts 'personal responsibility' after Conservatives suffer by-election drubbing to Lib Dems

Boris Johnson has said he takes "personal responsibility" after his Conservative Party lost the North Shropshire by-election in a shock result that has dealt another significant blow to his..




Sky News - Published





'They gave us a kicking': Tory chair says party heard message from by-election defeat 'loud and clear'

Voters in North Shropshire wanted to send "a message" to the Conservatives and "we have heard that loud and clear", party co-chairman Oliver Dowden has said.




Sky News - Published





By-election 'drubbing' will send shockwaves through the Tory party

The loss of one of its safest seats will send shock waves through the Conservative party.




Sky News - Published





Lib Dems shock win as Tory by-election defeat piles pressure on Boris Johnson

The Conservatives have lost the North Shropshire by-election, a shock result that will put more pressure on Boris Johnson after a difficult few weeks for the prime minister.




Sky News - Published





Conservatives face anxious wait as votes counted in North Shropshire by-election

The Conservatives are facing a nervous wait as votes are counted overnight in the North Shropshire by-election, with Prime Minister Boris Johnson hoping his party can hold on to what has been a..




Sky News - Published





Voters begin to cast ballots in North Shropshire by-election to choose Owen Paterson successor

Voters have begun to cast their ballots in the North Shropshire by-election as they choose a replacement for former Conservative MP Owen Paterson.




Sky News - Published





'He's used up eight of his nine lives': Tory rebellion over COVID restrictions points to a leader in deep trouble

It was but two years back that Boris Johnson swept into No 10 on a Conservative majority not seen since the days of Margaret Thatcher, his foot on the neck of a broken Labour party, his position..




Sky News - Published





PM trapped between his party and scientists as he faces unhappy Christmas

When it came, Tuesday night's rebellion infected every wing of the Conservative Party in the House of Commons.




Sky News - Published





Boris Johnson suffers large Tory rebellion as MPs approve COVID certification for England

MPs have approved Boris Johnson's tougher COVID restrictions in England despite a significant rebellion by Conservative MPs.




Sky News - Published





'Festivities should not divert from national duty': Starmer launches veiled attack on Tories in booster push

Sir Keir Starmer has launched a veiled attack on the Conservatives' alleged lockdown breaches last Christmas as he said "festivities" should not "divert us from our national duty".




Sky News - Published





75 Tory MPs likely to rebel against PM on vote for further COVID restrictions

There are likely to be 75 Conservative MPs who rebel against the government's Plan B COVID restrictions, Sky News can reveal.




Sky News - Published





PM facing major revolt over COVID-19 curbs, amid 'authoritarianism' warning

The Conservative Party is drifting into authoritarianism, a senior Tory MP has warned, as he confirmed he would oppose new coronavirus restrictions.




Sky News - Published





Plunging poll ratings and increasingly mutinous MPs - can PM be an election-winning hero again?

Two years after winning a famous general election victory with a majority of 80, Boris Johnson has gone from hero to zero, with the public and Conservative MPs.




Sky News - Published





Ex-Tory minister raped and physically abused his MP wife, judge concludes

A former Conservative minister raped and physically abused his MP wife, a family court judge has ruled during a private trial.




Sky News - Published





Tory party fined nearly £18,000 for donation towards Boris Johnson's Downing Street flat refurbishment

The Conservative Party has been fined nearly £18,000 for failing to properly declare a donation made towards Boris Johnson's flat refurbishment.




Sky News - Published





Tories retain Old Bexley and Sidcup seat in by-election prompted by death of MP James Brokenshire

The Conservatives have held on to the southeast London seat of Old Bexley and Sidcup after a by-election prompted by the death of MP James Brokenshire in October.




Sky News - Published





Govt minister says she 'doesn't believe' Stanley Johnson inappropriately touched MP

A government minister has defended Stanley Johnson, calling him "a gentleman" after a fellow Conservative Party MP accused the prime minister's father of inappropriately touching her.




Sky News - Published





Tory councillor to pay 'substantial' damages to Corbyn over doctored photo at scene of Liverpool terror attack

A Conservative councillor will pay "substantial" damages and legal costs to Jeremy Corbyn for tweeting a doctored photograph of the former Labour leader at the scene of the Liverpool terrorist attack.




Sky News - Published





Ex-Tory MP jailed for sexual assault now claiming benefit as he tells court he can't pay costs

An ex-Conservative MP who was jailed for sexual assault has revealed he is unemployed and currently making a Universal Credit claim as he was hauled before a court over unpaid costs.




Sky News - Published





PM finally admits Tory ex-minister at centre of sleaze row broke lobbying rules

Boris Johnson has finally admitted the Conservative ex-minister at the centre of Westminster's sleaze row broke lobbying rules - two weeks after the prime minister encouraged a bid to save Owen..




Sky News - Published





North will be 'short-changed' by PM's rail plans, Conservative MP warns

The North will be "short-changed" by Boris Johnson over rail upgrades, a Conservative MP has warned.




Sky News - Published





Councillor apologises after sharing image of Corbyn superimposed into scene of Liverpool explosion

A Conservative councillor has apologised after a tweet sent from his Twitter account showed Jeremy Corbyn superimposed into the scene of the Liverpool terror attack.




Sky News - Published