Conservative Party (UK)
British political party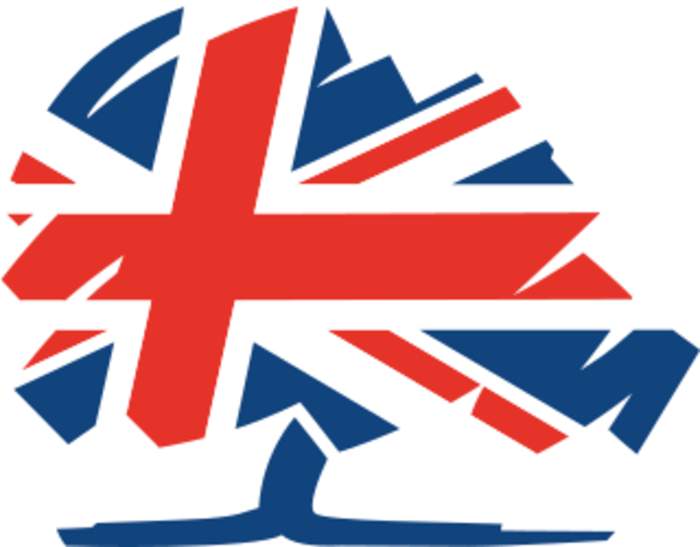 The Conservative Party, officially the Conservative and Unionist Party and colloquially known as the Tories, is one of the two main political parties in the United Kingdom, along with the Labour Party. It is the current governing party, having won the 2019 general election, and has been the primary governing party in the United Kingdom since 2010. The party sits on the right-wing or centre-right of the political spectrum. It encompasses various ideological factions including one-nation conservatives, Thatcherites, and traditionalist conservatives. The party holds the annual Conservative Party Conference, at which senior Conservative figures promote party policy.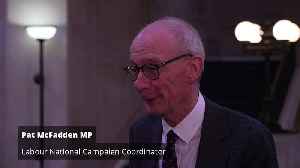 Labour's Pat McFadden defends Starmer's praise of Thatcher

Labour election chief Pat McFadden has defended Sir Keir Starmer after he faced a backlash for praising Margaret Thatcher. In a Sunday Telegraph opinion piece, the Labour leader claimed the former..
Credit: ODN Duration: 00:41
Published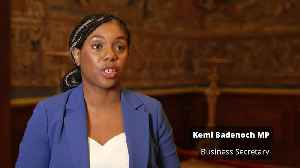 Badenoch: Govt doesn't want Boris Johnson migration levels

Business Secretary Kemi Badenoch says migration figures seen under the former prime minister Boris Johnson were ones the government "did not want to see again". She dismissed claims Tory MPs would..
Credit: ODN Duration: 00:52
Published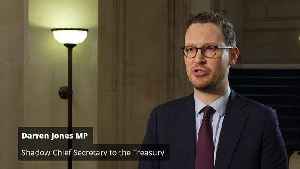 'We want taxes to come down for working people', says Labour

Looking ahead to the autumn statement, Labour MP Darren Jones says "on every measure the Conservatives have failed", and adds that "the cost of living crisis is still real" for people up and down the..
Credit: ODN Duration: 00:59
Published
Labour doubts ahead of Hunt's Autumn Statement

Shadow Chief Secretary to the Treasury Darren Jones argues Conservatives' promises of a low tax economy is contradicted by actions of 25 tax rises. Mr Jones suggests the Tory party can't be trusted to..
Credit: ODN Duration: 00:37
Published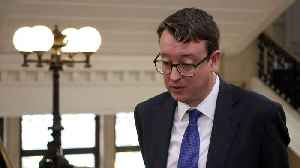 Tory MP calls for emergency legislation following Rwanda rul

Conservative MP Sir Simon Clarke has called for emergency legislation following the Supreme Court's decision to rule the Rwanda asylum plan unlawful. The MP described the ruling as a "big blow" and..
Credit: ODN Duration: 00:59
Published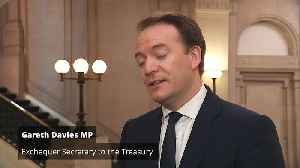 Cabinet minister praises Sunak following inflation drop

Exchequer Secretary to the Treasury Gareth Davies today praised the prime minister following the drop in inflation to 4.6%. The Conservative MP also rebuffed Suella Braverman's scathing attack on the..
Credit: ODN Duration: 01:18
Published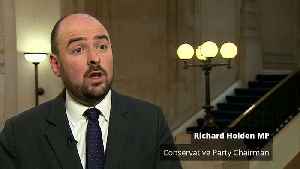 Tory chair: Public want mix of youth and experience

New Conservative Party Chairman Richard Holden defends the prime minister's latest cabinet reshuffle and appointment of Lord Cameron by insisting "the public want that combination of youth and..
Credit: ODN Duration: 01:11
Published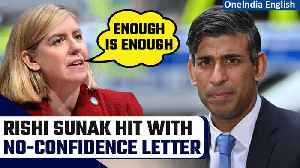 UK PM Rishi Sunak faces first no-confidence letter by Tory MP | Can he be ousted? | Oneindia News

UK prime minister Rishi Sunak has been hit with his first no confidence letter since sacking interior minister Suella Braverman. Rishi Sunak's party MP Andrea Jenkyns wrote a scathing letter to 1922..
Credit: Oneindia Duration: 02:09
Published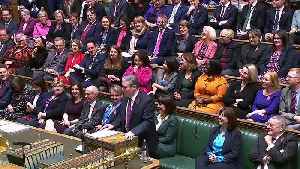 Starmer and Sunak go head-to-head following King's speech

Labour Leader Sir Keir Starmer welcomes his eight new MPs into the House following the party's by-election wins saying, "the victories show, without a question, that Britain is ready for change" before..
Credit: ODN Duration: 02:47
Published
Sunak: Rape allegations against Tory MP are very serious

The prime minister has described rape allegations against a Conservative MP as "very serious" and says his party's complaints procedures are "robust". Former Tory Party chairman Sir Jake Berry is said..
Credit: ODN Duration: 00:28
Published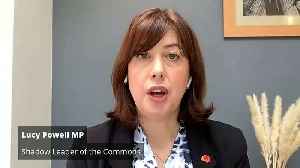 Labour: More disclosure needed over rape allegations

The shadow leader of the Commons has urged the government for "more disclosure" about how it is dealing with rape allegations against an unnamed Conservative MP. It comes after the deputy prime..
Credit: ODN Duration: 01:57
Published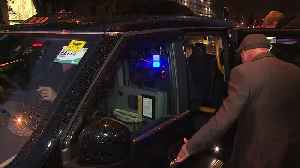 Tory MP Bob Stewart guilty of racially abusing activist

A Conservative MP has been found guilty of a racially aggravated public order offence after telling an activist to "go back to Bahrain". Bob Stewart, MP for Beckenham in south-east London, got into a..
Credit: ODN Duration: 01:18
Published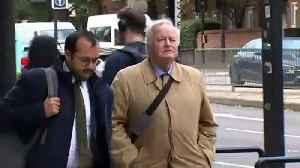 Tory MP arrives at court after spat outside Foreign Office

The Conservative MP Bob Stewart has appeared at court after he allegedly abused an activist in Westminster, London. Mr Stewart has pleaded not guilty to racially abusing Sayed Ahmed Alwadaei who he..
Credit: ODN Duration: 00:41
Published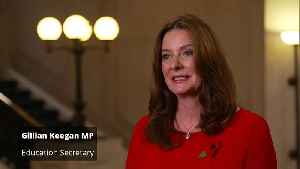 Gillian Keegan: Crispin Blunt allegations are serious

Gilian Keegan says the allegations against Conservative MP Crispin Blunt are "serious", but that all the party can do is "act quickly in these cases". It comes after Mr Blunt was arrested on October 25..
Credit: ODN Duration: 00:32
Published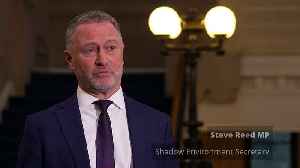 Labour: Tories need to get sharper about scandals in party

The shadow environment secretary refuses to comment directly on the arrest of Crispin Blunt, but says there has been a "string of Conservative MPs caught up in scandals like this" and that the party is..
Credit: ODN Duration: 01:26
Published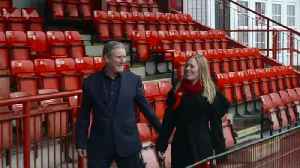 Labour wins shock by-election double as Tories blame low turnouts

The Labour Party has secured surprising by-election victories in Tamworth and Mid-Bedfordshire, overturning two huge Conservative majorities. In Tamworth, Labour's Sarah Edwards has overcome a..
Credit: ODN Duration: 02:19
Published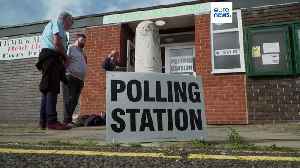 'Political earthquake': UK's Labour Party win resounding victories over Conservatives

Britain's opposition Labour party have won two by-elections over the ruling Conservatives, putting even more pressure on Rishi Sunak's party as the next general election fast approaches.
Credit: euronews (in English) Duration: 00:35
Published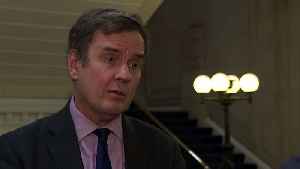 Greg Hands: disappointing results caused by 'legacy issues'

Conservative Party chairman Greg Hands sought to blame the "legacy issues" predating Mr Sunak's premiership that led up to the two by-elections. Mr Hands insisted that people "think that Rishi..
Credit: ODN Duration: 01:05
Published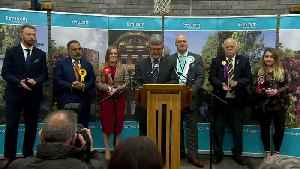 Labour overturns huge Tory majority in Tamworth

Sarah Edwards overturned a Conservative majority of more than 19,600 to secure the first Labour victory in the Staffordshire constituency since 2010. The new Labour MP for Tamworth has called on Rishi..
Credit: ODN Duration: 01:15
Published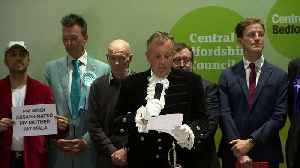 Labour wins Mid Bedfordshire in historic by-election result

Labour have delivered a historic defeat to the Conservatives by winning Mid Bedfordshire for the first time in the constituency's century-long history. Alistair Strathern has won the seat with a..
Credit: ODN Duration: 00:57
Published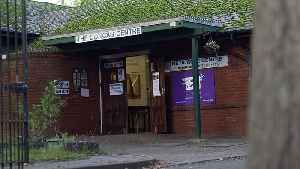 Tamworth by-elections: Voters head to the polls

Voters are going to the polls to elect a new MP in the constituency of Tamworth in England. The by-elections will decide who replaces Chris Pincher after the Conservative MP stood down. Report by..
Credit: ODN Duration: 01:58
Published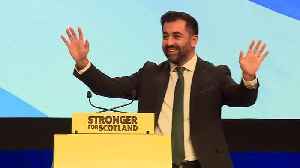 Yousaf: Scotland to freeze council tax next year

The Scottish first minister has announced council tax in Scotland will be frozen next year at the SNP Conference in Aberdeen. Humza Yousaf also revealed that his party will invest £300 million over..
Credit: ODN Duration: 04:03
Published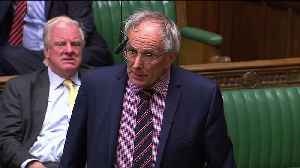 Tory MP Peter Bone faces suspension from Parliament

Conservative MP Peter Bone faces suspension from the Commons after being found to have committed bullying and sexual misconduct. Parliament's Independent Expert Panel said the acts took place against..
Credit: ODN Duration: 00:54
Published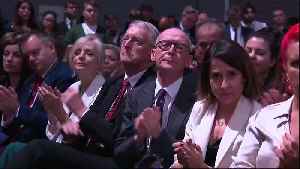 Reeves: Labour govt will get Britain building again

The shadow chancellor says the Conservative Party is "single biggest obstacle" to building infrastructure, investment and growth in Britain. Rachel Reeves adds a Labour government will "get Britain..
Credit: ODN Duration: 02:29
Published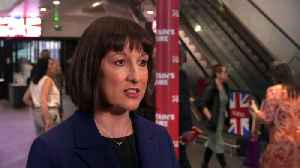 Reeves: Labour would end 13 years of Conservative chaos

The shadow chancellor says the Labour party would "end the chaos and uncertainty of 13 years of Conservative government" if it won the next election. Ahead of her speech at the Labour party conference,..
Credit: ODN Duration: 02:47
Published
You Might Like



'Take a look at Labour again': Sir Keir Starmer tries to woo Tory voters

Sir Keir Starmer has launched an impassioned pitch to woo Conservative voters - urging those who feel abandoned by their party "to take a look at Labour again".




Sky News - Published





'Real risk' Tories lose generation of voters over lack of new homes - Conservative ex-minister

The Conservatives face a "real risk" they will lose a generation of voters over a lack of house building, according to one of their own former housing ministers.




Sky News - Published





Reform leader denies offering Lee Anderson money to defect to his party

Reform UK leader Richard Tice has denied reports that Tory deputy chairman Lee Anderson was offered money to defect to his party. 




Sky News - Published





'Deep concern' over Cleverly comments as Braverman's ideas on migration linger within cabinet

If the Conservatives thought the autumn statement would bring the party a much needed boost - announcing cuts to national insurance and business taxes - some very big numbers were lurking just around..




Sky News - Published





Arrest made after Tory MP was sent threatening messages about Israel-Gaza conflict

A man has been remanded in custody accused of stalking a Conservative MP by sending him threatening messages about the Israel-Gaza conflict.




Sky News - Published





Tory MPs to demand new Rwanda legislation overrides human rights laws

A group of Tory MPs plans to write a letter to Rishi Sunak demanding his "emergency legislation" to revive the Rwanda deportation scheme overrides human rights laws.




Sky News - Published




'Political suicide': Grassroots Tories' fury at Sunak sacking Braverman revealed in leaked WhatsApps

Sacking Suella Braverman means "suicide" for the Tory party and Rishi Sunak has just "thrown the election away" according to leaked WhatsApp messages between members of a grassroots Conservative..




Sky News - Published





Return of a big beast from the Tory past will test Sunak's claim to be 'change candidate'

David Cameron walking up Downing Street to be appointed foreign secretary was the twist no one expected - the character from the end of season one brought back for the finale.




Sky News - Published





Tory MP apologises to doctor for 'misleading' social media post on strikes

Conservative Party deputy chairman Lee Anderson has said he will pay into a doctors' union strike fund after he was forced to apologise over a "misleading" social media post.




Sky News - Published





Tories have 'zero tolerance' for sexual misconduct, says Dowden in face of rape cover-up claims

The Conservatives have zero tolerance to sexual misconduct, the deputy prime has told Sky News after claims the party covered up for a "serial rapist" MP.




Sky News - Published





Tory MP Bob Stewart to surrender whip while he appeals racial abuse conviction

Tory MP Bob Stewart has surrendered the Conservative whip while he considers an appeal against his conviction for a racially-aggravated public order offence.




Sky News - Published





Tory MP sacked from government post after calling for Gaza ceasefire

A Conservative MP has been sacked from his government post after calling for a ceasefire in Gaza.




Sky News - Published





Senior Tory MP arrested on suspicion of rape

A Conservative MP has been arrested on suspicion of rape and the possession of controlled substances.




Sky News - Published





Rishi Sunak faces prospect of losing another safe seat to Labour after MP's suspension

This is another headache for Rishi Sunak and the Conservative Party, which is already reeling from two by-election defeats last week - and now it is facing the prospect of another one in..




Sky News - Published





Sunak told to be 'ruthless' and consider sacking Hunt as chancellor

A former Tory health secretary has suggested Rishi Sunak should be "ruthless" and consider sacking Jeremy Hunt as chancellor at the next reshuffle.




Sky News - Published





Starmer mocks Tories over by-election losses as Sunak defends record at PMQs

Sir Keir Starmer mocked Rishi Sunak over the Conservatives' two by-election defeats last week, as he pressed him on the cost of living crisis at Prime Minister's Questions.




Sky News - Published





Ex-Tory MP accused of sexual misconduct and bullying suspended from Commons for six weeks

Former Conservative minister Peter Bone has been suspended from the Commons for six weeks.




Sky News - Published





Double by-election defeat leaves Tories asking is this a re-run of 1992 or 1997? | Adam Boulton

Voters in Tamworth and Mid Bedfordshire have just given a resounding answer to the question obsessing Westminster watchers all year:




Sky News - Published





Man sent 'vile and abusive' email to Angela Rayner referencing Basic Instinct story

A man has admitted sending a "vile and abusive" email to Angela Rayner referencing a newspaper story in which Tory MPs accused her of a ploy to distract Boris Johnson, taken from the film Basic..




Sky News - Published





Sunak puts by-election disasters down to mid-term blues and 'local factors'

Rishi Sunak has defended the Conservatives after two by-election losses overnight, claiming mid-term polls are "always difficult" and "local factors" were at play.




Sky News - Published





Senior Tories fear party is in 'dying days' after by-election losses - but Starmer still believes it pays to be paranoid

When he took over as Labour leader in 2020, Keir Starmer was sitting on the worst election defeat for the party since 1945.




Sky News - Published





Tory party chair will not resign despite by-election losses

Greg Hands has said he will not resign as Conservative Party chair despite the government suffering another two by-election defeats in safe Tory seats.




Sky News - Published





No governing party has lost a seat as safe as Tamworth - this matters for Sunak and the Tories

A surprise double by-election win for Labour that overturns records, sees two of the safest Tory seats in the country turn red and cut the Tory vote cut in half. Whatever Conservative ministers say,..




Sky News - Published





Polls close in double by-election battle for Tory seats

Polls have closed in two by-elections as the Conservatives attempt to hold on to their seats of Tamworth and Mid Bedfordshire.




Sky News - Published





Labour overturns massive Tory majority to win Tamworth by-election

Labour has taken Tamworth from the Conservatives in a historic by-election victory for Sir Keir Starmer's party.




Sky News - Published





Tory MP Peter Bone loses whip after bullying and sexual misconduct allegations

Tory MP Peter Bone has been kicked out the parliamentary party after a report found he committed acts of bullying and sexual misconduct.




Sky News - Published





Leaked Tory memo predicts double by-election defeat - blaming 'enormous discontent' on Nadine Dorries

Conservative HQ is claiming the Tory vote share in two upcoming by-elections could halve to around 30%, based on telephone canvassing data over recent days.




Sky News - Published





Tory MP faces six-week Commons suspension for bullying and sexual misconduct

A Conservative MP is facing a six-week suspension from the House of Commons over allegations of bullying and sexual misconduct against a staff member.




Sky News - Published





MP Lisa Cameron forced into hiding after defecting from SNP to the Conservatives

An MP who defected from the Scottish National Party to join the Conservatives this week has said she and her family have been forced into hiding after receiving a barrage of threatening messages.




Sky News - Published





SNP MP defects to Conservatives over 'bullying' in Westminster group

An MP has defected from the SNP to join the Conservatives amid accusations of "toxic and bullying" treatment from Westminster colleagues.




Sky News - Published





The writing is on the wall, but it's up to Zelenskyy to decide what happens next

Rishi Sunak pledged the UK government's continued commitment to Ukraine during his speech at the Conservative Party conference.




Sky News - Published




Sunak's speech to Conservative conference fell flat with public, poll suggests

Rishi Sunak's speech at the Conservative Party conference fell flat with the British public, a new poll suggests.




Sky News - Published





Rishi Sunak reported to police over party conference joke

Rishi Sunak has been reported to Police Scotland over comments he made about Nicola Sturgeon in his Tory Party conference speech.




Sky News - Published





The irony of Sunak's long-term vision is the short-term political calculation behind it | Beth Rigby

He may have been prime minister for a year, but his speech to the Conservative Party conference in Manchester felt almost like the moment Rishi Sunak introduced himself for the first time.




Sky News - Published





Has HS2 reached its terminus? It seems Sunak will deliver the final blow

How fitting that HS2 should reach its terminus in a repurposed rail shed in Manchester at the Conservative Party conference.




Sky News - Published





Will Jeremy Hunt be able to end Tory gloom at 'the survival conference'?

The week of the Conservative Party conference began with a grim warning about taxes.




Sky News - Published





The Week... of the Conservative Party conference

Two of Westminster's best-connected journalists - Sky News' Sam Coates and Politico's Jack Blanchard - provide the essential guide to politics in the week ahead.




Sky News - Published





Cabinet meeting considered by government over HS2 decision

Number 10 could bring forward a decision on HS2 to this week after questions about the line eclipsed the Conservative Party conference.




Sky News - Published





Gove calls for tax cut ahead of next election - despite chancellor ruling it out

Michael Gove has called for a tax cut before the next general election - putting him at odds with the chancellor on the first day of Conservative Party conference.




Sky News - Published





Top Tories set out policies as conference kicks off

Top Tories are setting out their policies as the Conservative Party conference kicks off in Manchester - with levelling up, immigration, Ukraine and the next general election on the agenda.




Sky News - Published





Sunak mocked in leaked WhatsApps as grassroots Tories vow to 'go to war' with party's liberals

Grassroots Conservative supporters are saying they want to oust Rishi Sunak and "go to war" with the liberal wing of the party in leaked WhatsApp messages obtained by Sky News.




Sky News - Published





The Tories are struggling in the polls. Can Team Rishi turn things around before the next election?

As Rishi Sunak prepares to launch his re-election pitch from the stage in Manchester this week, it's worth remembering that this time last year, the now prime minister - and many of his supporters -..




Sky News - Published





Braverman brushes off suggestion US trip used to burnish leadership ambition

Home Secretary Suella Braverman has brushed off the suggestion that her visit to Washington DC is an attempt to boost her chances to be leader of the Conservative Party in the future.




Sky News - Published





Former COP26 chair announces resignation days after criticising PM's green strategy

Conservative former cabinet member Sir Alok Sharma has announced he will not stand as an MP at the next election.




Sky News - Published





Lib Dem leader to target Tory 'soap opera' with plan to 'fix' economy and NHS

Sir Ed Davey will close this week's Liberal Democrat conference by promising to "fix our economy with care" after the Conservatives "broke" it with "carelessness".




Sky News - Published





Olympic rower Cracknell chosen as Tory candidate

Mr Cracknell is said to be the "clear choice" of Conservative party members in Colchester.




BBC Sport - Published





Scrapping HS2 line to Manchester would be 'gross act of vandalism', Tory grandees warn

Scrapping the HS2 rail line to Manchester would be a "gross act of vandalism", senior Tories have warned Rishi Sunak.




Sky News - Published





Former PMs criticise 'desperate' move to ditch HS2 to Manchester

Former Tory prime ministers have warned Rishi Sunak about "delivering a mutilated HS2" after his government refused to deny it was considering axing part of the project.




Sky News - Published





Did Sunak 'scrap' net zero measures - or were they not even policies?

This week, Rishi Sunak made a surprise speech announcing delays to a number of key Conservative pledges aimed at cutting greenhouse gas emissions.




Sky News - Published





Tory backlash as Sunak suggests he will water down net zero pledges

Rishi Sunak looks set to weaken key climate pledges in a move that has drawn heavy criticism from Tory MPs and environmental groups.




Sky News - Published