Conservative Party (UK)
British political party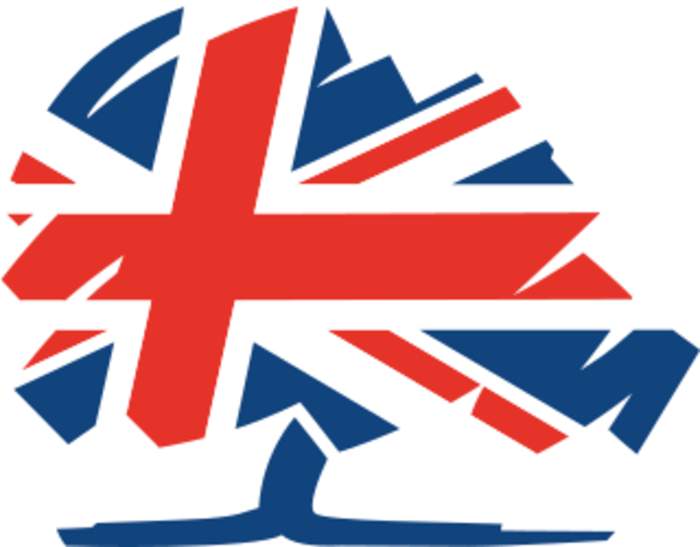 The Conservative Party, officially the Conservative and Unionist Party and also known colloquially as the Tories, is one of the two main political parties in the United Kingdom, along with the Labour Party. It is the current governing party, having won the 2019 general election. It has been the primary governing party in Britain since 2010. The party is on the centre-right of the political spectrum, and encompasses various ideological factions including one-nation conservatives, Thatcherites, and traditionalist conservatives. The party currently has 356 Members of Parliament, 261 members of the House of Lords, 9 members of the London Assembly, 31 members of the Scottish Parliament, 16 members of the Welsh Parliament, 2 directly elected mayors, 30 police and crime commissioners, and around 6,770 local councillors. It holds the annual Conservative Party Conference.


Iain Duncan Smith criticises Rishi Sunak's policy on China

In an exclusive Channel 4 News interview, former leader of the Conservative Party, Sir Iain Duncan Smith, launched a stinging rebuke to Rishi Sunak's new policy of "robust pragmatism" towards China...
Credit: ODN Duration: 01:45
Published
Health secretary: Diphtheria risk 'very low' to UK public

Health Secretary Steve Barclay says that the risk of diphtheria to the British public is "very low". There have been rising cases of the disease among asylum seekers who have recently arrived in..
Credit: ODN Duration: 00:23
Published
Labour says Government failing on Levelling Up

Shadow Levelling Up Secretary Lisa Nandy says the Conservatives are failing on their levelling up agenda and that Labour would do more to get this country working again. Report by Etemadil. Like us on..
Credit: ODN Duration: 01:36
Published
Labour: Tory backbenchers are the 'anti-growth coalition'

Labour shadow minister Pat McFadden says that former prime minister Liz Truss was "unwittingly" referring to Conservative backbenchers when she spoke of an "anti-growth coalition". The..
Credit: ODN Duration: 00:44
Published
Chancellor Jeremy Hunt defends UK's growth record

Chancellor Jeremy Hunt acknowledges that the UK's growth hasn't "quite recovered from pre-pandemic levels", but encourages people to look at the "whole picture, since the Conservative Party..
Credit: ODN Duration: 00:51
Published
Autumn Statement: Labour attacks 'pickpocket' government

Rachel Reeves has launched a fierce attack on Chancellor Jeremy Hunt following his Autumn Statement. The shadow chancellor accused her opposite number of having "picked the pockets of purses and..
Credit: ODN Duration: 03:11
Published
Labour: severance pay 'goes against every sense of decency'

Labour calls the severance pay given to Liz Truss and Kwasi Kwarteng a "golden goodbye", saying it "goes against every sense of decency", while the Conservatives argue it exists because of..
Credit: ODN Duration: 01:10
Published
Labour welcomes PM's attendance at British Irish Council

Labour's Peter Kyle says "it is a good thing" that Prime Minister Rishi Sunak will attend the British Irish Council meeting today in Blackpool. The shadow northern ireland secretary also criticises the..
Credit: ODN Duration: 00:55
Published
Labour: The Conservative Party are incapable of stable govt

Responding to the resignation of Sir Gavin Williamson, Shadow Business Secretary Jonathan Reynolds says the Conservative Party is "incapable" of "stable government" and calls for a general election...
Credit: ODN Duration: 01:06
Published
Mark Francois criticised for using ethnic slur in Commons

Labour MP Sarah Owen has criticised Mark Francois for using an "outdated" ethnic slur in the House of Commons. Mr Francois, the Conservative MP for Rayleigh and Wickford, referred to Japanese people as..
Credit: ODN Duration: 01:58
Published
Davey:Blame for this chaos lies squarely with the Tory party

Leader of the Liberal Democrats, Sir Ed Davey delivers his annual speech after the party conference was cancelled due to the death of Her Majesty Queen Elizabeth. Following his thanks to the Queen for..
Credit: ODN Duration: 01:31
Published
Lembit Öpik: 'Crazy' to discipline Hancock for I'm a Celeb

Former Liberal Democrat MP Lembit Öpik says Matt Hancock has "every right" to appear on 'I'm a Celebrity…Get Me Out of Here!' and that it is "crazy" for the Conservative Party to..
Credit: ODN Duration: 00:53
Published
Braverman denies 'blocking' accommodation for migrants

Suella Braverman says that she has not "blocked the procurement of hotels or alternative accommodation to ease the pressure on Manston". The home secretary was responding to a question from..
Credit: ODN Duration: 03:12
Published
UK government slammed for 'wretched' migrant centre conditions

UK politicians from opposition and governing parties have demanded the Conservative government improve conditions at an overcrowded facility for migrants, described by an independent inspector as..
Credit: euronews (in English) Duration: 01:44
Published
Gale: Manston centre is 'problem made in the Home Office'

A Conservative MP speaks about overcrowding and sanitation problems at the Manston asylum centre in Kent. Sir Roger Gale visited the migrant facility in his North Thanet constituency on Sunday..
Credit: ODN Duration: 01:03
Published
Conservatives 'putting own politics above national interest'

Shadow Home Secretary Yvette Cooper says the Conservatives are putting their own politics above the national interest and that Rishi Sunak was 'irresponsible' to appoint Suella Braverman into the..
Credit: ODN Duration: 00:38
Published
Zahawi backs decision to re-appoint Braverman

Conservative Party Chair Nadhim Zahawi has defended the decision to re-appoint Suella Braverman as the home secretary, saying he believes in "second chances". It comes as Prime Minister Rishi Sunak..
Credit: ODN Duration: 01:58
Published
Starmer: Tories put 'party first and country second'

Labour leader Sir Keir Starmer confronted Prime Minister Rishi Sunak about his decision to appoint Suella Braverman as home secretary, saying that ''there is another Tory at the top, but as always with..
Credit: ODN Duration: 02:10
Published
Nadhim Zahawi leaves No.10

Nadhim Zahawi leaves Downing Street after being appointed the new Conservative Party chairman and a minister without portfolio. Report by Guzzardib. Like us on Facebook at http://www.facebook.com/itn..
Credit: ODN Duration: 00:27
Published
Shadow secretary says Tories are source of chaos

Shadow Chief Secretary to the Treasury, Pat McFadden, says the Conservative Party is the source of chaos and instability during morning rounds interview. Report by Guzzardib. Like us on Facebook at..
Credit: ODN Duration: 01:32
Published
Rishi Sunak leaves CCHQ after first statement as leader

Rishi Sunak leaves Conservative Party HQ after delivering his first statement as leader of the Conservative Party. He is due to meet with the King on Tuesday where he will be invited to form a..
Credit: ODN Duration: 00:39
Published
Sunak promises to serve with 'integrity and humility'

Rishi Sunak says he is "humbled and honoured" to be nominated as leader of the Conservative Party and says "stability and unity" are his "upmost priorities". In a short statement he says the UK faces..
Credit: ODN Duration: 01:24
Published
Rishi Sunak Wins Race To Become UK's Next Prime Minister

Rishi Sunak Wins Race , To Become UK's Next Prime Minister. Liz Truss announced her resignation as prime minister on Oct. 20. Rishi Sunak, Penny Mordaunt and Boris Johnson were considered to..
Credit: Wibbitz Top Stories Duration: 01:30
Published
Rishi Sunak set to become Britain's next prime minister

Candidates had a 15:00 CET deadline to get the support from 100 fellow Conservative Party MPs.
Credit: euronews (in English) Duration: 01:07
Published
You Might Like



Tory MP Chris Skidmore to step down at next general election

Another Conservative MP has said he will not be standing at the next general election.




Sky News - Published





Two more Tory MPs announce they are stepping down at next election

Two more Conservative MPs have announced that they will not be standing at the next general election.




Sky News - Published





Sunak wants to be 'fiscal hawk' unafraid to make cuts - but at what cost financially and politically?

Barely a month ago, a majority of the Conservative Party pushed out a sitting prime minister after deciding she went too far in a budget. 




Sky News - Published





Sir Iain Duncan Smith says he feared for wife after traffic cone 'slammed' on his head

Former Conservative leader Sir Iain Duncan Smith told a court he feared for his wife and her friend when he had a traffic cone "slammed" on his head by a "threatening" group of protesters.




Sky News - Published





Jungle Matt says winning campsite leader vote 'more than makes up for' losing to Boris

Matt Hancock has said being voted leader of the I'm A Celebrity campsite "more than makes up for" losing to Boris Johnson in the 2019 Tory Party leadership election.




Sky News - Published





Five problems PM Rishi Sunak faces on his uphill battle to lead the Tories | Sam Coates

Rishi Sunak may yet find himself asking what Sir Gavin Williamson would have done between now and Christmas, as he faces an unenviable uphill struggle to manage his party. 




Sky News - Published





'Tax cuts deepen recession': Former Tory leader warns against autumn budget hikes

Conservative former leader Sir Iain Duncan Smith says there will be "deep concern" in his party if Rishi Sunak raises taxes next week as part of the autumn statement.




Sky News - Published





Tory MP slams Boris Johnson's honours list for containing 'shameful bootlickers'

A Conservative MP has criticised those nominated by Boris Johnson for peerages as "a shameful list of bootlickers, bimbos and tropical island holiday facilitators".




Sky News - Published





Sunak 'was told of bullying claims against Williamson days before hiring him'

The former chairman of the Conservative Party has said he told Rishi Sunak a bullying complaint had been made against Cabinet Office minister Sir Gavin Williamson days before he appointed him to the..




Sky News - Published





Conservative MP says situation at Manston migrant centre 'a breach of humane conditions'

The situation at the Manston migration centre in Kent is a "breach of humane conditions", according to the Tory MP for the area.




Sky News - Published





Paul Mullin: Wrexham ban political message on striker's boots

Wrexham, the club owned by Hollywood stars Ryan Reynolds and Rob McElhenney, ban Paul Mullin from wearing boots featuring an offensive slogan about the Conservative Party.




BBC Sport - Published





Senior Tories congratulate Sunak as Labour call for immediate general election

Senior Conservatives have congratulated Rishi Sunak after it was confirmed he will become the UK's next prime minister - but Labour has reiterated its calls for an immediate general election.




Sky News - Published





Penny Mordaunt pulls out of Tory leadership race, paving way for Rishi Sunak to become next PM

Penny Mordaunt has dropped out of the Conservative leadership race at the last minute after failing to secure 100 backers, paving the way for Rishi Sunak to become the next prime minister.




Sky News - Published





'I am well-placed to deliver Tory victory in 2024': Why Johnson dropped out - in his own words

Boris Johnson has ruled himself out of the Conservative Party leadership race - although he never officially entered it.




Sky News - Published





Johnson pulls out of Conservative leadership race

Boris Johnson has pulled out of the Conservative leadership race.




Sky News - Published





Mortgages cost extra £530 per month after Tories 'crashed' economy, Labour claims

Liz Truss's "disastrous premiership" means British families are spending an extra £530 a month on their mortgage than they were a year ago, Labour has claimed.




Sky News - Published





Rishi Sunak supporters claim he has backing of 100 MPs - but he hasn't announced he's running

Rishi Sunak supporters are claiming that he has the votes to progress to the next stage of the Conservative leadership contest.




Sky News - Published





Who are the bookies backing to be PM? Find out in our live tracker

Conservative MPs will vote on Monday to decide who they would like as the next prime minister. But who do the bookies suggest it could be? This chart is updated hourly with the latest aggregate odds.




Sky News - Published





Can Sunak stop the Boris bandwagon as the ex-PM picks up some big-name backers? Jon Craig analysis

Can Rishi Sunak stop the Boris Johnson bandwagon in the fight for the soul of the Conservative Party?




Sky News - Published





Ex-Tory donor who joined Labour says Conservative Party 'riddled with arrogance and complacency'

A multimillionaire former donor to the Conservative Party says he stopped giving them money and defected to Labour because he felt they were "riddled with arrogance and complacency".




Sky News - Published




Are the Conservatives losing their conviction on climate change?

This time a year ago Boris Johnson was preparing for the high-profile COP26 UN summit on climate change, hosted in Glasgow.




Sky News - Published





'People', 'growth', 'energy': How Liz Truss's speech looks as a word cloud

A word cloud has revealed the most commonly used words in Liz Truss' speech to the Conservative party faithful in Birmingham.




Sky News - Published





Truss to close Tory conference by defending 'new approach' – after turbulent gathering

Liz Truss will wrap up the Conservative Party conference by defending her approach and pledging a "new Britain for the new era" - after a week of U-turns and infighting.




Sky News - Published





PM facing fresh battle with senior Tories over benefits squeeze and public spending cuts

Liz Truss is facing a fresh battle with Conservative MPs over a potential benefits squeeze and cuts to public spending, after already being forced into making a policy U-turn.




Sky News - Published





It's not clear which policy tipped markets over the edge – or which he can reverse to put genie back in the bottle | Ed Conway

Back in the George Osborne era, the Conservative party conference was a place Tories came to unveil new policies. 




Sky News - Published





UK cannot afford net zero pledge 'in the short run', minister says

A Conservative minister has said "in the short run" the UK cannot afford net zero.




Sky News - Published





Tory MPs told they will lose whip if they vote against Kwarteng's tax-cutting mini-budget

Conservative MPs will lose the party whip if they vote against Chancellor Kwasi Kwarteng's tax-cutting mini-budget, a senior Tory has said.




Sky News - Published





Truss tells Tory rebels she is 'going to do things differently' - amid reports chancellor attended champagne party

Liz Truss has doubled down on her controversial tax-cutting agenda, telling Conservative rebels that she is "going to do things differently" and that "there is no option but to change".




Sky News - Published





Liz Truss to face wretched week at Tory Party conference after mini-budget turmoil

Liz Truss is set to face a wretched week at the Tory Party conference after the disastrous reaction to Kwasi Kwarteng's tax-cutting mini-budget.




Sky News - Published





Red wall town that turned blue split on Liz Truss ahead of Tory conference

The fact that the Tory Party conference is happening only five miles away in Birmingham may have escaped many of the shoppers in West Bromwich, but they all had an opinion on Liz Truss and her first..




Sky News - Published





'Off you pop then': Mayor slams fellow Tory who dubbed Birmingham a 'dump'

The Conservative mayor of the West Midlands has hit back at a fellow Tory who described Birmingham as a "dump".




Sky News - Published





As Tory conference looms, the PM cuts a diminished figure after squandering political capital

Three-and-a-half weeks ago, Liz Truss was beaming as she was announced as the new leader of the Conservative Party. 




Sky News - Published





Senior Tories 'boycott' Tory conference as MPs fume over mini-budget fallout

Senior Tories are appearing to boycott the Conservative Party conference as backbench MPs express dismay and anger over the fallout from the chancellor's mini-budget.




Sky News - Published





Labour surge to biggest poll lead over Tories since 2001 ahead of Starmer's keynote speech

Sir Keir Starmer will claim a "changed" Labour can turn the UK into a "growth superpower" in his keynote conference speech - as a new poll gave the party its largest lead over the Conservatives in more..




Sky News - Published





Liz Truss is prepared to go against voters' views on tax - but her plans carry huge economic and political risk

When Liz Truss was vying to be the Conservative Party leader and our next prime minister, some of her colleagues worried that, as the anointed choice of Prime Minister Johnson, she was going to be the..




Sky News - Published





Drivers at 12 rail companies target Tory conference through fresh strikes

Train drivers at 12 operators are to stage fresh strikes over pay that will coincide with the opening and conclusion of the Conservative Party conference.




Sky News - Published





Conservative Party co-chair quits after Truss wins leadership battle

The co-chair of the Conservative Party, who raised millions for the 2019 general election, has quit just hours after Liz Truss was announced as the new prime minister.




Sky News - Published





Truss already facing a critical few weeks that will define her premiership | Beth Rigby

You didn't have to wait for the result of the Conservative Party ballot to find out who would be the next prime minister. Liz Truss's purposeful stride into the hall ahead of the public announcement..




Sky News - Published





UK PM-elect Liz Truss committed to 'sweet spot' of India ties

Newly-elected Conservative Party leader and Prime Minister in waiting Liz Truss is among the senior British politicians known for championing deeper India-UK strategic and economic ties, describing..




IndiaTimes - Published





Truss will be next PM after beating Sunak in Tory leadership race

Liz Truss will become the next prime minister after defeating Rishi Sunak in the Conservative Party leadership contest.




Sky News - Published





Truss wins but it was no landslide - could that change how she governs?

Polling in the summer suggested Liz Truss had the backing of around 66% of Conservative Party members - a similar margin to that which saw Boris Johnson beat Jeremy Hunt in 2019.




Sky News - Published





Who is Liz Truss? The prime minister who sees herself as disruptor-in-chief

A young Liz Truss could hardly have imagined walking through the famous black door of Number Ten as a Conservative prime minister.




Sky News - Published





Truss or Sunak to be crowned next Conservative leader and PM today

Either Liz Truss or Rishi Sunak will be crowned the next Conservative Party leader and prime minister of the UK later today, after a gruelling summer contest.




Sky News - Published





Tory leadership race: When will the result be announced and what happens next?

Later today, either Liz Truss or Rishi Sunak will be crowned victor of the Conservative leadership contest and the country's next prime minister.




Sky News - Published





Voting ends in Conservative leadership race - with winner to be announced on Monday

Voting in the Conservative leadership contest has ended, with the party's next leader to be announced on Monday.




Sky News - Published





Will the next PM call an early general election? History suggests they might | Adam Boulton

Whether it is Liz Truss or Rishi Sunak who becomes Conservative leader on Monday, they will be the third in six years to become UK prime minister by the grace and favour of the Tory party membership..




Sky News - Published





Voting closes in the Tory leadership contest today, and some party members are feeling apprehensive

It's just a few hours until voting closes in the Conservative leadership contest - bringing an end to a long and bitter summer of campaigning.




Sky News - Published





Liz Truss cancels BBC interview with a week to go until PM's successor is announced

Liz Truss has cancelled a scheduled interview on the BBC with just a week to go before the next Conservative Party leader is announced.




Sky News - Published





Sunak says he won't quit politics if he loses leadership race

Rishi Sunak says he will not quit politics if he loses the race to become the next prime minister and leader of the Conservatives.




Sky News - Published





Emily Maitlis refers to 'Tory cronyism at heart of the BBC' in Edinburgh TV Festival lecture

Journalist Emily Maitlis has hit out at the BBC - her former employer - claiming its board has been infiltrated by a Conservative Party agent and former Downing Street spin doctor whom she claims is..




Sky News - Published