Tiger Woods
American professional golfer (born 1975)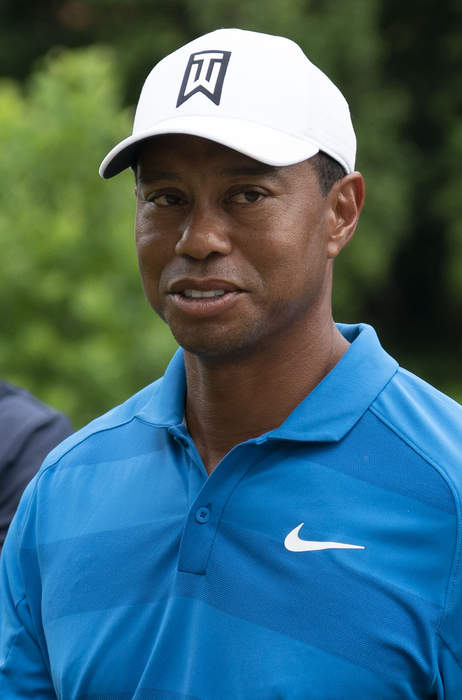 Eldrick Tont "Tiger" Woods is an American professional golfer. He is tied for first in PGA Tour wins, ranks second in men's major championships, and holds numerous golf records. Woods is widely regarded as one of the greatest golfers of all time and one of the most famous athletes in modern history. He is an inductee of the World Golf Hall of Fame.


Tiger Woods Pulls Out of US Open

Tiger Woods , Pulls Out of US Open. Woods took to Twitter on June 7 to make the announcement. ESPN reports that the 46-year-old 15-time major champion also dropped out of last month's PGA..
Credit: Wibbitz Top Stories Duration: 01:31
Published
You Might Like



Tiger Woods missed US Open to prepare for 150th Open Championship at St Andrews

Tiger Woods says he missed last month's US Open to "give it at least one more run at a high level" on the Old Course at next week's 150th Open Championship.




BBC Sport - Published




Tiger Woods Officially Becomes A Billionaire

LeBron James is gonna have to make some room in the 3 Comma Club ... 'cause Tiger Woods officially has a billion-dollar net worth. Just one week after it was announced the Lakers superstar reached the..




TMZ.com - Published





Tiger Woods to miss US Open to give himself time to 'get stronger'

Tiger Woods confirms he will not play at next week's US Open, but still plans to compete at the 150th Open Championship at St Andrews next month.




BBC Sport - Published





US PGA Championship: Tiger Woods withdraws after third round

Tiger Woods withdraws from the US PGA Championship following the third round at Southern Hills in Oklahoma




BBC Sport - Published





US PGA Championship: Tiger Woods says Phil Mickelson comments 'polarising'

Tiger Woods says Phil Mickelson's controversial stance on the LIV Golf Series was "polarising" and backs the legacy of the PGA Tour.




BBC Sport - Published





Tiger Woods at US PGA: American feeling 'stronger' than at Masters

Tiger Woods returns to Southern Hills, where he won the 2007 US PGA Championship, feeling "stronger" than during last month's Masters.




BBC Sport - Published





US PGA Championship: Phil Mickelson and Tiger Woods named in 156-man field

Defending champion Phil Mickelson and 15-time major winner Tiger Woods are named in the 156-man field for the US PGA Championship in Tulsa, Oklahoma.




BBC Sport - Published





Tiger Woods: 15-time major winner to play JP McManus Pro-Am at Adare Manor in July

Fifteen-time major winner Tiger Woods is added to a star-studded field for the JP McManus Pro-Am at Adare Manor in July.




BBC Sport - Published





Masters 2022: Smiling Tiger Woods gets terrific reception after remarkable return at Augusta

A smiling Tiger Woods gets an incredible reception from the patrons at Augusta at the 18th after finishing 13 over for the tournament.




BBC Sport - Published





Masters: Tiger Woods shoots 74 as Scottie Scheffler leads at Augusta

Tiger Woods is unable to match the standard he set on his comeback as world number one Scottie Scheffler takes a commanding halfway lead at the Masters.




BBC Sport - Published





Tiger Woods, Danny Willett, Cameron Smith & Shane Lowry in best shots of Masters day one

Watch the best shots from an entertaining first day of the Masters at Augusta as Tiger Woods is the headline attraction following his remarkable return to top level golf.




BBC Sport - Published





Masters: Tiger Woods says his plan to tame Augusta is 'lots of ice, basically freezing myself to death'

Tiger Woods admits "the walking isn't easy" as he discusses his return to competitive action following a car crash that left him with devastating leg injuries.




BBC Sport - Published





Tiger Woods Looks Great In First Round Of Masters 14 Months After Car Crash

Woods just wrapped up a very impressive first round in his return to the Masters -- shooting a 1-under 71. Tiger looked like his normal self on the course, rarely making bad shots ... while sinking a..




TMZ.com - Published





Masters: Tiger Woods shoots one under as Cameron Smith takes early lead

Tiger Woods shoots a one-under par 71 on his Masters comeback as the five-time champion is welcomed back to competitive golf amid jubilant scenes at Augusta.




BBC Sport - Published





Masters 2022: Tiger Woods saves par at 18th to finish one under on Augusta return

Tiger Woods plays a wonderful wedge at the 18th to set up a par putt which he makes to finish a memorable day on one-under par at the Masters.




BBC Sport - Published





Masters 2022: Tiger Woods hits a birdie at the sixth after suburb tee shot at Augusta

Tiger Woods hits his first birdie of the week at Augusta after a sensational tee shot at the sixth.




BBC Sport - Published





Masters 2022: Tiger Woods recovers to par the first at Augusta

Tiger Woods recovers from a wayward tee shot to birdie the first at The Masters to the delight of the Augusta crowd.




BBC Sport - Published





The Masters 2022 - Tiger Woods says he is capable of winning at Augusta

Five-time Masters champion Tiger Woods believes he is capable of winning at Augusta just 14 months after suffering life-threatening injuries in a car crash.




BBC Sport - Published





Tiger Woods Says He's Playing In The Masters, 'As Of Right Now'

Barring a setback between now and Thursday, Tiger Woods says he will play in this week's Masters tournament. The golf legend just made the announcement at a news conference at Augusta, saying "as of..




TMZ.com - Published





Tiger Woods set to play Masters at Augusta National

Five-time Masters champion Tiger Woods says "as of right now I am going to play", adding that he will play nine more practice holes on Wednesday.




BBC Sport - Published




Tiger Woods says he intends to play at US Masters - more than a year after serious car crash

Tiger Woods has said he plans to compete in the 86th Masters Tournament this week, less than 14 months after the golfer suffered serious injuries in a horrific car crash.




Sky News - Published




Tiger Woods All Smiles During Practice Round At Augusta

Tiger Woods took yet another big step this weekend toward competing in this week's Masters -- hitting the course on Sunday for hours ... and looking VERY pleased with his results. The Masters posted..




TMZ.com - Published





Tiger Woods' Masters return stories fuelled by Augusta round

Tiger Woods prompts speculation he will return to competitive action at next week's Masters by completing a practice round at Augusta.




BBC Sport - Published





Tiger Woods' Daughter Says She Feared Golf Legend Would Lose Leg After Car Crash

Tiger Woods' daughter said she and the rest of the golf legend's family seriously feared Tiger would lose his leg following his car crash last year. 14-year-old Sam Woods made the revelation while..




TMZ.com - Published





Tiger Woods: 15-time major winner gives emotional speech at World Golf Hall of Fame induction

An emotional Tiger Woods chokes back the tears as he is inducted into the World Golf Hall of Fame on Wednesday after a moving speech by his 14-year-old daughter Sam.




BBC Sport - Published




Tiger Woods wins $8m prize despite barely playing - for generating media interest

Tiger Woods wins $8m (£5.99m) for generating more media interest than any other golfer in 2021 - even though he played just one tournament all year.




BBC Sport - Published





Tiger Woods & Son Charlie Play from Behind to Kick Off PNC Championship

Tiger Woods is back to playing pro golf again -- this after his nasty car wreck -- and he's doing alongside none other than his own ... both of whom have some ground to gain. Round one of the PNC..




TMZ.com - Published





Tiger Woods Hits Balls On Range With Son, Gearing Up For 1st Tourney Since Crash

Tiger Woods appears to be fully back ... the golf legend hit the range Friday with his son, Charlie, and seemed to have no limitations as he gears up for his first tourney since his crash. The two..




TMZ.com - Published





Tiger Woods will make his return at PNC Championship alongside son Charlie

Tiger Woods will make his comeback playing alongside son Charlie at the PNC Championship in Florida next week.




BBC Sport - Published





Tiger Woods Says He Hit Bench Press To Stay In Shape After Crash, I Put Up 255!

Tiger Woods says the only lift he was able to do following his horrific car crash earlier this year was bench press -- and he claims he hit it so hard, he was able to put up 255 pounds!! The golf..




TMZ.com - Published





Tiger Woods & Bryson DeChambeau Play Catch On Range, Bro Sesh Caught On Video!

Tiger Woods might not be healthy enough to play a full round of golf -- but his leg is certainly feelin' good enough for him to bro down on the range with Bryson DeChambeau!! TMZ Sports has obtained..




TMZ.com - Published





Tiger Woods: 150th Open at St Andrews is target for 15-time major champion

Tiger Woods says the Old Course at St Andrews is his favourite golf course in the world and he hopes to be there in July for the 150th Open Championship.




BBC Sport - Published





Tiger Woods Refuses To Speak About Car Crash, Says It's All In Police Report

Tiger Woods would not revisit his infamous car crash with reporters on Tuesday ... saying he believes all of his memories of the wreck and all of the intricate details of it have already been..




TMZ.com - Published





Woods says he will not play full-time golf 'ever again' after crash that nearly cost him his leg

Tiger Woods has said be won't be able to play golf full-time "ever again" after a car crash in which he could have lost his leg.




Sky News - Published





Tiger Woods Doubts He'll Ever Be Full-Time Pro Golfer Again, 'That's My Reality'

The days of seeing Tiger Woods on the PGA Tour every week are almost certainly over ... the golf legend just revealed he doesn't have plans to return to being a full-time golfer again in the wake of..




TMZ.com - Published





Tiger Woods does not expect to return to golf full-time following car accident

Tiger Woods says he does not expect to return to the tour full-time following his car accident in February.




BBC Sport - Published





Tiger Woods Taking Full Swings On Golf Course Nine Months After Crash

Tiger Woods has resumed swinging a golf club again ... the legendary ball-striker just posted a video of the incredible feat, and he looks GOOD. The 45-year-old -- who badly injured his right leg in a..




TMZ.com - Published





Tiger Woods shares a clip for first time since accident of him hitting shots

Former world number one Tiger Woods shares the first footage of him hitting golf balls since he was seriously injured in a car accident in February.




BBC Sport - Published





Tiger Woods Walking With Noticeable Limp During L.A. Visit

Tiger Woods has ditched the crutches and the walking aids ... but the golf superstar still has a noticeable limp in his gait -- new video shows. Woods was spotted arriving at a hotel in Los Angeles on..




TMZ.com - Published





Tiger Woods Spotted Walking On Golf Course Without Limp

Tiger Woods is off crutches and walking without a limp ... new video, obtained by TMZ Sports, shows. The golf legend was out in Port St. Lucie, FL. watching his son, Charlie, play in a junior..




TMZ.com - Published





Tiger Woods Rehabbing To 'Try To Play Golf Again,' Says Steve Stricker

Tiger Woods is gunning to eventually come back to the golf course ... so says his pal Steve Stricker, who said Wednesday the legend is rehabbing with the intent of playing again. Stricker -- the..




TMZ.com - Published





Tiger Woods Puts Weight On Surgically Repaired Leg During Trip To L.A.

Positive update from Tiger Woods ... the golf star is now putting significant weight on his surgically repaired leg -- just five months after the limb was nearly lost in a car crash. El Tigre was seen..




TMZ.com - Published





Rachel Uchitel Sues Seeking Arrangement for Non-Payment Over Matt Gaetz Scandal

Rachel Uchitel says Seeking Arrangement dropped her like a bad habit as spokesperson for the dating site in the wake of the Matt Gatez scandal ... so she claims in a new lawsuit. Tiger Woods'..




TMZ.com - Published





Tiger Woods Was Laughing & In Good Spirits Day Before L.A. Crash, New Video Shows

Tiger Woods showed absolutely no signs of personal strife just 1 day before his February car crash ... laughing and joking with Jada Pinkett Smith out on a golf course. New footage from Golf Digest..




TMZ.com - Published





Tiger Woods Returns to L.A. After Car Crash, Moving Pretty Well on Crutches!

Tiger Woods is back in Los Angeles just 4 months after that horrific crash -- and for a guy who almost lost his leg, he seems to be moving around pretty well! The golf legend's private jet touched down..




TMZ.com - Published





Tiger Woods Declines TV Role At U.S. Open, 'He Didn't Want To Do It'

Tiger Woods isn't ready to golf yet ... and apparently, he ain't ready to talk about the sport on TV yet either. The sport's biggest star -- who's still recovering from a gnarly February car crash --..




TMZ.com - Published





Tiger Woods on Car Crash Rehab, 'More Painful Than Anything I've Ever Experienced'

Tiger Woods is keeping it 100% real about his rehab for the injuries he suffered in his car crash -- saying it's the most painful experience of his life. "This has been an entirely different animal,"..




TMZ.com - Published





Tiger Woods: US captain Steve Stricker 'would love' to have ex-world number one at Ryder Cup

United States captain Steve Stricker says he would love to have Tiger Woods as a vice-captain for the Ryder Cup at Whistling Straits in September.




BBC Sport - Published





Tiger Woods shares first photo since car accident two months ago

Tiger Woods has shared the first picture of himself since his high-speed car crash two months ago in which he suffered serious leg injuries.




Sky News - Published