Naveen Patnaik
Indian politician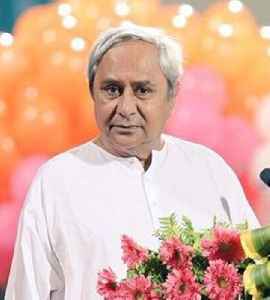 Naveen Patnaik is an Indian politician who is the current and 14th Chief Minister of Odisha. He is also the president of the Biju Janata Dal, a writer and has authored three books. As of 2019, he is one of the longest serving Chief Minister of any Indian state, holding the post for almost two decades, and only the third Indian chief Minister after Pawan Chamling and Jyoti Basu to win five consecutive terms as Chief Minister of an Indian state.


Jagan Mohan Reddy, Naveen Patnaik, K Chandrasekhar Rao to attend spiritual event
The three-day program is being held at Ganapati Sachidananda's ashram on the banks of river Krishna in Undavalli village, Guntur district.
DNA - Published
Dharmendra Pradhan, SAIL chairman donate Rs 3 crore cheque to Odisha CM's relief fund
Pradhan along with Chaudhary handed over Rs 3 crore cheque to Patnaik for Chief Minister's relief fund for cyclone Fani restoration
DNA - Published
Odisha CM meets PM, seeks special status for state
Naveen Patnaik, CM of Odisha, on Tuesday asked PM Narendra Modi to recognize states hit by major calamities as "special focus states" and extend to them "the benefits of a special category state for a..
IndiaTimes - Published
Naveen Patnaik urges PM Modi to declare calamity-hit states as 'special focus state'
IndiaTimes - Published
Odisha CM Naveen Patnaik meets PM Modi
Naveen Patnaik met the PM days after being sworn in as the chief minister of the state for the fifth consecutive term. The Biju Janata Dal, which secured 112 seats in the 147-member Odisha assembly in..
IndiaTimes - Published
New Delhi: Naveen Patnaik meets PM Modi, demands Rs 5000 crore for cyclone Fani aid
The meeting was a part of Naveen Patnaik's week-long visit to the national capital.
DNA - Published
You Might Like