Amravati
City in Maharashtra, India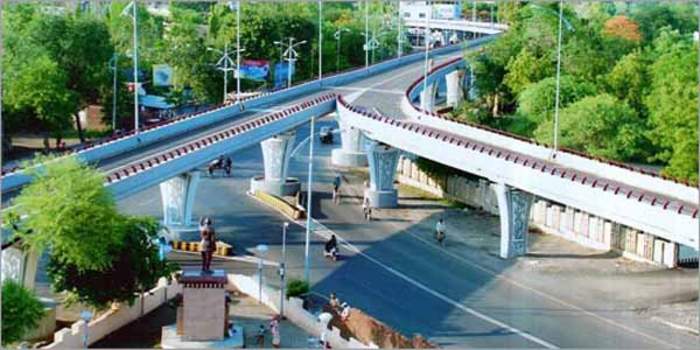 Amravati ) is a city in state of Maharashtra, India. It is the second largest city in Vidarbha region of Maharashtra after Nagpur and is administrative headquarter of the Amravati district. Among the landmarks in the city are the temple Ambadevi, temple of Shri Krishna, Sant Gadge Baba Samadhi, temple of Shri Venkateshwara Swamy also Hanuman Vyayam Prasarak Mandal, Melghat Tiger Reserve.


You Might Like
Maharashtra: Rising Amravati numbers spark fears of third Covid wave
IndiaTimes - Published
COVID-19: Lockdown extended by 7 days in these cities of Maharashtra - What's allowed, what's not
The extension of lockdown comes a week after a total lockdown of seven days was imposed in Amravati and Achalpur on February 21.
DNA - Published
Maharashtra reimposes curbs as Covid cases surge
A Covid-19 test positivity rate inching towards 10% in Pune district and a surge in cases in Amravati division made authorities in Maharashtra act swiftly on Sunday to reimpose measures like school and..
IndiaTimes - Published
Maharashtra: Amravati to be under one-week lockdown from Monday amid Covid-19 spike
The lockdown, which is slated to begin from tomorrow night, will go on till March 1, 2021.
DNA - Published
Maharashtra: 'Lockdown-like' curbs in three Vidarbha districts
The Maharashtra government has directed three districts in Vidarbha—Amravati, Yavatmal and Akola —to declare large areas as containment zones and implement lockdown-like restrictions.
IndiaTimes - Published
COVID-19: 10-day lockdown in Maharashtra's Yavatmal, Amravati to remain closed on weekend as cases surge
Maharashtra reported 4,787 new COVID-19 cases on Wednesday, the highest one-day count in more than two months.
DNA - Published
Amravati land scam: Supreme Court stays HC gag order on media
The Supreme Court on Wednesday vacated the the Andhra Pradesh high court order gagging media from reporting about an FIR registered by police in Amaravati land case issue allegedly involving a former..
IndiaTimes - Published
Andhra Pradesh: Amravati protest against 3 capitals to complete 300 days on Monday
Former minister Devineni Umamaheswara Rao and former MLA Tangirala Sowmya, both TDP leaders, took part in the protest.
DNA - Published
Maharashtra Police books 156 foreigners, who attended Tabligh event in Delhi, for violating visa norms
15 cases have been filed in different police stations of Mumbai, Thane, Amravati, Nanded, Nagpur, Pune, Ahmednagar, Chandrapur and Gadchiroli districts.
DNA - Published
IIMC alumni meet held in Lucknow and Amravati, students get IIMCAA scholarships
IndiaTimes - Published
PM's constituency Varanasi among 20 best performing Smart Cities to guide 'laggard' ones
The union housing and urban affairs ministry has paired up 20 best performing cities with the 20 bottom cities and they will work as "sister cities". Ahmedabad (1st rank), Nagpur, Tiruppur, Ranchi,..
IndiaTimes - Published
Maharashtra: Cloud seeding again in Aurangabad
The water level in major dams in Amravati and Aurangabad division is mere 19.78% and 34.47% respectively.
DNA - Published
DNA EXCLUSIVE: Mere 4.91% of Kharif sowing down in Maharashtra
Sowing figures at other regions are not impressive either - Nashik is at 9%, Kolhapur at 19%, Aurangabad at 8%, Latur at 2%, Amravati at 5% and Nagpur at 3%.
DNA - Published