William Barr
77th and 85th United States Attorney General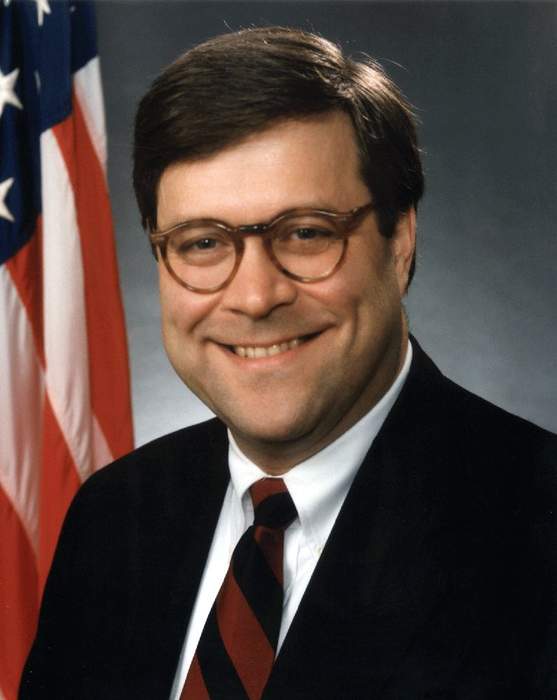 William Pelham Barr is an American attorney serving as the 85th United States Attorney General since 2019, previously holding the office from 1991 to 1993.


Pompeo backs Trump's refusal to concede election

U.S. Secretary of State Mike Pompeo on Tuesday voiced confidence that once every "legal" vote was counted, it would lead to a "second Trump administration," appearing to reject Democratic challenger..
Credit: Reuters - Politics Duration: 02:29
Published
Barr authorizes probes of vote irregularities

U.S. Attorney General William Barr told federal prosecutors on Monday to look into "substantial" allegations of voting irregularities but urged them not to pursue "fanciful or far fetched claims."..
Credit: Reuters Studio Duration: 02:03
Published
DOJ can't defend Trump in rape defamation suit: judge

A federal judge on Tuesday rejected a U.S. government request to drop Donald Trump as a defendant in a defamation lawsuit by a writer who said the president falsely denied raping her in a Manhattan..
Credit: Reuters - Politics Duration: 01:18
Published
Attorney General Barr Attended 'Super-Spreader' WH Event, But Won't Self-Quarantine

US Attorney General William Barr was potentially exposed to the novel coronavirus at a White House reception where attendees didn't wear masks. However, Business Insider reports Barr has refused to..
Credit: Wochit News Duration: 00:34
Published
You Might Like



Attorney General Bill Barr Compares Coronavirus Lockdowns to Slavery

Attorney General Bill Barr believes the calls for nationwide lockdowns and stay-at-home orders to prevent the spread of COVID-19 are the "greatest intrusion on civil liberties" of all time ... you..




TMZ.com - Published





U.S. says no extradition for Prince Andrew over Epstein case

U.S. Attorney General William Barr said on Monday there were no plans to extradite Britain's Prince Andrew to the United States for questionining in the sex crimes case involving late financier Jeffrey..




Reuters - Published





U.S. charges four Chinese military hackers in 2017 Equifax breach

The United States has charged four Chinese military hackers in the 2017 breach of the Equifax credit reporting agency that affected nearly 150 million American citizens, Attorney General William Barr..




Reuters - Published





U.S., allies should consider Nokia, Ericsson investments to counter Huawei: Barr

U.S. Attorney General William Barr on Thursday stressed the threat posed by Huawei Technologies and said the United States and its allies should consider investing in Finland's Nokia and Sweden's..




Reuters - Published





Mexico and U.S. plan to reduce illegal arms and drug trade

Mexico and the United States have agreed on a plan to combat illicit trafficking of arms, drugs and money, the Mexican government said on Thursday, following meetings between U.S. Attorney General..




Reuters - Published




U.S. top attorney: Killing Soleimani 'legitimate,' Trump had authority

President Donald Trump clearly had authority to kill Qassem Soleimani, U.S. Attorney General William Barr said on Monday, adding that the White House consulted with his department before the strike on..




Reuters - Published




U.S. attorney general to visit Mexico next week: Mexican minister

U.S. Attorney General William Barr will visit Mexico next week, Mexican Foreign Minister Marcelo Ebrard said on Tuesday.




Reuters - Published





Mexican president eyes cooperation after U.S. meeting on security

Mexican President Andres Manuel Lopez Obrador said on Friday that his government is not at odds with the Trump administration after what he called good meetings on security with U.S. Attorney General..




Reuters - Published





U.S.-Mexico talks address arms and drug trade, money laundering

High level security meetings between U.S. Attorney General William Barr and a host of Mexican officials on Thursday made progress addressing arms and drugs trafficking as well as money laundering,..




Reuters - Published





Mexico, top U.S. law official Barr had 'good meeting' on cartel threat: president

Mexican President Andres Manuel Lopez Obrador said he and senior government officials had a "good meeting" with U.S. Attorney General William Barr on Thursday about the threat of Mexican drug cartels.




Reuters - Published





Mexican president hails 'good meeting' with U.S. attorney general Barr

Mexico's President Andres Manuel Lopez Obrador said he had a "good meeting" on Thursday with U.S. Attorney General William Barr, as they sought to address the threat of Mexican drug cartels, which the..




Reuters - Published





Mexico, U.S. eye cooperation in meetings sparked by cartel threat

Mexico's government said its meetings with U.S. Attorney General William Barr on Thursday will focus on bilateral cooperation, as they seek to address the threat of Mexican drug cartels, which the..




Reuters - Published





Mexico meeting with U.S. attorney general to focus on cooperation: president

Meetings between Mexican officials and U.S. Attorney General William Barr on Thursday will focus on bilateral cooperation, Mexican President Andres Manuel Lopez Obrador told a regular morning news..




Reuters - Published





U.S. Attorney General Barr to meet top Mexican officials on Thursday: Mexico government

U.S. Attorney General William Barr will meet Thursday with Mexican President Andres Manuel Lopez Obrador, as well as other top officials, Mexico's Foreign Minister Marcelo Ebrard said on Wednesday.




Reuters - Published





Mexico to seek cooperation on arms flows with U.S. attorney general

Mexican President Andres Manuel Lopez Obrador said on Wednesday his government will seek to strengthen cooperation with the United States to control the flow of "arms and dollars" during meetings this..




Reuters - Published




Italy PM says Barr's meetings with Rome intelligence were legitimate

Prime Minister Giuseppe Conte on Wednesday confirmed that U.S. Attorney General William Barr held two secret meetings with Italian intelligence officers in Rome and described the encounters as "legal..




Reuters - Published





Explainer: The missing Maltese academic at the heart of Washington intrigue

In recent weeks, U.S. Attorney General William Barr, with backing from President Donald Trump, has stepped up an inquiry into the origins of an FBI investigation into Russian interference in the 2016..




Reuters - Published





Explainer: Barr investigates the investigators of Russian meddling

U.S. Attorney General William Barr has been traveling internationally to help investigate President Donald Trump's complaints that his campaign was improperly targeted by U.S. intelligence and law..




Reuters - Published




Italy PM backs intelligence over reported U.S. attorney general visits

Italian Prime Minister Giuseppe Conte is not concerned about reports that U.S. Attorney General William Barr held secret meetings with Italian intelligence agencies, Conte's office said on Thursday.




Reuters - Published





Trump contacted foreign officials over probe of Russia inquiry origins -Justice Dept

U.S. President Donald Trump has contacted other countries to introduce Attorney General William Barr and a Justice Department official who is conducting an inquiry into the origins of Special Counsel..




Reuters - Published




Pelosi accuses U.S. Attorney General of going 'rogue' in Ukraine case

House of Representatives Speaker Nancy Pelosi on Friday accused U.S. Attorney General William Barr of going "rogue" in the Justice Department's handling of a whistleblower complaint that President..




Reuters - Published




House Judiciary chief call on Barr to recuse himself from Ukraine probes

U.S. Attorney General William Barr must recuse himself from any Ukraine-related investigations after a memo showed President Donald Trump in a July call told the Ukrainian president he would have the..




Reuters - Published





Jeffrey Epstein found dead in Manhattan jail: Attorney-General William Barr says 'serious irregularities' found in federal prison

Attorney-General William Barr has said that there were 'serious irregularities' at the federal jail where Jeffrey Epstein took his own life as he awaited trial on charges he sexually abused underage..




Firstpost - Published





Redacted Mueller Report Released: What Have We Learned?

by Adam Yardley - The investigation into alleged collusion between Russian agents and US President Donald Trump's 2016 election campaign has recently come to an end. The final report, summarized..




One News Page Staff - Published




Mueller Investigation Finds No Trump-Russia Collusion: Attorney General Reports

by Stephanie Boyd - One of the most momentous points in Donald Trumps' US Presidency has come to pass this weekend. With the handing in of Special Counsel Robert Mueller's report into the..




One News Page Staff - Published