Newcastle United F.C.
Association football club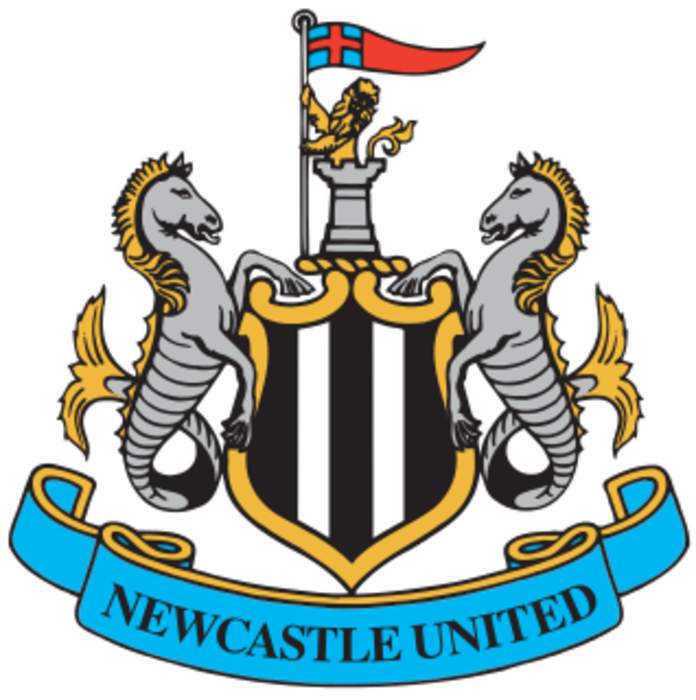 Newcastle United Football Club is an English professional football club based in Newcastle upon Tyne, that plays in the Premier League – the top flight of English football. The club was founded in 1892 by the merger of Newcastle East End and Newcastle West End. The team plays its home matches at St James' Park in the centre of Newcastle. Following the Taylor Report's requirement that all Premier League clubs have all-seater stadiums, the ground was modified in the mid-1990s and currently has a capacity of 52,305.


You Might Like



Burnley 1-2 Newcastle: Relegation will 'take a long time to get over' - Mike Jackson

Burnley boss Mike Jackson says it will "take a long time to get over" the Clarets' relegation from the Premier League as defeat by Newcastle condemned them to the Championship.




BBC Sport - Published





Burnley 1-2 Newcastle: Callum Wilson scores twice as Clarets are relegated to Championship

Burnley are relegated from the Premier League on a dramatic final day as a home defeat by Newcastle United condemns them to the Championship.




BBC Sport - Published





Eddie Howe: Newcastle manager 'aware of criticisms' of 2022-23 third kit

Newcastle manager Eddie Howe says he is "aware of the criticisms" of the club's proposed third kit for the 2022-23 season.




BBC Sport - Published





Newcastle United 2-0 Arsenal: Granit Xhaka tells team-mates to "stay at home" after Newcastle defeat

Granit Xhaka says Arsenal "don't deserve to play in the Champions League" and tells team-mates to "stay at home" if they cannot deal with pressure following their 2-0 defeat by Newcastle United in the..




BBC Sport - Published





Newcastle 2-0 Arsenal: We don't deserve Champions League spot on this display - Granit Xhaka

Arsenal defender Granit Xhaka criticises his team-mates after their performance in Monday's 2-0 defeat at Newcastle, saying "If you're nervous stay at home".




BBC Sport - Published





Newcastle 2-0 Arsenal: Mikel Arteta says Newcastle deserved win 'by a mile'

Arsenal boss Mikel Arteta says his side deserved to be beaten 2-0 by Newcastle at St James' Park.




BBC Sport - Published





Newcastle 2-0 Arsenal: Gunners' top-four hopes dealt huge blow with loss

Arsenal's hopes of finishing in the Premier League top four are dealt a huge blow as they are well beaten by Newcastle at St James' Park.




BBC Sport - Published





Match of the Day 2 analysis: How 'wonderful' Joao Cancelo punished Newcastle

Match of the Day 2's Alan Shearer explains how Newcastle failed to deal with the threat caused by Manchester City's Joao Cancelo, in City's 5-0 win over the Magpies.




BBC Sport - Published





Man City 5-0 Newcastle: 'Perfect afternoon' for Manchester City says Pep Guardiola

Manchester City manager Pep Guardiola says it was a "perfect afternoon" as his side beat Newcastle United 5-0 to go three points clear at the top of the Premier League table.




BBC Sport - Published





Man City 5-0 Newcastle: Man City three clear of Liverpool in title race

Manchester City thrash Newcastle United to go three points clear of Liverpool at the top of the Premier League.




BBC Sport - Published





Newcastle 0-1 Liverpool: 'Role model' James Milner underlines strength in depth

James Milner's 'outstanding' display against Newcastle highlighted the quality of Liverpool's strength in depth - and that may serve them well in their hunt for a quadruple.




BBC Sport - Published





Newcastle 0-1 Liverpool: Jurgen Klopp says Reds display 'really special'

Liverpool boss Jurgen Klopp says they played a "top class game" in a 1-0 win at Newcastle which saw them go top of the Premier League.




BBC Sport - Published





Newcastle 0-1 Liverpool: Naby Keita scores as Reds go top

Liverpool stay in contention for the quadruple as they overcome a spirited Newcastle to move back to the top of the Premier League.




BBC Sport - Published





Newcastle: How Eddie Howe has turned Magpies around in 150 days

Spending £85m in the January transfer window has helped, but Eddie Howe's coaching has been key to Newcastle's remarkable turnaround this season.




BBC Sport - Published





Newcastle United fan facing ban and fined £300 for making Nazi gesture at Spurs supporters

A football fan, who initially claimed he was waving to someone, has been fined more than £300 after admitting making a Nazi salute towards Spurs supporters.




Sky News - Published





Norwich City 0-3 Newcastle United: Eddie Howe says his side have incredible desire to win

Newcastle United head coach Eddie Howe says his side currently have an "incredible desire to win" after their 3-0 victory over Norwich City in the Premier League.




BBC Sport - Published





Norwich City 0-3 Newcastle United: Dean Smith says his side gave Magpies a helping hand

Norwich City head coach Dean Smith says his side gave Newcastle a helping hand in their 3-0 defeat in the Premier League.




BBC Sport - Published





Newcastle United 1-0 Crystal Palace: Patrick Vieira says his side didn't compete in Newcastle defeat

Crystal Palace manager Patrick Vieira says his side didn't compete in their 1-0 defeat to Newcastle United in the Premier League.




BBC Sport - Published





Newcastle 1-0 Crystal Palace: 'What a goal!' - Eddie Howe hails Miguel Almiron's 'top-level' finish

Newcastle boss Eddie Howe praises his team's excellent first-half display as they wins a sixth straight Premier League game at St James' Park after beating Crystal Palace 1-0.




BBC Sport - Published





Newcastle United 1-0 Crystal Palace: Magpies all but safe after magnificent Miguel Almiron strike

Miguel Almiron scores his first club goal since February 2021 as Newcastle beat Crystal Palace to record a sixth consecutive win at St James' Park and move on to 40 points in the Premier League.




BBC Sport - Published





Match of the Day 2 analysis: How Bruno Guimaraes won the game for Newcastle

Match of the Day 2 pundits Stephen Warnock and Leon Osman praise Newcastle's matchwinner Bruno Guimaraes after their 2-1 win over Leicester.




BBC Sport - Published





Newcastle United 2-1 Leicester City: Guimaraes claims late winner for Magpies

Bruno Guimaraes strikes deep into stoppage time to give Newcastle victory over Leicester and edge the Magpies a step closer to Premier League survival.




BBC Sport - Published





Newcastle 1-0 Wolves: Chris Wood penalty earns key win for Eddie Howe's side

Chris Wood scores a crucial penalty to help Newcastle land a huge win over Wolves in their bid to stay in the Premier League.




BBC Sport - Published





Match of the Day 2: How Tottenham's Harry Kane 'ran riot' against Newcastle

Match of the Day 2 pundits Nedum Onuoha and Ian Wright explain how Harry Kane "ran riot" as Tottenham thrashed Newcastle 5-1 in the Premier League.




BBC Sport - Published





Tottenham Hotspur 5-1 Newcastle United: Son, Doherty, Emerson on scoresheet

Tottenham come from behind to comfortably beat Newcastle and move up to fourth in the Premier League.




BBC Sport - Published





Transfer rumours: Kane, Rice, Neymar, Botman, Azpilicueta, Saliba

Harry Kane refuses to commit to himself to Tottenham, Rice would prefer Chelsea over Man Utd if he leaves West Ham, Newcastle will not make Neymar move, plus more.




BBC Sport - Published





Everton appeals against Allan red card rejected

Everton have two appeals against Allan's red card in the 1-0 win over Newcastle rejected.




BBC Sport - Published





Everton 1-0 Newcastle: Frank Lampard suffers broken hand celebrating dramatic Toffees' winner

Everton boss Frank Lampard was pleased with a "night of togetherness", despite suffering a broken hand when celebrating the winner.




BBC Sport - Published





Everton 1-0 Newcastle: Frank Lampard praises 'spirit' of players and fans

Everton boss Frank Lampard says the "spirit" of his players and the fans was key to the beating Newcastle 1-0 with just 10 men.




BBC Sport - Published





Everton 1-0 Newcastle United: Alex Iwobi's stoppage-time goal earns 10-man Toffees huge victory

Alex Iwobi's stoppage-time goal earns Everton a massive victory as they hold on to beat Newcastle despite being reduced to 10 men.




BBC Sport - Published





Newcastle: Eddie Howe accepts he will be asked questions about club's Saudi Arabian owners

Newcastle boss Eddie Howe accepts he will be asked about the club's Saudi Arabian owners but says his "specialist subject is football".




BBC Sport - Published





MPs call on PM to cancel Saudi visit after mass execution - as minister defends Newcastle takeover

A government minister has defended the Saudi Arabian takeover of Newcastle United as MPs described the mass execution of 81 men as a "new low" for the kingdom and urged the prime minister to cancel a..




Sky News - Published





Chelsea 1-0 Newcastle: Thomas Tuchel praises Kai Havertz's 'rare quality'

Chelsea manager Thomas Tuchel praises his side's performance and Kai Havertz's "rare quality" following the forward's late winner against Newcastle at Stamford Bridge.




BBC Sport - Published





Chelsea 1-0 Newcastle United: Kai Havertz's late goal gives hosts three points

Chelsea snatch a dramatic late winner to beat Newcastle in the first game at Stamford Bridge since Blues' Russian owner Roman Abramovich was sanctioned by the UK government.




BBC Sport - Published





Southampton 1-2 Newcastle: Hasenhuttl frustrated by missed chances

Southampton manager Ralph Hasenhuttl is frustrated by his side's inability to take their chances as they lose 2-1 at home to a resurgent Newcastle.




BBC Sport - Published





Southampton 1-2 Newcastle: Eddie Howe pleased to keep run going

Newcastle manager Eddie Howe praises Chris Wood and Bruno Guimaraes who both scored their first goal for the club in a 2-1 win over Southampton.




BBC Sport - Published





Newcastle United 2-1 Brighton & Hove Albion: Eddie Howe sees 'growth' in Magpies players

Newcastle head coach Eddie Howe says he can see "growth" in his players, after the Magpies continued their excellent recent form with a 2-1 win over Brighton.




BBC Sport - Published





Premiership: Harlequins 24-10 Newcastle - Quins up to second after beating Falcons

Cadan Murley scores two tries as Harlequins beat Newcastle 24-10 to move up to second in the Premiership.




BBC Sport - Published





Amanda Staveley: Newcastle co-owner says unfair Chelsea's Roman Abramovich has to sell

Newcastle co-owner Amanda Staveley says it is unfair that Roman Abramovich has decided to sell Chelsea following Russia's invasion of Ukraine.




BBC Sport - Published





Christian Eriksen: Brentford midfielder makes first appearance since cardiac arrest

The emotion was tangible as Christian Eriksen walked on to complete one of sport's most remarkable comeback stories 52 minutes into Brentford's meeting with Newcastle United.




BBC Sport - Published





Brentford 0-2 Newcastle United: 'It was a wonderful moment' - Frank on Eriksen's return

Brentford manager Thomas Frank says it was "wonderful" to see Christian Eriksen make his return to football 259 days after collapsing playing for Denmark against Finland at Euro 2020.




BBC Sport - Published





Brentford 0-2 Newcastle United: Christian Eriksen returns as Bees lose to Magpies

Christian Eriksen makes his return to football eight months after a cardiac arrest, but his Brentford team are well beaten by Newcastle.




BBC Sport - Published





Football Focus: Newcastle fans are 'the extra man' - Eddie Howe

Newcastle boss Eddie Howe says managing the Magpies at St James' Park is everything he thought it would be, with the home fans playing the role of an "extra man".




BBC Sport - Published





Steve Black: Newcastle United and Falcons lead tributes as mentor and coach dies aged 64

Tributes flood in from across the sporting world following the death of coach and mentor Steve Black at 64.




BBC Sport - Published





West Ham United 1-1 Newcastle United: Joe Willock earns visitors valuable point

Joe Willock earns Newcastle a valuable draw at West Ham, which edges the Magpies five points clear of the Premier League drop zone.




BBC Sport - Published





Newcastle United: Amanda Staveley says she borrowed £30m for Newcastle purchase

Newcastle United co-owner Amanda Staveley says in High Court documents that she borrowed £30.5m to help fund her 10% stake in the club.




BBC Sport - Published





Kieran Trippier: Newcastle unsure whether injured defender will return before end of season

Newcastle are unsure whether defender Kieran Trippier will return before the end of the season following foot surgery, says boss Eddie Howe.




BBC Sport - Published





Kieran Trippier: Newcastle defender fractures foot

Newcastle United defender Kieran Trippier fractures a foot in Sunday's Premier League win over Aston Villa.




BBC Sport - Published





Newcastle: Kieran Trippier injury could be disastrous - Jermaine Jenas analysis

MOTD2 pundit Jermaine Jenas says Kieran Trippier's influence at Newcastle means the effects of a long-term absence would run deep for Eddie Howe's side.




BBC Sport - Published





Newcastle United 1-0 Aston Villa: Kieran Trippier scores winner

Newcastle United move four points clear of the relegation zone with a third straight win as Kieran Trippier's free-kick sinks Aston Villa.




BBC Sport - Published