South Africa
Country in Africa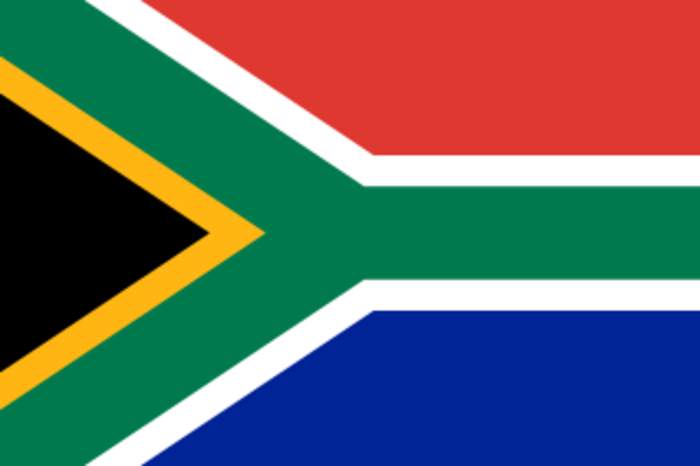 South Africa, officially the Republic of South Africa (RSA), is the southernmost country in Africa. With over 59 million people, it is the world's 23rd-most populous nation and covers an area of 1,221,037 square kilometres. South Africa has three capital cities: executive Pretoria, judicial Bloemfontein and legislative Cape Town. The largest city is Johannesburg. About 80% of South Africans are of Black African ancestry, divided among a variety of ethnic groups speaking different African languages. The remaining population consists of Africa's largest communities of European, Asian, and Multiracial ancestry.


This musician often walked barefoot for kilometers just for the chance to perform. Now she's made it big

Self-made South African singer Makhadzi has made a name for herself in Africa, but she stays true to her Venda roots.
Credit: Bleacher Report AOL Duration: 02:50
Published
India, EU to re-launch free trade talks: What PM Modi, EU leaders discussed

India and the European Union (EU) on Saturday announced their decision to resume negotiations for a balanced and comprehensive trade agreement after a gap of eight years and unveiled an ambitious..
Credit: HT Digital Content Duration: 07:32
Published
Waiving IP rights will ensure timely availability of COVID vaccines: India at UNSC

India has worked with South Africa and other partners in the WTO to seek relaxation in the norms of the TRIPS agreement, Foreign Secretary Harsh Vardhan Shringla said on Friday and noted that this..
Credit: ANI Duration: 00:59
Published
British and Irish Lions: The full squad for South Africa tour

Sam Simmonds has been named in a British and Irish Lions squad that is captained by Alun Wyn Jones, but Kyle Sinckler and Johnny Sexton are among several high-profile omissions.Simmonds, the Exeter..
Credit: PA - Press Association STUDIO Duration: 00:52
Published
Biden to back WTO COVID vaccine patent waiver

President Joe Biden on Wednesday threw his support behind waiving intellectual property rights for COVID-19 vaccines, bowing to mounting pressure from Democratic lawmakers and more than 100 other..
Credit: Reuters - Politics Duration: 01:57
Published
Vaccine patent fight: 'This is an emergency'

South African Foreign Minister Naledi Pandor says restrictions on vaccine patents should be temporarily eased to help developing countries combat COVID-19.
Credit: Bleacher Report AOL Duration: 12:45
Published
How this South African apples and pears company grew its social media presence

Increasing demand from Europe and Asia has pushed South African fruit giant Tru-Cape to expand variety. The company's managing director, Roelf Pienaar, talks to CNN about Tru-Cape's heritage and..
Credit: Bleacher Report AOL Duration: 04:39
Published
G7 foreign ministers meet in person in over two years

Foreign and development ministers gather at Lancaster House on the second day of the G7 meeting in London. This is the first time representatives from leading nations are meeting face-to-face in over..
Credit: ODN Duration: 01:06
Published
Video shows security team fend off armed heist in South Africa

Footage from inside a cash-in-transit van shows how a security team responded to an attempted heist by robbers wielding AK-47s in South Africa. CNN's David McKenzie reports.
Credit: Bleacher Report AOL Duration: 01:25
Published
Agriculture in South Africa: Wine estate offers business ownership to black farmers


Credit: FRANCE 24 English Duration: 01:41
Published
This freediver is creating a more diverse ocean

Zandile Ndhlovu, South Africa's first Black female free dive instructor, is fostering a more inclusive ocean through The Black Mermaid Foundation.
Credit: Bleacher Report AOL Duration: 03:32
Published
South Africa corruption inquiry: Cyril Ramaphosa testifies for second day

President Cyril Ramaphosa is the highest-ranking official to testify at an ongoing inquiry into corruption in South Africa.
Credit: Al Jazeera STUDIO Duration: 02:37
Published
What this South African company's legacy says about investing in Africa

South African industrial brand management company Barloworld has been investing and expanding in Africa for almost 120 years. CEO Dominic Malentsha Sewela talks to CNN about what he sees as the biggest..
Credit: Bleacher Report AOL Duration: 05:02
Published
Cape Town fire 'contained': Landmarks destroyed, evacuations continue

A fire on a South African landmark is under control - Al Jazeera look at how much destruction it has caused.
Credit: Al Jazeera STUDIO Duration: 02:23
Published
Firefighters battle to contain blaze on South Africa's Table Mountain


Credit: FRANCE 24 English Duration: 01:28
Published
Why Vodacom wants to be a pan-African tech player

Shameel Joosub, CEO of South Africa's Vodacom, talks about the future of one of Africa's biggest brands.
Credit: Bleacher Report AOL Duration: 03:26
Published
These South African app builders are creating digital solutions for new opportunities

With the mobile phone at the center of Africa's digital connectivity, creative entrepreneurs are leveraging technology to build the continent's digital future.
Credit: Bleacher Report AOL Duration: 23:09
Published
Former rugby players turn to philanthropy off the pitch

In South Africa, Tendai "The Beast" Mtawarira is assisting young people in sports and education through his new foundation. In Kenya, Humphrey "Tall" Kayange advocates for Kenyan athletes and..
Credit: Bleacher Report AOL Duration: 23:00
Published
Retired rugby star finds success off the pitch in South Africa

Retired South African Springbok Tendai Mtawarira recently launched his own foundation aimed at empowering the next generation.
Credit: Bleacher Report AOL Duration: 03:16
Published
How ghost kitchens are coming alive in South Africa

As the South African restaurant industry grapples with an unprecedented drop in business, many delivery-only ventures known as ghost kitchens are seeing double digit growth. CNN takes a closer look at..
Credit: Bleacher Report AOL Duration: 05:31
Published
How big data is fostering expansion for this South African logistics enterprise

As intra-continent shipping in Africa continues to grow, South African company Imperial Logistics is turning to big data to predict trends. CNN's Cyril Vanier caught up with company CEO, Mohammed..
Credit: Bleacher Report AOL Duration: 03:58
Published
Adorable Elephants Calves Play Slip & Slide Near Waterhole

These adorable elephant calves are pictured having a muddy good time at a waterhole. Photographer Charmaine Joubert captured the action as the pair played a game of slip and slide in Addo Elephant..
Credit: Cover Video STUDIO Duration: 00:54
Published
Babar Azam surpasses Virat Kohli in ICC ODI ranking, fastest 13 centuries records | Oneindia News

The Pakistan cricket captain Babar Azam is all set to surpass Virat Kohli in the ICC ODI ranking. At the start of the South Africa vs Pakistan series, Babar Azam was more than 30 points behind Kohli in..
Credit: Oneindia Duration: 01:21
Published
You Might Like



Scotland's autumn Tests: Japan to join Australia & South Africa at Murrayfield

After Tests with Australia and South Africa, Scotland will complete their autumn series against Japan.




BBC Sport - Published





British and Irish Lions: Six Sale players in Springbok contention

As many as six of Sale's South African contingent could feature for the Springboks against the Lions this summer.




BBC Sport - Published





British and Irish Lions 2021: Joe Marler calls for mental health support for players

England prop Joe Marler calls for mental health support for British and Irish Lions players on this summer's tour of South Africa.




BBC Sport - Published





British and Irish Lions 2021: Hamish Watson finds size talk 'tiny bit frustrating'

Scotland flanker Hamish Watson says comments that he would be too small to make an impact for the British and Irish Lions against South Africa are "a tiny bit frustrating".




BBC Sport - Published





PM Modi asks EU to back India, South Africa on patent waiver for Covid vaccines

Prime Minister Narendra Modi on Saturday "invited" EU to support proposal by India and South Africa to waive patents on Covid-19 vaccines.




IndiaTimes - Published





PM Modi dials Australian counterpart, seeks his support for intellectual property waiver for COVID-19 vaccines

The two leaders discussed the initiative taken at the WTO by India and South Africa for global waiver on patent protection for vaccines.




DNA - Published





Matt Dawson column: Warren Gatland has got Lions selection right - as always

Three-time Lion Matt Dawson says head coach Warren Gatland has once again got his selection right for this summer's South Africa tour.




BBC Sport - Published





British and Irish Lions 2021: Wales great Alun Wyn Jones confirmed as captain

Wales great Alun Wyn Jones is confirmed as captain for the British and Irish Lions' tour of South Africa.




BBC Sport - Published




British and Irish Lions squad: Stars await 2021 South Africa tour selection

The who, what and when as the British and Irish Lions prepare to reveal their squad to tour South Africa this summer.




BBC Sport - Published





British & Irish Lions: Rugby Union Weekly squad selection summit

With just two days to go before Warren Gatland reveals the British and Irish Lions players to take on South Africa, Rugby Union Weekly presenters Ugo Monye and Chris Jones pick their own squads.




BBC Sport - Published





British and Irish Lions 2021: Who could be the bolters to tour South Africa?

Left-field selections are something of a British and Irish Lions tradition - who could be a surprise pick for the 2021 tour of South Africa?




BBC Sport - Published





Ben Youngs rules himself out of British and Irish Lions tour of South Africa

England scrum-half Ben Youngs withdraws from contention for the British and Irish Lions tour of South Africa because of family reasons.




BBC Sport - Published





Cash van driver evades armed robbers as vehicle shot multiple times

Dramatic dashcam footage has shown the moment a van carrying cash in South Africa was bombarded with bullets as robbers opened fire.




Sky News - Published




Surge testing in east London after Brazilian and South African COVID variants found

Surge testing is to be deployed in the London borough of Tower Hamlets after several cases of the South African and Brazilian variants were found.




Sky News - Published




Sunny Edwards beats Moruti Mthalane to land shock IBF world flyweight title win

Britain's Sunny Edwards is the new IBF world flyweight champion after a superb win over South Africa's Moruti Mthalane.




BBC Sport - Published





George North: Wales back ruled out of British and Irish Lions tour with knee injury

George North has confirmed he is out of the British and Irish Lions tour of South Africa because of a serious knee injury.




BBC Sport - Published




UK government imposes sanctions on 22 people accused of serious corruption

The UK has imposed sanctions on 22 people accused of serious corruption in Russia, South Africa and four other nations in the first use of a new tool to fight corrupt activities globally.




Sky News - Published




Covid-19: Of 15,000 virus sequences, 11% comprise of UK, SA and Brazil variants; UK strain dominant in India

With six variants of concern (VOC) of coronavirus that is dominating global topography currently, India is grappling with three particular variants, i.e. the UK, Brazil, and South Africa, since the..




IndiaTimes - Published





British and Irish Lions: Maro Itoje backed by Sam Warburton to captain 2021 side

England's Maro Itoje is backed to lead the British and Irish Lions against South Africa this summer by the man who captained the last two unbeaten tours.




BBC Sport - Published





UK invites India to in-person G7 meet of foreign ministers in May

The UK has invited India, along with Australia, South Korea, South Africa, and the Chair and Secretary-General of ASEAN.




DNA - Published





Shirtless Golfer Attacks Man With Flagstick In Wild Fight Caught On Video

Two men beat the hell out of each other on a golf course last week -- with one of the dudes even swinging a flagstick at the other -- and the insane fight was all caught on video! The wild scene went..




TMZ.com - Published





UK cases of South African COVID variant rise - as Indian double mutation also heads to Britain

A total of 600 people in the UK have now contracted the South African coronavirus variant, new figures show.




Sky News - Published





South Africa v Pakistan: Babar Azam hits first international Twenty20 century in thumping win

Babar Azam makes his first international Twenty20 century as Pakistan cruise to a target of 204 and a nine-wicket victory against South Africa.




BBC Sport - Published





British and Irish Lions 2021: Townsend, Tandy, McBryde and Jenkins named as coaches

Gregor Townsend will lead the British and Irish Lions' attack in South Africa - Steve Tandy, Robin McBryde and Neil Jenkins also on board.




BBC Sport - Published





British and Irish Lions 2021: Proposals for return of fans to be taken to South African government

Proposals for the return of fans are being taken to the country's government before this summer's British and Irish Lions tour.




BBC Sport - Published





Covishield, Covaxin effective against UK, Brazillian variants; work against South African strain on: Govt

Both Covishield and Covaxin vaccines are effective against the UK and the Brazillian variants of coronavirus, while the work against the South African strain was on at several laboratories, the Centre..




IndiaTimes - Published





British and Irish Lions: Who makes BBC Sport readers' XV to face South Africa?

Sexton or Russell? Hogg or Williams? Rees-Zammit or May? After more than 14,000 team selections, we have the answers.




BBC Sport - Published





Engineer from Philippines sailing from South Africa tests positive at Tuticorin




IndiaTimes - Published





COVID-19: 'Variants Of Concern' from Brazil, UK, South Africa and a novel variant found in 18 states, says Centre

A total of 771 VOCs have been detected in a total of 10,787 positive samples shared by the states and union territories.




DNA - Published





British and Irish Lions plan for tour to go ahead in South Africa

The British and Irish Lions plan to tour South Africa this summer after rejecting contingency options of staging the matches elsewhere




BBC Sport - Published





400 infected with UK, South African, Brazil Covid-19 mutant in India

Amid surge in Covid-19 cases, the Health Ministry on Thursday said that 400 patients have been found to be affected with UK, South Africa and Brazil mutant variants of the coronavirus.




IndiaTimes - Published





Joe Biden called upon to support India, South Africa at WTO on Covid-19 vaccines

A group of lawmakers in the US have urged President Joe Biden to support the move by India and South Africa before the World Trade Organization for emergency temporary waiver of some Trade-Related..




IndiaTimes - Published





Headteacher charged after dangling boy into pit toilet to find his phone

A headteacher in South Africa has been charged with child abuse after lowering an 11-year-old boy into a pit toilet to search for his mobile phone, according to local news reports.




Sky News - Published




COVID surge testing deployed in parts of Wandsworth after SA variant found

Surge testing is to be carried out in areas of Wandsworth, southwest London, after the COVID variant first identified in South Africa was found there.




Sky News - Published





Thousands of fake COVID vaccines seized in China and South Africa raids

Police have arrested 84 suspects and seized thousands of fake COVID-19 vaccines in raids in China and South Africa.




Sky News - Published




India slams rich nations for vaccine patent hurdle

India has hit out at developed countries that are seeking to block its joint initiative with South Africa for patent waiver on Covid-19 vaccines. It has urged World Trade Organisation (WTO) members to..




IndiaTimes - Published





Rugby World Cup 2023: Scotland to play South Africa in their tournament opener

Scotland will play defending champions South Africa in their first match of the 2023 Rugby World Cup in France.




BBC Sport - Published





18 states under scanner after UK, South African, Brazil strains rise




IndiaTimes - Published





More surge testing in Ealing as additional South Africa variant cases detected

More surge testing will be rolled out in Ealing after additional cases of the coronavirus variant first identified in South Africa were detected.




Sky News - Published




Two new variants of SARS-CoV-2 not reason for surge in cases in Maha, Kerala: Govt

"Both the N440K and E484K variants of SARS-CoV-2 have been detected in Maharashtra. Three other mutated strains- one each from UK, South Africa and Brazil are already present in the country. But..




IndiaTimes - Published





Surge testing in Brentwood area of Essex after one case of South Africa variant found

Surge testing is being deployed in the CM13 postcode in Brentwood where a single case of the South Africa coronavirus variant has been found.




Sky News - Published





Evidence that cases of South Africa and Brazil variants falling in UK, Hancock says

The number of cases of South African and Brazilian COVID variants in the UK appears to be falling, the health secretary has told Sky News.




Sky News - Published





Pointers on new COVID-19 guidelines for international passengers, details here

Fresh guidelines are applicable on all international travellers coming/transiting through flights originating from the UK, Brazil and South Africa.




DNA - Published





India's COVID-19 vaccines will be effective against new variants: ICMR

Stressing on the efficacy of indigenous COVID-19 vaccines, the Indian Council of Medical Research (ICMR) on Thursday said interim results of the ongoing clinical trials indicated that they would be..




DNA - Published





Covid-19: Can our vaccine fight new strains? India to test

The efficacy of the two Indian vaccines currently in use — Covishield and Covaxin — is likely to be tested against the Brazil and South Africa variants soon, scientists have said. The Indian..




IndiaTimes - Published





No data on efficacy of India's Covid vaccines against South African, Brazilian variants: Scientists




IndiaTimes - Published





Fresh guidelines by Health Ministry for international travellers amid new COVID-19 variants scare

Different variants of COVID-19, including the UK, South Africa and Brazil variants have been causing new scare amongst the people.




DNA - Published