Raghuram Rajan
Indian economist and former governor of Reserve Bank of India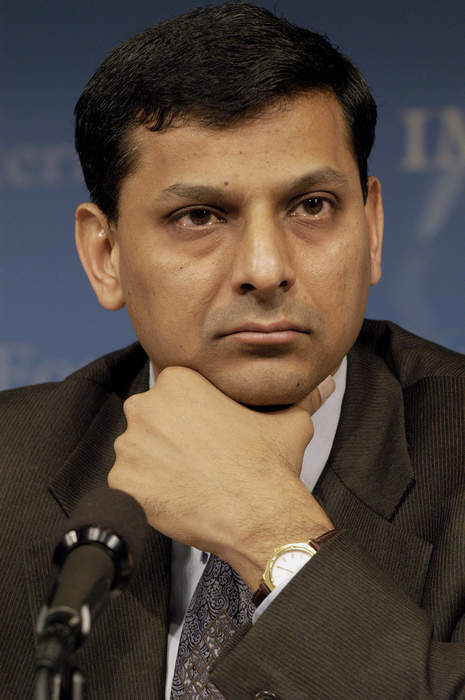 Raghuram Govinda Rajan is an Indian economist and the Katherine Dusak Miller Distinguished Service Professor of Finance at the University of Chicago Booth School of Business. Between 2003 and 2006 he was Chief Economist and Director of Research at the International Monetary Fund. From September 2013 through September 2016 he was the 23rd Governor of the Reserve Bank of India; in 2015, during his tenure at the RBI, he became the Vice-Chairman of the Bank for International Settlements.


You Might Like
Tamil Nadu to form economic advisory council to CM with Esther Duflo, Raghuram Rajan and others as members
IndiaTimes - Published
Covid probably India's greatest challenge since Independence: Raghuram Rajan
IndiaTimes - Published
Covid-19: India crisis reveals complacency and lack of foresight, Raghuram Rajan Says
"Anybody paying attention to what was happening in the rest of the world, in Brazil for example, should have recognized the virus does come back and potentially in more virulent forms," former RBI..
IndiaTimes - Published
'Founders bartered away its soul': Raghuram Rajan on PB Mehta's resignation from Ashoka University
IndiaTimes - Published
Raghuram Rajan says migrant workers need money for vegetables, cooking oil, shelter; foodgrains not enough
Calling India's Rs 20.9 lakh crore stimulus inadequate in providing for recovery of an economy pummelled by COVID-19, former RBI Governor Raghuram Rajan has said the package gives free foodgrains but..
IndiaTimes - Published
Lockdown needs to be lifted in 'measured' way, but 'as fast as possible': Former RBI governor Raghuram Rajan
However, he pointed out that certain precautionary measures need to be established after the lockdown is lifted.
DNA - Published
India needs to be cleverer in lifting lockdown: Raghuram Rajan tells Rahul Gandhi
Rajan's remarks came during his interaction with Congress leader Rahul Gandhi, via video conference, on the economic crisis due to ongoing lockdown which is scheduled to end on May 3.
IndiaTimes - Published
Covid-19: Rahul Gandhi to discuss economy with Raghuram Rajan today
IndiaTimes - Published
Raghuram Rajan backs Deepika Padukone's silent protest, EC Lavasa's impartial duty
Backing Deepika Padukone, former RBI governor Raghuram Rajan said the actress' silent protest against JNU violence as also Election Commissioner Ashok Lavasa doing his duty impartially despite..
IndiaTimes - Published
Raghuram Rajan should join politics, Anurag Thakur hits out at RBI governor
IndiaTimes - Published
'Government obsessed with trying to fix blame on opponents': Manmohan Singh counters Nirmala Sitharaman's comment
Sitharaman had claimed that the Manmohan Singh-Raghuram Rajan duo was responsible for a crisis at the banking sector.
DNA - Published
Majoritarianism taking India down 'dark and uncertain path': Rajan
The former RBI head also made a dark prognosis for the economy, stating in a recent lecture that the government's economic performance is not sustainable and that there is a risk of the country going..
IndiaTimes - Published
Had once told finance minister to sack RBI governor: Nitin Gadkari
Union transport minister Nitin Gadkari said he had once recommended to the finance minister to sack the RBI governor. Through this incident he sought to make the point how rigidity by regulators had..
IndiaTimes - Published