Pink Floyd Founder Roger Waters Cancels Poland Concerts after Blaming Ukraine on War

Sunday, 25 September 2022
Roger Waters needs to know his audience better ... he had scheduled concerts in Poland after essentially blaming Ukraine for the Russian invasion, so now he's decided to pull the plug on the whole thing. Waters was set to perform at the Tauron…
You Might Like
💡 newsR Knowledge: Other News Mentions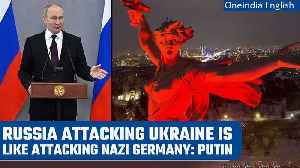 Putin evokes Stalingrad to justify the invasion of Ukraine | Oneindia News

Russian President Putin evoked Stalingrad in order to garner support for the war against Ukraine and said that attacking Ukraine is like attacking Nazi Germany. #Putin #Ukraine #Stalingrad
Credit: Oneindia Duration: 01:36
Published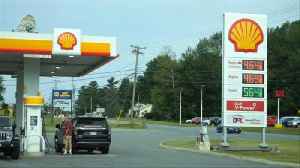 Critics Accuse Shell of Profiting From the War in Ukraine

Critics Accuse Shell of Profiting, From the War in Ukraine . Critics Accuse Shell of Profiting, From the War in Ukraine . BBC reports that oil and gas giant Shell saw record annual profits in 2022 after energy prices soared following Russia's invasion of Ukraine. . In 2022, profits for Shell hit $39.9 billion, double the total of the year prior and the highest in the company's 115-year history. In 2022, profits for Shell hit $39.9 billion, double the total of the year prior and the highest in the company's 115-year history. Energy firms around the world have been registering record earnings since the price of oil and gas jumped amid Russia's war with Ukraine. The record profits come as households around the world are struggling with the rising cost of bills. The record profits come as households around the world are struggling with the rising cost of bills. BBC reports that opposition parties called Shell's record profits "outrageous" and accused the government of letting energy firms "off the hook.". No company should be making these kind of outrageous profits out of Putin's illegal invasion of Ukraine, Ed Davey, Liberal Democrat leader, via BBC. Following Russia's invasion, the price of Brent crude oil shot to nearly $128 a barrel. Last year, the U.K. government introduced the Energy Profits Levy on the "extraordinary" earnings of energy firms to help reduce the price of gas and electricity bills. On February 2, Shell said that it was due to pay $134 million in taxes to the U.K. and an additional $500 million in 2023. However, critics point out that the U.K.-based company has been paying more to its shareholders than it spends on investments in renewable energy. However, critics point out that the U.K.-based company has been paying more to its shareholders than it spends on investments in renewable energy
Credit: Wibbitz Top Stories Duration: 01:31
Published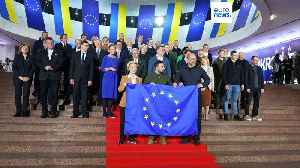 EU heads to Ukraine for summit to boost integration as anniversary of invasion nears

One of the EU's messages is likely to be bitter for Ukraine: there will be no fast-tracking for Ukraine's bid to become a member.
Credit: euronews (in English) Duration: 02:14
Published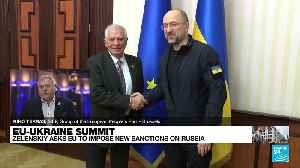 Calls for more support for Ukraine: "Ukraine needs more weapons"


Credit: FRANCE 24 English Duration: 11:03
Published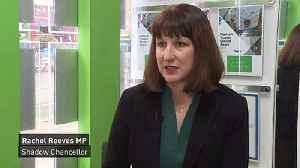 Rachel Reeves respects BoEs right to increase interest rates

Rachel Reeves says she "respects" the independence of the Bank of England after they raised interest rates to 4% on Thursday, saying: "It's their job to meet the inflation targets through changes in interest rates." The shadow chancellor also condemns Shell's record £32 billion profits in 2022, which she says are "the windfalls of an illegal war in Ukraine". Report by Wardl. Like us on Facebook at http://www.facebook.com/itn and follow us on Twitter at http://twitter.com/itn
Credit: ODN Duration: 01:29
Published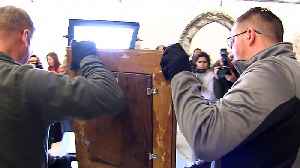 Spanish museum returns two 15th century paintings to Poland

Poland saw much of its cultural patrimony destroyed or looted during the country's wartime occupation by Nazi Germany and the Soviet Union. Approximately 500,000 items are still missing.
Credit: euronews (in English) Duration: 01:16
Published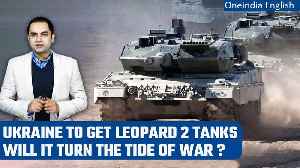 Ukraine all set to get Leopard 2 tanks from Germany after months of request | Oneindia News

Reports have emerged that Germany has finally agreed to send its much sought-after Leopard 2 tanks to Ukraine after much dilly-dallying and reluctance. And officials in the United States have reportedly told media that Washington is also poised to eventually send dozens of M1 Abrams tanks to Ukraine. Now…this development comes just days after the United Kingdom confirmed it will be sending its Challenger 2 tanks to war-ravaged nation. Prior to this, Poland and Finland were ready to send these tanks but they were not able to do so. In this video, we decode what were the reasons behind Poland and Finland not being able to help Germany with these tanks despite being sovereign nations and whether these tanks could potentially help Ukraine. But before that, don't forget to like, share and subscribe to Oneindia. #Leopard2tanks #M1Abrams #Leopard2tanksGermany
Credit: Oneindia Duration: 04:19
Published
Related videos from verified sources
Related news from verified sources