MOVIE REVIEW: Pirates of the Caribbean: Dead Men Tell No Tales

Wednesday, 31 May 2017
by 👨‍💻 Graham Pierrepoint


PIRATES OF THE CARIBBEAN: DEAD MEN TELL NO TALES

Dir: Joachim Ronning and Espen Sandberg

Starring Johnny Depp, Javier Bardem, Brenton Thwaites, Kaya Scodelario, Kevin McNally, Geoffrey Rush





2 STARS (out of 5)
The Pirates of the Caribbean are some of the most celebrated and even the most derided movie franchises in recent history. There's a good reason for this – for a movie series based on a popular ride at Disneyland, it has done extraordinarily well to rise out on its own to become a popular brand in its own right – largely thanks to some amazing special effects, a brilliant cast and some of the biggest stories ever told on the big screen. How can you go wrong with pirates, anyway? It seems, after four instalments, plenty – as the last entry in the franchise was assumed to be one too many, even for the biggest of fans. But why was this? Perhaps the first three movies were perceived to be the perfect trilogy – and that Disney's decision to push on with more was ill-advised.
Regardless, here we are with Pirates 5: Dead Men Tell No Tales, or Salazar's Revenge in some territories. This time around, Captain Jack Sparrow (Depp) finds himself on the run from a particularly nasty ghost pirate (Bardem), while Will Turner's son Henry (Thwaites) sets out on a quest to release his father from the Curse of the Flying Dutchman. To do this, he needs to find the mythical trident of Poseidon – and in the process, he of course meets up with the wacky Sparrow and his crew – meaning, at least for audiences, there's thrilling antics abound.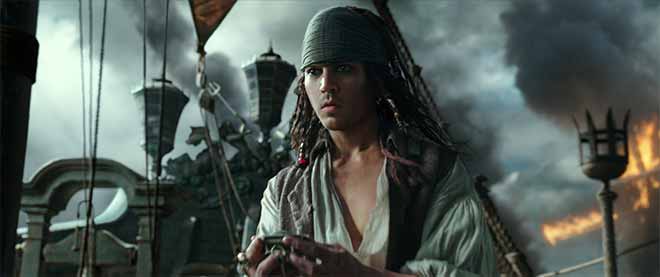 Pirates 5, at the very least, tries to take things back to its roots – the preliminary viewings for the movie were overwhelmingly positive mainly for this reason, and yes – we can safely say that it has taken more than a leaf out of the first few movies to try and steer matters back to the swashbuckling epics we came to know and love. However, while doing this, it still rather feels like we are going through the motions. It's always something of a buzz being back in this universe – the grand score, the wide open sea, the grisly characters and CGI – and that's just it. The fifth time around, it all feels rather par for the course.
Johnny Depp is still, arguably, trying to pick himself up career-wise from the critical and financial failures of The Lone Ranger and Mortdecai – and while he returns to one of his best-known – if not his literal best-known – character for a fifth time, Jack Sparrow has become something of a caricature of himself, and it does rather feel like he is going through the motions. Johnny Depp is an extraordinary actor with immense versatility – yet he is still struggling to get back to where he once was as the go-to guy for wacky characters with heart. The rest of the cast are, of course, perfectly affable and well suited to their characters and the various high sea skirmishing as always – and, truth be told, this instalment does at least put the cast through their paces in a number of interesting ways – even if it is largely thanks to CGI.
These movies do still have a solid core following thanks to the over-arching mythology – and if you've been following along nicely so far, you may well either keep following or stumble about a bit – particularly as a number of twists and turns are delightfully far-fetched. There's even a particularly surprising character death here – a major one – which I will not dare spoil for you. While the movie does still carry a lot of the gung ho attitude and the idea of making pirates' adventures bigger and wilder than ever runs thick, it does still rather stick to its guns in a number of tropes and choices which make for a fairly underwhelming experience. Javier Bardem's bad guy is a bad guy we've all seen before – the plot is the quest plot we've seen so many times – and, as a result, Pirates 5 feels like it is trying to reinvent the franchise and more like it is trying to keep up to the far better films that preceded it.
Pirates of the Caribbean: Dead Men Tell No Tales - Official Trailer (Disney)
Pirates 5 – whichever tagline you use – is a perfectly fine instalment, in the sense that it is generally safe for fans, but nothing really leaps out to suggest it brings anything new to the table. If you are going in expecting a good Pirates of the Caribbean movie, you may well be satisfied – but if you are expecting a return to the incredible stories we saw almost fifteen years ago, you may not be so satisfied. For the sake of a good night out – I'd certainly recommend it – but don't ever call this one a comeback.