IMD weather alert: Delhi, Noida, Haryana to receive more rains till March 23; check complete forecast

Tuesday, 21 March 2023
The IMD has predicted more rains in parts of Delhi, Uttar Pradesh, Haryana and more states till the end of this week, leading to a wet spell in northern India.
You Might Like
💡 newsR Knowledge: Other News Mentions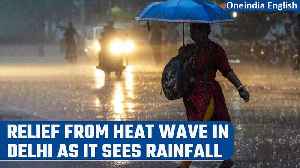 Delhi-NCR witness rain and strong winds as relief from severe heat wave | IMD | Oneindia News

Rain along with strong winds and dust storms hit parts of Delhi on Thursday, days after the weather office declared a heat wave in the capital. The India Meteorological Department (IMD) said today that similar conditions are expected to prevail in the capital over the next two to three days and that no heat wave is predicted until May 30. #IMD #Delhi #Rainfall ~PR.151~HT.98~ED.155~
Credit: Oneindia Duration: 02:08
Published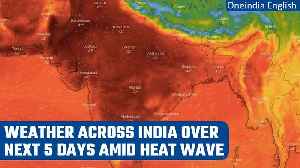 Heatwave sweeps north India, temperature crosses 46°C in Delhi | IMD issues alert | Oneindia News

According to the India Meteorological Department (IMD), isolated pockets of Jharkhand are likely to experience heatwave conditions on Tuesday. Yesterday, Delhi experienced an intense heatwave as temperatures soar above 46 degrees, passing the 40-degree Celsius threshold for a heatwave. With some relief in sight, the IMD has forecasted rain in the northwestern plains due to the active western disturbance, #Heatwave #IMD #HeatwaveIndia ~PR.151~ED.155~HT.99~
Credit: Oneindia Duration: 03:12
Published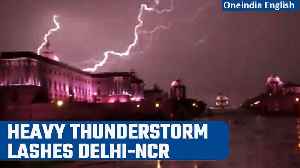 Delhi-NCR wakes up to heavy rainfall & thunderstorm; IMD predicts more shower ahead | Oneindia News

Heavy rainfall coupled with thundershowers lashed Delhi and its adjoining NCR late last night. The rainfall has provided some respite from the scorching heat early morning. The India Meteorological Department has predicted more showers ahead. However, the IMD said that the temperature may remain unchanged. #DelhiRains #DelhiNCR #IMD ~HT.97~PR.151~ED.101~
Credit: Oneindia Duration: 02:14
Published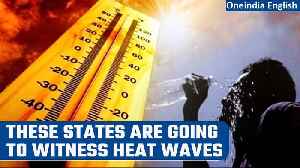 Heat waves alert in Andhra Pradesh, Odisha and West Bengal; Delhi to see respite | Oneindia News

The India Meteorological Department mentioned that states like Andhra Pradesh, Odisha, and Gangetic West Bengal are likely to witness heat waves. On Monday, Delhi too recorded a maximum temperature of 41.3 degrees Celsius while the minimum temperature was 25.2 degrees Celsius. The IMD said that the national capital is likely to see some relief from the oppressive heat as light rain or thundershowers are predicted for two days, beginning Tuesday. #Heatwave #IMD #HeatwaveIndia ~PR.151~HT.98~ED.101~
Credit: Oneindia Duration: 02:00
Published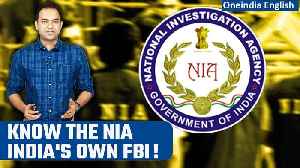 India's National Investigation Agency: World's most successful anti-terror agency | Oneindia News

In a major operation to bust the nexus between narcotics, terrorism and mafias… the National Investigation Agency..or the NIA has conducted raids across several states this morning. The agency has cracked down upon homes of suspects in Haryana, Punjab, Rajasthan, Uttar Pradesh, Uttarakhand, and Madhya Pradesh. The raids have been conducted in connection with three separate cases lodged by the agency last year. The aim of such crackdowns is to neuter foreign-based terror networks…influx of narcotic drugs in the country..and to completely dismantle their funding and support infrastructure. The NIA was also in the news for conducting operations against the PFI a while back. In this video, we explain to you what the NIA ..or the the National Investigation Agency..is and what type of operations it usually undertakes. But before that, don't forget to like, share and subscribe to Oneindia. #NIA #NIAraids #Terrorism ~PR.153~HT.98~PR.100~
Credit: Oneindia Duration: 04:15
Published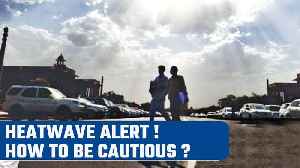 Heatwave grips several regions of India; IMD issues orange alert for West Bengal | Oneindia News

Today, the India Meteorological Department issued a heatwave warning for several parts of India, including Punjab, Haryana, Chandigarh, Delhi, Bihar, West Bengal, Sikkim, Odisha and coastal Andhra Pradesh. Heatwave conditions can result in physiological strain, which could even result in death. To minimise the impact during the heat wave and to prevent serious ailment or death because of heat stroke, you can take the measures mentioned in the video. #IMD #Heatwave #India ~PR.151~ED.102~HT.99~
Credit: Oneindia Duration: 03:57
Published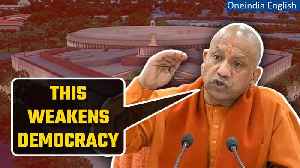 New Parliament Building: Yogi Adityanath reacts to parties boycotting inauguration | Oneindia News

The inauguration of India's new parliament in New Delhi on Sunday will see nearly zero representation from the opposition, with 20 parties announcing they will be boycotting the ceremony. The opposition parties have denounced plans by Prime Minister Narendra Modi to inaugurate the new parliament, instead of President Draupadi Murmu, to make a political statement ahead of next year's national election. Uttar Pradesh Chief Minister Yogi Adityanath has now criticised the Opposition and has called their decision unfortunate and irresponsible adding that it weakens democracy. #NewParliamentBuilding #NewParliamentInauguration #PMModi #DraupadiMurmu #OppositionParties #YogiAdityanath ~PR.152~HT.98~ED.155~
Credit: Oneindia Duration: 04:37
Published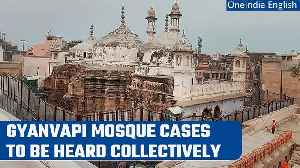 Gyanvapi Mosque: Varanasi Court to hear all 7 cases related to the dispute together | Oneindia News

The Varanasi court has given an important verdict on the alleged Shivling dispute in Gyanvapi Mosque in Uttar Pradesh. The court has ordered clubbing all the petitions related to the case together and added that all the cases related to the dispute will be heard together in the same court. #GyanvapiMosque #GyanvapiMosqueDispute #GyanvapiMosqueHearing #VaranasiCourt ~PR.152~GR.124~HT.96~
Credit: Oneindia Duration: 02:33
Published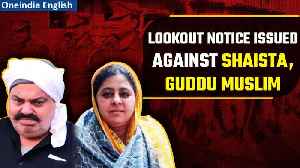 Umesh Pal Murder: Lookout Notice issued against Shaista Parveen, Guddu Muslim | Oneindia News

Slain gangster Atiq Ahmed's wife and his aide Guddu Muslim have managed to evade the police since the sensational daylight Murder of Umesh Pal in Prayagraj. Uttar Pradesh police have already declared a bounty of Rs 50,000 in the name of Shaista Parveen. Despite efforts, the police are not able to trace Parveen and the other two. This, in turn, has prompted authorities to issue lookout notices against all three of them. Officials said that Prayagraj Police had earlier sent its report in this regard to the Uttar Pradesh government. #AtiqAhmed #ShaistaParveen #UmeshPalMurderCase #GudduMuslim #LookoutNotice ~PR.152~HT.98~ED.155~
Credit: Oneindia Duration: 02:02
Published
Related videos from verified sources

AGENDA 21 RADIO MARCH 14, 202

News and information for Exceptional Americans. More bank failures and the Biden administration continues to fail. California report on the rains and flooding. More from the border and more from..
Credit: Rumble Duration: 00:18
Published
Related news from verified sources
World Food India 2023: Date And Venue For The Second Edition Announced, Check All Details Here
With 2023 as the International Year of Millets, India is gearing up the World Food India in Delhi. India is the host for the G20 summit this year and such...
Zee News
Rohit Sharma: Most proud of our fightback in Delhi
At New Delhi, India conceded a slender one-run lead to Australia, and with the game interestingly poised, Ravindra Jadeja and Ravichandran Ashwin ran through the...
Mid-Day
India invites Pakistan Defence Minister Khawaja Asif For SCO Meeting In New Delhi
India, as president of the SCO, is set to host a series of events, in which, member states including Russia, China, Pakistan, Iran and Central Asian States.
Zee News