Sikhs
Members of the Sikh religion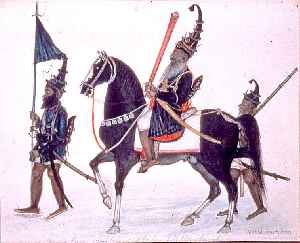 Sikhs are people associated with Sikhism, a monotheistic religion that originated in the 15th century, in the Punjab region in the northern part of the Indian subcontinent, based on the revelation of Guru Nanak. The term Sikh has its origin in the Sanskrit words शिष्य, meaning a disciple or a student. A Sikh, according to Article I of the Sikh Rehat Maryada, is "any human being who faithfully believes in One Immortal Being; ten Gurus, from Guru Nanak to Guru Gobind Singh; Guru Granth Sahib; the teachings of the ten Gurus and the baptism bequeathed by the tenth Guru".


Pakistan expects to resume talks on Kartarpur Corridor after elections in India
Pakistan expects to resume talks with India to finalise the agreement on the Kartarpur Corridor once the new government takes charge in New Delhi, according to a Pakistani media report. the corridor,..
IndiaTimes - Published
Search this site and the web:
You Might Like