Sikhs
Ethnoreligious group who adhere to Sikhism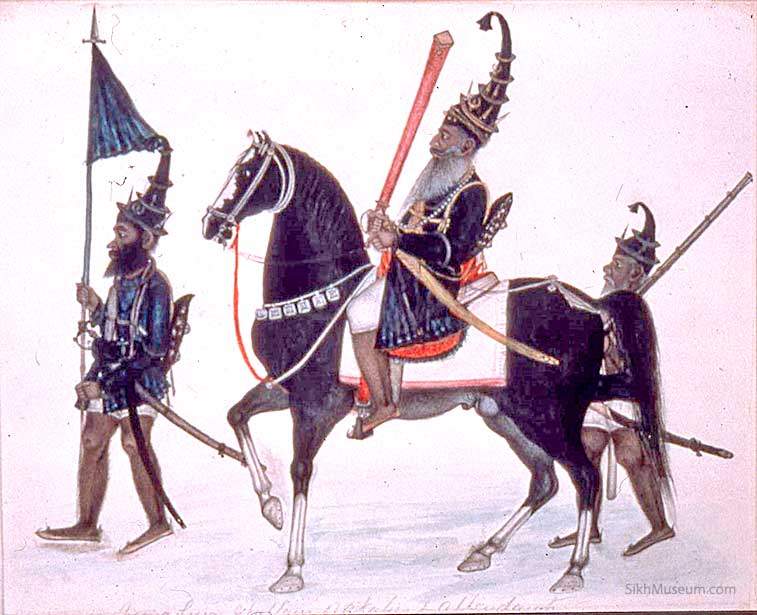 Sikhs
are an ethnoreligious group who adhere to Sikhism, a Dharmic religion that originated in the late 15th century in the Punjab region of South Asia, based on the revelation of Guru Nanak. The term
Sikh
has its origin in the Sanskrit word
śiṣya
, meaning 'seeker',
'
disciple
'
or
'
student
'
. According to Article I of Chapter 1 of the
Sikh Rehat Maryada
, the definition of Sikh is: Any human being who faithfully believes in
One Immortal Being
Ten Gurus, from Guru Nanak Sahib to Guru Gobind Singh Sahib
The Guru Granth Sahib
The utterances and teachings of the ten Gurus and
The baptism bequeathed by the tenth Guru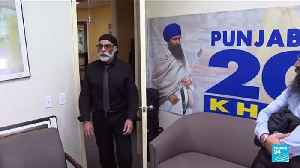 Indian man charged in plot to kill Sikh separatist on US soil


Credit: FRANCE 24 English Duration: 01:38
Published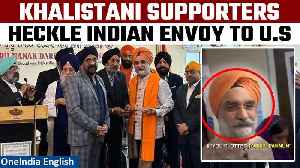 New York: Indian Envoy Taranjit Singh Sandhu Heckled over Nijjar & Pannun at U.S Gurudwara| Oneindia

Join the vibrant celebration as Sikhs in New York come together to commemorate Gurpurab with the Indian Ambassador to the U.S., Taranjit Singh Sandhu. Witness the unity and festive spirit as Sikhs..
Credit: Oneindia Duration: 02:32
Published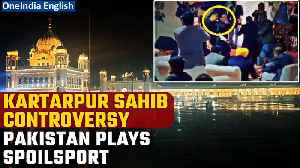 Kartarpur Sahib Gurdwara Event Sparks Fury: Alcohol & Meat Allegations on Pakistan | Oneindia News

Controversy arose at Pakistan's Kartarpur Sahib Gurdwara amid allegations of serving meat and alcohol, sparking outrage in the Sikh community. Videos of a dance party surfaced, drawing condemnation..
Credit: Oneindia Duration: 02:15
Published
Sikh Resident Reports Discriminatory Acts in Australia| OneIndia News

An Australian-based Sikh restaurant owner reports enduring racial harassment, including being told to "go home" and facing dog excrement on his car. Jarnail Singh, facing continuous harassment for..
Credit: Oneindia Duration: 02:05
Published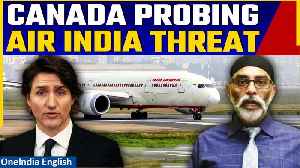 Canadian Authorities Investigating 'Air India Threat', MEA Condemns Canada's Inaction| OneIndia News

Gurupawant Singh Pannun threatened grave danger to Air India on November 19. Advising Sikhs to avoid flying, he declared a 'GLOBAL BLOCKADE.' Delhi and Punjab airports tightened security, responding to..
Credit: Oneindia Duration: 02:45
Published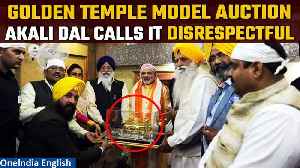 Akali Dal 'saddened' over auction of Golden Temple model gifted to PM Modi, BJP hits back | Oneindia

Senior Akali Dal leader Sukhbir Singh Badal on Wednesday, 26th October, expressed deep sadness over the government's decision to auction a model of the Golden Temple presented as a gift to Prime..
Credit: Oneindia Duration: 02:02
Published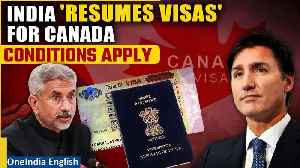 India Resumes Visa Services for Canadians Amid Diplomatic Thaw | But Conditons Apply | Oneindia

India and Canada are mending diplomatic ties as India announces the resumption of visa services for Canadians. The move comes after a recent dispute involving the killing of a Sikh separatist in Canada..
Credit: Oneindia Duration: 01:42
Published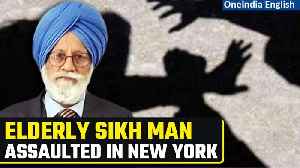 New York: Sikh man dies after being assaulted in New York, Mayor condemns attack | Oneindia News

A 66-year-old Sikh man passed away after being assaulted following a car accident in New York. This incident is the second attack against a Sikh individual in New York within a week. The victim, Jasmer..
Credit: Oneindia Duration: 02:04
Published
Khalistani Terror| Canada allows entry to man who sheltered Khalistani terrorists in India| Oneindia

An immigration tribunal in Canada has ruled that a Sikh man who "housed and fed Khalistani militants in India" over a decade should be allowed into the country because he did so mostly out of necessity..
Credit: Oneindia Duration: 01:40
Published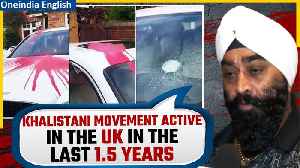 Canada vs India: Sikh restaurant owner who was attacked on the Khalistani Movement | Oneindia News

Harman Singh Kapoor, a Sikh restaurant owner in London, UK who was seen in a viral video where his car was allegedly vandalised says "I have been staying in the UK for 26 years. In the last 1.5 years,..
Credit: Oneindia Duration: 04:19
Published
You Might Like



'Good, appropriate': US on India setting up high-level probe in alleged murder attempt on Sikh separatist

US welcomes India's decision to investigate allegations of an Indian official's involvement in a foiled plot to assassinate a Sikh separatist on American soil. Indian national Nikhil Gupta has been..




IndiaTimes - Published





US, India play down Sikh separatist murder plot with wider Asia strategy at risk

Allegations of an Indian government agent ordering the killing of a US citizen could strain US-India ties. The accusation adds to concerns over Modi's human rights record and follows Canada's..




IndiaTimes - Published





Matter of concern: India on US linking Indian official to man charged with plot to kill Gurpatwant Singh Pannun

India has already constituted a probe team to investigate the allegations relating to the foiled plot to kill Gurpatwant Singh Pannun, a Sikh extremist known to be an American and Canadian citizen.




DNA - Published





India needs to take Canada's allegations seriously, Trudeau says after US case

US allegations that an Indian government official directed an unsuccessful plot to assassinate a Sikh separatist on US soil underscores the need for India to take similar allegations by Canada..




IndiaTimes - Published





Indian official directed plot to kill Sikh separatist in New York, US justice department claims

An Indian government official directed an unsuccessful plot to assassinate a Sikh separatist in New York City, US justice chiefs have claimed.




Sky News - Published




As US cranks up pressure, India announces probe in Pannun case

After the United States accused India of a thwarted conspiracy to assassinate Gurpatwant Singh Pannun, a Sikh separatist designated as a terrorist by India, the Indian government announced on Wednesday..




IndiaTimes - Published





Allegations of plot to kill Sikh extremist on American soil: India forms probe panel




IndiaTimes - Published




Indian ambassador to US, Taranjit Sandhu, heckled in NY gurdwara

India's ambassador to the US Taranjit Singh Sandhu was heckled by pro-Khalistan protesters during a visit to a New York gurdwara. However, he was escorted out by moderate Sikhs who welcomed him. The..




IndiaTimes - Published





Sikh pilgrims express disappointment over Pakistan cancelling visas after long wait

A bus carrying Sikh pilgrims was flagged off from Gurdwara Rakab Ganj in New Delhi for the Gurdwara in Pakistan on the occasion of Prakash Gurpurab of Guru Nanak Dev. The visas of several pilgrims were..




IndiaTimes - Published





Policeman killed, 2 others injured after Nihangs open fire in Punjab

The incident took place when the policemen went to arrest some Nihangs (Sikhs armed with traditional weapons) in Sultanpur Lodhi in a case registered against them, said a senior police official over..




DNA - Published





US thwarted plot to kill Pannun: Report

United States is treating a reported plot to kill a Sikh separatist — listed as a terrorist by India — on American soil with utmost seriousness and has raised the issue with the Indian government..




IndiaTimes - Published





US alleges Indian plot to assassinate Sikh extremist Pannun

US authorities have reportedly foiled a plot to assassinate Sikh separatist Gurpatwant Singh Pannun on American soil, prompting a warning to India. An indictment has been filed against at least one..




IndiaTimes - Published





India takes security inputs from US seriously: Ministry of External Affairs

India on Wednesday said it takes inputs on security matters from the US seriously since they impinge on its own national security concerns as well. The remarks from the Ministry of External Affairs..




IndiaTimes - Published





SGPC to adopt new strategy for the release of Sikh prisoners

The Shiromani Gurdwara Parbandhak Committee (SGPC) is planning to hold a special meeting with Sikh scholars and senior lawyers to discuss the release of Sikh prisoners. The committee has been actively..




IndiaTimes - Published





Damage control following Saturday night party at Kartapur Corridor

The head granthi of Gurdwara Darbar Sahib, Kartarpur, released a video defending the Project Management Unit (PMU) after criticism of a party at Kartarpur Corridor. He claimed there was no breach of..




IndiaTimes - Published





NIA files case against designated terrorist GS Pannun, his outfit Sikhs For Justics

The National Investigation Agency (NIA) has registered a case against designated terrorist Gurpatwant Singh Pannun for threatening people flying Air India and the airline with closure of operations...




IndiaTimes - Published





Sikh leaders seek 'strict action' as reports of party with alcohol organised in Kartarpur Sahib Gurdwara Pakistan sparks outrage




IndiaTimes - Published





Pakistan agency's Saturday night bash at Kartarpur triggers row

A controversy has arisen as a Pakistani government agency hosted a dinner with live music and dance allegedly close to the main entrance of the Kartarpur Corridor, affecting the sanctity of the..




IndiaTimes - Published





Visitor curbs at Delhi, Punjab airports after SFJ threat

The Bureau of Civil Aviation Security (BCAS) has directed airports in Delhi and Punjab to stop issuing visitor entry passes following designated terrorist Gurpatwant Singh Pannun's recent warning to..




IndiaTimes - Published





After protests, BJP expels Rajasthan neta for remarks on gurdwaras

Rajasthan BJP leader Sandeep Dayma was expelled from the party on Sunday following strong protests by Sikh organisations due to his contentious statement concerning gurdwaras during an election rally..




IndiaTimes - Published





Who is Gurpatwant Singh Pannun, wanted Khalistani terrorist behind Air India attack threat?

Gurpatwant Singh has recently released a video issuing a threat to Air India flights on November 19, urging all Sikhs to avoid taking any flights on the airlines.




DNA - Published





India-Canada row: Where is the evidence? Indian high commissioner to Canadian government on allegations over Nijjar's killing

India's High Commissioner to Canada, Sanjay Kumar Verma, has criticized Canada's investigation into the murder of a Sikh extremist, saying it has been tainted by public statements from a high-level..




IndiaTimes - Published





'Don't travel by Air India on November 19...': Khalistani terrorist warns of 'attack', released threat video

Khalistani terrorist Gurpatwant Pannun has released a threat video where he is asking all Sikhs to avoid travel by Air India on November 19, insinuating an attack.




DNA - Published





Sikh community delegation meets Palestinian Ambassador, offers humanitarian aid

A Sikh community delegation in India, led by former Delhi Sikh Gurdwara Management Committee president Manjeet Singh GK, has offered help to those affected by the Israel-Hamas conflict. They met with..




IndiaTimes - Published





39 years since 1984 riots, states yet to provide full details to minorities commission on compensation, rehabilitation

The National Commission for Minorities (NCM) has expressed disappointment with the lack of information provided by the 10 states affected by the 1984 anti-Sikh riots in India. The states have failed to..




IndiaTimes - Published





Sikh community has done a lot to protect Sanatan Dharma: Rajnath Singh

Stating that the Sikh community has done a lot to protect the Sanatan Dharma, Defence Minister Rajnath Singh on Sunday said it was Sikhs who started the Ram Janmabhoomi movement and their contribution..




IndiaTimes - Published





Golden Temple e-auction bid crosses Rs 11 lakh

Former Deputy Chief Minister of Punjab, Sukhbir Badal, has urged the Central government to return the Golden Temple model to the SGPC if it cannot preserve it. The highest bid for the revered model has..




IndiaTimes - Published





Call for reduced fee and simpler process for Kartarpur Corridor visit

Efforts are being made to reduce the service fee and simplify the process for Indian pilgrims visiting Gurdwara Darbar Sahib in Pakistan for Guru Nanak Dev's birth anniversary. Sikh groups from various..




IndiaTimes - Published





Long-lost cousins from India, Pakistan reunite after 76 years in Kartarpur

Two cousins, who were separated during the Partition 76 years ago, were reunited at the Kartarpur Corridor in an emotional meeting facilitated through social media. Mohammad Ismaeel and Surinder Kaur,..




IndiaTimes - Published





'We do not agree with Indian decisions': UK on Canadian diplomats' exit

The UK government has expressed disagreement with India over the departure of Canadian diplomats amid a standoff between India and Canada. The UK believes that the Indian government's decisions have..




IndiaTimes - Published





Canada withdraws 41 diplomats from India over murder dispute

Canada has withdrawn dozens of its diplomats from India after the Indian government said it would revoke their diplomatic immunity, amid an ongoing dispute over the murder of a Sikh separatist leader.




Sky News - Published




Supreme Court refuses to get involved in purely religious issues

The Supreme Court of India has stated that it will not issue any directions to the government regarding the management of religious places. The court made this statement while hearing a public interest..




IndiaTimes - Published





Delivery of justice to 1984 anti-Sikh riots victims began only after 2014: HM Amit Shah

Union Home Minister Amit Shah said 300 cases related to the 1984 riots were reopened and compensation of Rs 5 lakh was given to the family of each of the victims after 2014.




DNA - Published





Car vandalised, rape threats: Sikh restaurant owner's family threatened over old post against Khalistanis in UK

Harman Singh has been receiving threats for the past 8 months and no action has been taken by UK Police. He alleges that Khalistani extremists vandalised the car and threw red paint all over it.




DNA - Published





India slams 'disgraceful incident' at Gurdwara, UK says places of worship must be open to all

The UK's minister for Indo-Pacific has expressed concern over the safety and security of foreign diplomats after Indian High Commissioner Vikram Doraiswami was prevented from entering a gurdwara in..




IndiaTimes - Published





Indian-American Congressman launches caucus for Hindus, Buddhists, Sikhs, Jains




IndiaTimes - Published





Those who talk about terrorism, represent a small minority: Jaishankar

Indian External Affairs Minister S Jaishankar has stated that extremist elements within the Sikh community are a "small minority" and do not represent the entire community. He emphasized that the Modi..




IndiaTimes - Published





US, Canada dial down diatribe against India on Nijjar killing

The United States and Canada are dialling down their diatribe over the alleged New Delhi hand in the killing of Sikh pro-Khalistan extremist Hardeep Singh Nijjar amid a strong pushback from India about..




IndiaTimes - Published





Radical Sikhs prevent Indian high commissioner from entering gurdwara in Scotland

A group of radical Sikh activists in the UK prevented the Indian high commissioner, Vikram Doraiswami, from entering a gurdwara in Scotland. The activists claimed that Indian officials are not welcome..




IndiaTimes - Published





US and India discuss Nijjar killing and 'operating space' given to Khalistani extremists as row takes backseat to global politics

The United States and Canada are facing backlash from India for their alleged support of Sikh extremists. Indian External Affairs Minister S. Jaishankar addressed the issue during talks with US..




IndiaTimes - Published





'Tony'and Jai dial down public sparring on India-Canada row

The United States and Canada are toning down their criticism of India over the alleged involvement in the assassination of Sikh extremist Hardeep Singh Nijjar. Canadian Prime Minister Justin Trudeau..




IndiaTimes - Published





Muddy Waters at Foggy Bottom: US-India blues over Canada spat

The shadow of the India-Canada spat over the alleged New Delhi hand in the killing of Sikh terrorist Hardeep Singh Nijjar is hanging over bilateral engagements between India and the United States that..




IndiaTimes - Published




'Failed miserably': At UNHRC meet, India flags atrocities against minorities in Pakistan

India has accused Pakistan of failing to protect the rights of its ethnic and religious minorities, including Christians, Hindus, Sikhs, Ahmadiyas, and Shia Muslims. In a statement at the UN Human..




IndiaTimes - Published





How Khalistani elements are luring innocent Sikh youth in Canada by sponsoring their visas

According to sources, pro-Khalistani elements are now luring gullible and innocent Sikh youths in Canada by offering to sponsor their visas.




DNA - Published





Canada MP Jagmeet: Include India in 'public inquiry' on poll interference

Jagmeet Singh, the leader of Canada's New Democratic Party (NDP), has called for India to be included in the "public inquiry" into foreign interference in elections. He accused India of using the media..




IndiaTimes - Published





After dust-up with India over Khalistani killing, Trudeau faces heat for honoring Nazi

Accused of alienating a majority of Canadian Indians by courting pro-Khalistan Sikhs for political survival, the Trudeau government in Canada embarrassed itself by honoring a Ukrainian Nazi who was..




IndiaTimes - Published





Sukhbir Singh Badal calls for unity against Sikh 'demonisation'

Shiromani Akali Dal president Sukhbir Singh Badal on Saturday called upon all parties and leaders in Punjab to counter the "propaganda to demonise Sikhs and other Punjabis". "I urge all political..




IndiaTimes - Published





India-Canada row: NIA seizes properties of SFJ leader Pannu, slain Khalistani terrorist Nijjar in massive crackdown

As India and Canada remain embroiled in a diplomatic row over the killing of Khalistani leader Hardeep Singh Nijjar, the National Investigation Agency on Saturday seized his property at his home in..




IndiaTimes - Published





Deeply concerned about allegations raised by PM Trudeau against India: Antony Blinken

US Secretary of State Antony Blinken expressed deep concern over Canadian Prime Minister Justin Trudeau's allegations of India's potential involvement in the killing of a Sikh separatist. Blinken..




IndiaTimes - Published





Canada says 'no place for hate', reassures Hindus

Public safety minister Dominic LeBlanc and Sikh MPs Harjit Singh Sajjan and Randeep Sarai have reassured Canadian Hindus of their safety. The department stated that there is no place for hate in..




IndiaTimes - Published