Sikhs
Ethnic group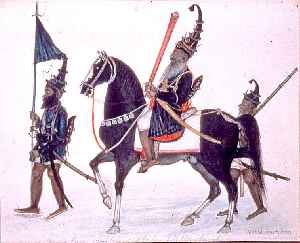 Sikhs are people associated with Sikhism, a monotheistic religion that originated in the 15th century, in the Punjab region in the northern part of the Indian subcontinent, based on the revelation of Guru Nanak. The term "Sikh" has its origin in the Sanskrit words शिष्य, meaning a disciple, or a student. A Sikh, according to Article I of the Sikh Rehat Maryada, is "any human being who faithfully believes in One Immortal Being; ten Gurus, from Guru Nanak to Guru Gobind Singh; Guru Granth Sahib; the teachings of the ten Gurus and the baptism bequeathed by the tenth Guru".


Opposing Sajjan Kumar's bail application, CBI compares November 1984 massacre of Sikhs with Genocide by Nazis
IndiaTimes - Published
1984 Sikh killings was like genocide of Jews by Nazis: CBI
IndiaTimes - Published
Cannot trust Pakistan on Kartarpur corridor: Punjab CM Amarinder Singh
Punjab Chief Minister Amarinder Singh said Saturday he did not trust Pakistan's intent behind the opening of the Kartarpur corridor, saying their agenda was "nefarious and political" and aimed at..
DNA - Published
India, Pakistan push ahead with route for Sikh pilgrims, despite tension
India and Pakistan agreed on Thursday to go forward with a new border crossing and route for Sikh pilgrims to visit a holy temple in Pakistan, a rare glimmer of cooperation after tension flared over..
Reuters - Published
India to ask Pakistan to insulate Sikh pilgrims visiting Kartarpur Gurdwara from Khalistani propaganda
India will raise the issue during the first meeting with Pakistan to finalise the modalities for the Kartarpur corridor on Thursday. The meeting will take place on the Indian side of the Attari-Wagah..
IndiaTimes - Published
Search this site and the web:
You Might Like