'Amritpal Singh in Nepal, Delhi has asked Kathmandu not to let him leave'

Monday, 27 March 2023
Fugitive Khalistan activist Amritpal Singh, who was apparently in hiding in Uttar Pradesh, has now escaped to Nepal, according to media reports in the neighbouring country which also said on Monday that New Delhi had requested authorities in Kathmandu to not allow him to escape to a third country.
You Might Like
💡 newsR Knowledge: Other News Mentions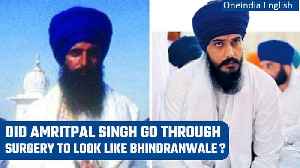 Amritpal Singh underwent surgery in Georgia to look like Bhindranwale, claims sources |Oneindia News

Sources in the intelligence agency said that fugitive Khalistani separatist Amritpal Singh underwent eye surgery in Georgia to resemble Khalistani militant Jarnail Singh Bhindranwale before returning to India in 2022. According to sources, the revelation was made by aides of Amritpal Singh who are currently lodged in Assam's Dibrugarh jail after police slapped National Security Act (NSA) charges on them. #AmritpalSingh #AmritpalSinghCrackdown #JarnailSinghBhindranwale ~PR.151~HT.102~HT.99~
Credit: Oneindia Duration: 03:01
Published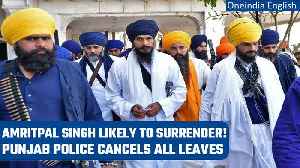 Amid speculations of Amritpal's surrender, Punjab Police cancels leave until April 14| Oneindia News

All leaves of Punjab cops have been cancelled until April 14, amid speculations that Khalistani sympathiser Amritpal Singh will surrender in Gurudwara. Amritpal Singh, who has been on the run for several days now has asked the chiefs of the top Sikh body, Akal Takht, to convene the "sarbat khalsa" gathering on the occasion of Baisakhi on April 14. Until then, the leaves of all gazetted and non-gazetted officers have been cancelled. #Amritpalsingh #Khalistan #Punjabpolice ~PR.153~ED.155~HT.98~
Credit: Oneindia Duration: 02:01
Published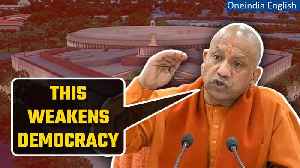 New Parliament Building: Yogi Adityanath reacts to parties boycotting inauguration | Oneindia News

The inauguration of India's new parliament in New Delhi on Sunday will see nearly zero representation from the opposition, with 20 parties announcing they will be boycotting the ceremony. The opposition parties have denounced plans by Prime Minister Narendra Modi to inaugurate the new parliament, instead of President Draupadi Murmu, to make a political statement ahead of next year's national election. Uttar Pradesh Chief Minister Yogi Adityanath has now criticised the Opposition and has called their decision unfortunate and irresponsible adding that it weakens democracy. #NewParliamentBuilding #NewParliamentInauguration #PMModi #DraupadiMurmu #OppositionParties #YogiAdityanath ~PR.152~HT.98~ED.155~
Credit: Oneindia Duration: 04:37
Published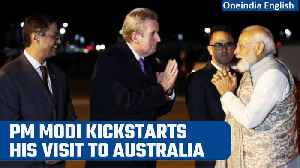 PM Modi lands in Australia; meets top businessmen; to hold talks with PM Albanese | Oneindia News

After meeting Pacific Island leaders in Papua New Guinea, Prime Minister Narendra Modi is in Australia for a bilateral visit. The PM signalled that New Delhi's focus is on countering China's growing assertiveness in the Indo-Pacific region. PM Modi is visiting Australia from May 22-24. Australian Prime Minister Anthony Albanese said that he is honoured to host PM Narendra Modi and underlined that the two countries share a commitment to a stable, secure and prosperous Indo-Pacific. #NarendraModi #Sydney #AnthonyAlbanese ~PR.151~ED.102~GR.125~HT.96~
Credit: Oneindia Duration: 02:02
Published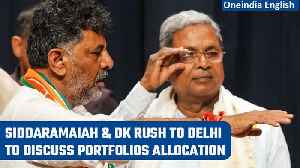 Siddaramaiah and DK Shivakumar rush to Delhi to discuss allocation of portfolios | Oneindia News

A day before the oath taking ceremony Karnataka Chief Minister-designate Siddaramaiah and his deputy DK Shivakumar left for New Delhi. #DKShivakumar #Siddaramaiah #KarnatakaCongress ~PR.150~ED.101~HT.178~
Credit: Oneindia Duration: 02:03
Published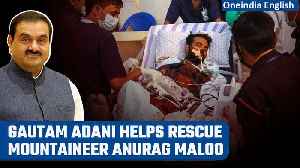 Gautam Adani helps rescue mountaineer Anurag Maloo from Kathmandu | Oneindia News

Mountaineer Anurag Maloo was rescued from Kathmandu after he fell into a deep crevasse in Nepal's Mount Annapurna last month. Billionaire Gautam Adani arranged for an air ambulance for Maloo. #GautamAdani #AnuragMaloo #Kathmandu ~PR.150~ED.102~GR.125~HT.96~
Credit: Oneindia Duration: 02:02
Published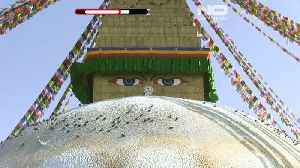 Watch: Buddhist celebration in Kathmandu

Worshippers celebrate Buddha's birthday in Nepal.
Credit: euronews (in English) Duration: 01:00
Published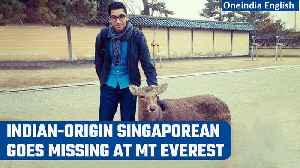 Indian-origin Singapore man goes missing at Mt Everest, family appeals for help | Oneindia News

A 39-year-old Singaporean man of Indian origin went missing after he climbed Mt Everest in Nepal. #MtEverest #ShrinivasSainisDattatraya #Nepal ~PR.150~ED.101~GR.125~HT.96~
Credit: Oneindia Duration: 02:01
Published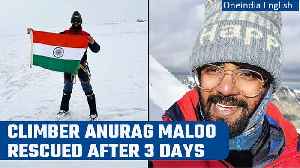 Indian climber missing for 3 days on Mount Annapurna rescued alive | Oneindia News

The world was praying for Anurag Maloo since the news of him missing at Mount Annapurna in Nepal broke out. The prayers have partly been answered, it seems. The Indian climber was found alive by rescuers but is in a critical condition. #AnuragMaloo #MountAnnapurna #IndianClimber
Credit: Oneindia Duration: 02:07
Published
Related videos from verified sources
Related news from verified sources