Be ready to face new threats, PM Modi tells armed forces

Saturday, 1 April 2023
The armed forces should "stay ready to deal with new and emerging threats", said PM Modi on Saturday, after reviewing the security situation along with the unresolved borders of China and Pakistan. Modi, while addressing the Combined Commanders' Conference (CCC) in Bhopal, Madhya Pradesh, stressed that the government is taking "all steps to equip the armed forces with necessary weapons and technologies" to tackle any challenge.
💡 newsR Knowledge: Other News Mentions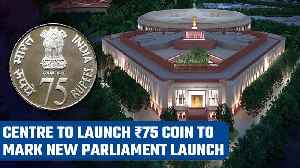 Finance Ministry issues notice to launch ₹75 coin to mark Parliament Building launch | Oneindia News

The Ministry of Finance has said that a special ₹75 coin will be launched to commemorate the inauguration of the new parliament building. The new parliament building will be inaugurated by Prime Minister Narendra Modi on Sunday. While as many as 25 parties are expected to attend the ceremony, at least 20 opposition parties have decided to boycott the event. #Parliament #₹75Coin #FinanceMinistry ~PR.151~HT.98~ED.155~
Credit: Oneindia Duration: 02:01
Published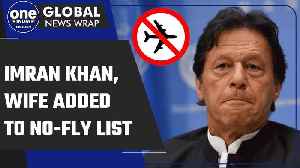 Former Pakistan PM and PTI Chief Imran Khan added to no-fly list | Oneindia News

Former Pakistan PM and PTI Chief Imran Khan added to no-fly list; Guinea's suppression of protests stokes anger against military; Germany, world's fourth largest economy, enters Recession; Wagner Group starts withdrawing from Bakhmut #ImranKhan #NoFlyList #PTI #BushraBibi ~HT.99~ED.152~ED.103~
Credit: Oneindia Duration: 04:29
Published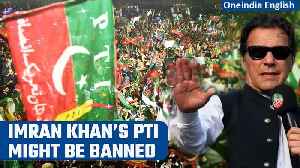 Imran Khan's party PTI might be banned says Defence Minister Khawaja Asif | Oneindia News

The Pakistan government is considering banning former PM Imran Khan's PTI, says defense minister Khawaja Asif. #ImranKhan #PTI #KhawajaAsif ~PR.151~HT.99~
Credit: Oneindia Duration: 02:00
Published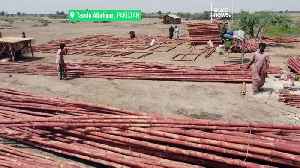 Meet the 82-year-old architect teaching people to build flood-proof homes in Pakistan

Yasmeen Lari was awarded the 2023 Royal Gold Medal by the Royal Institute of British Architects for her dedication to using architecture to change people's lives.
Credit: euronews (in English) Duration: 02:14
Published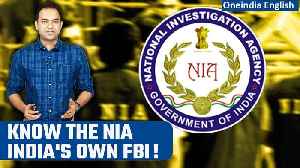 India's National Investigation Agency: World's most successful anti-terror agency | Oneindia News

In a major operation to bust the nexus between narcotics, terrorism and mafias… the National Investigation Agency..or the NIA has conducted raids across several states this morning. The agency has cracked down upon homes of suspects in Haryana, Punjab, Rajasthan, Uttar Pradesh, Uttarakhand, and Madhya Pradesh. The raids have been conducted in connection with three separate cases lodged by the agency last year. The aim of such crackdowns is to neuter foreign-based terror networks…influx of narcotic drugs in the country..and to completely dismantle their funding and support infrastructure. The NIA was also in the news for conducting operations against the PFI a while back. In this video, we explain to you what the NIA ..or the the National Investigation Agency..is and what type of operations it usually undertakes. But before that, don't forget to like, share and subscribe to Oneindia. #NIA #NIAraids #Terrorism ~PR.153~HT.98~PR.100~
Credit: Oneindia Duration: 04:15
Published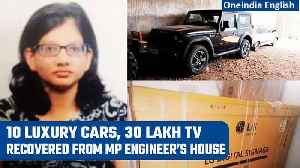 Madhya Pradesh Lokayukta raids house of Assistant Engineer, 10 luxury cars found | Oneindia News

The Madhya Pradesh Lokayukta raided the house of an Assistant Engineer who was earning 30,000 rupees monthly. During the raid in her 40-room bungalow, 10 luxury car, 100 foreign breeds of dogs and other assets were recovered. #MadhyaPradesh #HemaMeena #Lokayukta
Credit: Oneindia Duration: 02:28
Published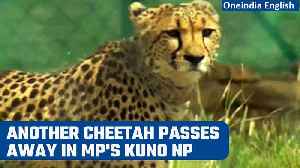 Female Cheetah passes away at Kuno; third such demise reported in around 40 days | Oneindia News

After the death of two of the cheetahs recently, another has died at Madhya Pradesh's Kuno National Park, hours after it was found injured by a monitoring team today. Daksha is the third cheetah to die at the park in around 40 days. #Cheetah #Kuno #CheetahDeath ~PR.151~GR.125~HT.178~
Credit: Oneindia Duration: 02:04
Published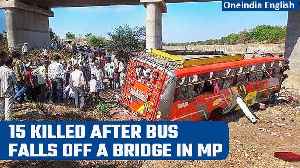 Madhya Pradesh: 15 people lose their lives after bus falls off a bridge in Khargone | Oneindia News

15 people lost their lives in the incident and 25 were injured after a bus fell from a bridge in Madhya Pradesh's Khargone. #MadhyaPradesh #Khargone #BusAccident ~PR.150~ED.101~GR.125~HT.96~
Credit: Oneindia Duration: 02:05
Published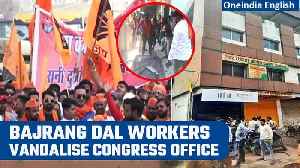 Madhya Pradesh: Bajrang Dal workers vandalise Congress Office in Jabalpur | Watch | Oneindia News

The Congress Party's Karnataka manifesto has created quite a chaos in the country. Today the Bajrang Dal workers stormed into the Congress office in Jabalpur and vandalised it. This comes a day after the Bajrang Dal workers staged a protest near the Congress office in Mangaluru and burned the party manifesto released for the upcoming Karnataka elections. #BajrangDal #CongressManifesto #MadhyaPradesh ~HT.97~PR.152~ED.101~
Credit: Oneindia Duration: 04:47
Published
You Might Like