German chancellor's flying visit to Beijing a sign China is simply too powerful to ignore

Friday, 4 November 2022
The German chancellor no doubt had to tread a very careful line today on his visit to Beijing, but the message and symbolism felt abundantly clear - an isolated China isn't good for anyone.
Video Credit: Rumble - Published
Chinese Premier Li meets German Chancellor Scholz in Beijing | AFP

00:43

Chinese Premier Li Keqiang receives German Chancellor Olaf Scholz at the Great Hall of the People in Beijing. Scholz is the first G7 leader to visit China since the start of the coronavirus pandemic, which has seen the world's number two economy largely close its borders.
You Might Like
💡 newsR Knowledge: Other News Mentions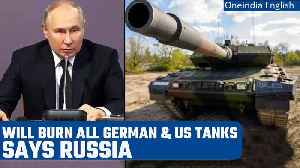 Russia says it will burn tanks sent by Germany and US for Ukraine's aid | Oneindia News

After Germany and the US agreed to send tanks to Ukraine as aid, Russia declared that all tanks sent for Ukraine's help will burn. #Ukraine #GermanTanks #Russia
Credit: Oneindia Duration: 01:42
Published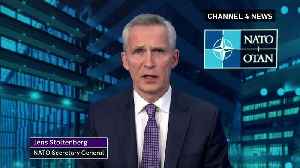 NATO: Putin made big strategic mistake in underestimating us

NATO General Secretary Jens Stoltenberg has said "Putin underestimated Ukrainians when he invaded Ukraine, but he also made a big strategic mistake of underestimating NATO and NATO allies." On Wednesday, Germany and the US mobilised tanks to be sent to Ukraine - a move Russia declared to be a "new level of confrontation". Report by Wardl. Like us on Facebook at http://www.facebook.com/itn and follow us on Twitter at http://twitter.com/itn
Credit: ODN Duration: 01:00
Published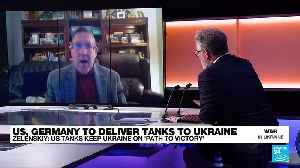 US & German tanks are 'an important contribution to Ukraine's security but it is not a game changer'


Credit: FRANCE 24 English Duration: 05:15
Published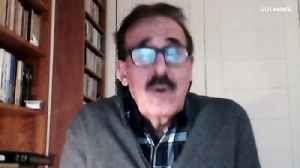 What could future deliveries of Western tanks mean for the war in Ukraine?

Germany and the United States announced Wednesday that they will send battle tanks to Ukraine, the first stage of a coordinated effort by the West to provide dozens of the heavy weapons.
Credit: euronews (in English) Duration: 02:10
Published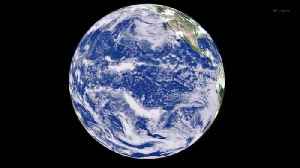 Earth's Inner Core May Be Reversing Its Rotation, Study Suggests

Earth's Inner Core , May Be Reversing Its Rotation, Study Suggests. According to a study published Jan. 23 in 'Nature Geoscience,' . our planet's inner core may be reversing after it temporarily stopped rotating. Researchers think it could be part of a 70-year cycle, with the inner core changing direction every 35 years, that may affect Earth's magnetic field and the length of days. After examining data, researchers think the inner core may have made another rotation reversal in the 1970s. We see strong evidence that the inner core has been rotating faster than the surface, [but] by around 2009 it nearly stopped. Now it is gradually mov[ing] in the opposite direction, Xiaodong Song, geophysicist, Peking University in Beijing, via 'Science News'. However, 'Science News' reports that other researchers think the inner core may change its rotation every three years. Others propose that the inner core doesn't move at all. Overall, researchers say more studies are needed to figure out what's going on with Earth's inner core. In all likelihood, it's irrelevant to life on the surface, but we don't actually know what's happening. It's incumbent on us to figure it out, John Vidale, geophysicist, the University of Southern California in Los Angeles, via 'Science News'
Credit: Wibbitz Top Stories Duration: 01:30
Published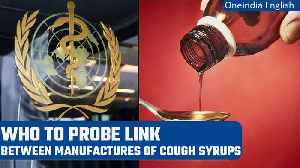 WHO to investigate Indian and Indonesian firms in cough syrup deaths | Oneindia News *News

A report by the South China Morning post quoted researchers from the University of Hong Kong who predicted that by January 31st 92 percent of the population in Beijing will be infected by the deadly Covid-19 virus. #Covid-19 #ChinaCoronavirus #Beijing
Credit: Oneindia Duration: 02:06
Published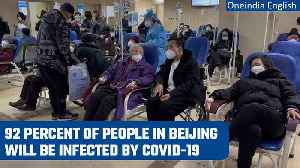 China Covid-19 outbreak: 92 percent of Beijing to fall prey to the virus | Oneindia News *News

A report by the South China Morning post quoted researchers from the University of Hong Kong who predicted that by January 31st 92 percent of the population in Beijing will be infected by the deadly Covid-19 virus. #Covid-19 #ChinaCoronavirus #Beijing
Credit: Oneindia Duration: 01:50
Published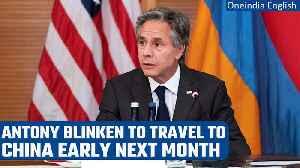 US State Secretary Anthony Blinken to visit China likely on 5-6 February | Oneindia News *News

An official spokesperson said that US Secretary of State Antony Blinken will travel to China early next month. The spokesperson added that the details of his visit are being worked out. On Wednesday, at his daily news conference, State Department spokesperson Ned Price said that the challenge that North Korea poses to the Indo-Pacific region and beyond will be on the agenda when the Secretary of State visits Beijing. #AntonyBlinken #NedPrice #China
Credit: Oneindia Duration: 01:32
Published
Related videos from verified sources
Related news from verified sources