Kim Jong Un's daughter appears in public for second time - raising speculation of a successor in the making

Sunday, 27 November 2022
North Korean leader Kim Jong Un has appeared in public with his daughter for the second time, as the two posed for photos with soldiers, scientists and others involved in this month's Hwasong-17 missile launch.
Video Credit: Rumble - Published
N. Korea releases new photos of Kim's daughter

00:28

North Korea's leader Kim Jong-un has taken his daughter to a meeting with military officials and scientists involved in the recent test launch of a new intercontinental ballistic missile. During the meeting Kim said 'the ultimate goal is to possess the world's most powerful...
💡 newsR Knowledge: Other News Mentions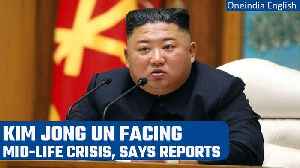 North Korea's dictator Kim Jong-un drinking heavily and cries all day, says reports | Oneindia News

North Korea's dictator Kim Jong Un is going through a mid-life crisis, says a report by the Mirror. #NorthKorea #KimJongUn #Midlifecrisis
Credit: Oneindia Duration: 01:42
Published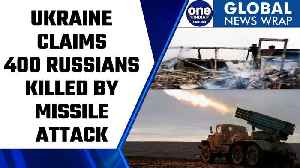 Ukraine claims hundreds of Russians killed by missile attack in Donetsk region | Oneindia News*News

Ukraine claims hundreds of Russians killed by missile attack; Seoul planning joint nuclear exercises with US, says President Yoon Suk-yeol; IMF chief Kristalina Georgieva warns one-third of world economy to be in recession in 2023; North Korea: Kim Jong Un sacks Pak Jong Chon, 2nd most powerful military official. russian missiles,ukraine war,russian invasion of ukraine,missiles,russia ukraine,russian attacks,russian missile attack ukraine,russian missile attack on ukraine,missile attack,ukraine russia,war in ukraine,russia ukraine news,russian missile attack poland,russian missile attack,ukraine military,missile strike ukraine,russia ukraine war russian,russia east ukraine,Oneindia Englsih,Oneindia News. #RussiaUkraineWar #Donetsk #IMF
Credit: Oneindia Duration: 02:40
Published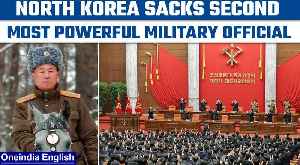 North Korea: Kim Jong Un sacks Pak Jong Chon, 2nd most powerful military official |OneindiaNews*News

According to North Korea state media, the second most powerful military official after leader Kim Jong Un named Pak Jong Chon, has been sacked. Pak was the vice chairman of the Central Military Commission of the ruling Workers' Party and a secretary of the party's Central Committee. As per the official KCNA news agency, he was replaced by Ri Yong Gil at the committee's annual meeting last week. #NorthKorea #PakJongChon #KimJongUn
Credit: Oneindia Duration: 02:31
Published
Kim Jong Un sets new goals for North Korean military for 2023 at party meeting | Oneindia News*News

On Wednesday, North Korea's state media reported that Kim Jong Un revealed new goals for the country's military for 2023 at an ongoing meeting of the ruling Workers' Party. Reports said that the leader hinted at another year of intensive weapons tests and tension. #NothKorea #KimJongUn #KCNA
Credit: Oneindia Duration: 02:21
Published
North Korea completes important test of 'Spy Satellite' launch in April|Oneindia News *International

North Korea has conducted an "important, final phase" test in the development of a Spy satellite, which the country plans to complete by April 2023, North Korean state media has reported. North Korea's National Aerospace Development Administration conducted the test on Sunday at the country's Sohae satellite launching station in Cholsan, in North Pyongan Province. So what is a spy satellite which the Kim Jong Un-led nation is planning to launch by April next year? #NorthKorea #SpySatellite #militaryReconnaissanceSatellite
Credit: Oneindia Duration: 03:03
Published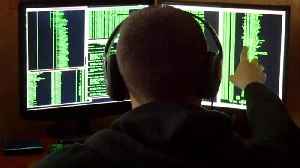 Crypto Hacks Stole Record $3.8 Billion in 2022, Report Finds

Crypto Hacks Stole , Record $3.8 Billion in 2022, Report Finds. NBC reports that last year was the worst on record for cryptocurrency theft, with hackers taking as much as $3.8 billion. . According to a U.S.-based blockchain analytics firm, hackers linked to North Korea stole a record-breaking amount in 2022. . A report by Chainalysis released on February 1 found that hacking activity had "ebbed and flowed" throughout the year. . The report also found that there were "huge spikes" in both March and October. . The month of October ended up being the biggest single month ever for cryptocurrency hacking with 32 separate attacks resulting in $775.7 million stolen. NBC reports that 2022 was a hard year for cryptocurrencies, with diminishing risk appetite and the collapse of several crypto firms. NBC reports that 2022 was a hard year for cryptocurrencies, with diminishing risk appetite and the collapse of several crypto firms. In the end, investors suffered huge losses, and regulators increased calls to bolster consumer protection. According to the report, North Korea-linked hackers, like the syndicate Lazarus Group, stole an estimated $1.7 billion in multiple 2022 attacks. In 2022, they shattered their own records for theft, Chainalysis report, via NBC. It isn't a stretch to say that cryptocurrency hacking is a sizable chunk of the nation's economy, Chainalysis report, via NBC
Credit: Wibbitz Top Stories Duration: 01:30
Published
You Might Like
Related videos from verified sources
Related news from verified sources