Ramesh Jarkiholi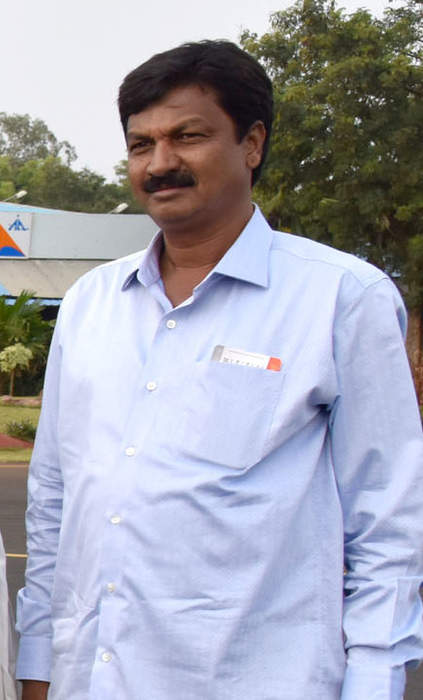 Ramesh Jarkiholi is an Indian politician and former minister of Water Resources in the Government of Karnataka, between 2020 and 2021. As member of the Bharatiya Janata Party (BJP), he represents Gokak in the Karnataka Legislative Assembly. He previously served as the Minister for Municipal Administration.


You Might Like
Karnataka minister Jarkiholi courts controversy after sexual harassment charge
Karnataka Water Resources Minister Ramesh Jarkiholi courted controversy on Tuesday as a social activist lodged a police complaint alleging sexual harassment to a 'job aspirant' and threatening her and..
IndiaTimes - Published
Karnataka Minister Jarkiholi threatens to resign if injustice done to Kumathalli
IndiaTimes - Published
BS Yediyurappa allocates portfolios,Ramesh Jarkiholi gets major & medium irrigation dept
The chief minister retained the Department of Public Administration, Bengaluru Development, IntelligenceDepartment, Finance and portfolios not allocated. According to a government press release, Anand..
IndiaTimes - Published
Karnataka rebel MLAs move SC against speaker's disqualification order
Two Karnataka Congress rebel MLAs, Ramesh Jarkiholi and Mahesh Kumathalli, on Monday moved Supreme Court seeking directions to quash the Karnataka assembly speaker's decision to disqualify them from..
IndiaTimes - Published
Karanataka speaker disqualifies two Congress rebel MLAs and an independent lawmaker
Kumar also disqualified key defectors from the Congress, Ramesh Jarkiholi and Mahesh Kumatahalli for a period of another four years, till May 2023. Furthermore, with Kumar reserving the decisions on..
IndiaTimes - Published
Karnataka Assembly Speaker Ramesh Kumar disqualifies independent MLA R Shankar, Congress rebels Jarkiholi and Kumatalli
Shankar, before being inducted as a minister in Kumaraswamy government, had merged his party KPJP with the Congress.
DNA - Published
HD Kumarswamy says his government is stable in Karnataka
Karnataka CM HD Kumarswamy is asserting that his government is stable and will complete its full term even as the BJP is chipping away at the JD(S)-Congress combine with the resignation of two rebel..
IndiaTimes - Published
Two Congress MLAs resign from Karnataka assembly
In a setback to the JD(S)-Congress government in Karnataka, two Congress MLAs on Monday quit the assembly, bringing down the coalition numbers in the House. Vijayanagar MLA, Anand Singh, met Governor..
IndiaTimes - Published
Karnataka: Jolt for Congress as two MLAs resign from assembly
Congress MLAs Anand Singh and Ramesh Jarkiholi have resigned from Karnataka Assembly.
DNA - Published