Rajib Banerjee
Indian politician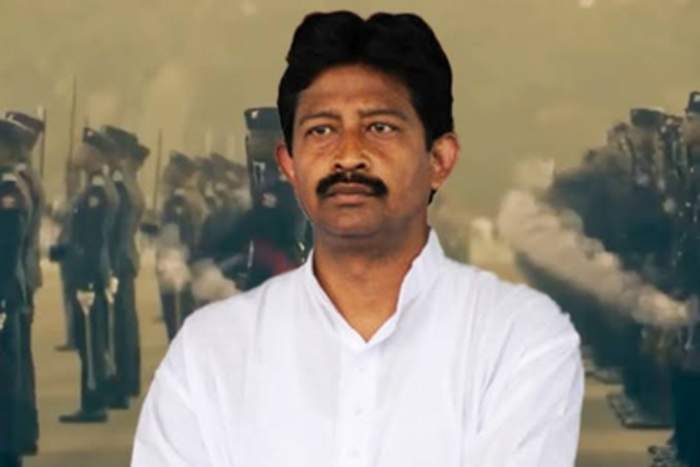 Rajib Banerjee is an Indian politician who served as the Minister for Forest Affairs in the Government of West Bengal. He was a former Minister in charge for Irrigation & Waterways (2011-2018), and Tribal affairs & backwards classes (2018-2019). He was elected to West Bengal Vidhan Sabha as MLA of Domjur seat in 2011 and 2016 as a member of Trinamool Congress.


You Might Like
'Courtesy call' stirs rumours of BJP neta's return to TMC
Ex- state minister turned-BJP leader Rajib Banerjee made an hour-long "courtesy call" to TMC general secretary Kunal Ghosh on Saturday, kicking off speculation of a second blow to the saffron camp..
IndiaTimes - Published
BJP leader Rajib Banerjee meets West Bengal TMC general secretary amid indication of return to old party
IndiaTimes - Published
West Bengal Polls: Actors Rajshree Rajbanshi, Bonny Sengupta join BJP
The actors have been inducted into the party in the presence of West Bengal BJP chief Dilip Ghosh and party leader Rajib Banerjee in Kolkata.
DNA - Published
West Bengal assembly polls 2021: Suvendu Adhikari offers to fight Mamata Banerjee from Nandigram
Suvendu Adhikari has offered to contest on a BJP ticket from Nandigram against Mamata Banerjee. His BJP colleague and former Bengal minister Rajib Banerjee spoke about the development after the Bengal..
IndiaTimes - Published
Rajib Banerjee, former Trinamool Congress leaders join BJP in presence of Amit Shah
MLAs Baishali Dalmiya and Prabir Ghoshal, former Howrah Mayor Rathin Chakraborty and Bengali actor Rudraneel Ghosh also joined BJP.
DNA - Published
Rajib Banerjee, other former TMC leaders join BJP in Delhi
IndiaTimes - Published
Former Bengal minister Rajib Banerjee quits Trinamool Congress
IndiaTimes - Published
TMC's Rajib Banerjee quits as MLA, thanks party supremo for opportunity to serve masses
Senior TMC leader Rajib Banerjee, who recently quit the Mamata Banerjee cabinet in Bengal, on Friday resigned from the post of MLA. ​​Banerjee, who represented the Domjur assembly seat, met Speaker..
IndiaTimes - Published
Three ministers quit Didi government in run-up to Bengal polls
Bengal minister Rajib Banerjee on Friday became the third member of the Mamata Banerjee cabinet after Suvendu Adhikari and Lakshmi Ratan Shukla to quit the Trinamool government in the run-up to the..
IndiaTimes - Published
West Bengal: Forest Minister Rajib Banerjee resigns from Mamata Banerjee's government
Rajib Banerjee has now joined the league of leaders who have recently resigned from the TMC government.
DNA - Published
Another West Bengal minister resigns from Mamata Banerjee cabinet
In another jolt to Mamata Banerjee government ahead of the upcoming West Bengal assembly elections, forest minister Rajib Banerjee tendered his resignation as a cabinet minister. In a letter to the..
IndiaTimes - Published
West Bengal minister Rajib Banerjee has a close shave after mini truck hits his car
The accident took place after a goods vehicle carrying stone chips side dashed Banerjee's car at Kasba-Rajdanga Main Road on Sunday.
DNA - Published