Fake news
Hoax or deliberate spread of misinformation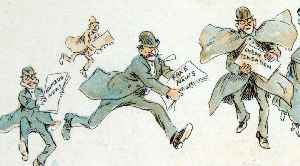 Fake news, also known as junk news, pseudo-news, alternative facts, false news or hoax news, is a form of news consisting of deliberate disinformation or hoaxes spread via traditional news media or online social media. Digital news has brought back and increased the usage of fake news, or yellow journalism. The news is then often reverberated as misinformation in social media but occasionally finds its way to the mainstream media as well.


WhatsApp Launches Search Feature for Fake News

In a bid to crack down on the spread of misinformation, select countries are able to benefit from the "Search the Web" tool which gives them the chance to check the authenticity of a forwarded message.
Credit: Cover Video STUDIO Duration: 00:50
Published
You Might Like
Search this site and the web: