FA Cup
Annual English football competition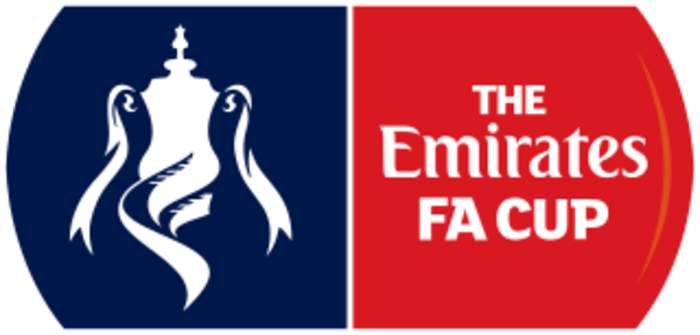 The Football Association Challenge Cup, more commonly known as the FA Cup, is an annual knockout football competition in men's domestic English football. First played during the 1871–72 season, it is the oldest national football competition in the world. It is organised by and named after The Football Association. Since 2015, it has been known as The Emirates FA Cup after its headline sponsor. A concurrent women's tournament is also held, the Women's FA Cup.


Football mourns Ipswich and England striker Paul Mariner

Former Ipswich and England striker Paul Mariner has died at the age of 68 after a brief battle with brain cancer.Mariner played for Ipswich in a golden era in which they won the FA Cup in 1978 and UEFA..
Credit: PA - Press Association STUDIO Duration: 01:35
Published
You Might Like



George Curtis: Former Coventry City captain and manager dies, aged 82

Former Coventry City joint-manager George Curtis, who along with John Sillett guided the club to the 1987 FA Cup, has died aged 82.




BBC Sport - Published





Former England striker Paul Mariner dies aged 68

Former England striker Paul Mariner, who won the FA Cup and Uefa Cup with Ipswich Town and had spells at Plymouth Argyle, Arsenal and Portsmouth, dies at the age of 68.




BBC Sport - Published





Women's FA Cup highlights: Chelsea knock Everton out of FA Cup with 3-0 win

Watch highlights of Chelsea's 3-0 win over Everton as they reach the quarter-final of the Women's FA Cup.




BBC Sport - Published





Chelsea 2-1 Leicester: Thomas Tuchel 'happy' as Blues bounce back from FA Cup defeat

Manager Thomas Tuchel says he is "absolutely happy" as Chelsea beat Leicester to gain some measure of revenge just three days after the Foxes beat his side in the FA Cup final.




BBC Sport - Published





FA Cup final on BBC becomes the most-watched game of the season so far

Saturday's FA Cup final on the BBC was the most-watched football match of the season with a peak audience of 9.1m viewers.




BBC Sport - Published





FA Cup final: Chelsea 0-1 Leicester: 'It's quite emotional' - How the fans' return lit up the FA Cup final

BBC Sport looks at how the return of football fans added to the sense of occasion as Leicester beat Chelsea to win the FA Cup for the first time.




BBC Sport - Published





FA Cup final: Kasper Schmeichel's 'awesome' saves as Leicester beat Chelsea at Wembley

Leicester captain Kasper Schmeichel says that winning the FA Cup with Leicester is "what dreams are made of" after the goalkeeper produces two incredible saves to help his side lift the trophy for the..




BBC Sport - Published





Leicester City: FA Cup-winning captain Kasper Schmeichel says joy 'indescribable'

Leicester captain Kasper Schmeichel says his joy at leading them to a first-ever FA Cup is "indescribable" after beating Chelsea.




BBC Sport - Published





FA Cup Final highlights: Chelsea 0-1 Leicester City

Watch highlights as Youri Tielemans' glorious goal wins Leicester City the FA Cup for the first time in their history.




BBC Sport - Published




FA Cup Final: Kasper Schmeichel produces an astonishing late save from Mason Mount

Kasper Schmeichel's magnificent diving save keeps Leicester City in the lead with minutes remaining in the FA Cup final against Chelsea.




BBC Sport - Published





Chelsea 0-1 Leicester: Foxes lift FA Cup for first time after Youri Tielemans stunner

Leicester City lift the FA Cup for the first time as Youri Tielemans' stunning long-range goal earns the Foxes victory over Chelsea at Wembley.




BBC Sport - Published





Leicester beat Chelsea in FA Cup final in front of UK's biggest crowd since before pandemic

Leicester City have won the FA Cup final, beating Chelsea in front of the UK's biggest football crowd since the coronavirus pandemic began.




Sky News - Published





FA Cup: Gary Lineker recalls memories of Leicester's appearance in 1969 FA Cup final

Gary Lineker recalls his memories of travelling down to Wembley as the Foxes faced Manchester City in the 1969 FA Cup final.




BBC Sport - Published





Kasper Schmeichel: FA Cup final is a dream come true for whole club

Kasper Schmeichel tells Dion Dublin about growing up in football and why reaching the FA Cup final is a dream come true.




BBC Sport - Published





FA Cup: Mason Mount says Chelsea out for 'revenge' after last season's FA Cup final defeat

Mason Mount says Chelsea are out for "revenge" in Saturday's FA Cup final against Leicester City, after a painful FA Cup final defeat to Arsenal last season.




BBC Sport - Published





FA Cup: Watch all Leicester's goals from their journey to the final

Watch all of Leicester's goals from their journey to the 2020-21 FA Cup final against Chelsea.




BBC Sport - Published




FA Cup final: Kasper Schmeichel lauds Leicester City's owners for club's rise

Leicester City goalkeeper Kasper Schmeichel tells Football Focus' Dion Dublin how the club's owners have created a culture that has propelled the Foxes to the FA Cup final.




BBC Sport - Published





Leicester City: The inside story of La Manga and the Foxes last cup final

As Leicester City prepare to face Chelsea in the FA Cup final, BBC Sport looks back to their last cup final and the controversial events before it.




BBC Sport - Published





MOTDx: Chelsea's Ben Chilwell more nervous about FA Cup final than Champions League

Chelsea defender Ben Chilwell talks to MOTDx about Chelsea's end-of-season games and says he is most nervous about facing former club Leicester in the FA Cup final.




BBC Sport - Published





Match of the Day Top 10: Alan Shearer recalls Newcastle parade after losing two FA Cup finals

Former striker Alan Shearer recalls how Newcastle United held an open-top bus parade despite losing the FA Cup final in 1998 and 1999




BBC Sport - Published





FA Cup: Leicester City 1-0 Southampton highlights

Kelechi Iheanacho scores the only goal as 4,000 fans watch Leicester City beat Southampton to reach the final of the FA Cup for the first time since 1969.




BBC Sport - Published




Leicester City 1-0 Southampton: Kelechi Iheanacho earns Foxes first FA Cup final spot since 1969

Kelechi Iheanacho's goal settles a tight contest as Leicester edge past Southampton at Wembley to reach their first FA Cup final since 1969.




BBC Sport - Published





FA Cup: Kelechi Iheanacho slots Leicester ahead against Southampton

Kelechi Iheanacho notches his tenth goal in seven games to give Leicester City the lead in their FA Cup semi-final against Southampton.




BBC Sport - Published





Thousands of fans return to Wembley for FA Cup semi-final as part of COVID events trial

Thousands of fans will return to Wembley Stadium for the first time in more than a year on Sunday as part of a coronavirus trial.




Sky News - Published





Chelsea 1-0 Man City: Did Thomas Tuchel win tactical battle with Pep Guardiola?

BBC Sport pundits reflect on Chelsea's FA Cup semi-final win against Manchester City and assess whether Pep Guardiola got his tactics wrong.




BBC Sport - Published





FA Cup: If MOTD was a reality TV show... Lineker shows Richards the red card

Gary Lineker spoofs a reality TV show, teasing Ashley Cole and Micah Richards about which of them will be a pundit for the FA Cup Final.




BBC Sport - Published





FA Cup: Chelsea 1-0 Manchester City highlights

Watch highlights as Hakim Ziyech's second-half strike ends Manchester City's quadruple dream and sees Chelsea through to the FA Cup final.




BBC Sport - Published




Chelsea 1-0 Manchester City: Thomas Tuchel's side advance to FA Cup final to end City's quadruple hopes

Chelsea reach the FA Cup final with a narrow victory to end Manchester City's hopes of a historic quadruple.




BBC Sport - Published





FA Cup: Hakim Ziyech gives Chelsea the lead against Man City in semi-final

Chelsea's Hakim Ziyech grabs the opening goal as he slots Timo Werner's ball into an empty net in the FA Cup semi-final between Chelsea and Manchester City.




BBC Sport - Published





FA Cup: Chelsea's Thomas Tuchel says it's 'so nice and so hard' to face Pep Guardiola

Chelsea manager Thomas Tuchel say it is "so nice and so hard" to face the "strong belief" of Pep Guardiola's Manchester City in the FA Cup semi-finals at Wembley.




BBC Sport - Published





Fan pilots: Crowds to return at FA Cup semi-final and World Snooker Championship this weekend

Crowds will return to sporting events this weekend at pilot events that could help define England's way out of lockdown.




BBC Sport - Published





Nathan Redmond: Southampton winger targeting FA Cup final

As he prepares for Sunday's FA Cup semi-final against Leicester, Southampton winger Nathan Redmond tells BBC Sport about the role his mother has played in his career.




BBC Sport - Published





FA Cup semi-finals: Watch Chelsea v Man City live on BBC One, plus Leicester v Southampton details

The FA Cup semi-finals take place on Saturday and Sunday - with Chelsea v Manchester City live on BBC TV.




BBC Sport - Published




FA Cup semi-finals at Wembley to be part of pilot events for crowd return

Next month's FA Cup semi-finals at Wembley will be among the pilot events to trial the return of crowds to UK venues.




BBC Sport - Published





FA Cup semi-final: BBC to broadcast Chelsea v Man City at Wembley

The FA Cup semi-final between Chelsea and Manchester City at Wembley will be broadcast live on the BBC on Saturday, 17 April.




BBC Sport - Published





Great goals England Under-21 stars Curtis Jones, Callum Hudson-Odoi, Eddie Nketiah & Emile Smith Rowe

England's Eddie Nketiah, Callum Hudson-Odoi, Curtis Jones & Emile Smith Rowe have already proved themselves in the FA Cup, but can they deliver for England at the Under-21 Euros?




BBC Sport - Published





Fred: Man Utd midfielder subjected to racist abuse online

Manchester United midfielder Fred suffers racist abuse on social media on Sunday after his side are knocked out of the FA Cup.




BBC Sport - Published





Leicester City 3-1 Man Utd: Foxes into FA Cup semi-finals

Leicester City move into the FA Cup semi-finals for the first time since 1981-82 as they eliminate Manchester United at King Power Stadium.




BBC Sport - Published





FA Cup: Kelechi Iheanacho pounces on Fred's calamitous backpass to put Foxes in front

Kelechi Iheanacho latches on to Fred's wayward backpass as Manchester United concede a calamitous opening goal in their FA Cup quarter-final tie against Leicester City.




BBC Sport - Published





Chelsea 2-0 Sheffield United: Blues into FA Cup semi-finals after win at Stamford Bridge

Eight-time winners Chelsea move into the FA Cup semi-finals with a hard-fought home win against Sheffield United.




BBC Sport - Published





FA Cup: Norwood puts the ball into his own net to give Chelsea the opening goal

Oliver Norwood diverts Ben Chilwell's low cross past his own goalkeeper to give Chelsea the lead at Stamford Bridge.




BBC Sport - Published





FA Cup: Ilkay Gundogan header sets up Man City win at Everton

Ilkay Gundogan reacts quickest to head Manchester City in front at Everton six minutes from time in their FA Cup quarter-final.




BBC Sport - Published





Everton 0-2 Man City: Ilkay Gundogan & De Bruyne goals keep quadruple hopes alive

Late goals from Ilkay Gundogan and Kevin de Bruyne keep Manchester City on course for a quadruple with an FA Cup quarter-final win at Everton.




BBC Sport - Published





FA Cup: Nathan Redmond shines as Southampton reach semis

Watch Nathan Redmond shine for Southampton at Bournemouth as he scores twice and sets up another goal to help the Saints march into the FA Cup semi-finals.




BBC Sport - Published





FA Cup highlights: AFC Bournemouth 0-3 Southampton

Watch highlights as a Nathan Redmond double inspires Southampton to a 3-0 victory at local rivals Bournemouth in the FA Cup quarter-finals.




BBC Sport - Published





Bournemouth 0-3 Southampton: Nathan Redmond inspires FA Cup win

Southampton put their Premier League troubles to one side as they reach the FA Cup semi-finals by brushing past Championship hosts Bournemouth.




BBC Sport - Published