Orlando, Florida
City in Central Florida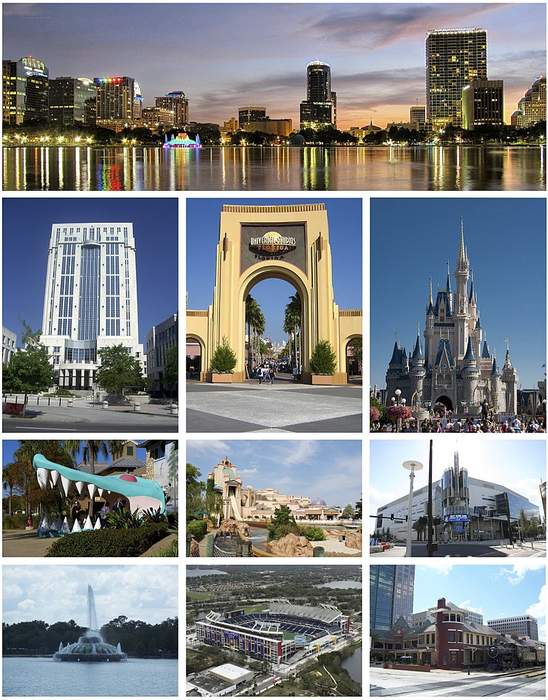 Orlando is a city in the U.S. state of Florida and is the county seat of Orange County. In Central Florida, it is the center of the Orlando metropolitan area, which had a population of 2,509,831, according to U.S. Census Bureau figures released in July 2017, making it the 23rd-largest metropolitan area in the United States, the sixth-largest metropolitan area in the Southern United States, and the third-largest metropolitan area in Florida. As of 2019, Orlando had an estimated city-proper population of 287,442, making it the 71st-largest city in the United States, the fourth-largest city in Florida, and the state's largest inland city.


This Halloween-themed bar is open year-round for spooky fun | Taste and See Tampa Bay

Halloween lasts longer than the month of October at this spooky bar. Cocktails & Screams in Orlando offers Halloween-themed cocktails, food and decor regardless of the season.
Credit: ABC Action News Duration: 02:07
Published
The Haunted Road in Orlando | Giant Adventure

Whether you're looking for family-friendly fun or terrifying frights, The Haunted Road in Orlando is the best of both worlds. This drive-thru Halloween experience is a contactless theatrical event.
Credit: ABC Action News Duration: 03:04
Published
Lakers fans go wild after NBA championship win

LeBron James capped another illustrious title run as the Los Angeles Lakers earned their record-tying 17th championship at the NBA Finals on Sunday night near Orlando. Gloria Tso reports.
Credit: Reuters - Politics Duration: 01:20
Published
You Might Like
City Girls Perform in Florida to Packed House on Thanksgiving
Florida is experiencing enormous increases in COVID illnesses and deaths, but the State is still allowing big events, so the City Girls performance in Orlando on Thanksgiving Day was perfectly legal..
TMZ.com - Published
Orlando Bloom Shows Off New White Poodle
Orlando Bloom might have just expanded his family of 3 with Katy Perry to a family of 4 ... thanks to a new pooch. Orlando's version of Sunday fun day included a little shopping with a new fluffy..
TMZ.com - Published
LeBron James Wishes Bronny Happy 16th Birthday From Bubble, 'Love You Kid'
LeBron James is showing love for Bronny from inside the NBA bubble ... wishing his oldest son a happy 16th birthday with a touching shoutout. Remember, the James Gang children are not in Orlando to..
TMZ.com - Published
Famous Lakers Fans -- Get Ready For Game 3!
Celebs might not have be able to root for their favorite team in person this season, but that doesn't mean the players haven't felt the love all the way in Orlando! Stars such as Rihanna, Snoop Dogg,..
TMZ.com - Published
Danuel House Booted from NBA Bubble Over Unauthorized Guest in Hotel Room
Danuel House ... is being sent home. The Houston Rockets player has officially been kicked out of the NBA bubble environment in Orlando, Florida after league officials say he broke COVID protocol by..
TMZ.com - Published
NBA Spells Out Rules for Bringing Guests Into Bubble, No Tinder Randoms!
The NBA will allow players to FINALLY bring guests into the Bubble environment in Orlando ... but not EVERYONE will be allowed in. In fact, the NO ENTRANCE list is the most interesting part!! First..
TMZ.com - Published
Pregnant Katy Perry Busts Hilarious Friday Dance Move as Orlando Bloom Laughs
Katy Perry is a week or 2 from giving birth, which makes this video all the more impressive as she accepts Orlando Bloom's challenge to show everyone her moves. It was Friday, after all, so Orlando..
TMZ.com - Published
Donald Trump 2020: US President launches re-election campaign in Orlando, takes jibe at press calling it 'fake news media'
President Donald Trump launched his 2020 re-election campaign on Tuesday
Firstpost - Published