Drew Barrymore
American actress (born 1975)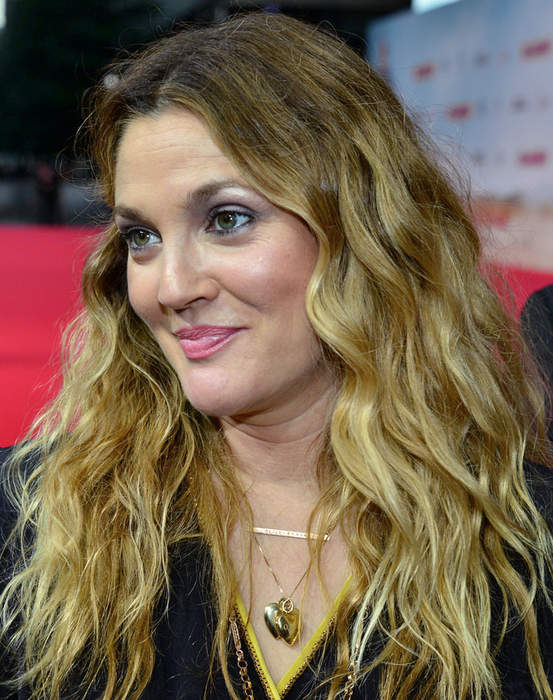 Drew Blythe Barrymore is an American actress, producer, talk show host and author. A member of the Barrymore family of actors, she has received several awards and nominations, including a Golden Globe Award and a Screen Actors Guild Award, in addition to nominations for nine Emmy Awards and a British Academy Film Award. She received a star on the Hollywood Walk of Fame in 2004.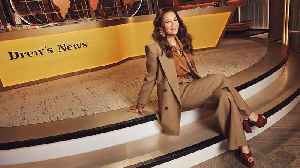 Drew Barrymore Show Returns, Host Doesn't Address Hollywood Strikes | THR News Video

'The Drew Barrymore Show' is back but the host was notably silent on the controversy surrounding her show during the WGA strike. In the show's first new episode since May, Barrymore launched straight..
Credit: The Hollywood Reporter Duration: 01:21
Published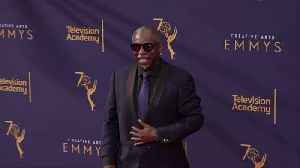 LeVar Burton to Host National Book Awards

LeVar Burton , to Host National Book Awards. NPR reports that LeVar Burton will replace Drew Barrymore as the host of the 2023 National Book Awards. It's an honor to return as host of the biggest..
Credit: Wibbitz Top Stories Duration: 01:31
Published
You Might Like



Drew Barrymore's Head Writers Refuse to Return to Talk Show Post-Strike

Drew Barrymore's actions during the writers' strike appear to have royally pissed off the top writers on her talk show, because they're quitting ... refusing to work when the show returns, post-strike...




TMZ.com - Published





Drew Barrymore halts talk show after Hollywood strikes backlash

Drew Barrymore has halted production on her US talk show following a furious backlash against her decision to press ahead with it despite a strike by actors and writers.




Sky News - Published





Drew Barrymore Pulls Plug on Talk Show Return, 'I Listened to Everyone'

Drew Barrymore will not cross the picket line, after all ... she now says she is NOT going back into production on her talk show while the Writer's Guild strike continues. Drew completed a massive..




TMZ.com - Published





Rosie O'Donnell Tears into Drew Barrymore Over Return of Talk Show Amid Writer's Strike

Rosie O'Donnell excoriated Drew Barrymore Saturday for bringing her talk show back during the Writer's strike. It was almost like talking to a child ... Rosie wrote, "Stop taping the show. Stop..




TMZ.com - Published





Drew Barrymore apologises for bringing talk show back during Hollywood writers strike

Drew Barrymore has apologised for resuming production on her talk show amid the ongoing Hollywood writers strike.




Sky News - Published





Drew Barrymore Apologizes to WGA, But Will Keep Show Going Amid Strike

Drew Barrymore is offering up an emotional apology to the thousands of writers who are striking while her show returns ... but she is NOT shutting down the show. The talk show host gave a lengthy..




TMZ.com - Published





Drew Barrymore's Alleged Stalker Busted While Seeking Out Emma Watson

Drew Barrymore's alleged stalker, a man named Chad Michael Busto, got arrested again and this time it sounds like he's turned his attention to another celeb ... Emma Watson. Busto was busted Friday in..




TMZ.com - Published





Drew Barrymore dropped as awards host, and faces backlash for filming talk show despite strikes

Drew Barrymore has been dropped as host of the National Book Awards ceremony in the US, after resuming filming of her talk show during the Hollywood writers' strike.




Sky News - Published





Drew Barrymore's Talk Show Returning Amid Strike, Slammed by WGA

Drew Barrymore's popular talk show is coming back to a TV near you -- this despite the fact that there's still a couple strikes going on ... and one guild is effectively calling her a scab. The former..




TMZ.com - Published





Drew Barrymore's Alleged Stalker Now Has Warrant Out For Arrest

Drew Barrymore's alleged stalker, a man named Chad Michael Busto, now has a warrant out for his arrest after failing to show up to get a GPS monitor from authorities. Southampton Town Justice Court..




TMZ.com - Published





Drew Barrymore's 'Stalker' Arrested After Showing Up at Her Southampton Estate

Drew Barrymore can't seem to get away from an alleged stalker, because the dude popped up at her Southampton estate, days after freaking her out at an NYC ... but this time cops busted him. Law..




TMZ.com - Published





Drew Barrymore Rushed Out of Interview as Fan Walks Up to Stage, Demands to Talk

Drew Barrymore was whisked off the stage during a recent interview with singer and actress Reneé Rapp ... as an alleged stalker rushed up to the stage, demanding to talk with her. Here's the deal,..




TMZ.com - Published





Drew Barrymore Drops Out As Host For MTV Movie & TV Awards Due To Writers' Strike

Drew Barrymore is going on strike ... she's backing out from hosting duties for the upcoming MTV Movie & TV Awards to show solidarity with the writers fighting for better pay. The actress was supposed..




TMZ.com - Published





President Biden Tells Drew Barrymore About Five-Time Proposal to Jill

President Biden was persistent in his pursuit of Jill Biden's hand in marriage -- a story he told Drew Barrymore in pretty long, dramatic fashion ... with a great payoff at the end. 46 sat for an..




TMZ.com - Published





George And Amal Clooney Host Albie Awards, Star-Studded Event

George and Amal Clooney brought out some of their most famous friends in NYC to christen a new award show ... with guests including Michelle Obama, Drew Barrymore, Cindy Crawford and more. The..




TMZ.com - Published





Drew Barrymore Hypes Britney Spears and 'Hold Me Closer' with Video Message

Britney just posted a hype video of her own, with a message to Elton John ... she says she's about to have the best day ever celebrating the success of the song, congrats!! Drew Barrymore is hyping up..




TMZ.com - Published





Man Finds 'Extraterrestrial'-Like Creature on Australian Beach

Drew Barrymore, brace yourself, because a dude from down under may have validated what you saw years ago!!! A guy named Alex Tan was strolling on an Australian beach when he came upon something weird..




TMZ.com - Published





What's The Big Frigin' Difference?!

Don't let these two almost identical images of Drew Barrymore ruffle your feathers! Put your animal instincts to the test as you search for all the sneaky switches in these fowl photos! The A-list..




TMZ.com - Published




Stars On Set -- Workin' It In Their Trailers!

If anyone knows what it's like to never take a day off, it's these nonstop stars dedicated to their craft! While most people take a little time off to relax, celebrities like Drew Barrymore, Tracee..




TMZ.com - Published