Bengal
Region in Asia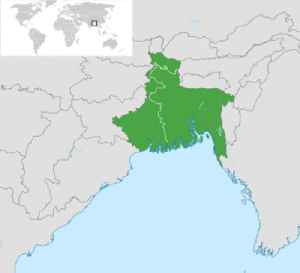 Bengal is a geopolitical, cultural and historical region in South Asia, specifically in the eastern part of the Indian subcontinent at the apex of the Bay of Bengal. Geographically, it is made up by the Ganges-Brahmaputra delta system, the largest such formation in the world; along with mountains in its north bordering the Himalayan states of Nepal and Bhutan and east bordering Burma.


Land reforms in Bengal were carried out extremely well under Left Front: Amartya Sen
IndiaTimes - Published
Row over Bengal 'plan for dining halls for minorities'
IndiaTimes - Published
What's the 'cut money' that Bengal is angry about?
​​​Cut money is the unofficial commission charged by local politicians for getting government grants for local area projects approved. The cut is usually taken in cash, to prevent any records of..
IndiaTimes - Published
Amit Shah is college principal, Prashant Kishor a student: Vijayvargiya
BJP general secretary Kailash Vijayvargiya said the people of Bengal have lost confidence in Chief Minister Banerjee and no poll strategist can turn the tide.
DNA - Published
Lok Sabha Election 2019: Bitter battle for 'sweet' Bengal
POLL PANEL: In unprecedented move, EC curtails campaigning in violence-hit Bengal by a day
DNA - Published
CPI(M) approaches CEC over alleged 'large-scale manipulation' in Bengal and Tripura in phase 1
The delegation, consisting of Nilotpal Basu, member of politburo, and Shankar Prasad Datta, CPI(M) candidate from West Tripura, in their memorandums demanded a re-poll in 464 booths in the..
DNA - Published
You Might Like