Rajasthan
State in India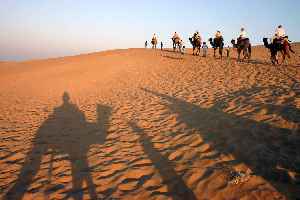 Rajasthan is a state in northern India. The state covers an area of 342,239 square kilometres (132,139 sq mi) or 10.4 percent of the total geographical area of India. It is the largest Indian state by area and the seventh largest by population. Rajasthan is located on the northwestern side of India, where it comprises most of the wide and inhospitable Thar Desert and shares a border with the Pakistani provinces of Punjab to the northwest and Sindh to the west, along the Sutlej-Indus river valley. Elsewhere it is bordered by five other Indian states: Punjab to the north; Haryana and Uttar Pradesh to the northeast; Madhya Pradesh to the southeast; and Gujarat to the southwest.


WB, MP, Rajasthan, Delhi haven't certified single beneficiary under PM-KISAN plan: Jaitley
IndiaTimes - Published
India may not have elections if Modi re-elected, may go China way: Ashok Gehlot
Rajasthan CM Ashok Gehlot also said both democracy and the country were in danger under Modi, who he said would "do anything" to get back to power. People felt he could even go to war with Pakistan to..
IndiaTimes - Published
Ahmedabad: Nigerian gang duping traders busted
The accused have been identified as Vikas Maheswari (31), Dharmesh Jain (31) and Nawab Khan (24) from Rajasthan, Suresh Kumar (32) from Ahmedabad and Azharuddin Kabir (27) from Mumbai.
DNA - Published
Satta bazaar in Rajasthan bets on BJP crossing 250, NDA 300
Bookies were predicting about 280 seats for NDA prior to the airstrike, with BJP winning over 200 seats. But the mood has changed after the Balakot airstrike, they now say. The bazaar believes that the..
IndiaTimes - Published
Search this site and the web:
You Might Like