Rajasthan
State in Northern India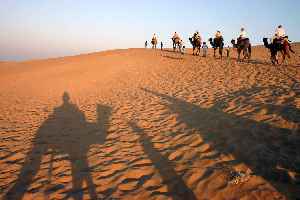 Rajasthan is a state in northern India. The state covers an area of 342,239 square kilometres (132,139 sq mi) or 10.4 percent of the total geographical area of India. It is the largest Indian state by area and the seventh largest by population. Rajasthan is located on the northwestern side of India, where it comprises most of the wide and inhospitable Thar Desert and shares a border with the Pakistani provinces of Punjab to the northwest and Sindh to the west, along the Sutlej-Indus river valley. It is bordered by five other Indian states: Punjab to the north; Haryana and Uttar Pradesh to the northeast; Madhya Pradesh to the southeast; and Gujarat to the southwest. Its geographical location is 23.3 to 30.12 North latitude and 69.30 to 78.17 East longitude, with the Tropic of Cancer passing through southernmost tip of the state.


Munger firing incident is an attack on Hindutva: Sanjay Raut

Shiv Sena leader Sanjay Raut called Munger firing incident an attack on Hindutva. He said, "Munger firing incident is an attack on Hindutva. If such an incident would have had happened in Maharashtra,..
Credit: ANI Duration: 01:33
Published
Punjab horror: BJP slams Rahul, Priyanka Gandhi over 6-yr-old's rape-murder case

A political war of words broke out over the alleged rape and murder of the 6-year-old child of a migrant labourer in Punjab. The Bharatiya Janata Party cited the reaction of Congress leaders to a..
Credit: HT Digital Content Duration: 04:54
Published
Watch: India successfully test-fires Nag anti-tank guided missile

India successfully carried out the final trial of the Nag anti-tank guided missile at the Pokhran field firing ranges in Rajasthan. The Missile system is now ready for induction into the Indian Army...
Credit: HT Digital Content Duration: 01:15
Published
People in Jaipur to burn COVID themed effigies this Dussehra

COVID-19 is leaving no stone unturned to play spoilsport. Dussehra celebrations will not be as grand as before this year. Ravana effigy makers from Rajasthan's Jaipur are also feeling the brunt...
Credit: ANI Duration: 01:36
Published
Caught on cam: Unknown people attempt to kidnap married woman in Rajasthan's Dholpur

Few unknown people attempted to kidnap a young married woman in Rajasthan's Dholpur district on October 18. The incident was caught on the CCTV camera. Two men forcibly picked her up and pushed her..
Credit: ANI Duration: 02:21
Published
Dargah Ajmer Sharif attracts people of all faiths

Considered as one of the most popular Muslim pilgrimage centres, the dargah of Ajmer Sharif houses the tomb of Khwaja Moinuddin Chishti, a holy saint who dedicated his entire life to the service of the..
Credit: ANI Duration: 04:14
Published
2 minor girls allegedly raped in Rajasthan's Jalore, police register case

The Rajasthan Police has registered a case of alleged rape of two minor girls in Jalore. "We have registered a case based on a complaint by victims' family members. 4 teams have been dispatched in..
Credit: ANI Duration: 01:06
Published
On cam: Fatal attack on BJP leader by masked men, cop says 'issue not political'

Video of a fatal attack allegedly on a local BJP leader in Rajasthan has gone viral. Mushtaq Qureshi is the minority front district president and former vice chairman. In the video, a group of masked..
Credit: HT Digital Content Duration: 01:50
Published
Gujjar community holds Mahapanchayat over reservation in Rajasthan, internet suspended

Gujjar community held Mahapanchayat in Bharatpur's Bayana over reservation issue.2G/3G/4G data internet services and social media (except voice calls) have been suspended in Bayana, Weir, Bhusawar and..
Credit: ANI Duration: 01:05
Published
'Staying in denial won't help': Kejriwal on Javadekar's Delhi pollution claim

Union Environment Minister Prakash Javadekar flagged off 50 CPCB inspection teams for field visits in Delhi-NCR on Thursday. The CPCB teams will keep a watch on pollution hot spots during the winter..
Credit: HT Digital Content Duration: 04:12
Published
STARS project to be implemented in 6 states to improve school education: Javadekar

The Information and Broadcasting Minister, Prakash Javadekar announced implementation of World Bank supported STARS (Strengthening Teaching-Learning and Results for States Program) project in 6 states..
Credit: ANI Duration: 01:35
Published
Raid conducted in different locations over IPL betting, 7 arrested: ADG Ashok Kumar Rathore

ADG of Anti-Terrorism Squad (ATS) of Rajasthan, Ashok Kumar Rathore said, "Based on information, raids were conducted in five locations across Hyderabad, Delhi, Jaipur and Nagaur in connection with..
Credit: ANI Duration: 02:39
Published
Illegal weapons factory busted in Rajasthan

An Illegal arms factory was busted by police in Rajasthan's Tonk. Two persons have been arrested in this connection and several machines and equipments to make country made pistols have been seized by..
Credit: ANI Duration: 01:59
Published
Karauli priest case: Family performs last rites of victim

Family members of the priest, who was allegedly burnt alive by few people during a scuffle over temple land encroachment at Bukna village in Sapotra, Karauli district of Rajasthan, performed the last..
Credit: ANI Duration: 01:17
Published
Karauli priest case: Will give Rs 1 lakh to victim's family, announces BJP's KL Meena

BJP MP KL Meena on October 10 ended his protest which he held with hundreds of people in Rajasthan's Karauli over the killing of a temple priest. He informed that he stands with the family of the..
Credit: ANI Duration: 02:18
Published
You Might Like



After Punjab, Rajasthan becomes second state to introduce bills to counteract impact of Centre's farm laws

Earlier this month Punjab Assembly passed four bills to negate the Centre's controversial legislation.




DNA - Published





Indian Army develops its own WhatsApp-like messaging application 'SAI'

The Indian Army has developed and launced an in-house messaging application, like WhatsApp, called the 'Secure Application for Internet (SAI)'. SAI was first developed by Colonel Sai Shankar, the..




DNA - Published





Rajasthan to bring law to make wearing masks mandatory




IndiaTimes - Published





Rajasthan govt doubles players' daily allowance; announces out-of-turn jobs for 29 state medallists

The Rajasthan government on Sunday announced that 29 sports medallists will be appointed to the state service on an out-of-turn basis.




DNA - Published





Rajasthan govt to bring bill against Centre's farm laws on Oct 31: Congress leader




IndiaTimes - Published





COVID-19: ZEEL donates 20 ambulances, 4000 PPE kits to Rajasthan

Chief Minister Ashok Gehlot flagged of all 20 ambulances in the presence of Heath Minister Dr Raghu Sharma.




DNA - Published





Unlike UP, Punjab and Rajasthan govts not denying rape: Rahul hits out at BJP

Congress leader Rahul Gandhi has responded to the criticism over visiting Hathras but not meeting rape victim and their families in Punjab, Rajasthan, saying the two states are 'not denying girl was..




IndiaTimes - Published





Covid: High caseloads, but Maharashtra, Rajasthan & Bengal scale down testing




IndiaTimes - Published





This Diwali an alternative to earthen diyas - one prepared with cow dung

A group of woman, who work in a cowshed in Rajasthan, have come forward to prepare diyas with cow dung, which is not just eco-friendly, but will also "promote Prime Minister Narendra Modi's Vocal for..




IndiaTimes - Published





Covid-19: Central teams sent to Kerala, Karnataka, Rajasthan, Chhattisgarh, WB




IndiaTimes - Published




Rajasthan Crime News: After Karauli, another elderly beaten to death in Sikar, five youths in custody

Serious crime in Rajasthan has gone out of control. After burning an elderly priest in Karauli, now in Sikar, another elderly is beaten to death with stones.




DNA - Published





Mayawati attacks Congress govt in Rajasthan over 'rise' in crime against Dalits, women

Bahujan Samaj Party supremo Mayawati on Sunday lashed out at the Rajasthan government over alleged rise in crime against Dalits and women, saying like in Uttar Pradesh, "jungle-raj" also prevailed in..




IndiaTimes - Published





Body of priest cremated after administration's assurances to family; BJP steps up attack on Gehlot govt

A temple priest, who died after being set afire allegedly by land-grabbers on Wednesday in Rajasthan's Karauli district, was cremated after his protesting family members agreed to it following..




IndiaTimes - Published





BJP attacks Rahul Gandhi over crimes in Rajasthan




IndiaTimes - Published





Rajasthan: BJP slams state govt for priest's brutal killing, Karauli-Dholpur MP Manoj Rajoria to meet kin tomorrow

Rajoria said that the state government is slack and is not doing anything about the incident. He has also written to Chief Minster Ashok Gehlot demanding a compensation of Rs 50 lakh to the kin and a..




DNA - Published





Rajasthan temple priest set on fire in Karauli over land dispute, accused arrested

Karauli police said that the priest, Babu Lal Vaishnav, had earlier complained to the cops that Meena and his family were trying to grab the 15 bigha land which belongs to Radha Gopal temple in Bukna..




DNA - Published





Where does he get such 'nasha': MP minister in dig at Rahul

Referring to the Ladakh standoff, Gandhi on Tuesday said had the UPA been in power, "we would have evicted and thrown out China and it would not have taken 15 minutes to do so". In 2018, during the..




IndiaTimes - Published





Two scribes booked for running fake news during power tussle between Ashok Gehlot and Sachin Pilot

Two journalists have been booked by Jaipur police for allegedly running a fake news in July during the power tussle between Rajasthan chief minister Ashok Gehlot and his former deputy Sachin Pilot,..




IndiaTimes - Published





Rajasthan: Miscreants gang-rape minor girl in Barmer, click photos of heinous crime; case registered

A minor girl was gang-raped in Rajasthan's Barmer district. The accused ran away from the scene of crime leaving the victim unconscious. The minor girl has been admitted to a government hospital for..




DNA - Published





Amid COVID-19, 85.17% voter turnout recorded in third phase of Rajasthan Panchayat elections

Under the third phase of panchayat elections, villagers were enthusiastic about voting in 94 gram panchayats of three panchayat committees in Jaipur district on Tuesday.




DNA - Published





Air pollution control on government's top priority, preparations on in Delhi-NCR hotspots before winter

Haryana also Sonipat, Gurugram, Panipat, Faridabad, and Jhajjar. In Uttar Pradesh Ghaziabad, Noida, Bulandshahr, Gautam Budh Nagar and Meerut and Rajasthan's Bhiwadi, were identified as hotspots.




DNA - Published





Javadekar holds meeting with states on stubble burning, air pollution in north India

The state environment ministers of Delhi, Punjab, Rajasthan, Haryana and Uttar Pradesh, along with other officials attended the meeting.




DNA - Published





Over 5,000 accident spots across national highway network; maximum numbers in Tamil Nadu

Around 5,489 black spots across the national highway network were identified between 2015 to December 2019 with Tamil Nadu, West Bengal, Karnataka, Telangana, Andhra Pradesh, Rajasthan and Madhya..




IndiaTimes - Published





Rajasthan: Gram panchayat elections conducted amid COVID-19 threat, strict protocols in place

Polling is underway for the first phase of Panchayat elections at the Kishangarh Renwal Panchayat Samiti in the Jaipur district of Rajasthan. In the first phase of polling, candidates are competing for..




DNA - Published





South-west monsoon starts withdrawing; dry weather over north-west India, rainfall in south: IMD

According to the IMD, conditions are becoming favourable for further withdrawal of the South-west monsoon from some more parts of Rajasthan, Punjab, Haryana, Chandigarh, Delhi, Uttar Pradesh and Madhya..




DNA - Published





Sachin Pilot targets Centre over farm laws, accuses it of betraying farmers

Congress leader Sachin Pilot hit out at the Centre over the new farm laws on Monday and accused it of betraying farmers at a challenging time. The former deputy chief minister of Rajasthan said the..




IndiaTimes - Published





Violent protests in Rajasthan, 2 killed in police firing




IndiaTimes - Published





Former Union minister Jaswant Singh cremated in Jodhpur

Former Union minister Jaswant Singh was cremated at his farm house in Rajasthan's Jodhpur on Sunday evening. The former Union minister had passed away in New Delhi after a prolonged illness. He was 82.




IndiaTimes - Published





Travellers from Dubai, UK contributed maximum Covid-19 importations into India: IIT

he study has also found that infected cases from Tamil Nadu, Delhi and Andhra Pradesh played less role in spreading the disease outside their communities. Whereas infected people in Gujarat, Rajasthan,..




IndiaTimes - Published





Farmers across country hit the streets; rail, road traffic disrupted in many states

Farmers' protests against farm bills passed in Parliament had a strong impact in many parts of the country on Friday, the most affected being Punjab, Haryana and western Uttar Pradesh. Rajasthan,..




IndiaTimes - Published





Rajasthan: Former minister and 3-time MLA from Tonk constituency Zakiya Inam passes away

Former minister and 3-time MLA Zakiya Inam passed away on late Sunday night. Zakiya Inam, a three-time MLA from Tonk, Rajasthan, was battling with COVID-19 for the past several days.




DNA - Published





Rajasthan: Section 144 imposed in 11 districts of state, no religious gatherings till October 31

There are 18227 active COVID-19 cases in Rajasthan with 1336 deaths.




DNA - Published





Rajasthan: 4 members of family commit suicide in Jaipur, bodies found hanging inside house

Further investigation is underway.




DNA - Published





Rajasthan: 11 dead as boat casizes in Kota; PM Modi expresses grief

A total of 19 people were rescued while 11 bodies have been recovered after a boat, carrying over 40 devotees to a temple, capsized in Chambal river in Kota district here, an official said.




DNA - Published





Farmers will protest outside Parliament against farm bills: Haryana BKU leader

Bharatiya Kisan Union leader Gurnam Singh on Tuesday said that farmers from Haryana, Punjab, Uttar Pradesh and Rajasthan will hold a protest on Wednesday outside Parliament against the three..




IndiaTimes - Published





Centre asks seven states to ensure proper oxygen supply in healthcare facilities

The Union Health Ministry on Sunday advised Maharashtra, Andhra Pradesh, Karnataka, Telangana, Gujarat, Rajasthan, and Madhya Pradesh to ensure adequate Oxygen availability in all healthcare facilities..




DNA - Published





Sachin Pilot reminds Rajasthan CM Ashok Gehlot of promise to Gujjar community about 5 per cent reservation

Former Rajasthan Deputy Chief Minister Sachin Pilot has written a letter to Chief Minister Ashok Gehlot on the issue of 5 per cent reservation for Gujjars and other communities.




DNA - Published





Hdg: Across and within states, paediatricians concentrated where children aren't

Uttar Pradesh, Bihar, Madhya Pradesh and Rajasthan between them account for nearly half of all children born in India each year but have barely one-sixth of the paediatricians in the country. The..




IndiaTimes - Published





Pilot writes to Gehlot over 5% reservation to Gurjars, others in govt recruitments in Rajasthan




IndiaTimes - Published





Javadekar issues stern warning against sand mining mafia on National Forest Martyrs Day

Javadekar, in a virtual interaction, appealed to states to make stern laws to tackle sand mining mafia. In a stern message against the illegal practice, he said the situation will be reviewed and those..




IndiaTimes - Published





Two Pakistani drug peddlers trying to cross border in Rajasthan shot dead by BSF

One of the dead has been identified as Shahbaz Ali from the national identity card recovered from him. Meanwhile, the Pakistan Rangers despite being informed of the bodies have disowned them. BSF..




DNA - Published





Congress workers raise slogans outside party office in Ajmer, express support for Sachin Pilot

Former Rajasthan deputy chief minister Sachin Pilot's supporters raised slogans on Wednesday outside the Congress office in Ajmer as party general secretary Ajay Maken held a meeting there with local..




IndiaTimes - Published





Faced no pressure except Constitution's: Rajasthan governor on deadlock over calling assembly session

Rajasthan governor Kalraj Mishra on Wednesday said while dealing with the deadlock with the state government over calling the assembly session in July, he was under no pressure from anyone or anything..




IndiaTimes - Published





Rajasthan Gram Panchayat elections announced, polling to be held in 4 phases from September 28

The elections for the Rajasthan gram panchayats will be held in four phases on September 28, October 3, October 6 and October 10 for the posts of Panch and Sarpanch. Panchayat Samiti and Zila Parishad..




DNA - Published





Kafeel shifts to Rajasthan, says Priyanka assured him of a 'safe stay' there




IndiaTimes - Published





Heavy rainfall over next three days over north, northeast and south India: IMD

The India Meteorological Department (IMD) on Monday predicted heavy rainfall in parts of north, northeast and south India for the next three days. It also said that heavy to very heavy rainfall is very..




IndiaTimes - Published




BJP killing democracy using money power, investigative agencies: Ajay Maken

During his first visit to Rajasthan after he was appointed the party's Rajasthan in-charge, Maken addressed party workers in Alwar district's Shahjahapur and alleged that the BJP "killed democracy" in..




IndiaTimes - Published





As Covid cases rise, govt plans festival-season SOPs

Amid rising number of Covid-19 cases across the country, the government is now worried about the forthcoming festival season. The issue was disPunjab, Haryana and Tamil Nadu — besides..




IndiaTimes - Published





Gujarat, Rajasthan experience severe waterlogging after heavy monsoon rains

Parts of Gujarat and Rajasthan witnessed severe waterlogging after heavy monsoon rainfall.




DNA - Published





Rajasthan BJP launches 'Halla Bol' stir against Gehlot govt

The Bhartiya Janata Party Rajasthan unit has launched a coordinated campaign against the Ashok Gehlot government. On social media, it was called 'BJPKaHallaBol'.




DNA - Published