Rajasthan
State in northern India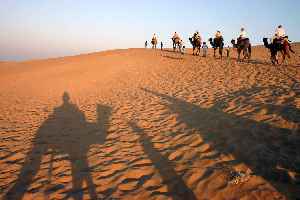 Rajasthan is a state in northern India. The state covers an area of 342,239 square kilometres (132,139 sq mi) or 10.4 percent of the total geographical area of India. It is the largest Indian state by area and the seventh largest by population. Rajasthan is located on the northwestern side of India, where it comprises most of the wide and inhospitable Thar Desert and shares a border with the Pakistani provinces of Punjab to the northwest and Sindh to the west, along the Sutlej-Indus river valley. Elsewhere it is bordered by five other Indian states: Punjab to the north; Haryana and Uttar Pradesh to the northeast; Madhya Pradesh to the southeast; and Gujarat to the southwest. It's geographical location is 23.3 to 30.12 to North latitude and 69.30 to 78.17 East longitude with the Tropic of Cancer passing through southern most tip of the state.


Swarms of desert locusts tear through Rajasthan in northern India

Vast swarms of desert locusts are tearing through India's northern state of Rajasthan, posing a severe threat to agriculture and livelihoods.View on euronews
Credit: euronews (in English) Duration: 00:50
Published
North India reels under heat wave

North Indian states are witnessing a high rise in mercury during summers. Delhiites are facing a tough time beating the heat. People in Uttar Pradesh's Kanpur are suggested not to go out in the sun...
Credit: ANI Duration: 02:30
Published
Almost 20 migrant labourers injured in Prayagraj bus accident

At least 20 migrant labourers got injured in Prayagraj bus accident on May 22 overnight. The bus was carrying around 30 migrant labourers overturned in Nawabganj area. "15-20 people are injured. The..
Credit: ANI Duration: 01:35
Published
UP govt doing petty politics: Sachin Pilot on Yogi administration not allowing Congress buses for migrants

The Deputy Chief Minister of Rajasthan, Sachin Pilot, questioned Uttar Pradesh government's intention for not allowing bus service arranged by congress party for migrant workers. While taking to ANI,..
Credit: ANI Duration: 01:32
Published
CM Gehlot Kicks off 'Indira Priyadarshini Baby Kit' scheme for newborns

Rajasthan Chief Minister Ashok Gehlot started the free of cost 'Indira Priyadarshini Baby Kit' distribution program for newborn girls in Government hospitals. CM Gehlot handed pink color kits to two..
Credit: ANI Duration: 01:21
Published
Congress leaders gather outside Agra police station after party state president got arrested

Congress leaders gathered outside police station in UP's Agra. Congress UP Chief Ajay Singh Lallu is arrested by the police. Police detained Lallu after he indulged in an argument with police and..
Credit: ANI Duration: 01:32
Published
'Shramik special' train derails in Mangaluru

A 'shramik special' train on Tirur (Kerala) to Jaipur (Rajasthan) route derailed at Padil, Mangaluru at around 2 am on May 19. No injuries have been reported. Train resumed its journey after the..
Credit: ANI Duration: 01:06
Published
Instead of criticizing Rahul Gandhi, Centre should talk with opposition for helping migrant workers: Ashok Gehlot

After Union Finance Minister Nirmala Sitharaman criticized Rahul Gandhi for meeting migrant workers, Chief Minister of Rajasthan, Ashok Gehlot condemned the statement and said that instead of it,..
Credit: ANI Duration: 02:12
Published
Congress' buses ferrying migrant workers from Rajasthan stuck at UP border, awaits CM Yogi's permission

As many as 135 buses, arranged by Congress to ferry migrant workers from Alwar in Rajasthan to Uttar Pradesh, are stranded at the Bahaj inter-state border as UP government didn't give permission to..
Credit: ANI Duration: 01:33
Published
Coolers installed at Jodhpur zoo to provide relief to animals

Amidst rising temperature, coolers have been installed in Machiya Park in Rajasthan's Jodhpur in order to provide relief to animals. To help the animals beat the heat, water is also sprinkled on them..
Credit: ANI Duration: 02:22
Published
24 labourers killed, several injured after 2 trucks collide in UP's Auraiya

At least 24 labourers were killed and several injured after the truck they were travelling in, collided with another truck in Uttar Pradesh's Auraiya on May 16. The injured have been shifted to..
Credit: ANI Duration: 01:39
Published
Several states aren't giving permission for 'shramik special' trains which pains me: Railways Minister

While speaking to ANI in the national capital on May 14 amid COVID-19 outbreak, the Union Railways Minister Piyush Goyal spoke on 'shramik special' trains. He said, "It pains me that several states..
Credit: ANI Duration: 02:54
Published
Contingency plan should be completed with highest priority: CM Gehlot

While reviewing the drinking water supply in the state, Chief Minister of Rajasthan Ashok Gehlot said that district collector and Water Supply Department officials should ensure proper supply of..
Credit: ANI Duration: 01:24
Published
Swarm of locusts attacks Rajasthan's Ajmer, leaves farmers worried

Rajasthan's Ajmer witnessed a locust attack. Swarm of insects entering the city has left farmers worried. Threat from insects prevails as farmers have just sown crops. "Locusts entered the district..
Credit: ANI Duration: 02:09
Published
COVID-19: Haryana's situation better than neighbouring states, says CM Khattar

The Chief Minister of Haryana, Manohar Lal Khattar informed that total number of COVID19 cases in the state reached 555, including 289 active cases, 260 recoveries and 6 deaths."Our situation is better..
Credit: ANI Duration: 01:27
Published
Centre should announce package for state govts and needy: Sachin Pilot

Rajasthan Deputy Chief Minister Sachin Pilot spoke on the financial aid by Centre amid coronavirus. "Financial aid provided by the Central Government is almost non-existent when compared to other..
Credit: ANI Duration: 01:41
Published
Disinfectant sprayed on people arrived in WB's Hooghly by 'Shramik Special' train amid lockdown 3.0

Disinfectant was sprayed on people who arrived in West Bengal's Hooghly amid coronavirus lockdown on May 05. They arrived at Dankuni railway station from Rajasthan's Ajmer by 'Shramik Special' train...
Credit: ANI Duration: 01:19
Published
Wreath laying ceremony of Col Ashutosh Sharma held in Jaipur

Wreath laying ceremony of Colonel Ashutosh Sharma was held at Jaipur Military Station on May 05. Relatives of Col Ashutosh Sharma paid last respects to him. Rajasthan Chief Minister Ashok Gehlot paid..
Credit: ANI Duration: 02:52
Published
Around 900 migrant labourers reach Jharkhand from Rajasthan via special train

Around 900 migrant labourers of the Jharkhand reached Barkakana railway station of Ramgarh district from Rajasthan's Nagaur on May 04. They were later sent to their respective districts on buses..
Credit: ANI Duration: 01:15
Published
India's poor pushed to live in trees for isolation

Indian Prime Minister Narendra Modi asked the nation's poor for "forgiveness" on Sunday, as the economic and human toll from his 21-day nationwide lockdown deepens. Lacking space in their homes, some..
Credit: Reuters Studio Duration: 02:06
Published
You Might Like



Centre to set up fisheries export hub in north India, prawn farming to be promoted in UP, Punjab, Haryana and Rajasthan




IndiaTimes - Published




After laying waste to Rajasthan and Madhya Pradesh, desert locust swarms headed towards Delhi; wind pattern uncertain

The locust swarms threaten major damage to foliage and as such, can prove to be extremely detrimental to the capital city, considering that a section of it is under green cover




DNA - Published





Coronavirus in India LIVE: With 109 new cases, COVID-19 tally in Rajasthan mounts to 7,605

Maharashtra continues to be the epicenter of the coronavirus spread




DNA - Published




Locust swarms 'headed' to Delhi, UP braces for 2nd attack

A swarm of desert locusts that infested Jaipur on Monday morning could be headed towards the capital, if wind speed is favourable. Delhi has been kept on alert as such swarms are currently active in..




IndiaTimes - Published





Heatwave in several parts of north, west India; very heavy rainfall forecast for Assam, Meghalaya

Several parts of north and west India reeled under scorching heatwave with the temperature touching 50 degrees Celsius in Rajasthan's Churu district on Tuesday, even as the meteorological department..




IndiaTimes - Published





After UP, Rajasthan reverts to 8-hr factory shifts

Human resources experts, trade unions and civil society groups have lauded the Rajasthan government's decision on Sunday to revert to 8-hour shifts in all registered factories in the state instead of..




IndiaTimes - Published





Heatwave likely to abate only after May 28; dust storm, thunderstorm expected on May 29-30: IMD

Dust and thunderstorms are likely over several parts of north India on May 29-30, bringing the much-needed relief from the intense heatwave, the IMD said.Delhi, Rajasthan, Haryana, Punjab and parts of..




IndiaTimes - Published





Rajasthan's Covid-19 count surges to 7,173 with 73 news cases on Monday

With 6,977 new cases, India has now 1,38,845 confirmed cases of COVID-19. So far 57,721 persons have recovered or migrated, said the Ministry of Health and Family Welfare on Monday.




IndiaTimes - Published





After wreaking havoc in Rajastan and MP, locusts attack UP




IndiaTimes - Published





11 areas with 70% of cases asked to scale up Covid fight

The Centre on Saturday asked the 11 municipal areas accounting for 70% of active Covid-19 cases to step up testing for early detection, timely clinical management and a reduction in fatality rate. The..




IndiaTimes - Published





SHO commits suicide in Rajasthan's Churu, two suicide notes recovered

His body was found hanging from the ceiling on Saturday morning at the official quarter.




DNA - Published





Video: When an army officer told policemen...'We are proud of you'

The video shows an Indian Army officer in Rajasthan talking to two cops and appreciating them for their good work.




DNA - Published





Rajasthan paid for fuel of buses ferrying Kota students to UP: Transport minister




IndiaTimes - Published





Another Covid-19 death in Rajasthan; cases rise to 6,281




IndiaTimes - Published





India records biggest single-day spike of 6,088 Covid-19 cases; death toll mounts to 3,583

The number of active Covid-19 cases stood at 66,330, while 48,533 people have recovered and one patient has migrated, health ministry has said. Of the 148 deaths reported since Thursday morning, 64..




IndiaTimes - Published





With 3 more deaths, Covid-19 fatalities rise to 150 in Rajasthan




IndiaTimes - Published





Congress-arranged buses for migrants return from Rajasthan-UP border




IndiaTimes - Published





Rajasthan's Covid-19 tally reaches 5,952




IndiaTimes - Published





Adityanath shifts blame on Congress govts in Punjab, Rajasthan for accident in UP's Auraiya




IndiaTimes - Published





Smiling Buddha: 46 years of Pokhran-1 test that made India a nuclear power

Today, India is observing the 46th anniversary of its first nuclear test in Rajasthan's Pokhran.




DNA - Published





Covid-19: Rajasthan-based company develops robots to screen people




IndiaTimes - Published





UP: 24 migrant workers killed, several injured in road accident in Auraiya

The labourers were returning home from Rajasthan.




DNA - Published




Rajasthan CM Ashok Gehlot sees returnee migrants as assets




IndiaTimes - Published





Second-highest spike in new cases as Maharashtra, Delhi numbers soar

Total of 3,500 cases were added to India's Covid count. The infection continues to spiral in several states, led by Maharashtra, which again reported 1,602 cases. The pandemic was also showing a surge..




IndiaTimes - Published





68 new coronavirus cases in Rajasthan, state's count now 4,056




IndiaTimes - Published





Western disturbance likely to cause thunderstorm in Himachal, Haryana, Delhi tomorrow: IMD

"Thunderstorm accompanied with lightning and gusty winds (speed reaching 40-50 kmph) likely at isolated places over Jharkhand, Manipur, Mizoram, Tripura, Rajasthan, Vidarbha, Chhattisgarh and West..




IndiaTimes - Published





On National Technology Day, PM hails those at forefront of research to defeat Covid-19

Prime Minister Narendra Modi on Monday remembered the nuclear tests held in 1998 at Pokhran, Rajasthan, terming it an "exceptional achievement" and a "landmark moment in India's history" and applauded..




IndiaTimes - Published





National Technology Day 2020: History, significance, lesser-known facts

The National Technology Day marks the anniversary of the underground nuclear tests conducted in Rajasthan's Pokhran.




DNA - Published





57 new COVID-19 cases in Rajasthan today




IndiaTimes - Published





'On way home, 42 migrants got killed in road accidents'

Between March 24 and May 4, a total of 137 people died in such road accidents across the country, a report compiled by the SaveLife Foundation, a non-profit that works on road safety, has found. Of..




IndiaTimes - Published





Rajasthan CM, South Western Army chief pay tributes to Col Ashutosh Sharma

Rajasthan Chief Minister Ashok Gehlot, Soldier Welfare Minister Pratap Singh, South Western Army chief Lt Gen Alok Kler and others paid tributes to Colonel Ashutosh Sharma, who was killed in an..




IndiaTimes - Published





Migrants return, bring home the virus

Fourteen migrant workers in institutional quarantine since returning to their native Chhattisgarh tested positive for Covid-19 on Sunday, but even more alarming was the spectre of infections travelling..




IndiaTimes - Published





Railways subsidising 85 pc fare, only some oppn-ruled states made migrants pay: BJP

In a series of tweets, BJP general secretary (organisation) B L Santhosh said only Rajasthan, Maharashtra and Kerala governments made migrant labourers pay Rs 1,000 for the journey. "The Congress which..




IndiaTimes - Published





Jaipur crosses 1,000-mark as Rajasthan registers 3,009 cases




IndiaTimes - Published





Special train carrying around 1,200 students stranded in Rajasthan's Kota reaches Jharkhand

A special train from Rajasthan's Kota carrying around 1,200 students belonging to Jharkhand reached Hatia railway station in Ranchi on Saturday, a senior railway official said.




IndiaTimes - Published





COVID-19 Lockdown: Delhi govt arranges 40 buses to bring back stranded students from Rajasthan's Kota

Delhi Transport Minister Kailash Gahlot took to his official handle on Twitter to post pictures from Kashmere Gate




DNA - Published