President of the United States
Head of state and government of the United States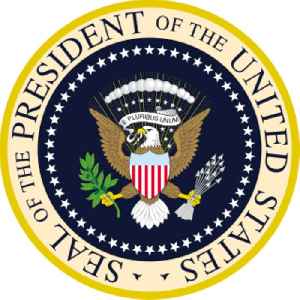 The president of the United States (POTUS) is the head of state and head of government of the United States of America. The president directs the executive branch of the federal government and is the commander-in-chief of the United States Armed Forces.


2020 Election Takes Final Sprint

The 2020 Election is in its final stretch. Traditionally the launch of the presidential race's intense final stages. President Donald Trump and Joe Biden will begin trying to mobilize voters. Biden has..
Credit: Wochit News Duration: 00:48
Published
Why Is Biden's Lead Slipping?

Joe Biden's poll numbers are slipping. The former Vice President is currently leading Pres. Donald Trump in the polls. He led by double digits over the summer. Now, his lead has dropped to low single..
Credit: Wochit News Duration: 00:49
Published
Tremendous work on non-vaccine treatment: Donald Trump on US' Covid response

Donald Trump, President of the United States of America, commented on the progress of research to stop the Covid-19 pandemic. Commenting on the race to develop a vaccine, he said that many companies..
Credit: HT Digital Content Duration: 03:33
Published
You Might Like



Marco Rubio Challenges '1619 Project,' Says Trump's Defunding Threat Hurts Kids

Marco Rubio's weighing in on President Trump's threat to defund schools that use "The 1619 Project," saying POTUS is misguided -- but he's also challenging the project's view of American history. We..




TMZ.com - Published





Dana White Asks Trump to Help Save Iranian Wrestling Champ Sentenced to Death

UFC boss Dana White personally called President Trump to ask for help in saving an Iranian wrestling champ who is set to be executed ... and POTUS has already taken action. As we previously reported,..




TMZ.com - Published





Trevor Noah Takes Legal Jab at President Trump with Full-Page Ad

Trevor Noah, Esq. is ready to defend President Trump against a flood of lawsuits once he's out of office ... that's if POTUS can't get Larry H. Parker on the line. 'The Daily Show' host took out this..




TMZ.com - Published





Kanye West Seeks Donations, Takes Stands on 2020 Presidential Issues

Kanye West wants you to donate to his campaign so he can become the 46th POTUS, and he's making the pitch by laying out his positions on various issues, and one thing's clear ... he's playing to both..




TMZ.com - Published





LeBron James On Donald Trump's NBA Boycott, See Ya!

LeBron James says the NBA won't miss Donald Trump as a viewer -- essentially telling POTUS not to let the door hit him on the way out! "I really don't think the basketball community are sad about..




TMZ.com - Published





Macho Man & Elton John songs play for Potus




IndiaTimes - Published





Watch: PM Modi says 'NamasteyTrump' with a hug as POTUS lands in India

As US President Donald Trump arrived in India on his first official tour, he received a special welcome from his 'friend' Prime Minister Narendra Modi who gave him a hug as he came out of the aircraft.




DNA - Published





US President Donald Trump, Melania Trump to be accorded traditional welcome

The five-star hotel, symbolised by the distinctive logo of hands folded in the traditional 'Namaste', will harp on its own branding and the fact that 'Namaste Trump' has been trending all over. The..




IndiaTimes - Published





Official records of Modi-Trump meet at Osaka summit back India's denial to POTUS' claim on Kashmir mediation

In the flurry of diplomatic activity that followed Donald Trump's remarks on Kashmir mediation, both the sides checked their official records of discussion at the Osaka summit and found no mention of..




Firstpost - Published





?India should react calmly to Donald Trump's 'mediation' in Kashmir; bilateral ties more important than POTUS' rants

The India-US ties will survive Donald Trump's idiotic statement on Kashmir. It is a symbiotic relationship where both nations have much to gain from each other. Let not a "genius" in the..




Firstpost - Published





Donald Trump's clumsy 'mediation' claim over Kashmir gives Pakistan chance to link progress in Afghanistan and dialogue with India

There is no doubt at all that the question on Kashmir was planted among the Pakistani media present at the time, and that POTUS rose to it like a fish at a bait. But here's the thing. Nothing has..




Firstpost - Published





'Don't think POTUS has the slightest idea': Twitterati seriously doubt PM Modi asked Trump to mediate on Kashmir

US President Donald Trump on Monday offered to be the "mediator" between India and Pakistan on the Kashmir issue as he met Prime Minister Imran Khan at the White House where the two leaders discussed a..




DNA - Published





Mueller Investigation Finds No Trump-Russia Collusion: Attorney General Reports

by Stephanie Boyd - One of the most momentous points in Donald Trumps' US Presidency has come to pass this weekend. With the handing in of Special Counsel Robert Mueller's report into the..




One News Page Staff - Published





Did Nancy Pelosi 'Clap Back' at Trump's State of the Union Speech?

by Stephanie Boyd - For some time, it was unclear whether or not US President Donald Trump's State of the Union speech was going to happen at all this February. Following the longest US..




One News Page Staff - Published