Netherlands
Country in Western Europe and partly in the Caribbean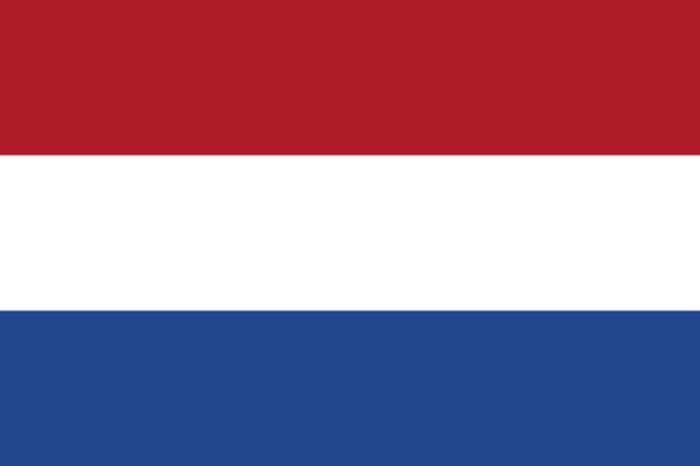 The Netherlands, informally Holland, is a country primarily located in Western Europe and partly in the Caribbean. It is the largest of four constituent countries of the Kingdom of the Netherlands. In Europe, the Netherlands consists of twelve provinces, bordering Germany to the east, Belgium to the south, and the North Sea to the northwest, with maritime borders in the North Sea with those countries and the United Kingdom. In the Caribbean, it consists of three special municipalities: the islands of Bonaire, Sint Eustatius and Saba. The country's official language is Dutch, with West Frisian as a secondary official language in the province of Friesland, and English and Papiamento as secondary official languages in the Caribbean Netherlands. Dutch Low Saxon and Limburgish are recognised regional languages, while Sinte Romani and Yiddish are recognised non-territorial languages.


Tenant Receives Key Of First Ever Dutch 3D-Printed Concrete 'Boulder' Home

The first tenant of the first ever Dutch 3D-printed concrete home has received the key. The house is a detached single-story home in the Eindhoven neighbourhood of Bosrijk. It has 94 square meters of..
Credit: Cover Video STUDIO Duration: 01:25
Published
Switzerland, Netherlands send oxygen concentrators, other medical supplies to India

Switzerland sent medical supplies, including oxygen concentrators and respirators to India. A cargo aircraft carrying over 13 tonnes of medical supplies left Zurich for New Delhi. The supplies worth..
Credit: HT Digital Content Duration: 02:23
Published
Flight carrying medical supplies from Netherlands arrives in Delhi

A flight carrying medical supplies arrived in the national capital from Netherlands on May 07. It is the first shipment from Netherlands that carried 449 ventilators, 100 oxygen concentrators and other..
Credit: ANI Duration: 01:06
Published
Dutch victims of fraudulent adoptions seek answers

It follows the release of a report which found the Dutch government knew about child rights abuses dating back to the 1970s - and didn't do anything to stop it.
Credit: Al Jazeera STUDIO Duration: 02:51
Published
This home was made using 3D-printing

A retired couple is set to move into this 3D-printed home, the first of its kind in the Netherlands.
Credit: Bleacher Report AOL Duration: 01:18
Published
Netherlands eases COVID-19 curbs despite spike in infections

Virologists and medical workers have called the decision to ease restrictions dangerous and irresponsible.
Credit: Al Jazeera STUDIO Duration: 02:30
Published
Young employees enjoy greater work/life balance while working from home

To analyse the pros and cons of remote working, researchers from the Technical University of Denmark Management circulated questionnaires in eight European countries and the Netherlands and got..
Credit: Cover Video STUDIO Duration: 01:27
Published
Netherlands doctors warn against easing COVID-19 rules

The easing of rules from April 28 has medical staff worrying that their worst fears could become a reality.
Credit: Al Jazeera STUDIO Duration: 02:45
Published
Netherlands Dam: Sea change make structure ineffective

It was built nearly a century ago as one of the most innovative mega projects of its time. The 32-kilometre Enclosure Dam in the Netherlands has served to protect the nation from the sea. But now,..
Credit: Al Jazeera STUDIO Duration: 02:57
Published
See superyacht squeeze through narrow canals

Photographer Tom van Oossanen captured footage of a massive yacht being transported through tiny canals in Holland. The ship was built by a Dutch company at their shipyard in Kaag and it's on its way..
Credit: Bleacher Report AOL Duration: 01:18
Published
Obese people at higher risk of a more severe COVID-19 infection: Study

A new study has found that COVID-19 patients who are overweight or obese are more likely to develop a more severe infection than patients of healthy weight, and they require oxygen and invasive..
Credit: ANI Duration: 01:11
Published
New Microsoft Flight Simulator Gives France and Benelux New World Update

Developer, Asbro, has released its latest Flight Simulator World Update giving France, Belgium, the Netherlands, and Luxembourg an amazing overhaul
Credit: Cover Video STUDIO Duration: 01:01
Published
Netherlands very grateful for air-bubble agreement between 2 countries: MEA

Speaking on today's virtual summit between Netherlands Prime Minister and Prime Minister Narendra Modi, MEA Joint Secretary (Europe West) on April 09 said, "The Netherlands is very grateful for the..
Credit: ANI Duration: 01:31
Published
'India, Netherlands have similar approach on climate change, terrorism': PM Modi

Prime Minister Narendra Modi Friday said there have been similarities of approach between India and the Netherlands in dealing with global challenges like climate change, terrorism and pandemics. He..
Credit: HT Digital Content Duration: 02:44
Published
India, Netherlands have similar approach on challenges like terrorism, pandemic: PM Modi

During a virtual summit with Netherlands Prime Minister, Prime Minister Narendra Modi said India and Netherlands' approach towards challenges including terrorism, climate change, pandemic is similar...
Credit: ANI Duration: 01:09
Published
Netherlands PM applauds India for 'Vaccine Maitri' programme

Prime Minister of Netherlands, Mark Rutte during virtual meet with Prime Minister Narendra Modi applauded India for its 'Vaccine Maitri' programme for helping countries amid pandemic. "I appreciate..
Credit: ANI Duration: 01:23
Published
'Want freedom from Pakistan': Balochis stage protests in Germany, Netherlands

Pakistan faced international embarrassment on March 27 as protests were organised in many parts of the world. Balochis demand freedom of their homeland from Pakistani and Iranian occupation. They also..
Credit: HT Digital Content Duration: 02:01
Published
Baloch activists stage anti-Pak protests across world to mark March 27 as 'Black Day'

Supporters of the Baloch National Movement (BNM) carried out several protest marches across the world, in cities in Germany, the Netherlands and South Korea on Saturday. On March 27, 1948, the Pakistan..
Credit: ANI Duration: 02:36
Published
Netherlands trials new COVID-19 app at pilot music festivals

The Dutch government wants to investigate whether large events, like music festivals and concerts, can be held safely with proof of a negative COVID-19 test result using a new phone app.
Credit: euronews (in English) Duration: 01:03
Published
Happiest country in the world: How does India rank? | Oneindia News

UN World happiness report: For a 4th year running, Finland has ranked the happiest country, A UN report shows. Despite the pandemic, Finland retained its spot, followed by Denmark at second place and..
Credit: Oneindia Duration: 01:24
Published
Dutch take to the polls from their cars and bikes

Three days of voting began in the Netherlands on Monday in a parliamentary election seen as a referendum on the Dutch government's handling of the coronavirus pandemic. Emer McCarthy reports.
Credit: Reuters - Politics Duration: 01:20
Published
You Might Like



Virgil van Dijk: Liverpool & Netherlands defender rules himself out of Euro 2020

Liverpool centre-back Virgil van Dijk rules himself out of playing for the Netherlands at this summer's European Championship.




BBC Sport - Published





Aniek Nouwen: WSL champions Chelsea sign PSV and Netherlands defender

Women's Super League winners Chelsea agree terms to sign PSV and Netherlands defender Aniek Nouwen on a three-year deal from next season.




BBC Sport - Published





India received 2,060 oxygen concentrators, 3 oxygen generation plants as foreign aid on Friday

India received 2,060 oxygen concentrators, 30,000 vials of Remdesivir, 467 ventilators and three oxygen generation plants from US-India Strategic Partnership Forum (USISPF), Switzerland, Poland, the..




IndiaTimes - Published





Eurovision Song Contest to allow 3,500 in audience under strict COVID-19 measures

This year's Eurovision Song Contest will be held with 3,500 fans in Rotterdam, the Dutch government has confirmed.




Sky News - Published




Covid-19: Netherlands suspends flights from India till May 1

The Netherlands has said it is suspending all passenger flights arriving from India starting Monday amid a surge in coronavirus infections in the country. The ban will take effect for passenger flights..




IndiaTimes - Published





EU releases Indo-Pacific strategy, envoy Ugo reaffirms ties with India

EU joins countries like France, Germany and Netherlands in the block to issue strategies on Indo-Pacific.




DNA - Published





India a key player in Indo-Pacific, says Netherlands envoy Marten van den Berg

Marten van den Berg also lauded India's role amid the COVID pandemic.




DNA - Published





Netherlands, India agree on rules-based order of nations




IndiaTimes - Published





India crucial partner both in Indo-Pacific, world at large: Netherlands PM




IndiaTimes - Published





New opportunities will be created in post-Covid world for India, Netherlands: PM Modi




IndiaTimes - Published





PM Modi to hold virtual summit with his Dutch counterpart on Friday

Prime Minister Narendra Modi will hold a virtual summit with his counterpart from the Netherlands, Mark Rutte, on Friday with a focus on finding new ways to further strengthen bilateral ties, the..




IndiaTimes - Published





Scotland to play Luxembourg & Netherlands in Euro 2020 warm-up games

Scotland will play friendlies against Luxembourg and Netherlands in preparation for the European Championship.




BBC Sport - Published





Netherlands 2-0 Latvia: Dutch dominate in World Cup qualifier

Netherlands produce a dominant display to defeat Latvia, as Stephanie Frappart becomes the first female to referee a men's World Cup qualifier.




BBC Sport - Published





Turkey 4-2 Netherlands: Burak Yilmaz scores hat-trick to stun Dutch

Netherlands begin their 2022 World Cup qualifying campaign with a surprise defeat by Turkey.




BBC Sport - Published





Is the blood-clot scare in Europe over Covishield really justified?

Serum Institute's Covishield is India's main Covid vaccine. In the West, it is known as the 'Oxford' or 'AstraZeneca' vaccine. ​​​Over the past few days, 11 European countries,..




IndiaTimes - Published





Ireland, Netherlands suspend AstraZeneca Covid-19 vaccine: Highlights

Ireland and The Netherlands became the latest countries to suspend the use of the AstraZeneca/Oxford University vaccine for their Covid-19 immunisation programme. ​The Indian version of the vaccine..




IndiaTimes - Published





'Assad must be held accountable': Inside the 'optimistic' bid to bring Syria's president to trial

The Syrian government "must be held accountable" for crimes committed over the past decade, according to the Netherlands, which is leading the international action to bring President Bashar al Assad to..




Sky News - Published




Strade Bianche: Chantal van den Broek-Blaak wins women's race

Chantal van den Broek-Blaak of the Netherlands wins the Women's Strade Bianche in Italy, ahead of Elisa Longo Borghini.




BBC Sport - Published





German man suspected of three heists against money transporters arrested by Dutch police

A German man suspected of taking part in three robberies that targeted money transporters has been arrested in the Netherlands.




Sky News - Published




Airlines urged to suspend use of some planes after second Boeing engine drops parts and catches fire

A second incident involving a Boeing plane's engine catching fire and dropping parts has been reported - this time in the Netherlands.




Sky News - Published




Chennai: Narcotics worth USD 9,000 seized from soup packet, greeting card from Netherlands

A ziplock packet containing white crystal powder was found inside the card and it tested positive for Methamphetamine.




DNA - Published





Netherlands issues 'code red' alert as heavy snow closes COVID testing centres

Heavy snow and strong winds have led the Netherlands to issue its first "code red" nationwide weather alert in nine years.




Sky News - Published




Dozens arrested during anti COVID curfew rioting in Netherlands

At least 70 people have been arrested after a third night of protests in the Netherlands.




Sky News - Published




Riots erupt in Netherlands during protests over lockdown curfew

Riots erupted in the Netherlands over the weekend after a night-time curfew to prevent the spread of COVID-19 was imposed.




Sky News - Published




Bound for Netherlands? Get tested 4 hours before flight




IndiaTimes - Published





Pro Cyclist Gets 9-Month Ban For Causing Crash That Left Rival In Coma

Dylan Groenewegen -- a pro cyclist from the Netherlands -- was just hit with a 9-month ban for causing the horrific crash that left his rival in a coma. The incident took place back in August .....




TMZ.com - Published





India stood by France four times in past two days amid terror attacks

India is the first "non-western" country to support Macron publicly. So far, Italy, Germany, Canada, the Netherlands have come in full public support for the French leader.




DNA - Published





Netherlands becomes first country to report COVID-19 reinfection death in world

Reuters also reported that she was also suffering from a rare form of bone marrow cancer.




DNA - Published





165 Ecstasy pills worth Rs 5 lakh seized in Chennai

Chennai Air Customs officials seized two parcels that contained a total of 165 MDMA or Ecstasy pills, worth Rs 5 lakh or USD 6779, that arrived at the Foreign Post Office from the Netherlands




DNA - Published





Netherlands Crazy Fight Video Shows Everything in Sight Hurled

You think The Netherlands is all kumbaya ... well, we're about to disabuse you of that notion with this video. It's unclear what started this insane fight on the streets of Groningen, as a brawl erupts..




TMZ.com - Published





In biggest-ever drug haul in Chennai, contraband worth Rs 1.65 crore seized

The two parcels that arrived from Belgium and Netherlands at the Foreign Post office in Chennai contained a total of 5,210 ecstasy pills, 100 grams of MDMA crystals and 1 gram of Methaqualone, with..




DNA - Published





Ecstasy pill variants 'Frosch' and 'Lamborghini' worth Rs 16 lakh seized in Chennai

On suspicion of containing narcotic substances, Chennai Air Customs had detained two postal parcels which arrived from the Netherlands.




DNA - Published





Chennai Customs thwarts efforts to smuggle 'Red Buli' ecstasy pills in foreign postal parcel from Netherlands

These ecstasy pills are commonly known as 'Red Buli' and have a 'bull' stamp on one side and contain around 250 mg of MDMA, which is a very high dose.




DNA - Published





Dutch drink offenders to get teetotal tag to keep them dry

People in the Netherlands convicted of crimes related to alcohol abuse will have to wear a special ankle bracelet to monitor their drinking habits once the government has passed the necessary..




Reuters - Published





Astrazeneca wins coronavirus vaccine deal with Germany, France, Italy and the Netherlands

British drugmaker AstraZeneca Plc said on Saturday it signed a contract with Italy, Germany, France and the Netherlands to supply Europe with a vaccine against the coronavirus, with deliveries starting..




Reuters - Published





Italy, Germany, France and Netherlands sign contract with Astrazeneca for COVID vaccine

Italy, Germany, France and the Netherlands have signed a contract with Astrazeneca to supply European citizens with a vaccine against the coronavirus, Italy's health minister said on Saturday.




Reuters - Published





Netherlands 'very disturbed' by U.S. moves against ICC, says foreign minister

The Netherlands is "very disturbed" by an executive order issued by U.S. President Donald Trump on Thursday that paved the way for sanctions against employees of the International Criminal Court, which..




Reuters - Published





Defence wants more time in Dutch MH17 trial after Covid-19 delays

Defence lawyers on Monday insisted they needed more time to prepare at the trial of suspects in the downing of a Malaysia Airlines flight over eastern Ukraine, as proceedings resumed after a..




Reuters - Published





Car drives onto sidewalk cafe in southern Netherlands, injuring six

A car drove into an outdoor cafe in the southern Netherlands on Wednesday night, injuring six people, one of them seriously, police said.




Reuters - Published




Dutch school shuts after teachers test positive for COVID-19

An elementary school in the Netherlands closed in the city of The Hague on Wednesday after two teachers tested positive for coronavirus and seven students developed gastrointestinal symptoms, an..




Reuters - Published





Dutch bar terraces fill quickly as lockdown ends

Terraces throughout the Netherlands filled quickly on Monday as bars and restaurants were allowed to open for the first time in almost three months on a sunny public holiday.




Reuters - Published





Dutch PM did not visit dying mother until end due to coronavirus rules: statement

Dutch Prime Minister Mark Rutte did not visit his 96-year-old mother for more than eight weeks until hours before her death this month due to lockdown measures in the Netherlands, his office said on..




Reuters - Published





Striking workers block doors of Tata Steel plant in Netherlands

A group of around 100 striking worker have blocked the doors at Tata Steel's main Ijmuiden plant at the Netherlands, ANP news agency reported on Tuesday.




Reuters India - Published





Mink infected two humans with coronavirus: Dutch government

Mink with the coronavirus have infected two people in the Netherlands in what are probably the first such cases of transmission during the epidemic, government and health authorities said on Monday.




Reuters - Published





Dutch schools, cafes and museums to reopen in June

The Netherlands will press ahead with a further easing of lockdown measures in June due to a steadily declining number of coronavirus infections and hospital admissions, Prime Minister Mark Rutte said..




Reuters - Published





Dutch dog, three cats infected with coronavirus: minister

A dog and three cats in the Netherlands have been infected with the new coronavirus, authorities said on Friday, the first confirmed cases involving house pets in the country.




Reuters - Published