Netherlands
Country in Western Europe with territories in the Caribbean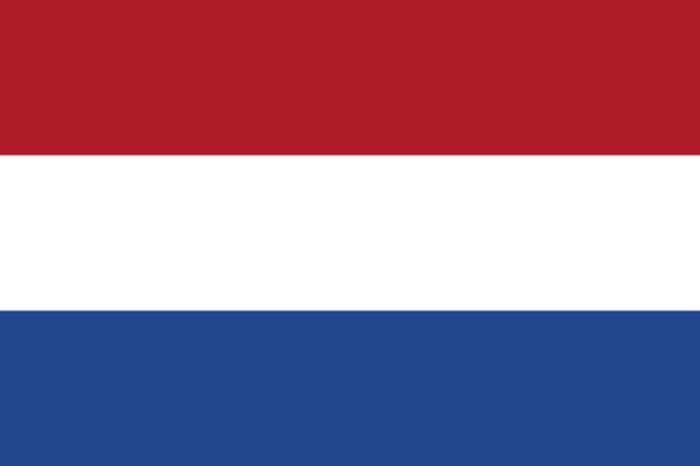 The Netherlands, informally Holland, is a country located in Western Europe with territories in the Caribbean. It is the largest of four constituent countries of the Kingdom of the Netherlands. In Europe, the Netherlands consists of twelve provinces, bordering Germany to the east, Belgium to the south, and the North Sea to the northwest, with maritime borders in the North Sea with those countries and the United Kingdom. In the Caribbean, it consists of three special municipalities: the islands of Bonaire, Sint Eustatius and Saba. The country's official language is Dutch, with West Frisian as a secondary official language in the province of Friesland, and English and Papiamento as secondary official languages in the Caribbean Netherlands. Dutch Low Saxon and Limburgish are recognised regional languages, while Dutch Sign Language, Sinte Romani and Yiddish are recognised non-territorial languages.


Hungary and Poland not the only European countries found wanting on LGBT rights, says ILGA Europe

UK, Belgium, Spain, Italy, and the Netherlands also had questions to answer, according to ILGA Europe.
Credit: euronews (in English) Duration: 02:47
Published
Defending Olympic title 'not a distraction' for Adam Peaty

Adam Peaty insists the prospect of becoming the first Team GB swimmer to defend an Olympic title is "not a distraction".The 26-year-old took gold in the 100m breaststroke in Rio, and broke his own..
Credit: PA - Press Association STUDIO Duration: 01:03
Published
Dutch residents assess flood damage to homes

Thousands of residents from the southern Dutch cities of Bunde, Voulwames, Brommelen and Geulle were allowed to return home on Saturday morning after being evacuated on Thursday and Friday due to..
Credit: euronews (in English) Duration: 01:00
Published
Europe floods: Over 120 dead in Germany & Belgium, hundreds still missing | Oneindia News

Large scale flooding in western Europe has killed over 120 people, while hundreds of people remain missing. Heavy rainfall battered parts of France, Switzerland, Luxembourg and the Netherlands. The..
Credit: Oneindia Duration: 02:03
Published
The world's first 3D-printed steel bridge has opened in Amsterdam

The Dutch capital has a new hi-tech landmark: a 3D-printed pedestrian steel bridge with sensors that collect data in real-time.
Credit: Euronews English Duration: 01:50
Published
Dutch crime reporter Peter R de Vries wounded in shooting in Amsterdam

The prominent journalist, known for his reporting on the Dutch criminal underworld, is in a serious condition in hospital.
Credit: Euronews English Duration: 02:12
Published
Dutch farmers continue protests over gov't nitrogen emissions cut

The gas is a major contributor to global warming and the Netherlands is one of Europe's largest emitters, but farmers say the planned change puts their livelihoods at risk.
Credit: Al Jazeera STUDIO Duration: 02:43
Published
Will efforts to stop nitrogen pollution harm farmers? | Inside Story

Farmers in the Netherlands are protesting against plans to shut down farms to reduce nitrogen emission.
Credit: Al Jazeera STUDIO Duration: 24:30
Published
Czechs upset 10-man Netherlands to reach Euro 2021 quarter-finals


Credit: FRANCE 24 English Duration: 04:03
Published
Thirteen EU countries denounce Hungary's new anti-LGBT law

Ministers from Belgium, the Netherlands and Luxembourg gathered 10 like-minded countries in a critical statement that condemns Hungary for "stigmatising LGBTIQ persons".
Credit: euronews (in English) Duration: 01:55
Published
Euro 2021: The Netherlands finish group stage in style


Credit: FRANCE 24 English Duration: 01:24
Published
Euro 2020: Netherlands beats Austria 2-0


Credit: FRANCE 24 English Duration: 01:25
Published
Euro 2020: Belgium and Netherlands book their place in last 16


Credit: FRANCE 24 English Duration: 03:51
Published
Euro 2021: Netherlands get late winner in 3-2 thriller against Ukraine


Credit: FRANCE 24 English Duration: 02:38
Published
Sifan Hassan breaks women's 10,000m world record; marks record before Tokyo Olympics | Oneindia News

On Sunday, long-distance runner Sifan Hassan broke the women's 10,000 metres world record. World Athletics said that she completed the run in 29 minutes 6.82 seconds in a Continental Tour in Hengelo at..
Credit: Oneindia Duration: 01:26
Published
Water good idea: how Europe is saving space with floating solar parks

Solar panels on artificial lakes are nothing new. But there are high expectations when it comes to the biggest floating solar park outside of Asia, built right near the city of Zwolle in the..
Credit: euronews (in English) Duration: 04:00
Published
Van Gogh Museum reopens as restrictions ease in The Netherlands

An exhibition entitled "They're Here to Stay: A Decade of Remarkable Acquisitions and Their Stories," opened virtually in February.
Credit: Euronews English Duration: 01:30
Published
New islands built in Netherlands as nature reserves

New islands built in Netherlands as nature reserves
Credit: Al Jazeera STUDIO Duration: 03:10
Published
You Might Like



Tokyo Olympics: Great Britain's men fight back to earn thrilling draw with Netherlands

Great Britain's men score two late goals to earn a draw with the Netherlands and reach the quarter-finals of the Tokyo Olympics.




BBC Sport - Published





Tokyo Olympics: Team GB draw 2-2 with the Netherlands to reach men's hockey quarter-finals

Watch highlights as Team GB men's hockey team fight back from two goals down to draw 2-2 with the Netherlands and reach the quarter-finals at Tokyo 2020.




BBC Sport - Published





Tokyo Olympics: Primoz Roglic wins gold in men's individual time trial

Slovenia's Primoz Roglic wins time trial gold at the Tokyo Olympics, beating Tom Dumoulin of the Netherlands who took silver, with Australia's Rohan Dennis collecting bronze.




BBC Sport - Published





Tokyo Olympics: Vivianne Miedema scores four times as Netherlands beat Zambia 10-3

Watch all 13 goals as the Netherlands beat Zambia 10-3 in the opening game at the Tokyo Olympics, with Arsenal striker Vivanne Miedema scoring four.




BBC Sport - Published





Arjen Robben: Netherlands legend retires for second time

Former Chelsea, Real Madrid and Bayern Munich winger Arjen Robben retires from football for the second time aged 37.




BBC Sport - Published





Dutch crime reporter dies nine days after being shot in Amsterdam

Dutch crime reporter Peter R de Vries has died nine days after he was shot in an Amsterdam street, RTL News has reported.




Sky News - Published




Russia accused of threatening Dutch warship on patrol with Britain's HMS Defender

Dutch authorities say Russian fighter jets armed with air-to-surface missiles threatened one of their navy ships in the Black Sea.




Sky News - Published




Top Football Tweets: Thorgan Hazard outshines Eden Hazard, Wales and Netherlands out

The best tweets from the weekend's football, including Thorgan Hazard emerging from his brother Eden's shadow.




BBC Sport - Published





EURO 2020: Work-rate & bully ball - How Czech Republic toppled the Netherlands

Dion Dublin and Martin Keown analyse Czech Republic's attacking play in their 2-0 win against the Netherlands in the round of 16 at Euro 2020.




BBC Sport - Published





Belgium dump holders Portugal out of Euro 2020 - after Czech Republic stun Netherlands

Belgium dumped holders Portugal out of Euro 2020 to set up an enticing quarter-final clash with Italy - after the Czech Republic pulled off one of the shocks of the tournament by beating the..




Sky News - Published




Matthijs de Ligt: Netherlands lost to Czech Republic 'because of what I did'

The Netherlands suffered a shock Euro 2020 exit to the Czech Republic but one man took the blame.




BBC Sport - Published





Euro 2020: Czech Republic beat the Netherlands to reach quarter-finals

Watch Czech Republic reach the European Championship quarter-finals as goals from Tomáš Holeš and Patrik Schick complete a 2-0 victory over 10-man Netherlands, who had defender Matthijs de Ligt sent..




BBC Sport - Published





Euro 2020: Patrik Schick puts Czech Republic 2-0 up against the Netherlands

Patrik Schick nets his fourth goal of the tournament, tucking the ball into the bottom corner with a first-time finish from eight yards to make it Czech Republic 2-0 Netherlands.




BBC Sport - Published





Netherlands 0-2 Czech Republic: Tomas Holes and Patrik Schick goals shock Dutch

The Czech Republic shock 10-man Netherlands to book their place in the quarter-finals of the European Championship.




BBC Sport - Published





Euro 2020: Netherlands defender Matthijs de Ligt sent off for deliberate handball

Netherlands defender Matthijs de Ligt is sent off for a deliberate handball in the second half against Czech Republic with the score 0-0 in their European Championship last-16 tie in Budapest.




BBC Sport - Published





Euro 2020: Uefa says rainbow flags allowed in stadium for Netherlands v Czech Republic

Uefa says rainbow flags are allowed into the stadium for the Netherlands' last-16 tie with the Czech Republic in Budapest, following reports such items were being confiscated.




BBC Sport - Published





Denzel Dumfries: From Aruba and amateur football to starring for the Netherlands

Denzel Dumfries has gone from playing for Aruba as an amateur to starring for the Netherlands at Euro 2020.




BBC Sport - Published





Archive: Netherlands v Czech Republic - Euro 2004

Relive a classic encounter from Euro 2004 as a Czech side led by European Footballer of the Year Pavel Nedved battle back from 2-0 down to win their group stage match against Holland.




BBC Sport - Published





Euro 2020: Georginio Wijnaldum brace leads Netherlands to knockout stages

Goals from Memphis Depay and Georginio Wijnaldum helped the Netherlands beat North Macedonia to make it three wins from three at Euro 2020.




BBC Sport - Published





North Macedonia 0-3 Netherlands: Wijnaldum and Depay goals make it three wins from three

Goals from Memphis Depay and Georginio Wijnaldum help the Netherlands beat North Macedonia and make it three wins from three at Euro 2020.




BBC Sport - Published





Euro 2020: 'It's a wonderful counter-attack' - Depay scores 'terrific' Netherlands opener

Memphis Depay scores on the counter-attack to give Netherlands the lead against North Macedonia in Amsterdam, during Euro 2020.




BBC Sport - Published





Euro 2020: Netherlands ease into last 16 with 2-0 win against Austria

Memphis Depay and Denzel Dumfries score in a comfortable 2-0 win for the Netherlands over Austria as the Dutch book their place in the knockout stages of the European Championship.




BBC Sport - Published





Netherlands 2-0 Austria: Dutch seal place in last 16 at Euro 2020

The Netherlands book their spot in last 16 at Euro 2020 as they see off Austria in Amsterdam to win Group C with a game to spare.




BBC Sport - Published





Euro 2020: All the goals in 60 seconds as Netherlands beat Ukraine five-goal thriller

Watch all the goals from a cracking game in Amsterdam as Ukraine recover from 2-0 down to make it 20-2 before a late Denzel Dumfries winner seals a 3-2 win for the Netherlands.




BBC Sport - Published





Euro 2020: Five-goal Netherlands thriller an uplifting end to traumatic weekend

After a harrowing 36 hours for European football following Christian Eriksen's collapse, the Netherland and Ukraine served up a Euro 2020 classic.




BBC Sport - Published





Euro 2020 Netherlands 3-2 Ukraine: Netherlands claim victory in five-goal thriller

The Netherlands claim their first victory of Euro 2020 in dramatic fashion, after narrowly beating Ukraine 3-2 with a Denzel Dumfries winner ten minutes from full-time.




BBC Sport - Published





Euro 2020: 'Pure quality' - Yarmolenko scores wonder goal for Ukraine

Ukraine's Andriy Yarmolenko scores a wonder goal with a brilliant curling shot from outside the 18-yard box against the Netherlands in Amsterdam during Euro 2020.




BBC Sport - Published





Euro 2020: Wijnaldum strikes to give Netherlands the lead

Captain Georginio Wijnaldum opens the scoring for the Netherlands to lead 1-0 against Ukraine in Amsterdam during Euro 2020.




BBC Sport - Published





Netherlands 3-2 Ukraine: Denzel Dumfries heads winner to settle thriller

Denzel Dumfries heads a dramatic late winner to earn the Netherlands victory after Ukraine come back from 2-0 down in a Group C thriller in Amsterdam.




BBC Sport - Published





Euro 2020: A summer of redemption for Frank de Boer and the Netherlands?

Frank de Boer leads a Netherlands side into their first major tournament in seven years, so is Euro 2020 a chance for redemption?




BBC Sport - Published





EuroHockey Championships: Watch all 10 goals as Netherlands thrash Scotland

Watch all the goals from the Netherlands' 10-0 win over Scotland, which saw them progress into the semi-finals of the EuroHockey Championships in Amsterdam.




BBC Sport - Published





EuroHockey Championships: Netherlands thrash Wales to make semi-finals

Watch highlights of the Netherlands' 6-0 win over Wales in the EuroHockey Championship quarter-finals in Amsterdam.




BBC Sport - Published





Johanna Konta beats Lesley Pattinama Kerkhove in Nottingham opener.

Top seed and British number one Johanna Konta cruises through Nottingham opener with a straight-sets win over the Netherlands' Lesley Pattinama Kerkhove.




BBC Sport - Published





FBK Games: Dina Asher-Smith wins 100m with season's best in Hengelo

Great Britain's Dina Asher-Smith runs a season's best time as she wins the women's 100m at the FBK Games in Hengelo, the Netherlands.




BBC Sport - Published





World Triathlon Championship Series: Great Britain's Jess Learmonth second in Leeds women's race

Watch highlights as Great Britain's Jess Learmonth is beaten by the Netherlands' Maya Kingma in a thrilling finish to the women's World Triathlon Championship Series race in Leeds.




BBC Sport - Published





EuroHockey Championships: England put four past Italy in opener

England open their EuroHockey Championships campaign with a 4-0 victory over Italy in Pool B in the Netherlands.




BBC Sport - Published





Euro 2020: Every Georginio Wijnaldum qualifying goal for the Netherlands

Watch every goal scored by Georginio Wijnaldum from the Netherlands' Euro 2020 qualifying campaign.




BBC Sport - Published





Watch: Sportscene highlights of Netherlands v Scotland

Watch highlights as Scotland face Netherlands in their penultimate Euro 2020 warm-up match in the Algarve.




BBC Sport - Published





Netherlands 2-2 Scotland: Steve Clarke's side record creditable draw as Euros looms

A depleted Scotland begin their preparations for Euro 2020 in positive fashion despite Memphis Depay's late free-kick denying them victory over the Netherlands in Portugal.




BBC Sport - Published





Scotland: Six further players to miss Netherland's friendly after Fleck's positive test

A further six Scotland players will not be in involved in Wednesday's friendly against the Netherlands following John Fleck's positive Covid-19 test.




BBC Sport - Published





Netherlands v Scotland: What to look out for in Euro 2020 dress rehearsals

With Scotland facing the Netherlands in the first of two European Championship warm-up games, what are the key issues facing head coach Steve Clarke?




BBC Sport - Published





Euro 2020: The Netherlands duo with world-class potential and incredible genetics

Netherlands duo Frenkie de Jong and Matthijs de Ligt left Ajax for more than £150m and are now ready to shine on the international stage.




BBC Sport - Published





Watch: GB pip Netherlands to win mixed 4x100 freestyle gold at European Swimming Championships

Watch Great Britain's relay team pip the Netherlands to gold with a new European Swimming Championships record time of 3:22.07 in the mixed 4x100 freestyle.




BBC Sport - Published





European Swimming Championships: GB's Anna Hopkin wins women's 100m freestyle bronze at the European Swimming Championships

Watch Great Britain's Anna Hopkin win bronze in the women's 100m freestyle as the Netherlands' Femke Heemskerk takes gold at the European Swimming Championships.




BBC Sport - Published





Virgil van Dijk: Liverpool & Netherlands defender rules himself out of Euro 2020

Liverpool centre-back Virgil van Dijk rules himself out of playing for the Netherlands at this summer's European Championship.




BBC Sport - Published





Aniek Nouwen: WSL champions Chelsea sign PSV and Netherlands defender

Women's Super League winners Chelsea agree terms to sign PSV and Netherlands defender Aniek Nouwen on a three-year deal from next season.




BBC Sport - Published





India received 2,060 oxygen concentrators, 3 oxygen generation plants as foreign aid on Friday

India received 2,060 oxygen concentrators, 30,000 vials of Remdesivir, 467 ventilators and three oxygen generation plants from US-India Strategic Partnership Forum (USISPF), Switzerland, Poland, the..




IndiaTimes - Published





Eurovision Song Contest to allow 3,500 in audience under strict COVID-19 measures

This year's Eurovision Song Contest will be held with 3,500 fans in Rotterdam, the Dutch government has confirmed.




Sky News - Published




Covid-19: Netherlands suspends flights from India till May 1

The Netherlands has said it is suspending all passenger flights arriving from India starting Monday amid a surge in coronavirus infections in the country. The ban will take effect for passenger flights..




IndiaTimes - Published