Thawar Chand Gehlot
Indian politician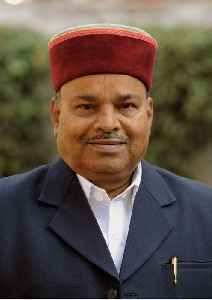 Thawar Chand Gehlot is an Indian politician who currently serves as the Minister of Social Justice and Empowerment in the NDA Government. He is member of the Rajya Sabha, upper house of Indian Parliament, representing the state of Madhya Pradesh. He completed his Bachelor of Arts degree from Vikram University, Ujjain, Madhya Pradesh. He formerly represented Shajapur in the lower house of Indian Parliament, Lok Sabha from 1996 to 2009. He is a member of the ruling Bharatiya Janata Party (BJP), and general secretary of the party. Thawar Chand Gehlot belongs to Scheduled Caste.


Ahead of Budget session, PM Modi holds all-party meet
Among those who arrived for the meeting were Defence Minister Rajnath Singh, SP leader Ram Gopal Yadav, Minister of Parliamentary Affairs Prahlad Joshi and leader of BJP in Rajya Sabha Thawar Chand..
DNA - Published
'Indebted to the party, my work has been recognised', says Thawarchand Gehlot
IndiaTimes - Published
Rajnath appointed Dy Leader of BJP Parliamentary Party in Lok Sabha, Thawar Chand Gehlot Leader of House in Rajya Sabha
The BJP Parliamentary Party Executive Committee was constituted with Prime Minister Narendra Modi as the leader of the party in Lok Sabha and Rajnath Singh as his deputy.
DNA - Published
Gehlot to be BJP's leader in RS replacing Arun Jaitley
Senior BJP leader Thawar Chand Gehlot will be the leader of the House in Rajya Sabha.The Dalit leader, who is minister of social justice and empowerment, will replace former finance minister Arun..
IndiaTimes - Published
Thawarchand Gehlot appointed leader of Rajya Sabha
Union minister Thawarchand Gehlot was appointed on Tuesday the Leader of the Rajya Sabha, a position occupied in the previous Modi-led government by Arun Jaitley who has had health issues and is..
IndiaTimes - Published
Search this site and the web:
You Might Like