Belfast
Capital of Northern Ireland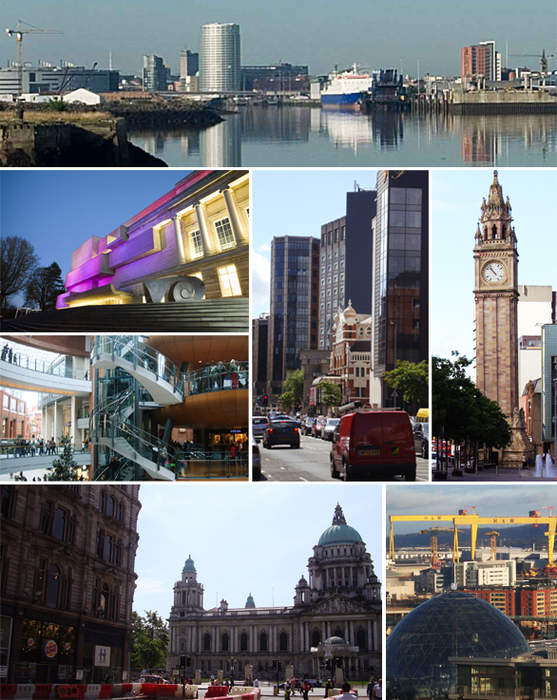 Belfast is the capital and largest city of Northern Ireland, standing on the banks of the River Lagan on the east coast. It is the 12th-largest city in the United Kingdom and the second-largest in Ireland. It had a population of 345,418 in 2021.


NI Protocol undermines Good Friday Agreement, says Truss

At a leadership hustings in Belfast, Liz Truss says the Northern Ireland Protocol is causing "unfairness between communities in Northern Ireland" and must be "fixed". Report by Jonesia. Like us on..
Credit: ODN Duration: 02:47
Published
Rishi Sunak pledges to 'fix' the Northern Ireland Protocol

Rishi Sunak promised Tory members he would "fix the Northern Ireland Protocol and protect Northern Ireland's place" in the UK in his opening remarks at the leadership hustings event in Belfast on..
Credit: ODN Duration: 02:13
Published
You Might Like



Reward of £20,000 offered after 'ruthless execution' of man in Belfast social club

A reward of up to £20,000 has been offered for information which leads to the conviction of two killers who fired 20 bullets at a man in a social club in Belfast.




Sky News - Published





Man shot dead in social club in west Belfast

A man has been killed following a shooting in a social club in west Belfast.




Sky News - Published





'How is a toothbrush a luxury?' Northern Ireland hit hard by cost of living crisis

At the well-known Nemo's chip shop on the Upper Lisburn Road in Belfast, there's an unwelcome addition to the menu.




Sky News - Published





Truss and Sunak questioned on abortion and benefits in latest Tory hustings

Liz Truss rejected a plea to restore the abortion ban in Northern Ireland while Rishi Sunak vowed to be "much tougher" on the benefits system in the latest Conservative Party hustings in Belfast.




Sky News - Published





Michael Conlan: Belfast fighter defeats Miguel Marriaga in comeback bout

Belfast featherweight Michael Conlan returns to winning ways with a comprehensive unanimous-decision victory over Colombia's Miguel Marriaga.




BBC Sport - Published





Fight Camp: Belfast's Caoimhin Agyarko gives look into gruelling training

Belfast's Caoimhin Agyarko invites BBC Sport into his training camp before his fight with Lukasz Maciec.




BBC Sport - Published





'Worst adult safeguarding scandal in UK history': Hospital abuse inquiry begins in Belfast

A potentially years-long public inquiry into widespread allegations of abuse at a Northern Ireland hospital has begun in Belfast.




Sky News - Published





'No straight answers' as Sinn Fein meets PM over Northern Ireland impasse

Boris Johnson has been accused of failing to give straight answers after meeting party leaders in Belfast to try to resolve a political impasse over the Northern Ireland Protocol.




Sky News - Published





Northern Ireland Protocol talks 'kind of stuck' as PM heads to Belfast

Talks over the Northern Ireland Protocol are "kind of stuck", an EU source has told Sky News as Boris Johnson heads to Belfast to try to make headway on the issue.




Sky News - Published





A game of two halves in Belfast as voters split on election results

As the election counts dragged on into Saturday afternoon, thousands descended upon Belfast's Windsor Park for the Irish Cup Final.




Sky News - Published





World Cup qualifying: Highlights - Northern Ireland 0-5 England

Watch highlights of England's 5-0 World Cup qualifying win over Northern Ireland in Belfast, where Lauren Hemp and Georgia Stanway both score twice for the Lionesses.




BBC Sport - Published





Woman released on bail after Irish minister taken off stage at peace event in hoax security alert

A woman arrested after a hijacking and a security alert in north Belfast has been released on police bail.




Sky News - Published




Woman arrested after Ireland's foreign minister taken off stage at event in Belfast

A 38-year old woman has been arrested as police investigate the security alert which led to Ireland's foreign minister being evacuated at a peace event in Belfast.




Sky News - Published





Belfast is up for seven Oscars - but how has the film gone down in the city?

"It's my first film," explains Jude Hill, "and I got to work with all these amazing people."




Sky News - Published





'I feel like the mother hen': Caitriona Balfe on Belfast success and the return of Outlander

Belfast star and BAFTA nominee Caitriona Balfe has told Sky News she never predicted the film becoming the hit that it has.




Sky News - Published





Checks on food products sent from Britain to Northern Ireland must continue pending hearing, court rules

Checks on agri-food trade from Britain to Northern Ireland must continue pending the outcome of a hearing next month, a Belfast court has ruled.




Sky News - Published





Dune, Power Of The Dog, Belfast and Bond lead BAFTA nominations as blockbusters get spotlight

Dune has bagged the most nominations at this year's BAFTA film awards with 11, followed by Netflix western The Power Of The Dog and Kenneth Branagh's semi-autobiographical Belfast.




Sky News - Published





Ulster 27-22 Northampton Saints: Hosts made to battle to the end to claim second European win

Ulster claim a second straight Champions Cup win but are made to sweat by a dogged Northampton Saints in Belfast.




BBC Sport - Published





Police probing Belfast journalist's murder search Paris office of production company

Police investigating the murder of Belfast journalist Lyra McKee have searched the Paris office of a production company and seized "a number of items".




Sky News - Published





European Champions Cup: Covid-hit Scarlets concede Bristol game

Scarlets concede Saturday's European Champions Cup game at Bristol Bears over the Covid-19 crisis that means the vast majority of their squad are in isolation quarantine in Belfast.




BBC Sport - Published





Northern Ireland Open: Ronnie O'Sullivan clarifies comments about Waterfront Hall atmosphere

Ronnie O'Sullivan clarifies his comments about the atmosphere at the Northern Ireland Open in Belfast and insists that he would "never criticise any snooker fan".




BBC Sport - Published





Northern Ireland Open: Selby survives scare to win in Belfast

World number two Mark Selby wins on the final black to edge Cao Yupeng 4-3 and progress to the last 32 of the Northern Ireland Open.




BBC Sport - Published





Two men charged with Lyra McKee's murder granted bail after appearing in court

Two men have been granted bail after appearing in court charged with murdering Belfast journalist Lyra McKee.




Sky News - Published





Ryanair blames UK government and Belfast airports as it pulls out of Northern Ireland

Ryanair has blamed a lack of support from the UK government and Belfast's two airports as it confirmed it was pulling out of Northern Ireland.




Sky News - Published





Woman arrested on suspicion of murder after baby dies in 'domestic stabbing' incident

A baby has died and another child has been injured following an incident at a house in Belfast.




Sky News - Published





Extra nurses called in to Belfast hospitals to deal with 'extreme pressure' from COVID patients

Hospitals in Belfast have called in extra nurses to deal with the "extreme pressure" from increasing numbers of COVID-19 patients as Northern Ireland runs out of hospital beds.




Sky News - Published





Challenge to Northern Ireland Protocol thrown out by Belfast court

The High Court in Belfast has dismissed a legal challenge to the controversial Northern Ireland Protocol, the part of the Brexit withdrawal agreement that created an "Irish Sea border".




Sky News - Published





Uefa Super Cup: Chelsea v Villarreal game will be played at Belfast's Windsor Park

The Uefa Super Cup match between Chelsea and Villarreal will be played in Belfast on 11 August after suggestions it would be moved to Istanbul.




BBC Sport - Published





Rainbow Cup: Ulster-Scarlets off because of Covid-19 cases

Saturday afternoon's Rainbow Cup game between Ulster and Scarlets in Belfast is postponed due to positive Covid-19 cases in the Irish side's squad.




BBC Sport - Published





Ireland v Scotland T20 series: Scots defeat hosts in Stormont opener

Scotland secure an 11-run victory over Ireland in the first of four T20 games between the sides in Belfast this week.




BBC Sport - Published





Police 'increasingly concerned' about missing Belfast brothers aged eight and five

Police in Northern Ireland say they are "increasingly concerned" over the welfare of two boys who have been missing since Friday.




Sky News - Published





PM apologises 'unreservedly' over killing of 10 civilians in Ballymurphy

Boris Johnson has apologised "unreservedly" on behalf of the UK government over the killing of 10 innocent civilians in Ballymurphy, west Belfast, in 1971.




Sky News - Published





10 innocent people shot without justification at Ballymurphy, coroner finds

Ten people shot dead at Ballymurphy, west Belfast, in 1971 were innocent and their deaths were without justification, a coroner has ruled.




Sky News - Published





Murder trial of two former soldiers accused of killing IRA commander in 1972 collapses

The trial of two former British soldiers for the shooting dead of an IRA commander in 1972 has collapsed at the Crown Court in Belfast.




Sky News - Published





Northern Ireland 2-0 Ukraine: Highlights from Euro 2022 play-off win

Watch extended highlights as Northern Ireland seal their place at Euro 2022 with a 4-1 aggregate win over Ukraine in Belfast.




BBC Sport - Published





'When I play' - matchday inspiration as NI chase history

Northern Ireland have the chance to make more history on Tuesday night when they play Ukraine in the second leg of their Euro 2022 qualifier in Belfast.




BBC Sport - Published





Gun salutes to be fired across UK to mark Prince Philip's 'legacy of indomitable spirit'

Gun salutes marking the death of Prince Philip, the Duke of Edinburgh, will take place in London, Cardiff, Belfast and Edinburgh as well as aboard some Royal Navy ships and in Gibraltar today.




Sky News - Published





Bus set on fire and photographer attacked in disorder in Belfast ahead of emergency meeting

Violence has again resumed on the streets of Belfast ahead of an emergency meeting of the Northern Ireland Assembly, with a bus hijacked and set on fire and a photographer attacked.




Sky News - Published





Boy, 13, among arrests after 15 police officers injured in Belfast riot

A 13-year-old boy is one of eight people arrested after 15 police officers were injured during rioting in Belfast.




Sky News - Published





World Cup qualifiers: Northern Ireland forced to settle for scoreless draw against Bulgaria

Northern Ireland's World Cup qualifying hopes are dented by a disappointing 0-0 draw against Bulgaria in Belfast.




BBC Sport - Published





Carl Frampton: Belfast man says defeat by Herring will end his career but insists 'that's not going to happen'

Carl Frampton says defeat by Jamel Herring in Saturday's world title bout will end his career but is confident "that's not going to happen".




BBC Sport - Published





Ireland v Great Britain: Series ends level after 1-1 draw in Belfast decider

Izzy Petter's late equaliser earns Great Britain a 1-1 draw with Ireland as the three-game series in Belfast finishes level.




BBC Sport - Published





Highlights: Olympic champions Great Britain beat Ireland 2-1 in series opener

Olympic champions Great Britain fight back from conceding an early goal to beat Ireland 2-1 in the opening game of the three-match series in Belfast.




BBC Sport - Published





Belfast and Larne port staff pulled over 'upsurge in sinister behaviour'

An "upsurge in sinister and menacing behaviour in recent weeks" has led to all regulatory animal-based food checks to be suspended at Belfast and Larne ports.




Sky News - Published





Belfast axes inpatient operations as UK hospitals pushed to the brink

Belfast's health trust has cancelled all planned inpatient operations this week as hospital staff across the UK say they are being stretched to their limits.




Sky News - Published





Anti-Masker Kicked Off UK Flight, Coughs on Everyone

Anti-mask rants, and dangerous COVID behavior, aren't just a U.S. problem -- an angry passenger spewed her breath on fellow fliers when she was kicked off a UK flight. The incident went down Sunday on..




TMZ.com - Published





Sacking of UK minister who broke Northern Ireland logjam dismays Belfast, Dublin

British Prime Minister Boris Johnson has sacked the minister who helped end three years of political paralysis in Northern Ireland, prompting criticism on Thursday that Johnson was indifferent to the..




Reuters - Published





Northern Ireland's politicians return to work after three-year standoff

Northern Ireland's main political parties sat down together in Belfast on Saturday to form a power-sharing government and end a three-year standoff that threatened a key part of the province's 1998..




Reuters - Published





DUP concede deputy leader Dodds has lost in UK parliament

The Democratic Unionist Party conceded that its deputy leader, Nigel Dodds, had lost his seat in the British parliament on Friday as counting in his Belfast constituency came to a close.




Reuters - Published





DUP would oppose reported EU Brexit offer over Northern Ireland veto

The small Northern Irish party supporting the British government would emphatically oppose any scheme to give the devolved assembly in Belfast a way out of a Brexit backstop after a number of years, a..




Reuters - Published